But first, if I may, a brief Public Service Announcement. Coupla very highly recommended recent (ish) blog posts from a coupla very highly recommended bloggers, each concerning the near (ish)-term future — and each with quite good discussions as well.
Day 5 – Dikhur Pokhari to Upper Pisang
The hour-or-so hike from Pokhari to Pisang is fairly flat; and once we'd got going, I felt pretty decent. Was even joking to Kieran what a tool I looked like hanging my gloves (first time I'd had to wear them, and even then not for very long) off the zipper of my windbreaker and my hat off of my belt.
We were hiking with a pair of French girls whom we'd met back in Danakyu – they'd been there having lunch when we'd checked in to the lodge. In  Pokhari, they'd stayed at the lodge right across the road from ours, and set out for the day at the same time. The views were, predictably enough, breathtaking.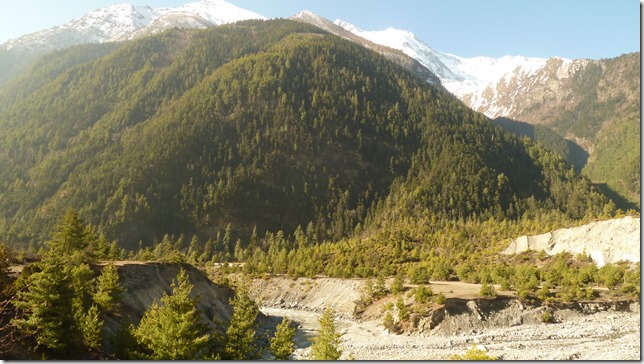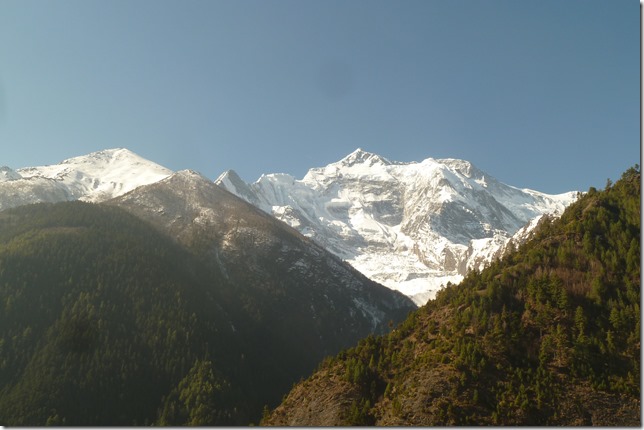 Halfway or so along, a trail splits off from the road, leading to Upper Pisang. We thought to take the trail, but the French girls were skeptical, and preferred to use the road all the way to Lower Pisang, and then climb up from there. We arrived to the two routes' confluence at exactly the same time – just as Kieran had (perhaps somewhat jokingly) predicted would happen.
I'd felt fine after leaving the road and beginning to climb up the hill; but the final, quite steep, ascent into Upper Pisang nearly killed me dead. We stopped at the first place along the trail, Kieran to have some tea, and myself to see if I could get sorted out.
It shortly became clear that the latter was not going to be happening, so I decided to put down stakes for the day, and spend the day at rest. Kieran decided to stay as well, as he needed to send some e-mails, and the town's Internet café wouldn't open until 5:00 in the PM.
The place – the Yak & Yeti – turned out to be the best Lodge ever in the world.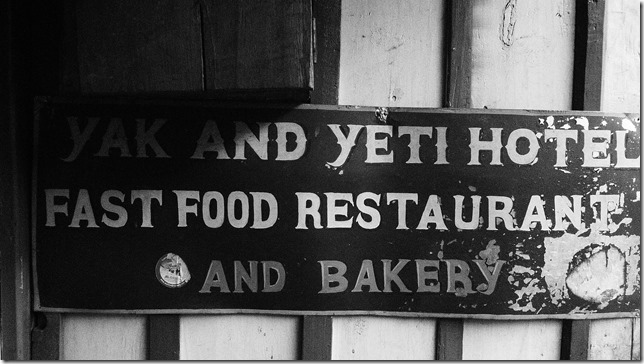 A funky-as-hell architecture plastered straight into the side of the hill, with a seventy-year-old proprietor who could be a character in a David Lynch movie. And, surely, the best view in the whole, wide World.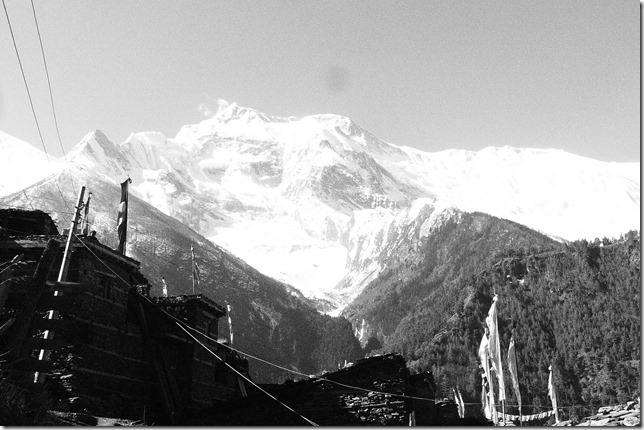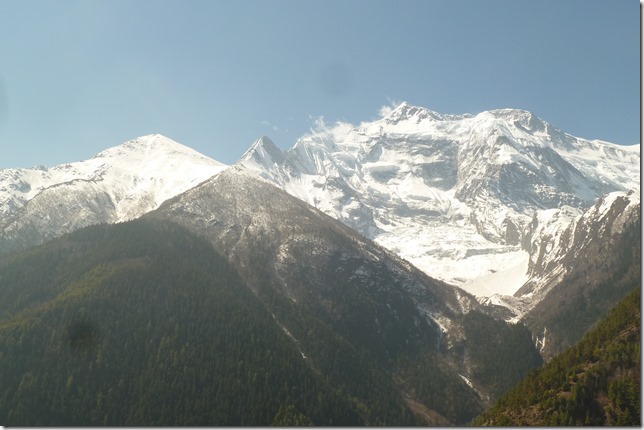 The walls are lined with some fine artistic teachings…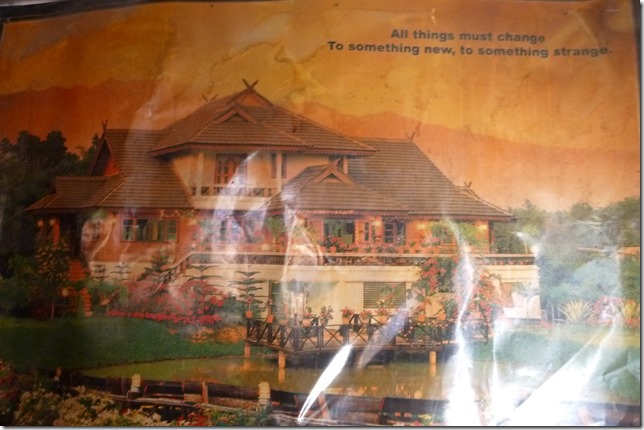 …as well as many and sundry photos and newspaper clippings of the Lodge's estimable chief – apparently a legendary figure in these parts.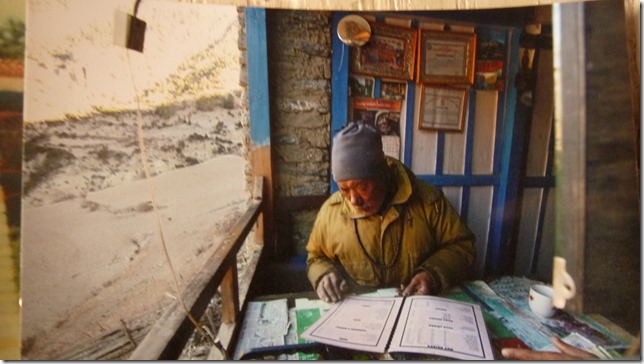 Here's the heated Dining Room – that's the fireplace there, in front of the chair.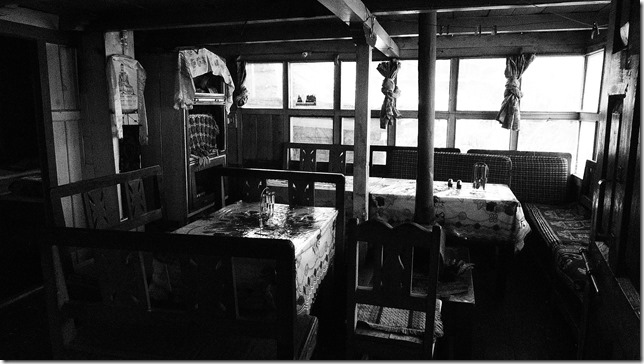 There's also an adjacent, un-heated Dining Area, in which the Master sits…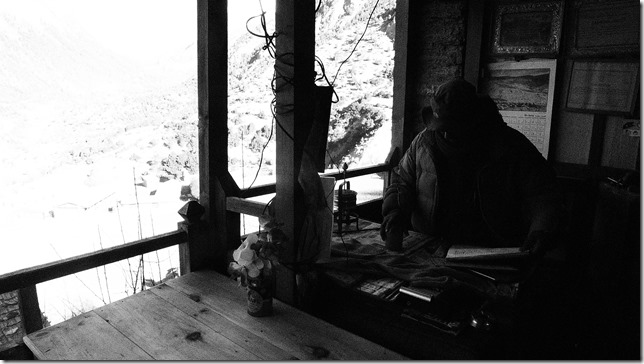 …gabbing with his friends, and yelling down words of advice to passersby on the road below.
Also at the Lodge were some more Alobar friends: an Australienne name of "Tess", who had shared our dorm, and a Canadienne name of "Rachel" who'd been in a different dorm. They were getting ready to leave for the day, waiting for a Swedish friend of theirs who was also not feeling so well, and was a bit late getting started.
When our room was ready, I went straight away to bed, and Kieran went out to explore the village. He'd later report to me that there was an Archery tournament (!) going on outside, if I'd care to go have a look. Which sounded more awesome than life itself (actually, I could hear the rowdiness from our room) – but it was like the most taxing journey of my life itself just to manage to get myself to the can.
My symptoms were diarrhea, fever, extreme lethargy, enormous quantities of gas, and tinnitus. Apparently these symptoms can be caused either by a sudden change in diet or a gain in elevation. I'd, of course, experienced both; and, best I can reckon, it was some combination of the two that put me down for the count.
Along about nightfall, I heard the bossman's voice erupt in a tirade of (one can only presume) profanity and invective. Though I'd no understanding of the nature of his ire, I was more than duly entertained nonetheless. Kieran later shed some light on the subject, saying that he'd gone into the kitchen to order his dinner, and the Kahuna was already chewing out one of his employees. Just then, the pressure-cooker preparing a batch of rice exploded, splattering hot, sticky rice everywhere. And that's when he want ballistic.
Also that night, we were warned to lock the door to the inner Dining Room – ours was the only room connected to it – because two of the boss's friends had gotten very drunk, and if they had access to the Dining Room, their rowdiness might keep us awake at night. Turned out, it did anyway – at least it did me, who could hear their carryings on clear as a ding-dong bell.
Day 6 – Upper Pisang
By morning, the fever had subsided, but I was still not up to the task of giving it a go for the day. What I figured I'd do, I'd take the low route to Manang, while Kieran was planning to take the high route, and spend two nights there – the second to acclimatise in advance of the pass. Manang is big enough even to have a cinema, so we were sure it'd have Internet; so that he could e-mail me informing me of his whereabouts.
So he took his leave, and, what had begun as a party of four had now at last devolved into four solo trekkers, each at a different location along the trail.
I spent the day resting, gawking the insane views (even right outside the room's window)…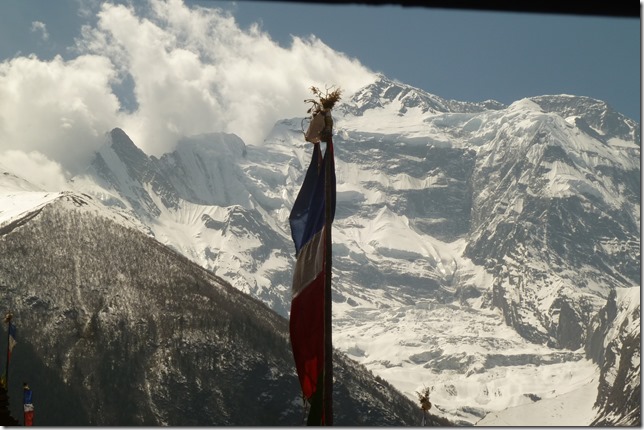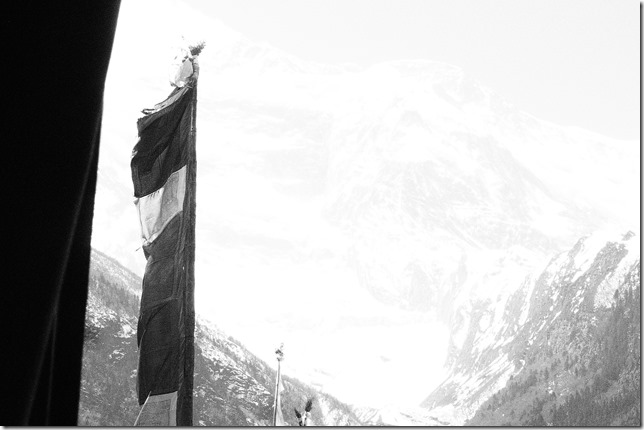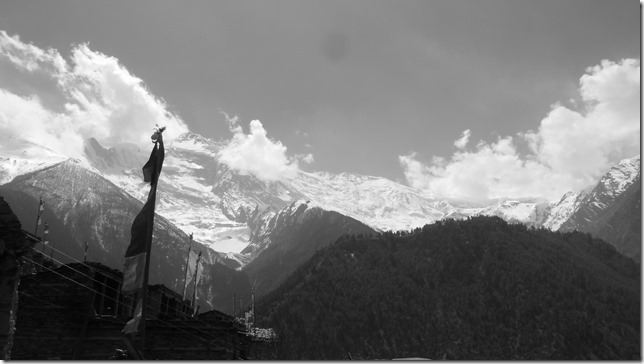 …and drinking in the incredible ambiance of the Yak & Yeti. This included not only the big man's badgerings from his window seat and his attempts at answering his cellphone ("Hello!? Oi! Hello!? Oi! Hello!? Oi! Hello!? Oi! …"), but also his ninety-three-year-old father's beautiful and enchanting morning prayers.
I wouldn't even have gone outside at all that day, excepting that at one point they'd locked the door between the two Dining Rooms, preventing me from exiting the heated one; and so in order to use the shitter, I had to climb outside the bedroom window, and back around to the front door. This was somewhat of a precarious operation as, being built into the side of the hill as the establishment is, there's a pretty big drop from the window down to the ground, with only a fairly narrow ledge along which to creep to get to the road. The staffers, initially confused at seeing me come around the corner and up to the front door, got a huge kick out of it when I explained to them what was the deal.
In the evening, I had a plate of rice – my first food since having eaten the same for breakfast back in Dikhur Pokhari. I felt well enough to think that I should be able to at least make it to Manang, and — if I could get some fruit there – perhaps press on toward Thorung La, the World's highest pass.
But by morning, I was again experiencing incredible intestinal distress. So, I said my goodbyes to the staff, spent a few moments' time being inside the Yak & Yeti, and lit out for Chame – back the way we'd come — instead.
If one were to ponder — What might be the most enjoyable adventure to undertake before I die? – I daresay there may be none better than coming to Nepal, hiking one's dimpled ass up to Pisang, and spending a night or three or four at the Yak & Yeti. That's some hellaciously righteous vibes right there, mang.