[dc]W[/dc]ell, shit-howdy, that's kind of a bummer of a title with which to re-launch this blog, eh? Perhaps we could back up and begin with a bit of levity (in the form of an upskirt shot of a prostrated 'n' amputated King Ramses II, natch) before jumping headlong into the torrents of unvarnished cynicism.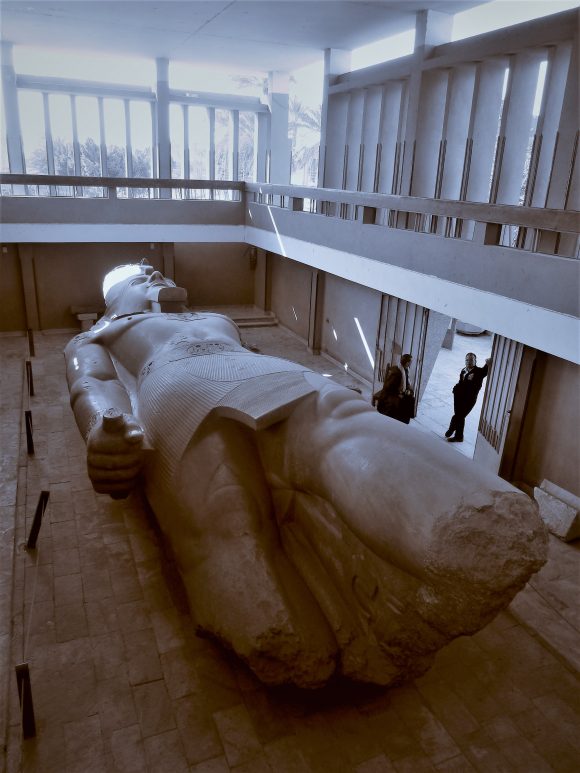 All right, all right, one more fun for the kids, ain't it?  Here here's one of the Pharoah in finer fettle, catching some well-earned shade for himself underneath yon Palm tree…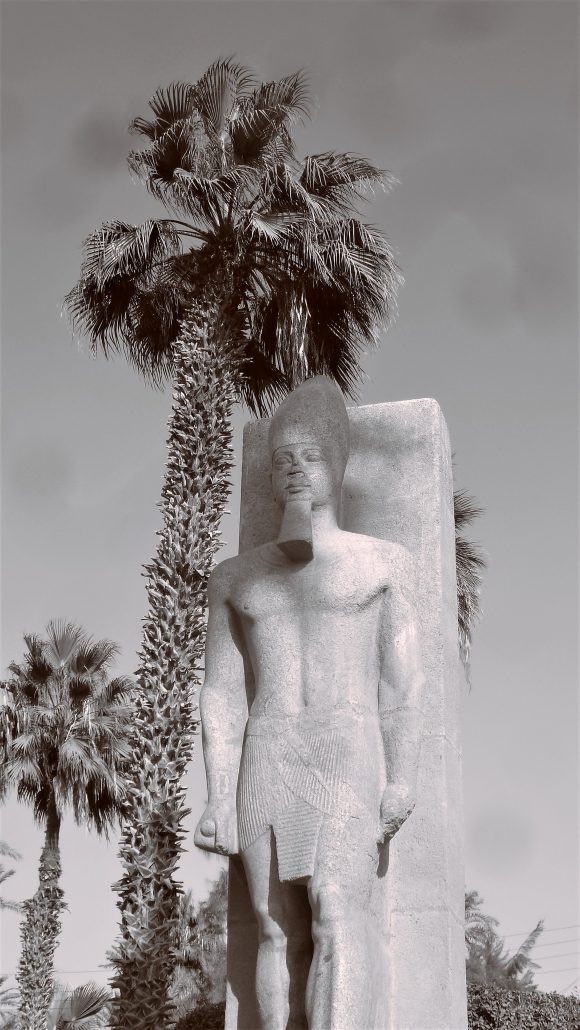 ---
[dc]O[/dc]kay, let's begin to-day's report with an unscheduled rant in the form of a most brilliant idea with which I was struck during my passage, and which I here offer free of charge to any and all airlines operating transoceanic flights. Viz., assuming that said airlines schedule one such flight per day per direction between two given locales, perhaps they-all would be willing to set aside one day per week for people travelling with young children to utilise exclusively-like, freeing the rest of us schmucks to then fly our dimpled asses in peace-slash-quiet all the god damned way across those very same oceanic basins.
Of course, the maths may work out so that the child-rearers would need two, or — god shouldn't wonder — even three out of seven days. Behemoth knows, during my recent Atlantic crossing there were no fewer than four such youngsters, in my section of the aircraft alone, taking it in turns screaming foul fucking murder for essentially the entirety of the ten hour flight (and the cacophony grew to even more outrageous proportions in the airport's arrival hall); so it very well could be the case.
Either way you slice it, parents needn't be laid low by this design: Just plan ahead and book the flights before requesting the days off, and everybody wins. Better yet, plan even further ahead before going in whole-hog on the procreation tip, and maybe plant some trees instead. The sustainable human population is somewhere south of fifty million (that's Million, with an M), so, the fewer of us motherfuckers the better (I always like to say).

Anyhow, what I mean to put across is that there are certain hostels, in certain locations, whose owners have created spaces so perfectly suited to neighbourism that the property in question seems magically to attract the most interesting and most friendly people of all. De Talak in BKK is such a one (the perfection of the form, we might say); Alobar 1,000 in Kathmandu is another. And, Pyramids Loft here in Giza, I have discovered, is yet a third. My head was spinning, fast, almost before I could even set my bags down, at the numbers of awesomely interesting people popping up out of each little nook and cranny.
A Canadian born, raised, and currently living in Tanzania. A Danish exercise fiend with some thought-provoking philosophical takes, who also enjoys cross-European bicycle holidays. An Alaskan gentleman who's stored on his laptop — I shit you not — at least a thousand pictures he's snapped of the Polar Bears living in his town. (And he showed us all of them…) An Australian mother and her pre-teen home-schooled son. A San Franciscan of Ethiopian descent, en route to go visit family back home. And so very many more — including my separated-at-birth (or so I am presently guessing) brother and sister, a Filipina Durian-hound and her most affable husband, an Egyptian citizen now working and living in the Philippines. They even busted out and gifted me with a package of Durian candies!
How badass do you gotta be to even be traveling with Special Davao Durian Candy, let alone gifting entire packages to your newly met hostel-mates? As badass as the world is round, I'll up and wager.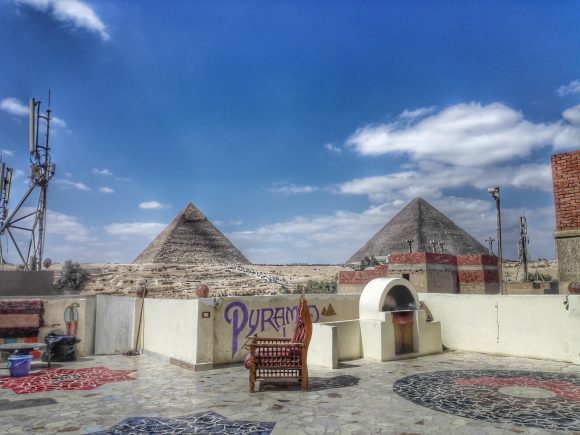 Egyptians seem very friendly and helpful as well — I've already been practically adopted by the father/son team operating an welcoming little fruit shop about fifteen minutes' schlep from the hostel. Though, the proprietor did request me to gift him one of the mesh produce bags into which I've been placing many kilos of his excellent Clementines. I was happy enough to give him one, but, dang, those fuckin' things are pretty expensive, and I'm only travelling with a few of them. Well, karma and all that shit…
---
[dc]W[/dc]hat I'm trying to get at, however, is that there are some certain phenomena which have (rightly) become so world-renowned as to attract to their orbits some god danged enormous numbers per annum of interested gawkers. Angkor Wat in Cambodia is one such location; the Taj Mahal another; and the Giza Plateau is yet a third. The helpful touts lined up to serve (or some, if their jib has been cut in just such a manner, might rather say "fleece") the tourists' every need tend to attach theyselves, in these locations, like stink on shit…just in case there are some touristical needs which the tourist had not yet been made to realise that he or she did need. Plastic trinkets, for one example; guide services for another. They don't really take "No" for an answer — although once in a Blue Moon, "La, shukran" (Arabic for, "No, thanks") does the trick.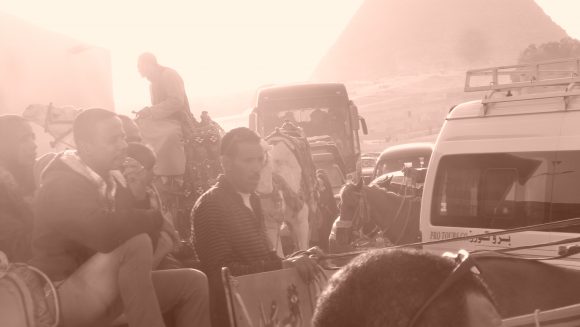 Some of them — as I found out some few short hours after my arrival, whilst visiting the Saqqara and Memphis sites about an hour's drive south of here — have even ingeniously levered to their advantage the efficiency gains made possible by not even asking the question at all, but instead launching straight away into the provision of service.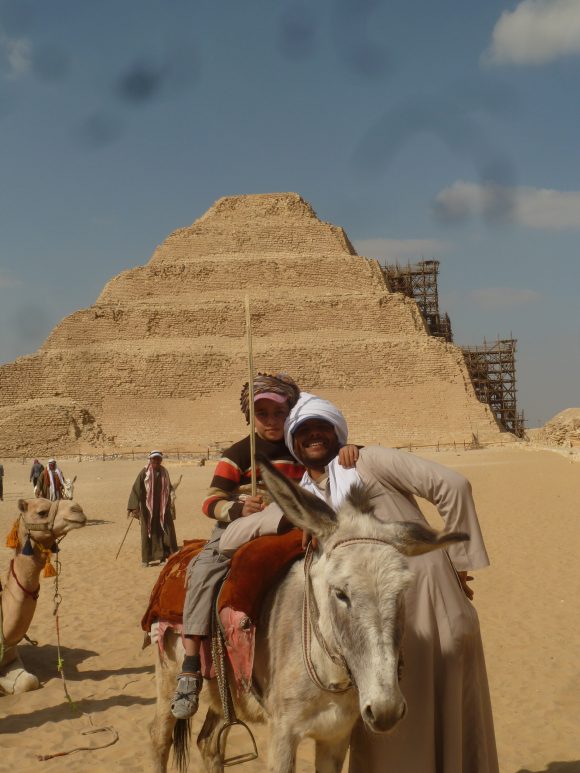 A nice-looking man, his boy, a Donkey, and a friendly helper called "Mustapha": What could possibly go wrong? What miserable son of a bitch would dare deny his request to snap a photo? Fair enough. And fair enough even to sit in repose with said son for some on-camera hijinks of one's own. But beware, traveler, for here in Giza, one soon finds oneself entangled — or, in other words, borne atop the haunches of the patiently waiting donkey, quckly garbed in the raiments of an Arab Sheikh, and paraded round the grounds to take pictures in front of every rock outcrop in the whole entire place. Dunno whether every helperman called "Mustapha" is as sure and as nimble of hand as he. But this one, he was ouright practiced, for sure.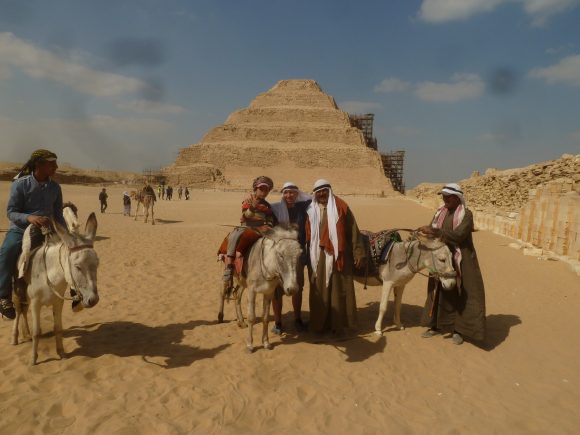 When I did, after several unsuccessful attempts, finally manage to disentangle, it came the time of payment for services rendered, you see. My offer of twenty Egyptian Pounds (about $1.25) was met with incredulous howls of protest and hurt feelings. When I began deleting the photos to prove I meant business, they settled, surprsingly quickly, for the twenty smackers. I looked up to find that my hostel-mate — the aforementioned Canadian — had suffered the same fate as I. He said that he didn't offer any tip whatever…only agreeing to honour their request of five Pounds for the Donkey.
---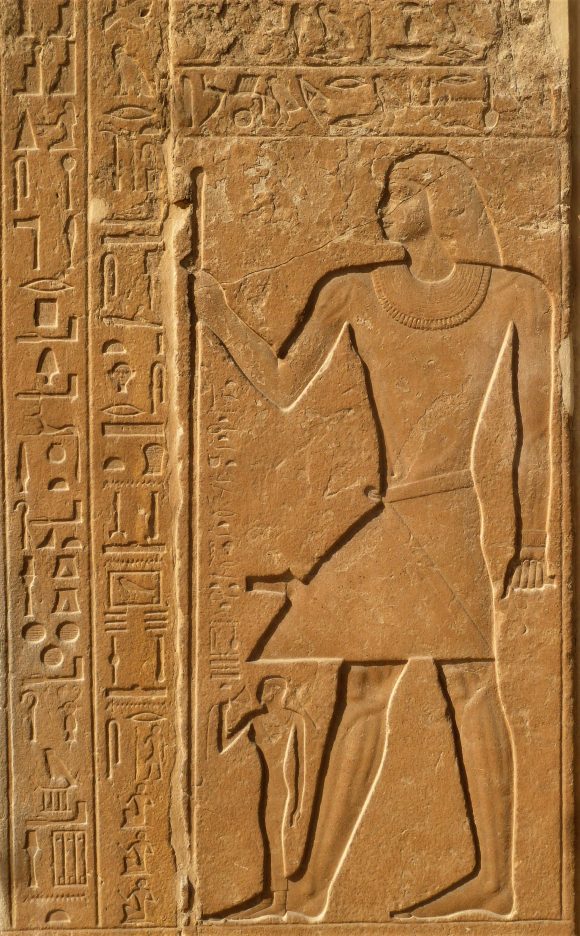 [dc]T[/dc]he touts are annoying and all; but I don't wanna rain on their parade too terribly much. You all know my feelings concerning certain matters — I've been spouting them for decades by now, and don't foresee them changing any time soon, if ever. Namely, Fuck America, and fuck Americans. The list of grievances that can be laid against us is so long that to try to list them all would surely crack the Internet right in half: We're white. We're gluttons. We're Imperialistical maquiladora-lovin' war-mongerin' shits-for-brains. We're white. We're ignorant. We five percent of the world's population produce fifty percent of the world's waste. We invented George Lucas. Uh…what else? Oh yeah (I almost forgot)! We're as fucking white as the day is long.
Long story short, we've no real cause ever to complain about anything, and definitely not when some local entrepreneurial types devise and play out schemes to separate us from a few greenback dollars here and about.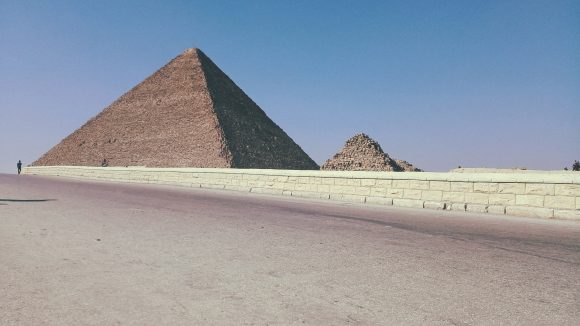 The professional guided tours obtained through one's guest house, however, are a little more difficult to justify. They are fairly pricey (at least for somebody living on a backpacker's budget), and never seem to live up to the grandiose promises made at the outset of negotiations. Once the money changes hands, it all boils down to rushing from location to location to be given a few rapidly orated words of historical context and a few minutes to take some photos in front of, then off to the next few (hurry now, the clock is running) locations, followed by a quick jaunt atop a camel, before being delivered, captive, into the waiting maw of the "museum" salesman. The "museum" is actually just a fairly reasonably priced gallery with a five-minute intro explaining the process of the local artisan. (In this case, Papyrus paintings and essential oils).
I've only done it a few times; and though it's never seemed money well spent, at least the company of the tour-mates is almost always very good, and the guides friendly and charming and whatnot. But the whole hurry-up-and-get-your-pictures-so-we-can-sell-you-something-plastic vibe…well, let's just say fair play to those whose thing it is, but, it ain't really mine.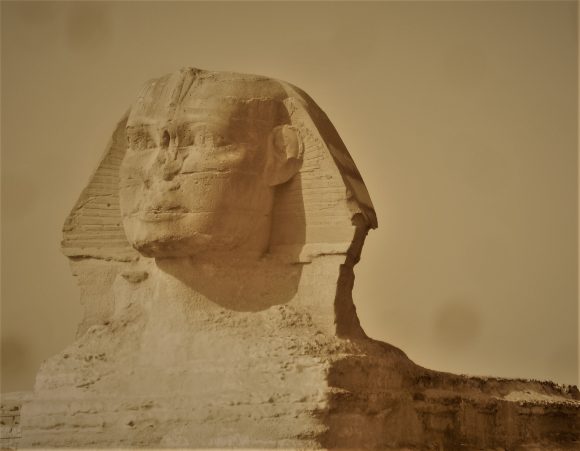 Although when I finally did get the chance, the day following the tour, to set out on my own into the desert to enjoy some respite from the crowds and find some new angles to photograph the structures by, I eventually became embroiled in a bit of an International Incident™ — reconnoitered by a pair of non-uniformed guardsman, then finally apprehended (after a good three hours' rambling) and escorted to yon guardshack to be administered…if not the third degree, perhaps the first-and-a-half. Once the half-dozen or so gentleman had verified that my entry ticket was current, that the contents of my bag were au courant, and that the contents of my smartphone camera folder were none but scores of photos of some certain well-known local monuments, I was permitted to exit out the back door. And also, it must be said, to re-enter through the front gate — so long as I didn't go wandering off into the desert again.
It must also be said that the guardsmen were fairly friendly, fairly courteous, spoke rather good English, and never shook me down for any type of baksheesh (or whatever you may call it). Best of all, they never asked me to delete any photos. So, raise a toast to those friendly guardsmen before perusing of yon photoset, included below (and then peruse some more, if you like, over there at thee olde Flickr page)…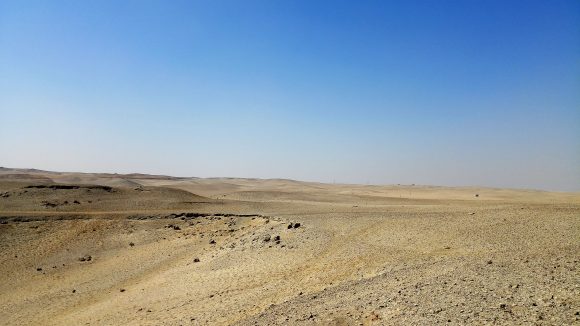 ·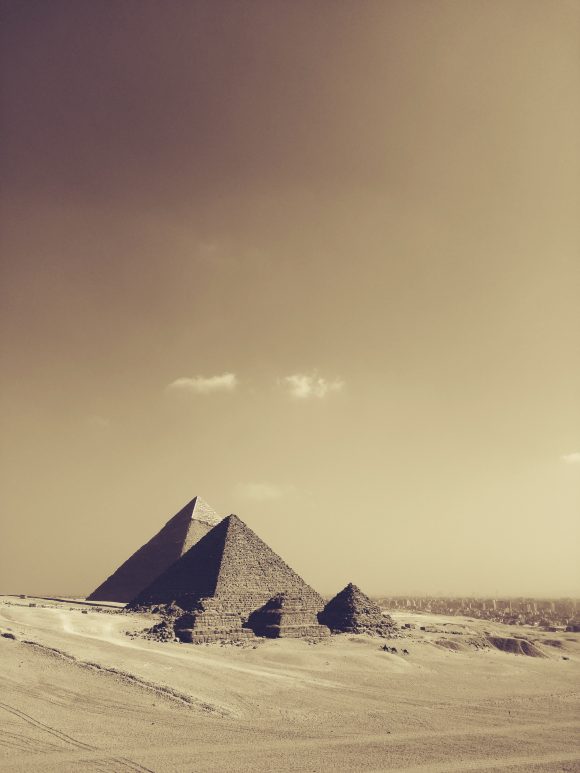 ·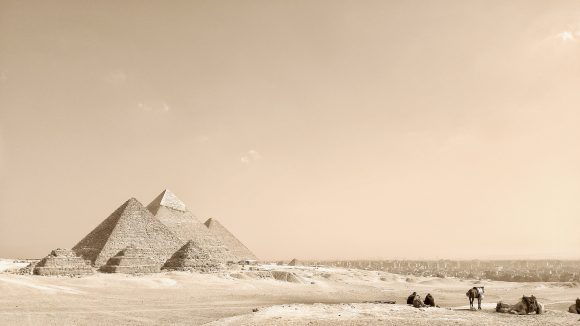 ·

·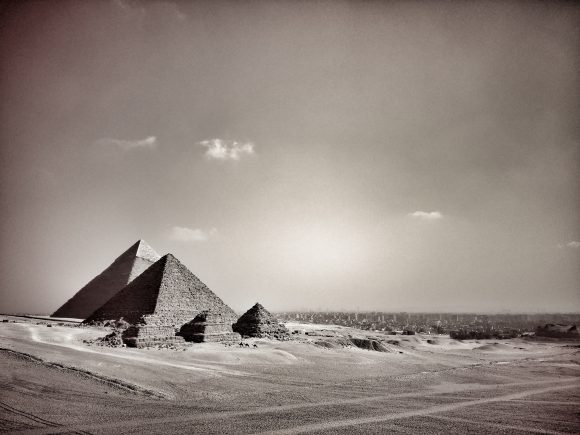 ·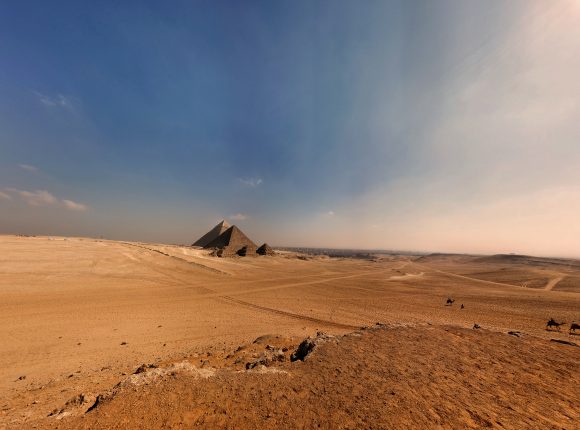 ---
[dc]M[/dc]y severest feelings of dread, at the end of this day, regard the mistreatment of the animals enslaved to heighten the tourist's desert-fantasy getaway seated on top of a Camel or inside a Ben Hur chariot. It may not be more damaging than the ecological effects of tourist jet-setting, or of all the plastic goddam stuff, but it's certainly, to my way of thinking, the more starkly caustic indictment of the entire industry (or, really, the human condition itself).
I did take a brief Camel ride as part of the tour. And though ours didn't seem to be too bad off, I honestly don't really know. I regret having not simply opted out and chosen to walk alongside. There've been times, traveling, that I've given in and gone along, not wanting to be a complete goofball inside of somebody else's country — gonna try to get better on that score.
The horses have the worst of it, from the appearances; made to carry three or four people plus a chariot up a steep, paved incline at a gallop — and then eventually back down, the load so great that they have to plant their feet and slide down the hill to keep the chariots from running out of control. And if you wanna tell me that they don't even feel the beatings they must take to get them runnimg faster faster faster, one need only take a look into their eyes: They're not having fun, or anything close to it. It's really a sickening sight to witness, honestly; and I fear that those of us who choose to participate in the global tourism biz are, ultimately, damned.
Fuckin' humans, man — why can't we just go away forever?