[dc]Y[/dc]es, it's true: I have penned the Bangkok Tourist Dept.'s perfect tagline – now, it only needs implementation… It is, I should think, an accurate reading of the situation. Just so many cool/funny/interesting/weird people, places, and things in this city. Every day out and about is to fall in love with it anew.
The city's beating pulse of weird and wonderful, of course, is Lumphini Park. Friday (I think it was) I received the purest dose possible of the miraculous elixir. Not sure when, if ever, I have laughed so hard.
Had gone into the pavilion to do some juggling, as the grass had not yet dried out from recent rains. So there I am, juggling away, only to look up and see (having materialised seemingly from out of nowhere)  a crazy Ramones-shirt wearing mofo sporting a beatific smile and a serene manner.
This last soon disappeared, as he transformed into a driving taskmaster who would brook no lapse in his pupil's efforts. Maybe he is or was a Muay Thai trainer? Don't know. Whatever his background, he drilled my dimpled ass for a good hour-and-a-half in the finer points (as he saw them) of the pastime – paying particular attention to indicate the importance of vision and of proper breathing.
Not that I could understand a word he was saying (save for some English utterances). I only understood that I could not stop laughing, and that this laughing was affecting my performance, resulting in a positive feedback loop: he becoming more disappointed with my performance –> me laughing all the more heartily in sight of  his distress, and thereby performing all the more poorly –> he becoming still more disappointed with my performance…
Coupla vids to give a flavour of the scene.
Shortly after this second vid was taken, he granted me a five-minute rest (even making the T sign with his hands). I asked him to demonstrate to me the concepts he'd been endeavouring so dutifully to impart.
Then it was back to work, and…now, he began demanding of me to drop and give him pushups whenever he adjudged that my performance was flagging! Ended up doing forty or fifty, I'd guess; somewhere between five and ten in each tranche.
At one point, he seemed to be indicating with his watch that it was now 4:00, and that he would be schooling me until 7:00 – but then he let me go at 5:00. As we sat down to have a break, he showed me his Thai ID card, and then the few coins he had with which to purchase some food, lamenting that it was not enough.
It had, in point of fact, occurred to me that he might at the end of the day request payment for his services. I gave him 50 Baht, which seemed to delight him quite a bit. Believe you me, were I not a pitifully destitute mofo in my own right, I'd have loved to have given him a whole lot more. Entertainment like that doesn't come around very often!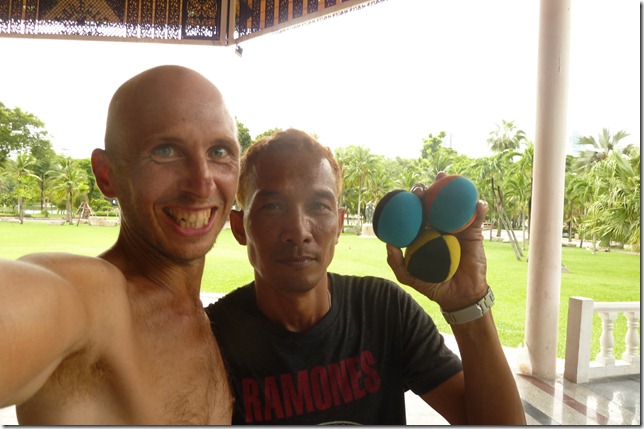 [dc]S[/dc]aturday, I was off to the western reaches of the city to visit the House Of Museums – a wonderful little joint devoted to, well, stuff.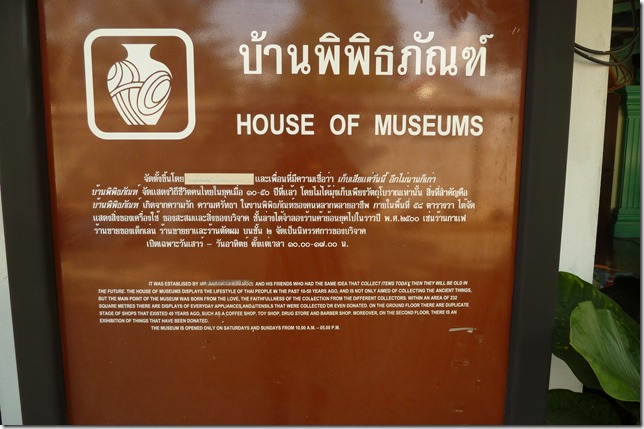 Possibly needless to say that the collections contained herein are right up my alley!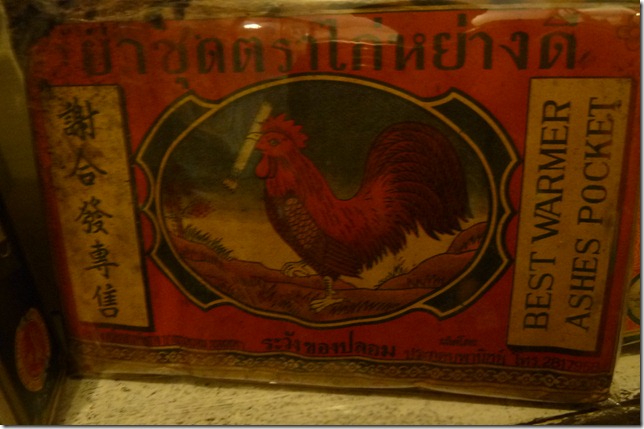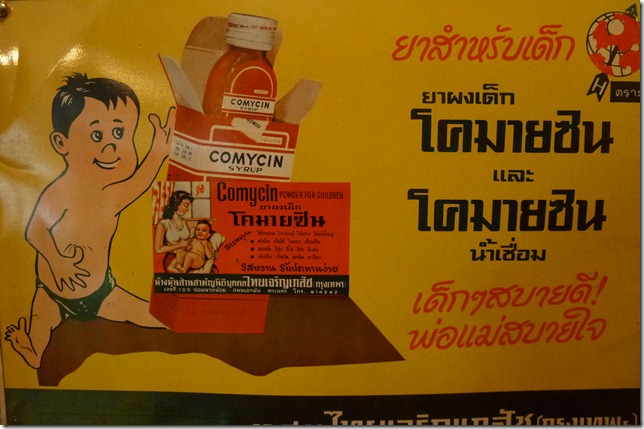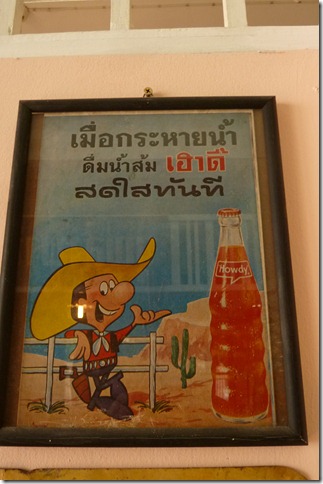 Had a pretty cool moment seeing this particular sign…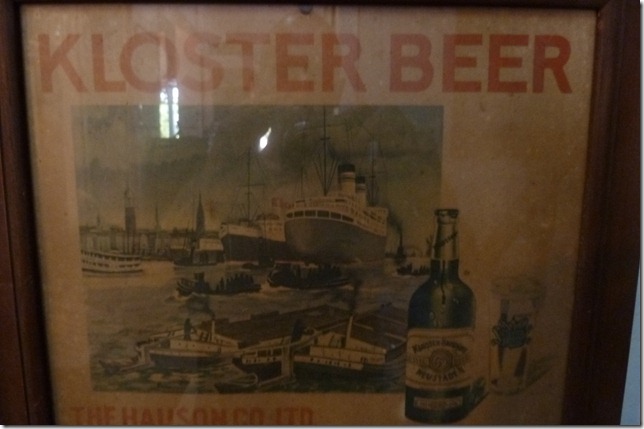 …as so far as I'm aware, then only other time I've heard tell of Kloster Beer was in the memorable scene from Swimming To Cambodia: "Sorry, sir! We've just run out of Kloster."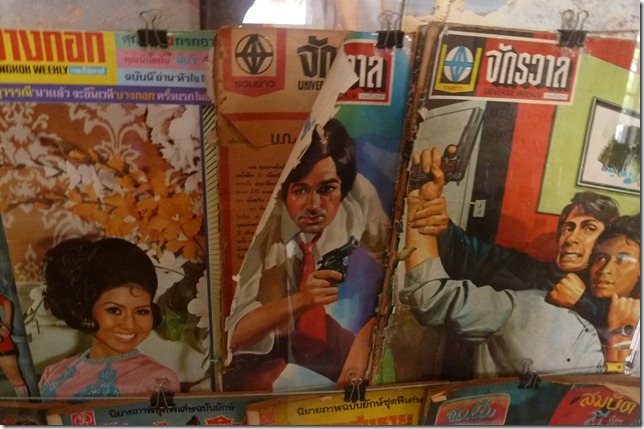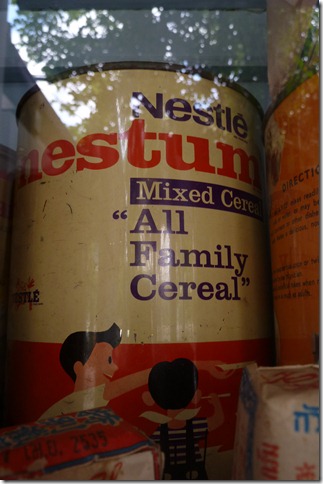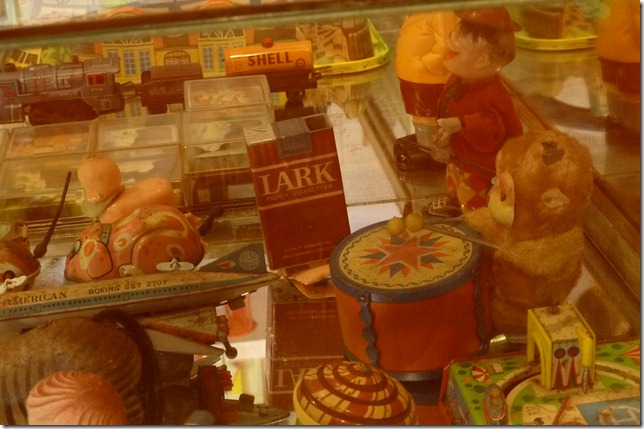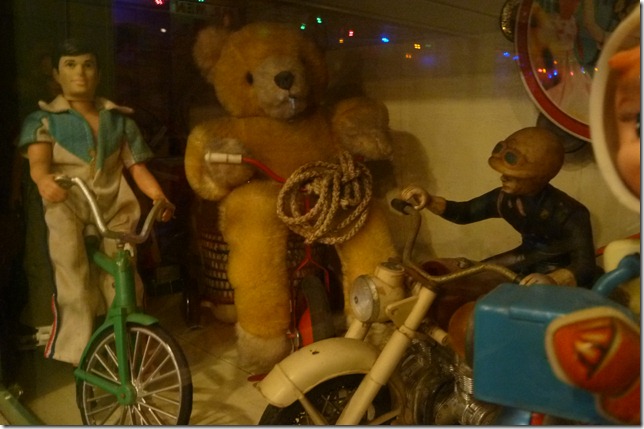 And just when you'd thought you'd seen it all, behold…cocksoap!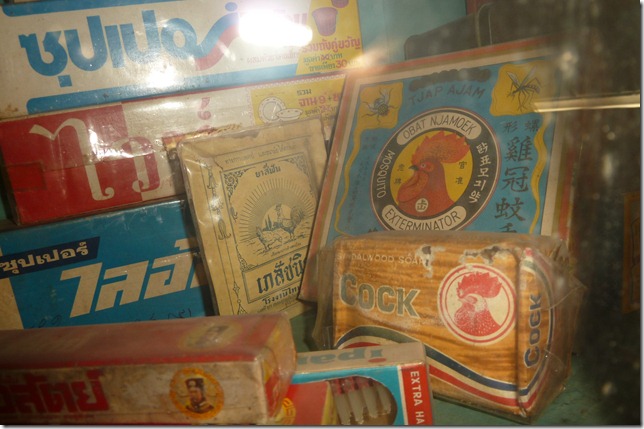 There's also a "Beauty Cream" variant.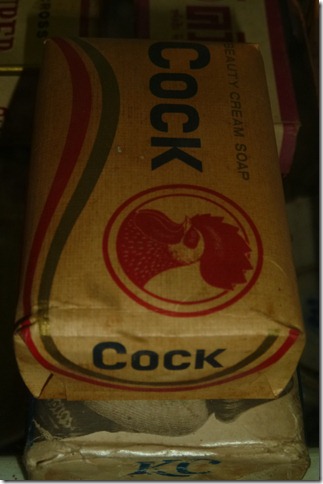 Also a bunch of great old photographs…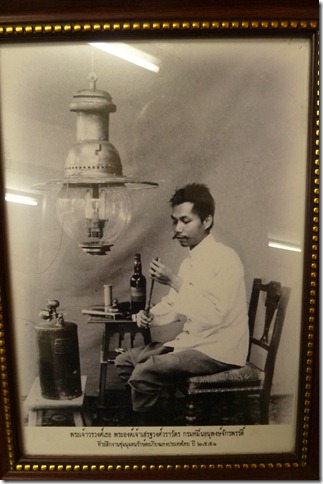 …and even a very small picture-show.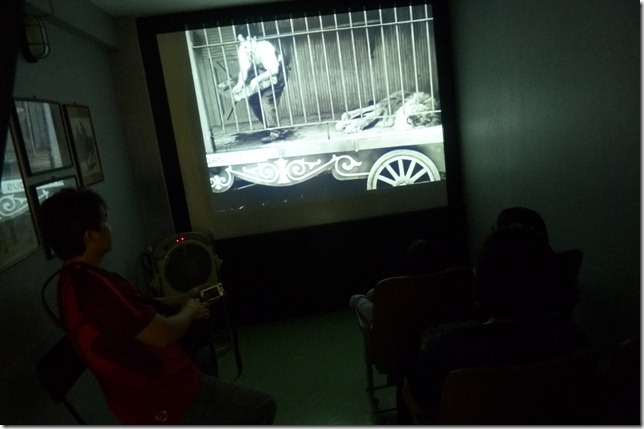 The top floor had some wonderful old-time Thai music playing out through the sound-system. Disregard the video in this clip, and concentrate instead on the stunning beauty of this lady's voice.
Amazing, n'est pas? Now, sit down and grab hold of something solid. Because, I asked Rata if she were familiar with the singer. She is, and…turns out, she's a he! Wow! However you slice it, that's one incredible set of pipes.
So, so, so many (possibly far too many) more photos from this museum over at the Flickr page.
[dc]S[/dc]unday, I continued my assault on the out-of-the-way museum scene, knocking out three of them up in the Chatuchak Park area.
The Railway Hall Of Fame is quite small – perhaps even smaller that the Royal Barges Museum – but kind of fun, all the same.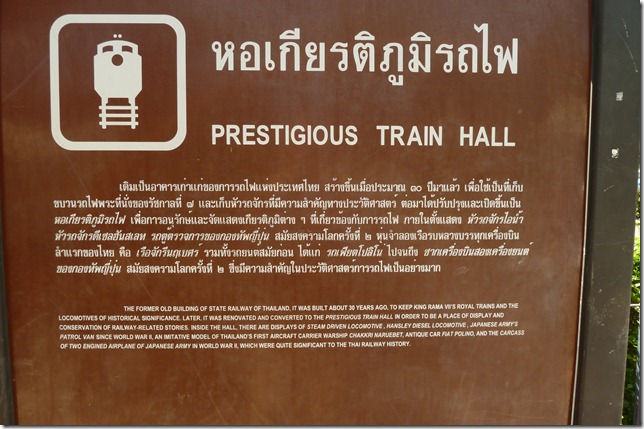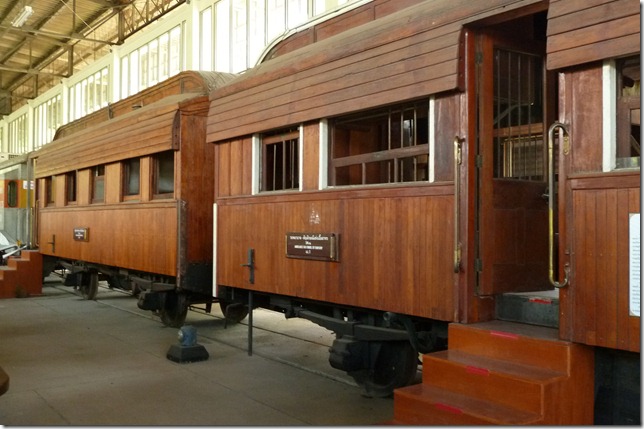 Not sure whether the berths look super-cozy, or super-uncomfortable?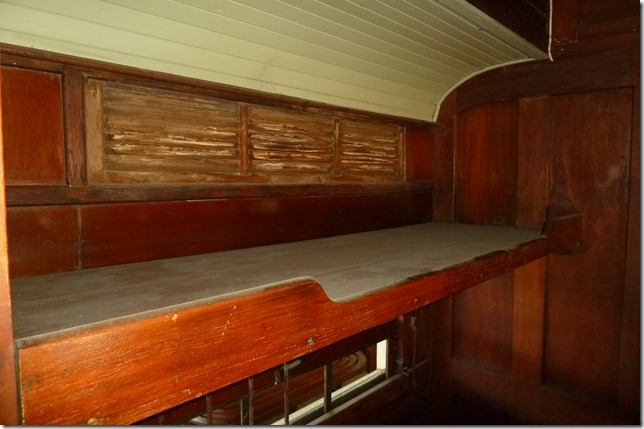 Oddly, this train employs a Western-style crapper; while the trains in use to-day use the Asian model.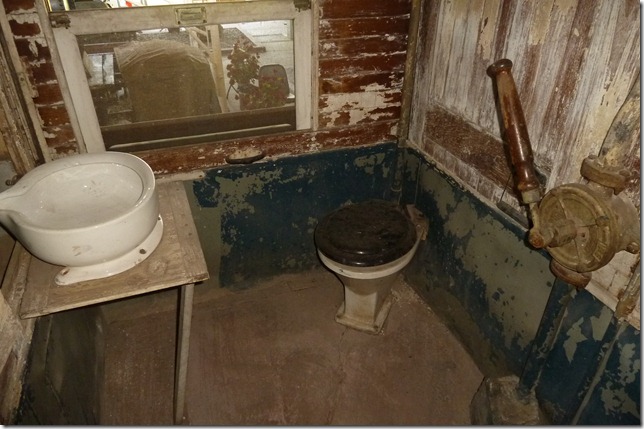 The Butterfly Garden was a wonder – peaceful and lush. And, of course, filled up with excellently beautiful butterflies flitting to and fro'.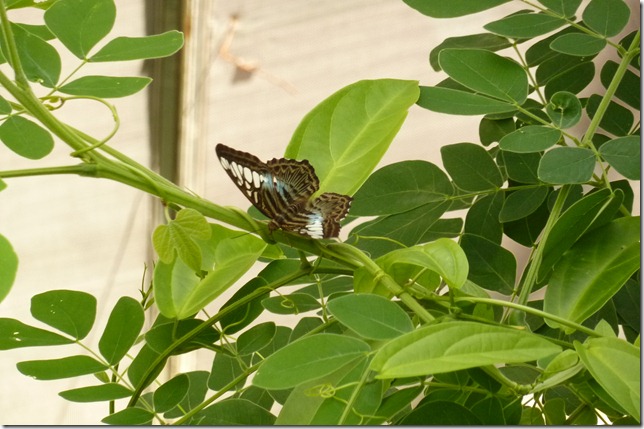 Difficult for my camera to obtain focus on them, however. Partly 'cause they're so small, and partly 'cause they're so hyperactive. At one point, I even called this one very large one a "fuckin' shithead" after it had darted off before I had got 'round to depressing the camera's shutter.
I later reasoned, however, that if it were me, and there were some big, huge two-tonne ogre staring me down whilst I was trying to eat lunch; and blasting some massive Hubble Telescope lens right up in my grill…well, I'd probably not much feel any obligation to stick around and look pretty.
Anyhow, the big one did return and alight for duration sufficient to get me a good shot.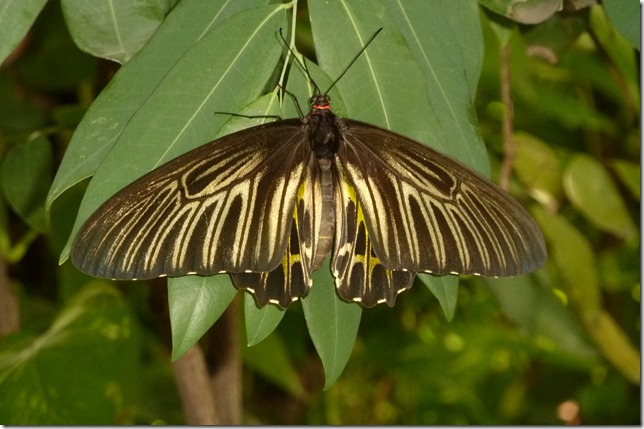 Please enjoy, too, this rather brief clip.
Also at the garden, a roving band of University students, engaged in some manner of video production, stopped and asked, "Excuse me, sir? How are you enjoying the butterfly garden?"
After answering that I was loving it, I couldn't resist turning the cameras 'round (so to speak) and getting a pic of the interviewer hisself.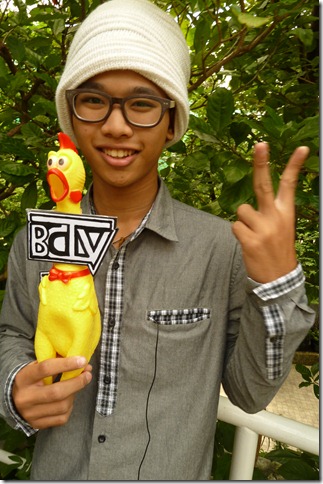 After which, I asked were there any more questions?
"Ah! We are making a film for our University class!"
"Okay. But did you have any more questions for me, or was that the only one?"
"I have only one more question for you!"
"Okay, shoot."
"Thank you very much!" He gave me the ol' wai gesture, and they were off – leaving me to laugh until I be all crying.
Being Sunday, it was Weekend Market time at Chatuchak. Plenty of weird and cool shit going on around and about the market this day, I can tell you.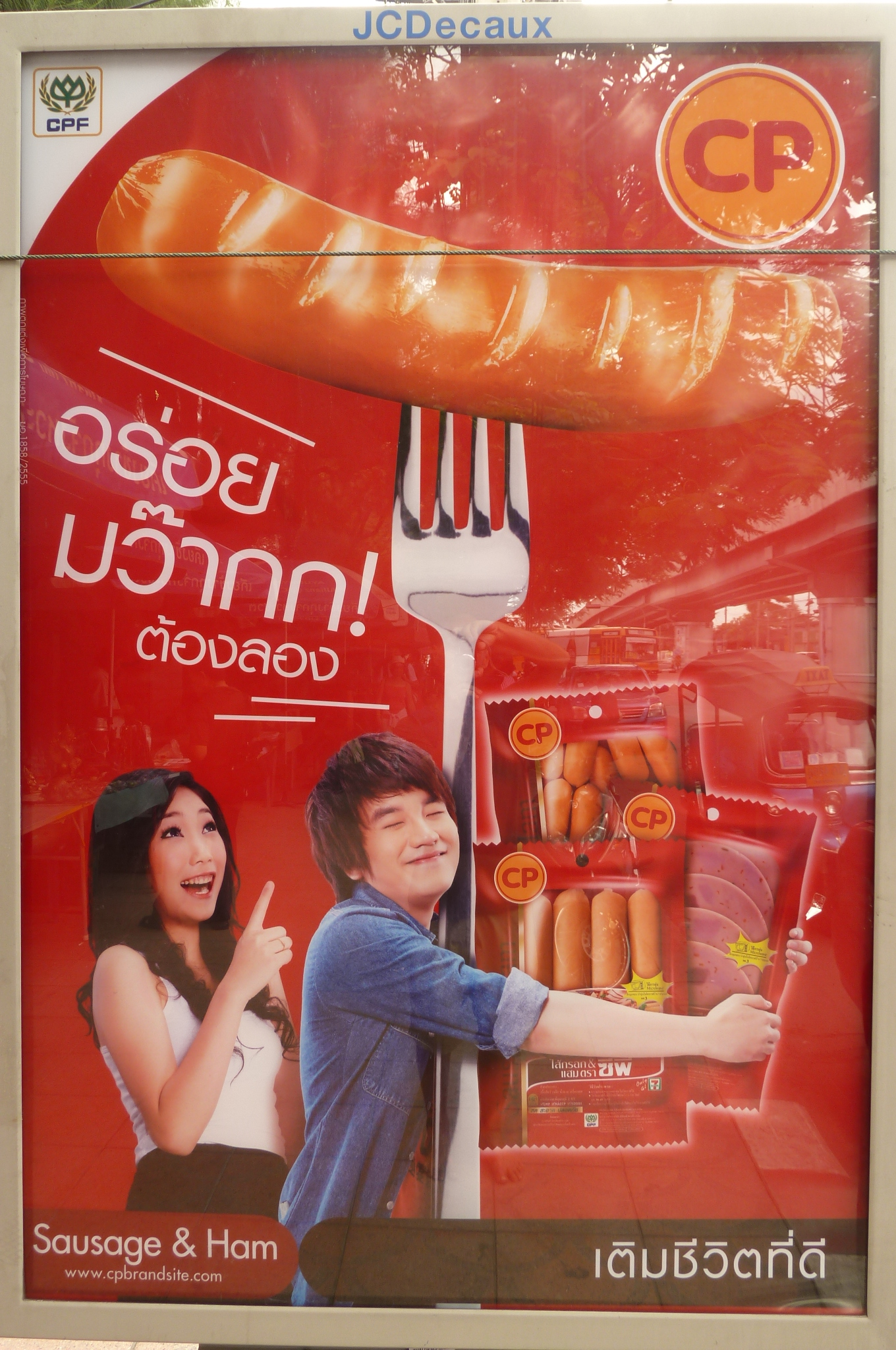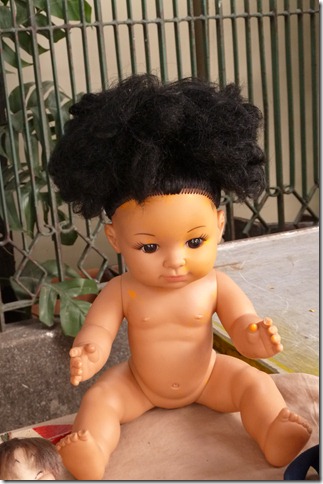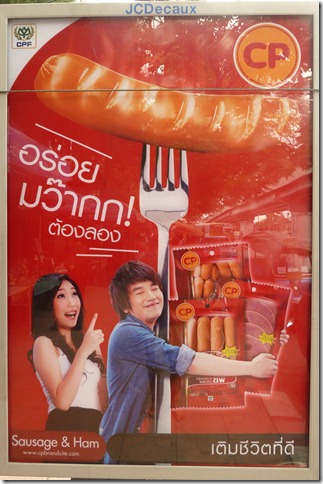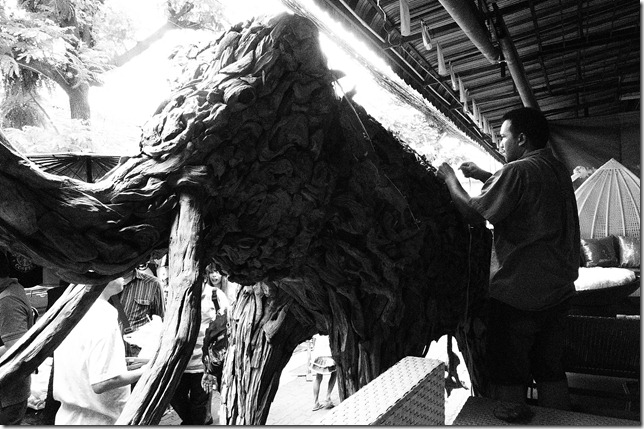 I spotted a temple down a lonely soi, and went to have a look. The exterior was nice enough.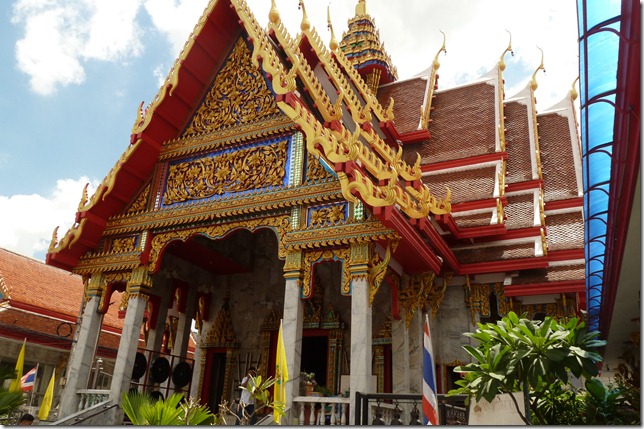 But what really knocked me a good one was this mirror technique used in constructing the murals. Looks so amazing seen from a distance.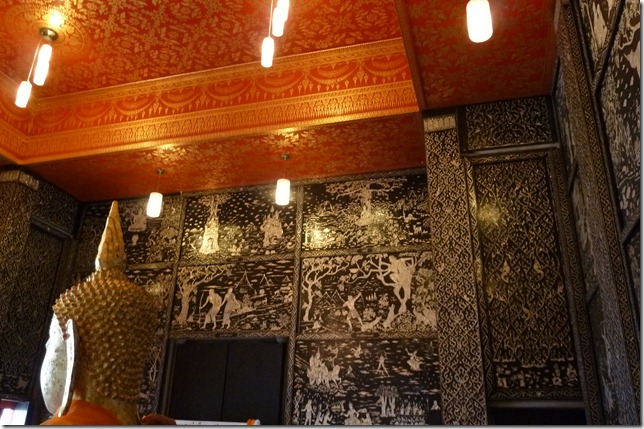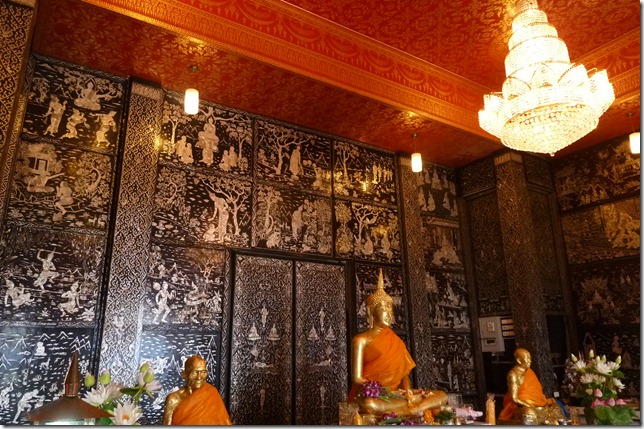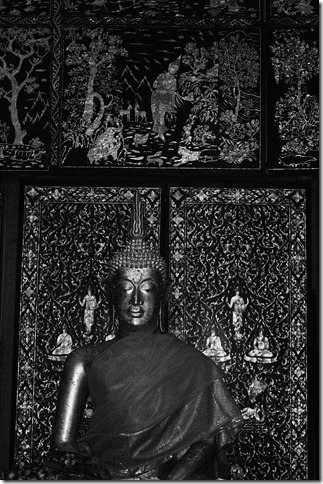 Viewed up-close, though, it's yet another instance of my most favourite Buddhist comedy song-and-dance.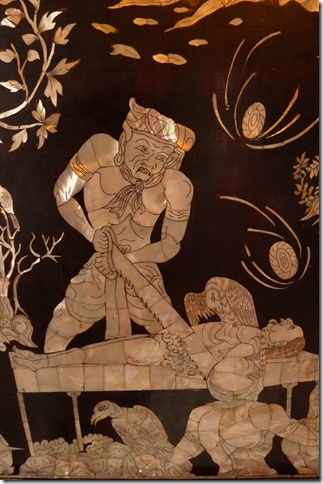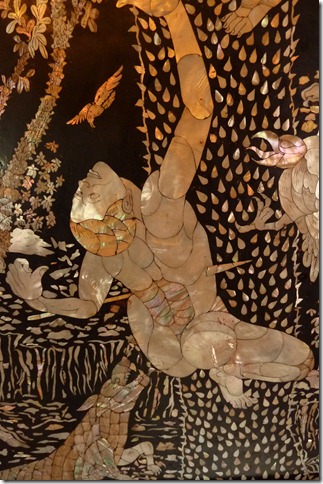 Much as I love to despise religion, gotta admit: if it didn't exist, we'd have to invent it; if for no other reason that we'd have something over which to endlessly giggle and gaggle.
The Philatelic Museum, then, is about as exhaustive as.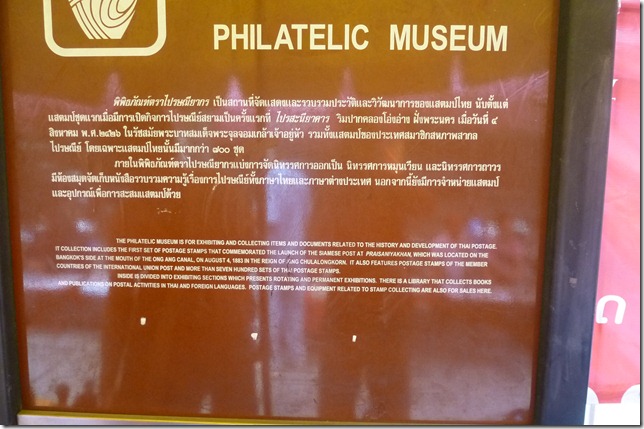 There's a pretty basic history of the Thai postal service – check out the Barefoot Postman!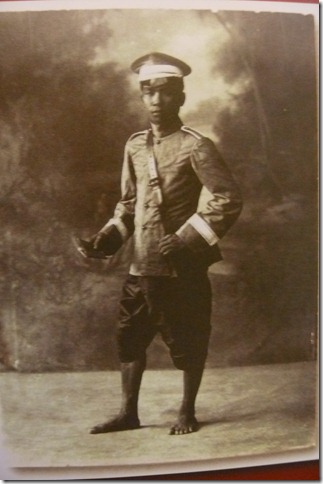 Some really great stamp-collage pieces.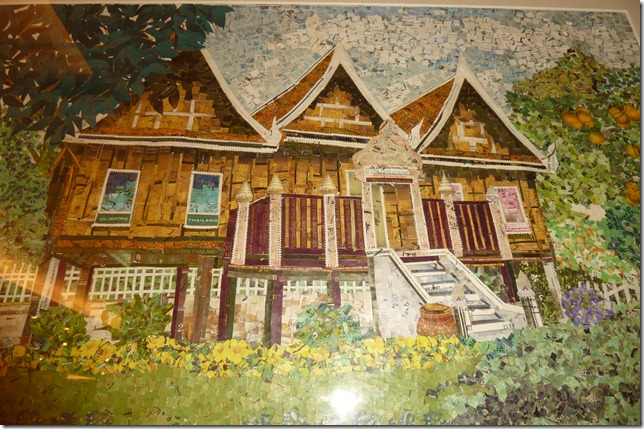 And…rows and rows and rows of stamps.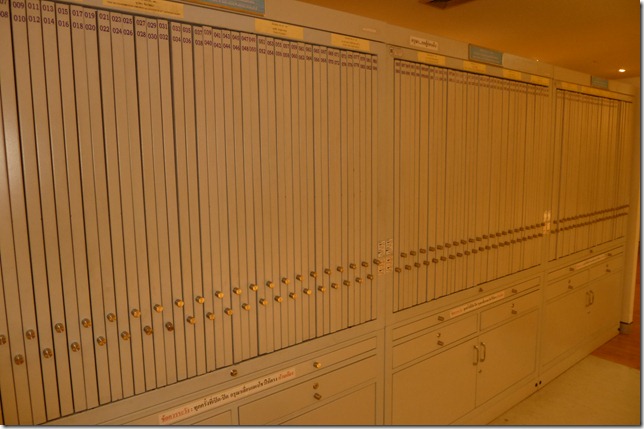 Just tonnes of 'em. I suppose it's a compleat history of Thai philatelia – along with many stamps of the World, thrown in for good measure. Didn't even come anywhere near checking them all out. Someday, perhaps, I shall. For now, a smattering to share with you.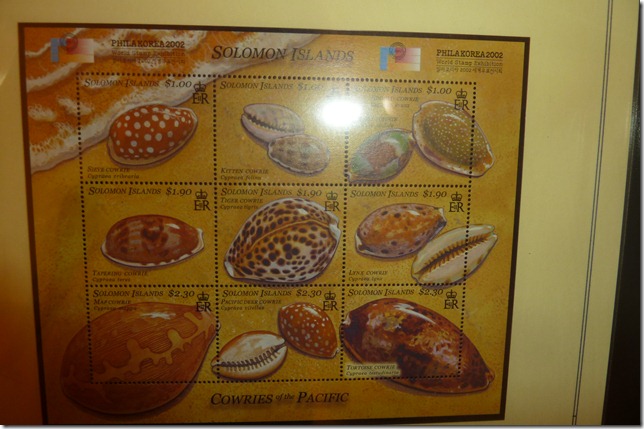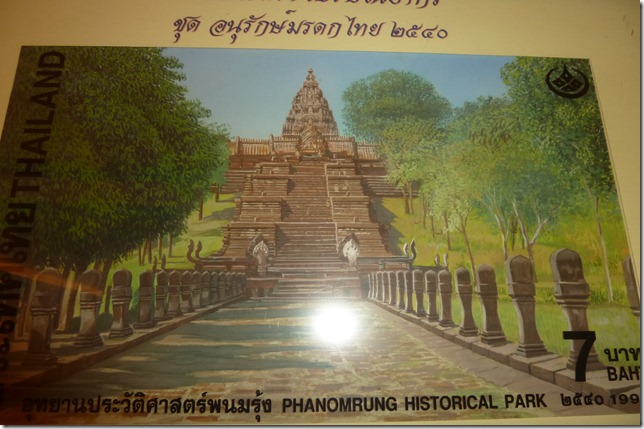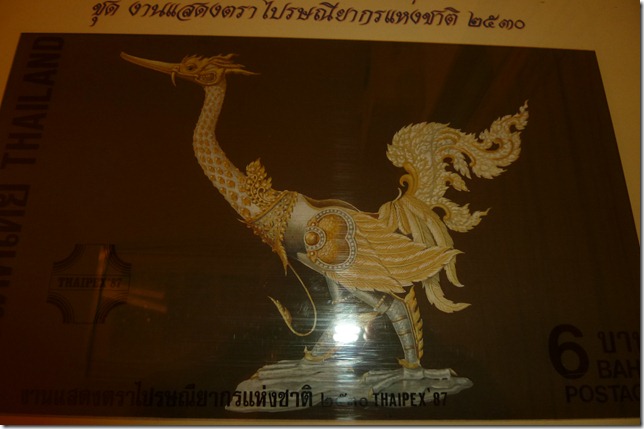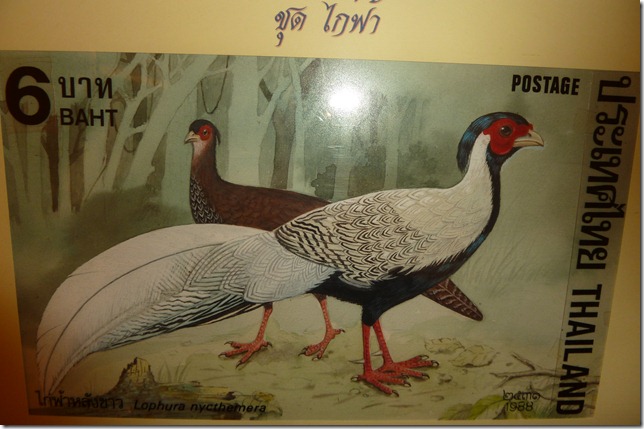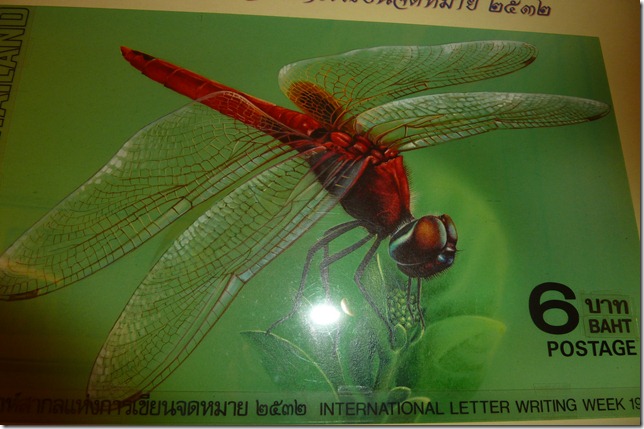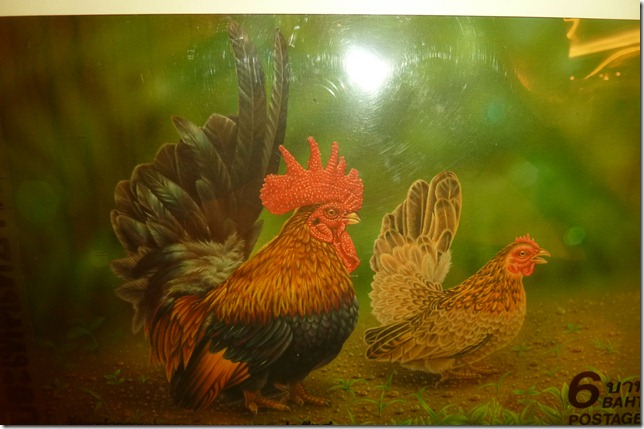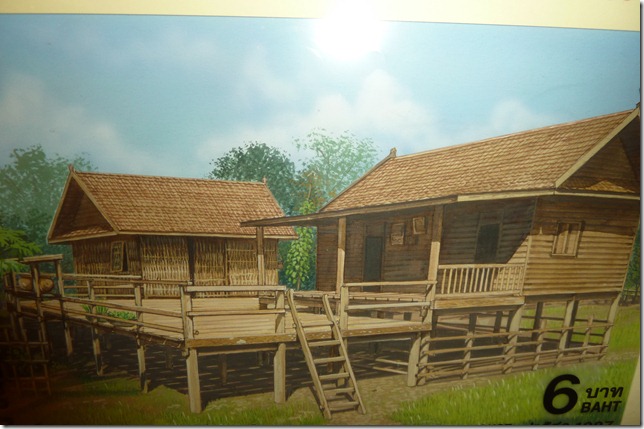 [dc]Y[/dc]esterday, Monday, some more wacky sights, on the way to the Queen Sirikit Gallery.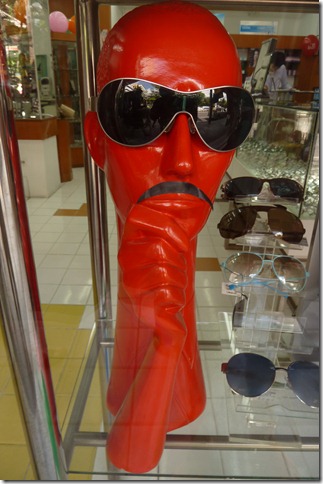 The Gallery is kinda small in size; but houses some very nice pieces. I believe that all or most of the work currently on display were submissions for an annual contest.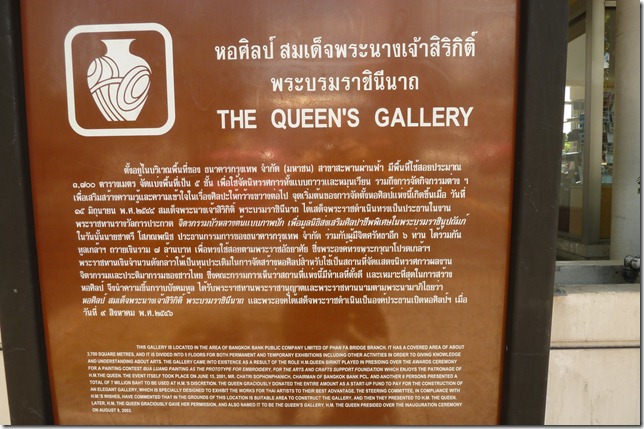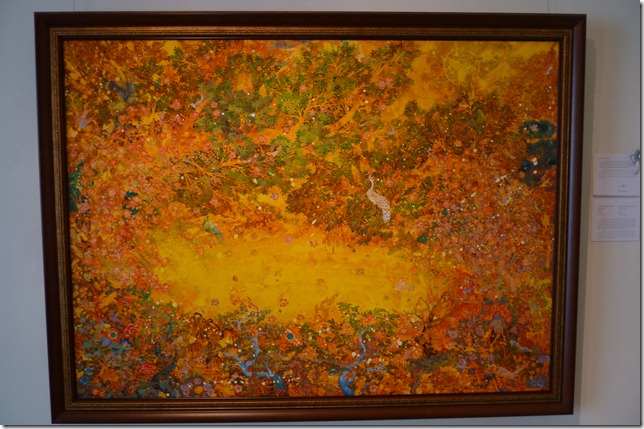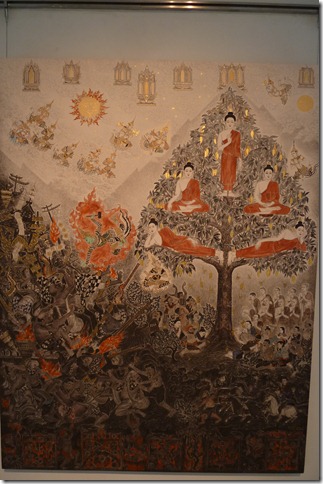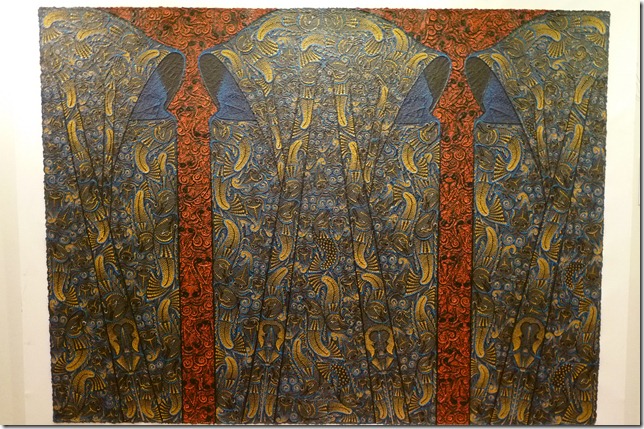 Love this particular description. Naga using its supernatural powers "in the wrong way".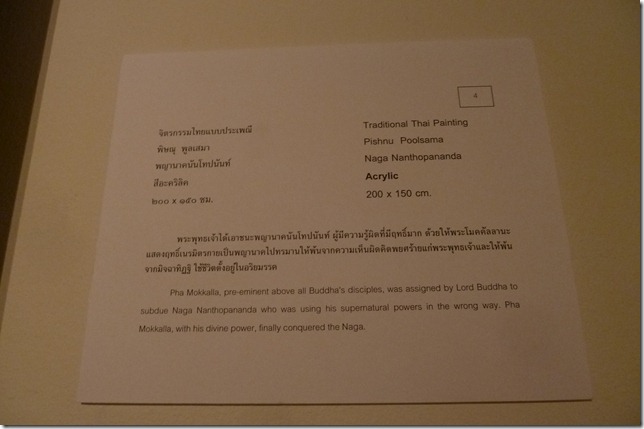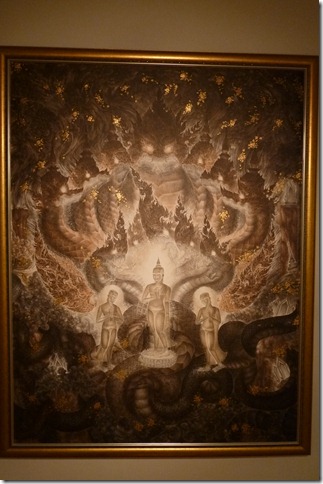 Exiting the Gallery, decided to walk down to and through Chinatown all the way to Hua Lomphong to secure a train ticket; and then continue on the hoof right straight through to the Park. Didn't even take me as long as I'd thought it might; and I arrived in plenty of time for aerobics.
The latter as thrilling and awesome and wonderful as ever. The city's skyline of this evening was quite fetching as well.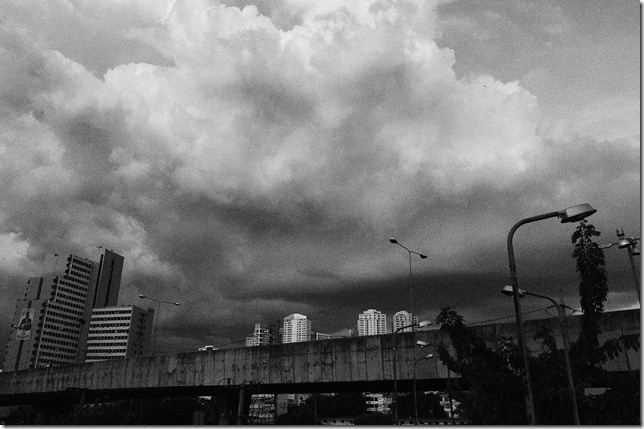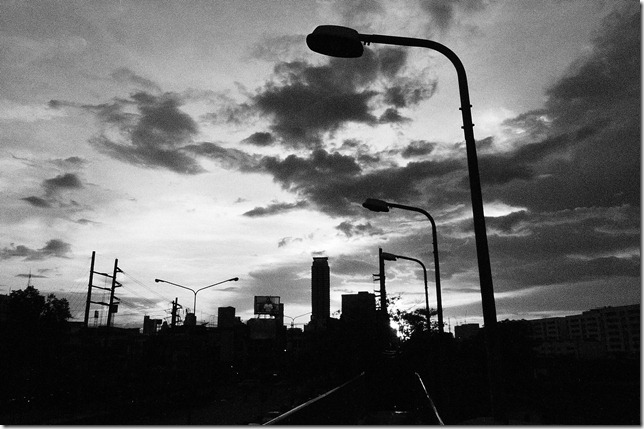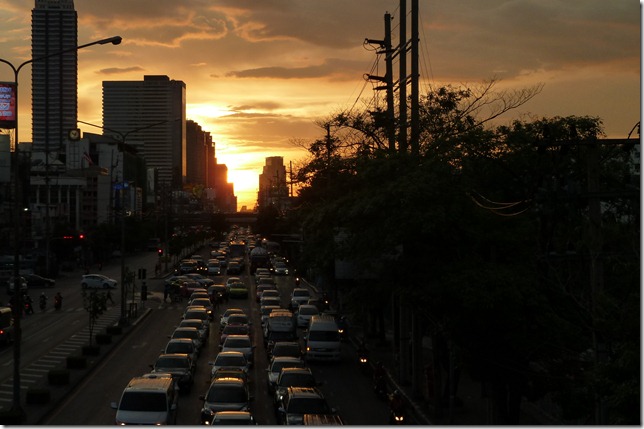 O! Bangkok, je t'aime.
And so too, natch, do I love De Talak. The always-dynamic swirl of faces old and new checking in and checking out, with delightful stories of places been and seen, is some kind of a cosmic wonder. Never a dull night here, as there's always somebody to keep me fantastically entertained 'til long into the night. I only regret that I'm more less unable to contribute in kind – merely, instead, laughing my ass off, and reveling in the beauty of this magical space.
[dc]N[/dc]ow, in a few hours' time, it's off to catch the night train to Nong Khai for a few days' relaxation (hopefully storm-addled!) by the lovely Mekong, before making the border run into Vientiane (and possibly Vang Vieng as well).
And soon, I'll be home. Just in time for Apricots! And Cherries! And Corn! And Heirloom Tomatoes! And Okra! And so many more. Yes, Seattle in August is to die for. …If only I can find a flight at a price that doesn't kill me dead in the getting there!