As per thee usual, my dimpled-yet-lazy dimpled ass elected, this last month, to pass updates on to the timeline rather that sitting down to compose any actual essays. The hyperlinks are to the specific timeline post in question, where there will be lots more pictures than those excerpted below.  For those interested, all my pics from Sri Lanka may be discovered at my Flickr page:
---
Got a Chinese hostel-mate name of "Jackson". I am pretty strongly of the opinion that my having come into possession of this information, and having in turn passed it on to you-all, marks the completion (I would personally say with smashing success, but your mileage might vary) of my spirit journey.
---
(Shortly) before the storm.
---
Were it simply a matter of loving the scenery, Sri Lanka would be almost without peer as a travel destination. From the spectacular and thrilling mountainous jungle vistas of the hill country to the, well, spectacular and thrilling vistas of the Indian Ocean down at sea level, it's all so gorgeous, it almost hurts to look at it. (Here in Sri Lanka, at any rate, the phrase "achingly beautiful" is not just metaphor!) On top of which, Sri Lankan people — both in city and town — are quite friendly and always eager to help out a wayward foreigner.
Alas, it's not all sweetness and light, however. The quality of the fruit is, shockingly, quite shit. The Coconuts, Bananas, and Papayas are decent enough; but the Watermelons, Mangos, and Avocados: Shit, shit, and more shit. I don't pretend to understand it, but them's the facts. Further, the traffic and noise pollution are nearly unbearable; while Sri Lankans are as addicted to plastic (and especially the burning of plastic) as everyone else. And also, mosquito time is a good thirteen hours per day here — a real pain in the ass.
On balance, I'm still not sure thumbs up or down — have got two more weeks' time to figure that one out…
---
I may or may not be fixing to spend the remainder of my born days here in Haputhale.
Okay, truthfully, I can't. Though this may be the most insanely wonderfully beautiful hike ever have I taken, it's nevertheless the same bugaboo about which I was bitching and moaning the other day: Lousy fruit and too-loud tuk-tuks. Adding insult to injury, my dimpled ass got rained upon like none other walking back to the hostel ("Holiday Home", as it's called here) with my lousy fruit I'd gone into town to fetch.
NEVERTHELESS, can't wait to try this hike again on thee morrow…
---
Hold the, I say, hold thee muthafuckin' phone: I'm actually finding some good fruit all up in here. Et a quite decent, if unremarkable Watermelon; a mighty fine Soursop; some excellent Mangosteens (which smashed my bank account in half — but, hey, it's frickin' Mangosteen!); and even a good Avo — the first I've encountered since arriving Sri Lanka. The first pic here is from my roadside lunch sit…
---
Didja ever feel like overflowing, with tears of unbridled joy, the Pacific Goddam Ocean…solely because you know a certain place exists? That's how your humble narrator here feels about O little town of Haputhale.
Though, I did make a little half-day-trip of the morning: Got the bus up to Badulla, the eastern terminus of the Hill Country rail line, and rode the rails back to Haputhale. This stretch is reputed to be the World's most beautiful. And, indeed, pretty it was. However: a) The bus ride out to Badulla was every bit as scenic; b) Thailand's Southern line — especially the stretch between Nakhon Si Thammarat and Hat Yai — beats this like a red-headed stepchild; c) Simply hiking around Haputhale is a far more satisfying experience, as I learnt yet again this after when discovering another stupendous trail — at which time, the aforesaid weeping re-commenced in earnest.
Oh, and ever did I neglect to report…no mosquitoes in Haputhale! Leastways, not at this time of thee year. Even after torrential evening monsoon rains followed by hot/sunny days, it's still too cool at night for the little fuckers' comfort.
Haputhale, thy name is legend!
---
The owner of my hostel just walked in with a fuckin' disco ball which also jams out Sri Lankan dance music. Top that (if you can)!
---
Made this pic with Snapseed's new multiple exposure feature — have included the two originals for reference. You can see I didn't get 'em lined up perfectly. Still, pretty neat…
---
This was from a few days ago — extended Internetlessness in Haputhale delayed its posting 'til now…
Am trying to take fewer pics, and to simply enjoy the magic of each day in this place. It's a difficult skill for me to master!
Took some country roads out to Diyatalawa, the next town over, then back to Haputhale along the railroad tracks. The return trip was rock and roll all over — so awesome walking along the tracks, where no tuk-tuks ever go!
This was actually my first visit to a Sri Lankan temple — the presiding authority, nearly as I could make out, was a nine-year-old boy speaking impeccable British English. He was a bit distressed when he couldn't get the blinking lights to work on this one shrine he was trying to show me ("Do you want to watch it?" he had asked, more amiably than you could possibly imagine, after explaining to me what lay behind the locked door in front of which we were standing), but was otherwise the most gracious host you ever did see. He had his own personal tuk-tuk driver, and everything — they later offered me a ride into Diyatalawa when they passed me on the way. I declined, but appreciated the hospitality, for sure.
You mark my fuckin' words: That little snot-nosed kid is going to get Monk Of The Year before it's all said and done — if not Monk Of The Decade…
---
Me, I pay homage to the Ang He Durian, which is on the Bao Sheng Farm, which is on the island of Penang, which is in the country of Malaysia. But then, I guess we've all got our separate idiosyncrasies, haven't we?
---
Getting ready to head back to the lowlands for Lord Buddha's birthday jam — but not before having taking part in a couple of strenuous hill-climbs featuring tasty views at the top.
The first, back in Haputhale, up to Lipton's Seat, the site where Thomas J. Lipton sat and pondered his next and newest bravura blah blah blah (it's all in the enclosed sign). You get a bus from town about halfway up, then make the five-mile trek each way from there — actually, I was walking almost exclusively alongside plantation workers heading to their stations: Most of the tourists seem to get a tuk-tuk all the way up, or one of the infrequent mini-buses. But, come on, one shouldn't be allowed to see the scenery without putting in the goddam effort, ain't it? It's a pretty walk up, through the tea plantation and all; not too much traffic; and the view is as advertised. You could spend an hour up there if you spent a moment — and one especially cool feature is it's ever-changing: At one point completely enshrouded in mist, with basically zero visibility at all, and then twenty or thirty minutes later almost totally clear…for the cycle to then begin all over again.
Next on the agenda, following the uber-lovely train passage to Hatton, and then a bus down here to Dalhousie, was the hike up the infamous 5,400 stone-step stairway to the top of Sri Pada, the most sacred pilgrimage site on the island. Hindus, Buddhists, Christians, Muslims, and hippies all claim the mountain as hallowed ground. I'd begun hearing about the hike almost before I even landed in Colombo. Basically, from the moment I'd checked in to the hostel, everyone set upon me imploring me to make the trek. One Australian girl said it was the best thing she'd done in her life; and one American gent couldn't wait to show me his pictures of the triangle (see below).
You're supposed to drag your dimpled ass out of bed at 2:30 in the AM in order to make the summit by sunrise. And one MUST make the top by sunrise (I've learnt over and yet over again) because…well, I don't know why the religious knuckleheads feel the need; something to do with Purifying The Soul™, presumably. But for the hippies, the life-altering event (seriously, I've lost count of the number of people who've told me so) is the appearance, shortly after sunrise, of a shadow in the shape of a (wait for it)…yes, of a triangle.
"Ooookay," I've been thinking for now three weeks' time, "that's it?" I mean, if it were in the shape of fuckin' Ernest Borgnine, natch I'd be there with bells on. But, a triangle? I can give it a miss, I'd been thinking for those same three weeks' time. Really, I just wanted to be able say I've clumb the 5,400 steps; there's no way the views would be superior to what I've seen in Nepal — or even Haputhale. I had been thinking to set out at 5:00 or so, but at some point it occurred to me that I could go up at sunset instead, come back down by nine or ten o'clock, get a full night's sleep, and spend the following day doing some day-hikes around the area. The only thing I wasn't sure about was, would it be raining in the afternoon?
So I arrived here to Dalhousie, checked in to the guest house, and asked the manager whether such an endeavour would be possible. Sure thing, he said — there wouldn't even be any crowds at that time (on weekends, there are so many people up there, it takes something like five hours to move the last coupla hundred metres up to the temple — but they all come down after sunrise). Would it be raining, though, I wondered? Only a few drops, perhaps, he assured me; and said I could borrow a raincoat, so long as I promised to return it. The perfect crime!
I was even happier after speaking, just by chance, with a German hostel-mate who'd arrived in a group of ten the previous night. He and one other had been thinking along the same lines as myself, and he said that it was similarly cloudy when they set out, but that they didn't get rained on and the views were quite nice. I excitedly rushed into my room, threw some shit into my daypack, pranced outside, and…it was raining like a motherfucker. And continued to rain like a motherfucker — with some few brief slack periods — well into the evening.
Well (as Chuck Knox always used to sagaciously remind us), we've gotta play the hand we're dealt. Anyway, the hostel's garden area was a nice place from which to watch the thunderstorming — and there were even some goddam fireflies about. Looking back now, I do think sunrise is the better time to go up, because you're climbing when it's nice and cool, then descending when it's nice and warm, rather than the other way around. I got here just in the nick of time, too: After to-day, there are only two more days in the pilgrimage season (which coincides with the dry season). One can, I believe, still make the hike after that — but the temple is closed, there are no services, and the path is not lighted.
So, 2:30 it was. The hostel's owner, whom has been up the hill 1,500 times, gave us a little informational pep talk the night before; told us we were in luck going on a Monday, as it would be far less crowded; and said that if one gives oneself to the mountain, and to the jungle, then, something would happen to you. Nice words (really, I mean it) — but the circus atmosphere makes such a pursuit totally impossible. Shoppes are lining the path, selling not only food and beverage, but also plastic trinket crap, and even (I shit you not) loads and loads of stuffed animals. And there's music, and shitloads of people going up and down; the whole nine yards. Kinda kills that particular mood, don't it?
The timing for the hike was listed about the same as the Lipton's Seat hike, so I figured it would be roughly as difficult. Heh, I figured very, very wrong. This one was extremely difficult — mostly, I suppose, because the stairs are for the most part the same height as two normally-proportioned stairs. And every time you look up, the peak seems to be getting further and further away. I was kind of getting down on myself for struggling so much, but then began to realise that I was passing locals like as though they were standing still. So, despite all the huffing and puffing, I actually did make good time.
The sunrise was very pretty, of course; but it wasn't such an enjoyable time. Despite there were far fewer people than on weekends, there were still tonnes of them, and loud temple music, and artificial lights, and temple structures and fencing obscuring the view, and so on. Worst of all: Babies screaming their guts out. I seen a very great many babes-in-arms being carried both up and down the hill, so I certainly rate those parents as hard-core. But, Christ, give 'em some nectar, or a tin of sardines…or at least a carton of Whoppers, for fuck's sake. Anything to shut them the Hell up for a while. I do like being in crowds of people at times — concerts, or sporting events, or what have you. But for Nature Experiences™ (gotta admit it), I much prefer being alone.
Yes, after sunrise, the shadow did appear. No, it was not in the shape of Ernest Borgnine — nor even Dustin Hoffman. Yes, it was as stupid and/or lame as expected. I dunno; if triangles are your bag, you can take it from me: The Egyptian variety are FAR more interesting that the Sri Lankan.
There was a bunch of religious bullshit going on for an hour or so, but after that, the crowds started to thin, and one could walk around and enjoy the view more easily. And what a view it was! Was seeing that view the best thing I've ever done in my life? Not even close — any single day trekking in Nepal, to take only one example, beats this experience senseless. But it was very definitely worth the effort expended. And now I can say I've clumb the 5,400 steps of Sri Pada.
I shared the walk down with a twenty-five-year-old Colomboite. Very nice fellow. He explained to me some angles concerning the trek that I otherwise would not have understood, and stuff like that. It was his seventh time making the pilgrimage, by five different routes (I'd only known of two, but apparently there are at least five). This time, he and a friend (who was still up the mountain suffering from cramps) had taken the Forest Route™ up to the top. Their plan was to camp out in a little-known cave overnight, before making the ascent this morning. Unfortunately, they got caught out in the rain for many an hour before arriving to the cave, shivering their asses off all the whole while.
We got to talking about leeches for some time — he said he'd had a hundred of them on him during the forest portion of the trek; and proceeded to tell me of all the ways, during his live-long life, he'd tried (and failed) to kill them. One time, he'd even squeezed one of them until his blood burst out, and he was sure it was dead, but then came to find out it was still alive. "That's when I realised," he declared, "that leeches are immortal."
Back at the hostel, I almost had a pretty bad conniption when I thought I'd lost my all-time-righteous stocking cap that I purchased in Kathmandu three years back — but then it turned out I'd already packed it somewhere where I don't normally pack it. Fuck, I'd hate to lose that hat!
By the way, I should perhaps explain exactly what it means, up here in Hill Country, when I say I "got the bus" from Point A to Point B. Basically, every mile of road up here is fitted out with (approximately) nine trillion hairpin turns. The cliffs are extremely sheer, and the roads extremely narrow — essentially, they're one-lane roads, though of course full-size and oversize vehicles are at all moments careening up and down in both directions. I think the bus drivers must get paid by the careen, in fact: They're complete and total maniacs — talented ones at that. (I'll give the locals this much, though: I've never seen a one, as is so common in mountain bus rides in Thailand and Laos, heaving their lunches into little plastic bags and then tossing them out the window. Sri Lankans really are made of pretty stout stuff…) The buses are always packed to the rafters, so you're probably going to be standing. In which case, your only goal in life is to remain upright against the g-forces being arrayed against you every five seconds or so. If you do perchance get a seat — say you got on at the beginning of the line, or very soon after — you would then have the opportunity to, like, make a chart notating how many (few) inches of clearance the driver left between the back-inside wheel and the cliff's edge for each turn until your destination. Or you could just sit back and enjoy the legendary views. Or whatever grabs your god damn fancy.
---
Kandy: The "cultural center of Sri Lanka," according to the guidebook. But if you enjoy breathing, please don't ever, ever come here. The vehicles' exhaust fumes are more suffocating and noxious even than on Chiang Mai's moat road — and that's really saying something.
So sad to be leaving the Hill Country; feel like I barely scratched its surface. This parting photo, of the Meskeliya Reservoir, is maybe the best shot I've ever gotten from the inside of a moving vehicle. They just never seem to work out; but, at long last, one did…
---
Oof, it's hot out here — drank six Coconuts on the Buddha's birthday, which I believe equals a personal best. They all call 'em "King Coconut" here, which at first I found a bit chintzy. But after one month's indoctrination, am now fully on board, and can be heard walking down the street calling out at random intervals, "King Coconut!"
Meanwhile, though Colombo is not by any stretch among my favourite places, when it comes to the sun setting over the sea, it needn't take a back seat to anyone. (Okay, it takes a back seat to Alexandria…but that's about it.)
---
Holy fuck.
---
They celebrated the Buddha's birfday the last two nights, and in Colombo the fine people were carrying on as if they'd just tasted victory in thee World Cup final.
The city was awash in colour; electric lights and homemade lanterns adorning every possible surface — including, to great effect, forming tunnels over many roadways for blocks on end. Plus, free ice cream for all.
The first night was marred, unfortunately, by the presence of every single motor-car on the island (or so it seemed) sitting idling in gridlock and spewing fumes so poisonous they make the eyes sting for any with the misfortune to be in the vicinity. The biggest street party of the year, and none of the streets were blocked off to traffic. I'd call it the boner of the decade — but it's certainly the same every year. The second night, there was much less traffic (though still far too much, honestly), and it was at least possible to walk around and enjoy the tasty visual fantasia without being completely fumigated to death.
Enjoyable though it was (whenever breathing was possible), it's nowhere near the level of Bangkok's Chinese New Year celebrations, for example. Surprisingly weak programming, honestly. But, anyway, worth a look if one happens to be in the area. What any of it has to do with the Buddha's actual teachings…well, nobody likes a party-pooper, so, I guess we shan't be asking such impertinent questions just now.
Popped down here to Ambalangoda to-day to check out the area's famous mask scene, and fell asleep on the train only to awaken just as it was pulling out of my station. Got off at the next stop, fifteen minutes down the line, and brought the bus back, so no big deal; but…I'm pretty sure that's never happened to me before!
---
How beautiful are these goddam Sri Lankan currency notes? Possibly maybe the world's most, n'est pas?
---
Holy fuck again.
---
Next time 'round I'll be a trout!
---
Really wanted to stay in Ambalangoda one more night: It's got skull-shattering sunsets, the ocean is in Beast Mode with the arrival of the monsoon (not good for swimming — but fun to watch!), the roof deck of my guest house had a perfect breeze at all times and was a terrific place from which to enjoy the nightly thunder/lightning activity, and…best King Coconuts on thee island (at a third the price for the same volume as in other locations, not to mention).
However, I'd not yet visited Colombo's National Museum, so I did my duty and made my way back up here last night. The museum is nice enough (more masks!), though, frankly, not essential.
Glad I came back, though, 'cause there were some very cool people at the hostel, including an Argentinian who told me all I ever needed to know (and then some) about his Vipassana experiences and a Kenyan who endeared himself to me very greatly by using the fuck-word with excellent frequency. So happy did this make me that I gifted him my fruit knife, which I must surrender before flying, but had been planning to sell for half the price I'd paid (or what).
Have to say, my hostel-mates — both here and in Egypt — have been spectacularly interesting people, at more less every single stop. That's always been true to some extent, but this year the effect has been hyper-realised.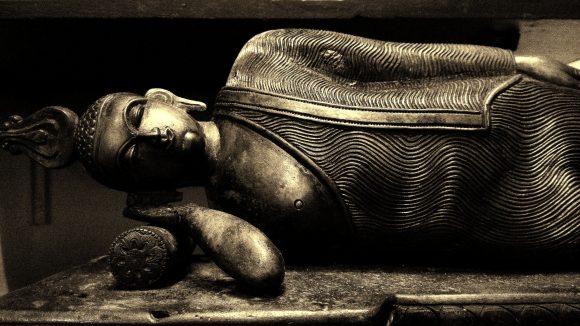 A very few, if one would pardon the indulgence, random moments of the type which can't be captured photographically, but which, in actual fact, are the moments that stick with yon traveller the most (or at least I so find).
 ~ The train pulls in to some backwater Hill Country town; just outside the station await three or four empty tuk-tuks — their drivers presumably over at the exit gate angling for customers. Blasting from one of the tuk-tuks is an (I'm guessing) Sinhalese cover of "Ob-La-Di, Ob-La-Da"; it's got a kind of calypso beat, very festive. Would love to hear that thing in its entirety. Anybody know it? Jeff Norman? Marc Hewson? Surely there's some obsessive individual tracking every known Beatles cover, one would think?
~ Walking back to the guest house in Haputhale, a major squall arrived just as I was passing a little general store which happens to trade in King Coconuts. I grabbed one to drink while waiting out the storm under a nearby overhang. Occasionally, some impatient soul would brave the buckets of rain and come running down the hill to get something from the shoppe — including, at one point, a barefoot lady in a Burkha with an enormous grin on her face. That sight, in that moment, will be, I think, the most cherished memory from my visit here. And, combined with a similar sight in Alexandria, I think it's feasible to propose a fine rule of thumb (if not Law Of Nature): Ladies + Burkhas + Running = Pure Entertainment Gold.
~ A boy sitting next to me on a bus from somewhere to some other where is playing Donkey Kong, Jr. on his very-small-screened phone. Fuck, the countless hours and quarters I spent playing that game, thirty-odd years ago, at the Redmond Pizza Haven! Brings back some memories.
~ A sign reads "Jesus Miracle Ministry"; another "Wash Master — We Groom Your Lifestyle". Unlike in India where the English signage is extremely precise, it's much more, let's say, haphazard, here — more reminiscent of Southeast Asia. In fact, I'd say that in general Sri Lanka is much more similar to southern Thailand than it is to India.
~ A man steps onto the bus to sell I-don't-remember-what; his sales pitch consisting entirely of the words, "Wadawadawadawada" spoken over and over again at light speed.
Just a few moments that especially stick out. There are dozens every day, of greater or lesser indelibility. And tomorrow (knock wood), I'll be eating Durian in Kuala Lumpur…