[dc]W[/dc]riting from KL, having arrived after a whirlwind final week in India. Was it really only a week ago that I was in Mumbai? Feels like ages have passed. Equally difficult to believe that it was only four months spent on the subcontinent – such were the eons' worth of experiences packed into such a short space of time.
Spent only two days/three nights in Mumbai: not enough even to dent the singlest tiny membrane of its sprawling surface – but well plenty to begin falling hopelessly in love with its rhythms and rhymes. (Though I do prefer Delhi's more blue-collar vibe — which seems odd to say, given the latter's whoosh-whoosh metro and seat-of-power prerogatives.)
It's a bit of an odd duck. While there's plenty of vehicle traffic downtown, and lots of people gathered at the Gateway, there're surprisingly few pedestrians. The latter are present in droves, however, in the market areas north of Victoria Terminus. There, it's the men, rather than the women — as had been the case in the north – carrying massive stacks atop their heads.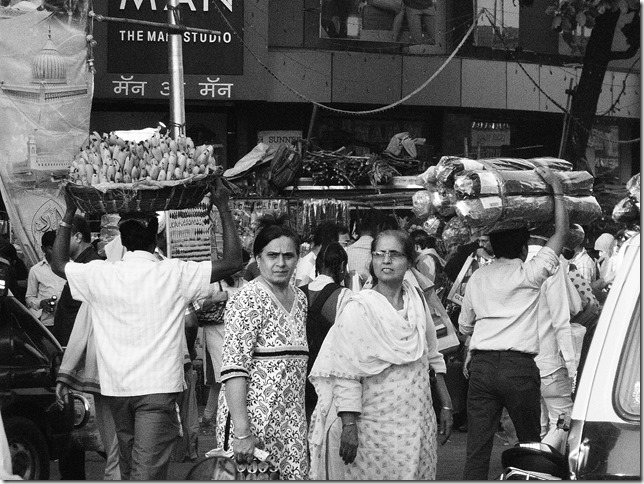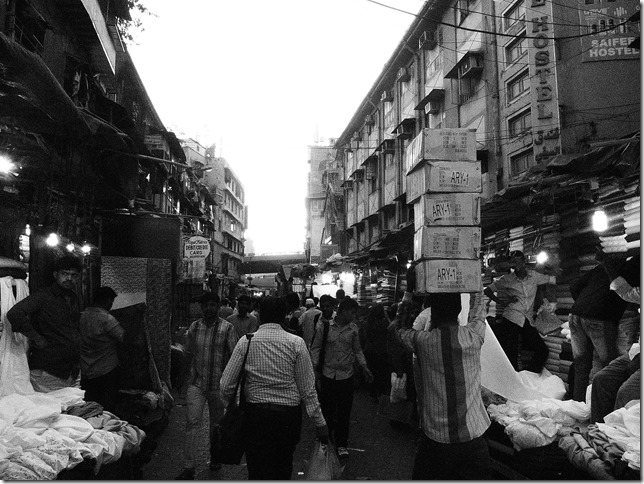 Meantime, the plates of shrimp – or, at any rate, the plates of fruit – are gorgeous, and the double-decker buses could almost make one think he or she were walking around London (not that I've ever been).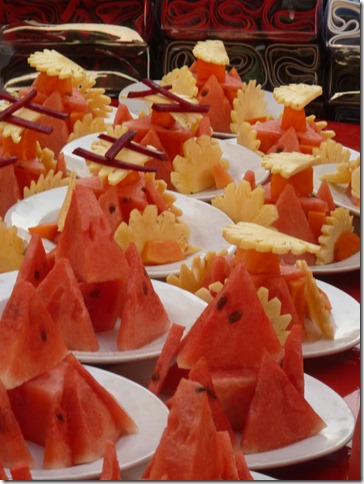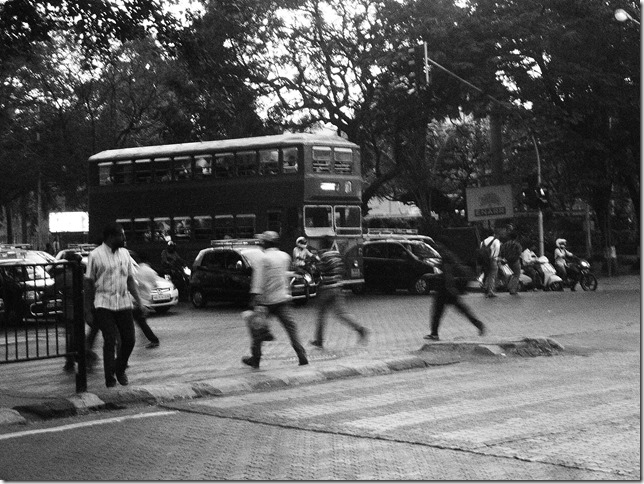 •
The big draw downtown is the remarkably stunning buildings.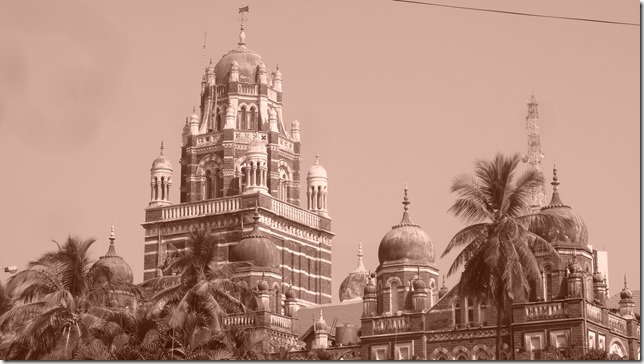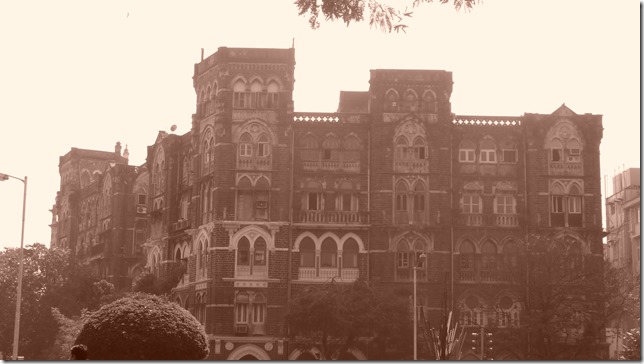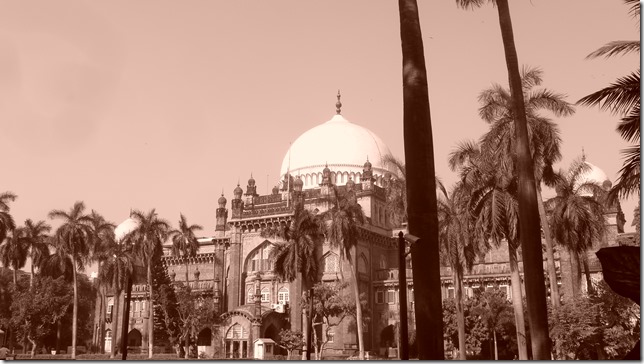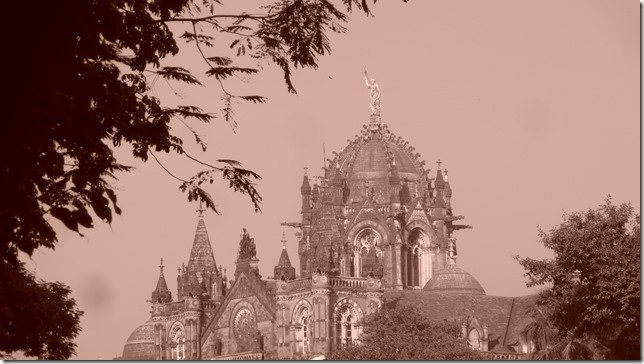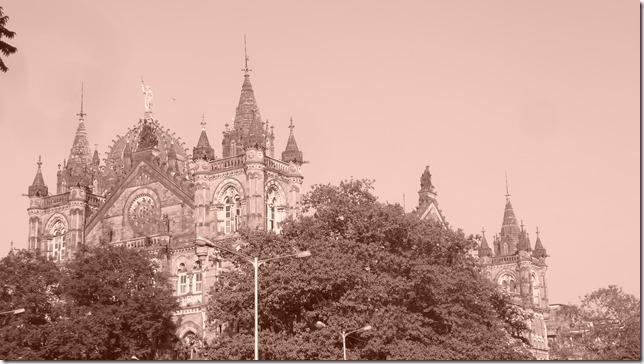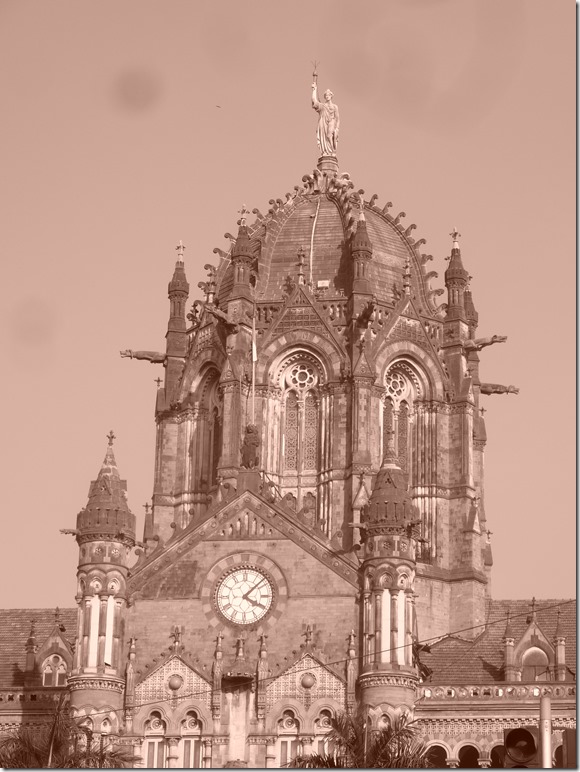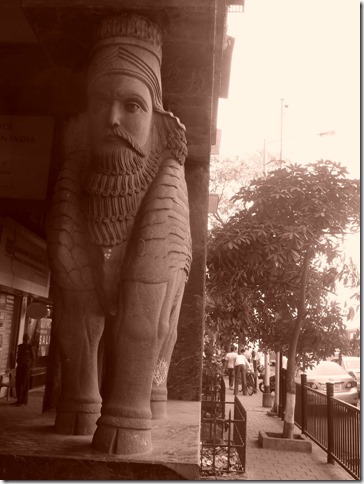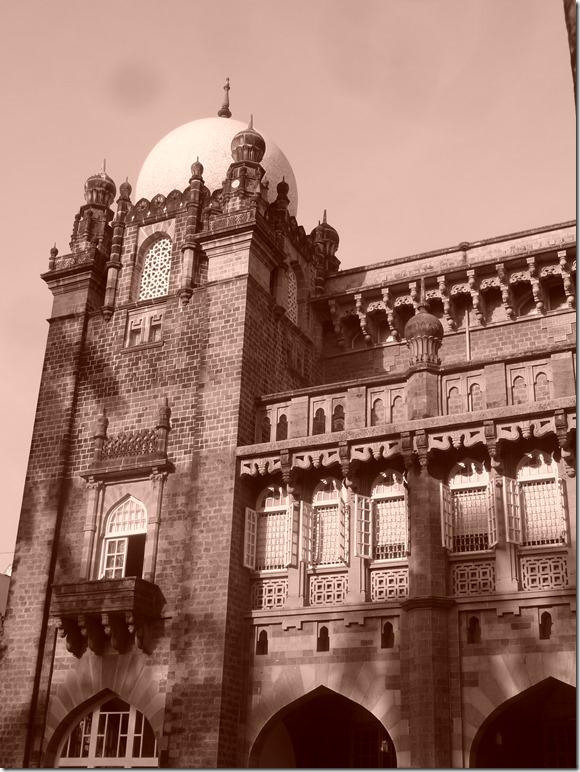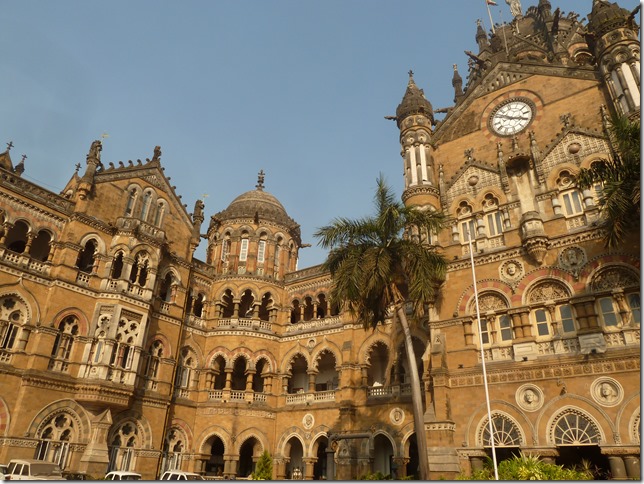 •
The Gateway was fine – but, truthfully, a little disappointing.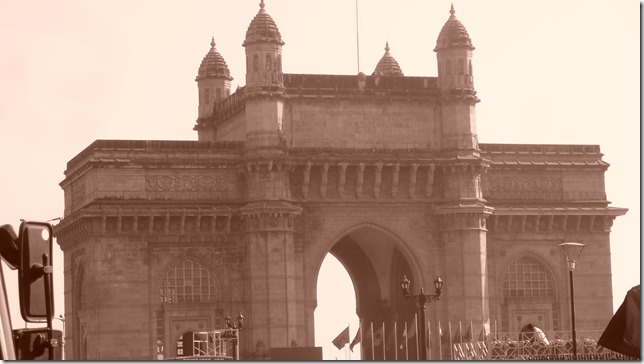 I dunno, it just seems so, sort of, blah when compared with its appearance in Passage To India – to my way of thinking, one of the most iconic shots in cinema history. (I suppose if I'd had David Lean arranging the mise en scene in advance of my visit, I might've come away with a different impression…)
•
Found super-cheap digs about an hour north of downtown. Kinda got what I paid for – twenty-bed dorm with dirty sheets, in which mosquitoes were given free rein and the teevee was blasting out Bollywood fare until 12:30 in the AM. But in only a few short days, the staff and dorm-mates were already becoming like family, there was a long line of fruit and vegetable stands only a block or two away, and the $3/day fare was just too good to pass up (Mumbai is notorious for its obscenely expensive lodging options).
That, and it gave me a chance to familiarise myself with the city's commuter rail network. The system, sharing the intercity lines' tracks, is even more insanely cheap than Delhi's – not to mention more crowded.
I took one for the team, too, exiting one of the express coaches one evening. I'd asked which side of the coach the platform would be, and made my way toward the door – so, people knew I'd be getting off there. I thought there'd be many others deboarding as well, but turned out there were only a few. And, as there was a huge multitude getting on at that stop, to avoid getting trapped inside by the oncoming wave, those few departing took to jumping down while the train was still in motion. And those remaining inside were scandalised that I'd not done the same, frantically urging me to hurry my good self up.
Which I did do – but still ended up being thrown around this way and a-that, bumping my head upon a dude's tiffin cannister (I guess it was), and landing up dimpled-ass-over-teakettle on the ground. My forehead is still painful to the touch, although it never did exhibit any bruising.
The trains are open-air in the year-round tropical warmth, and the desired location within the carriage is hanging out one of the doors.  Ain't it the life these guys are livin'??? (Okay, it's not a very good picture. But, trust me: It is, indeed, the life these guys are livin'.)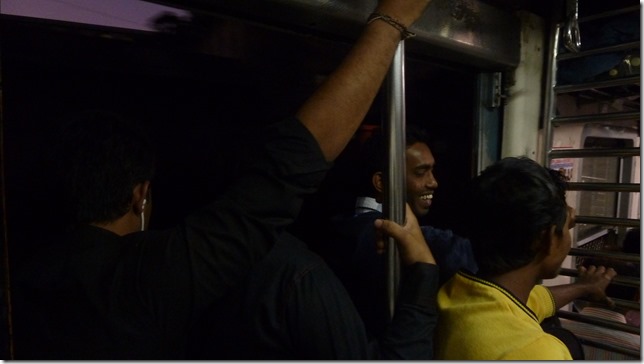 •
[dc]E[/dc]lected for an overnight bus to Hampi, as I didn't really care for the train's timings. It was pretty fucked, but, oh well, I survived. And, howsoever one chooses to get oneself to Hampi, it'll have been among the wisest choices the individual ever had taken. A fitting bookend to my arrival in Varanasi some five weeks before, a visit to Hampi is about as surreal and magical an  experience as is possible (I should think) on Planet Earth. Among my favourite places ever to have visited, I think it surpassed only by the trekking of the Annapurna Circuit and (natch) Yellowstone Park.
Such is its powerful weight that merely to walk around the area is to be overcome with emotion at regular intervals. The place is so special that I hesitate even to share any pictures (though I snapped far too many, and they're now available at my Flickr page), in lieu of simply urging all and sundry to place a visit to there at or near the top of one's list of lifetime goals. But, okay, you've been warned: Photographic spoilers dead ahead.
In Hospet town, the nearby transit hub, already one feels connected to the more rural lifestyle. About 20% of people even walk around barefoot (I'd only ever seen a few people around the Golden Temple in Amritsar doing so – and the Indians in the north are more dismissive of my barefoot predilections than any other people in Asia). Also in Hospet, the Bananas are fantastic, and fantastically cheap. And the street art is literally located in the street.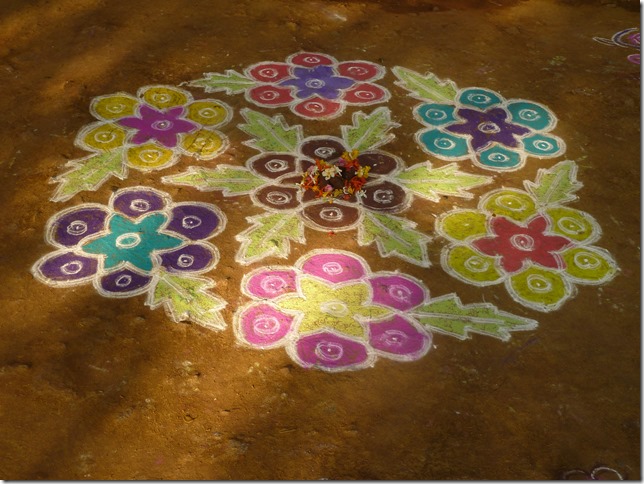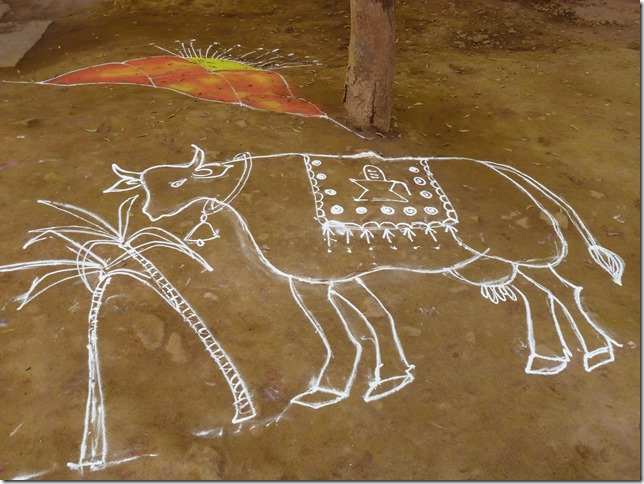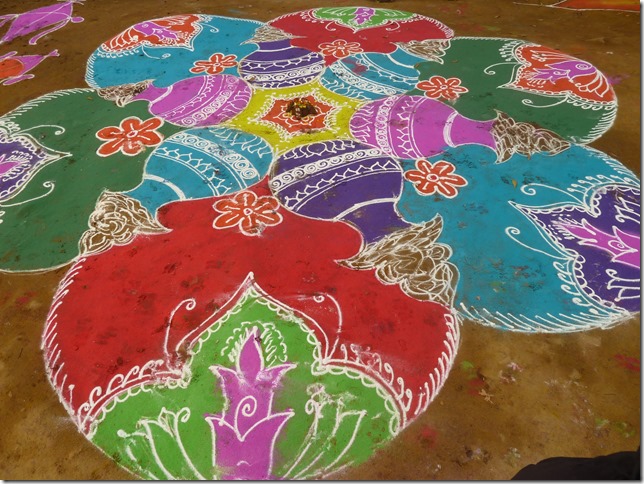 •
To arrive in Hampi is to immediately be pulled into its incredible orbit. My most frequent responses to the sights here were to babble, "What in the fuck?" or to burst out laughing whilst shaking my head in bewilderment. A volcanic area with mountains of hardened lava everywhere, and massive boulders thrown all over the place into impossibly precarious-looking positions, as well as together into gigantic mounds/hills, the moonscape extends in every direction as far as the eye can see.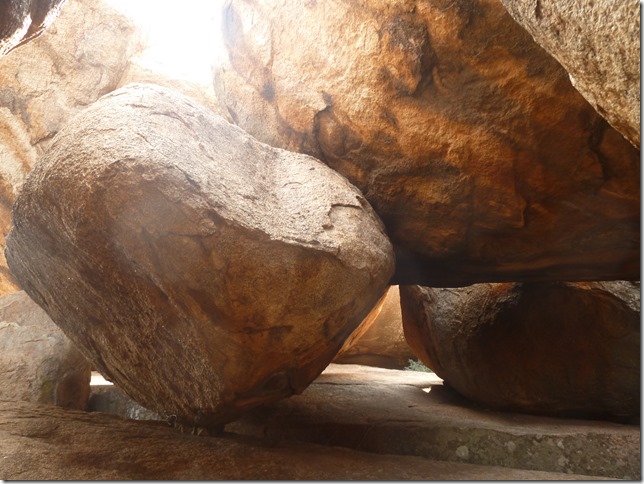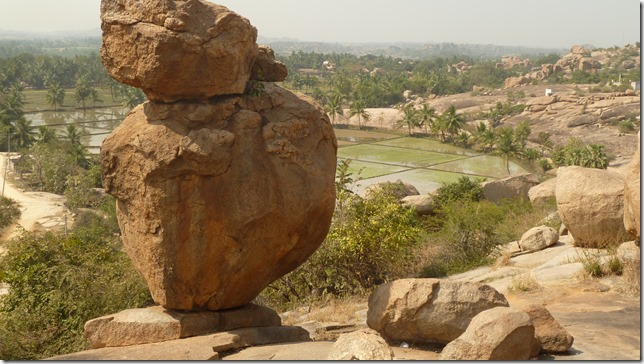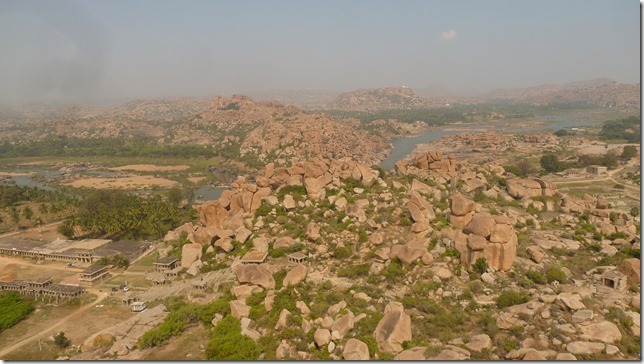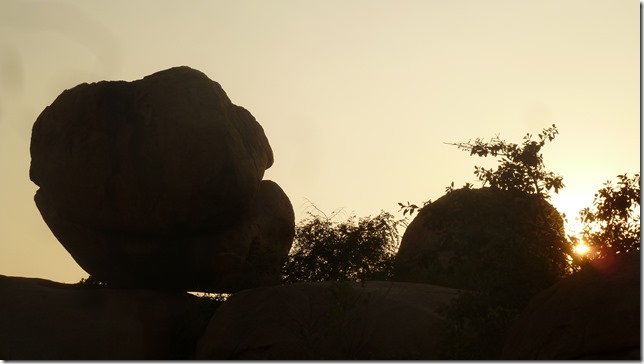 The pics don't even begin to tell the story of how huge these rocks are, nor how thrilling and humbling it is to be standing and climbing over and around and under and betwixt.
Atop and around the lava and the boulders are the ruins of a large number of Hindu temples and an ancient city complex (all constructed between 1200 and 1600 AD) spread over several sites. Though not quite as artfully accomplished, these are most excellently reminiscent of the goings on over at Angkor Wat.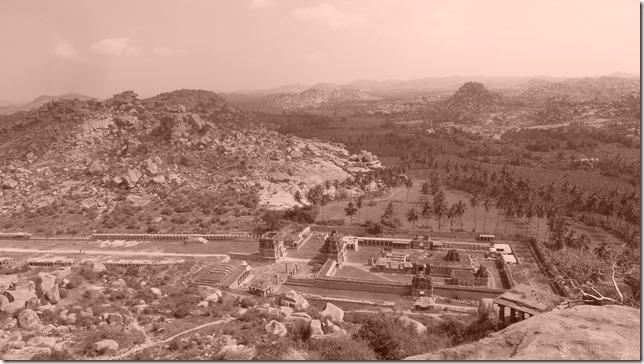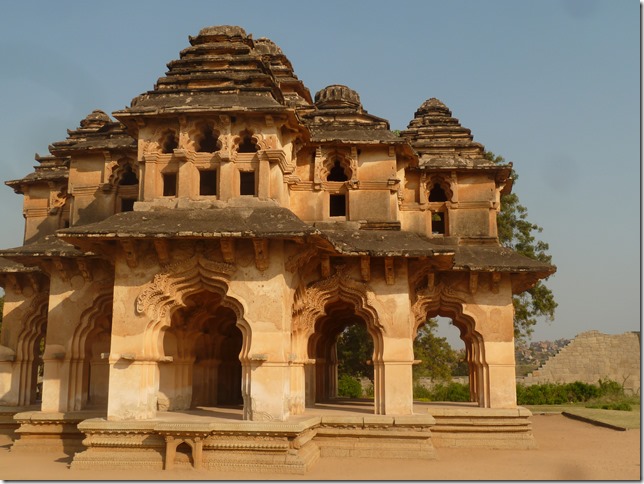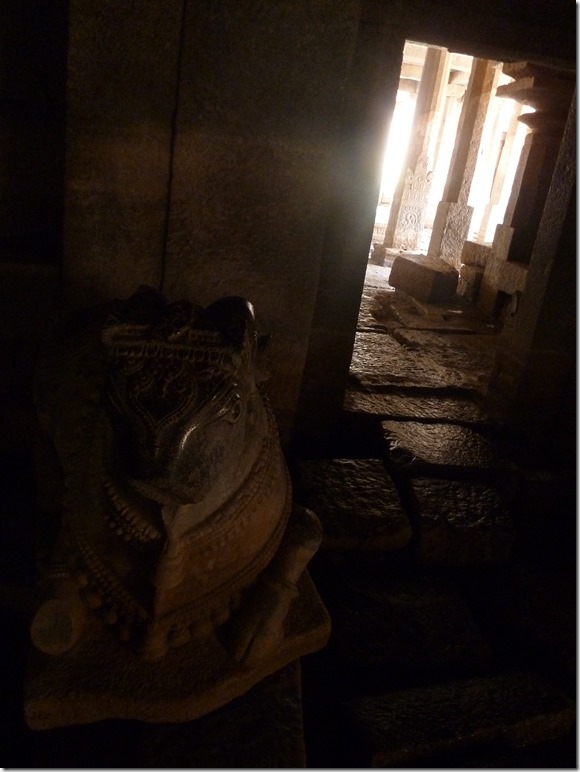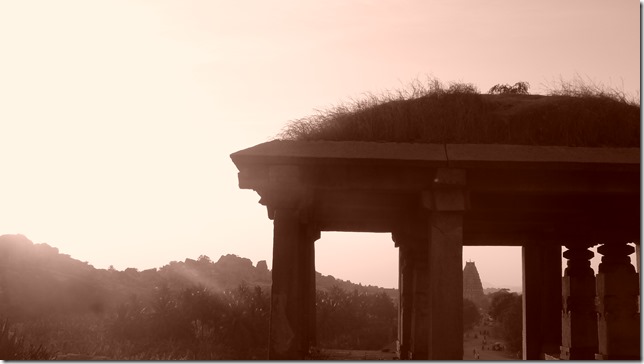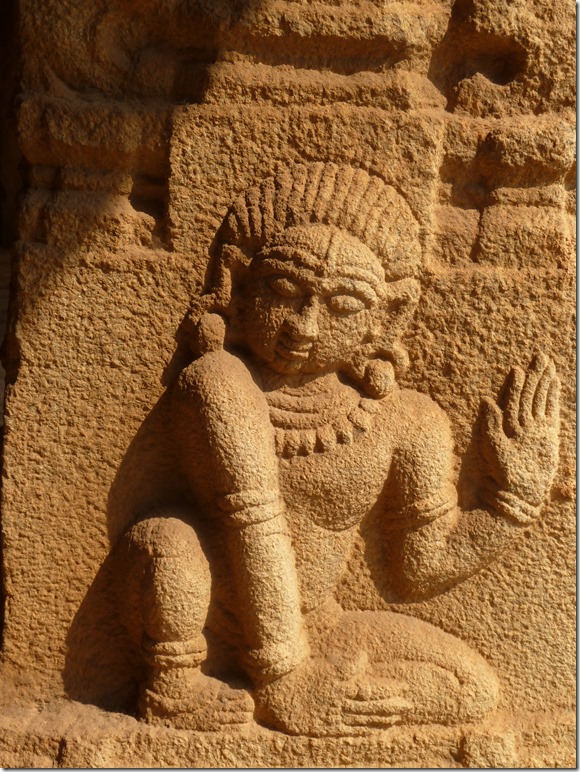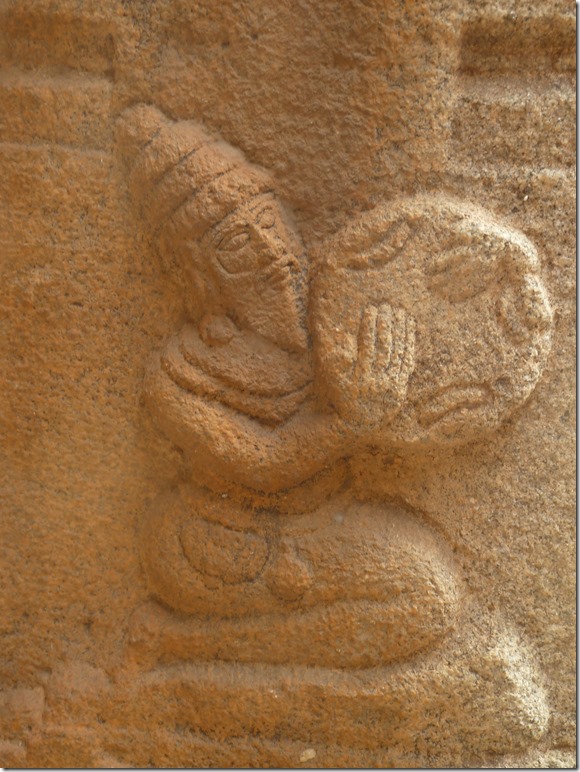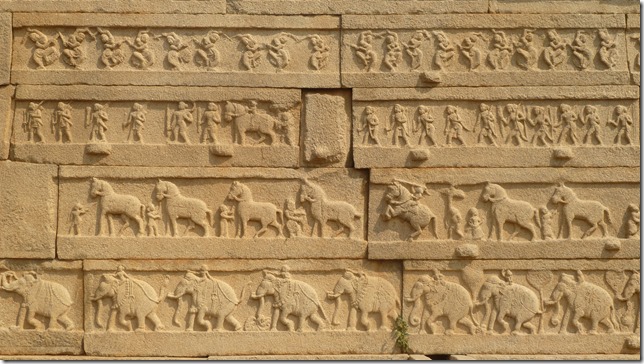 •
The ancients also left their mark, in some locations, upon the boulders themselves.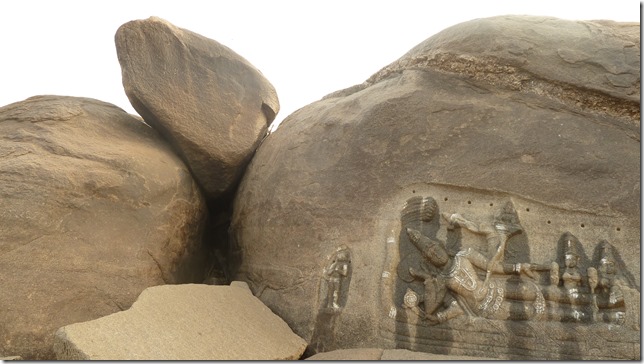 •
Hindu legend has it, moreover, that one of these mountains – this one just here…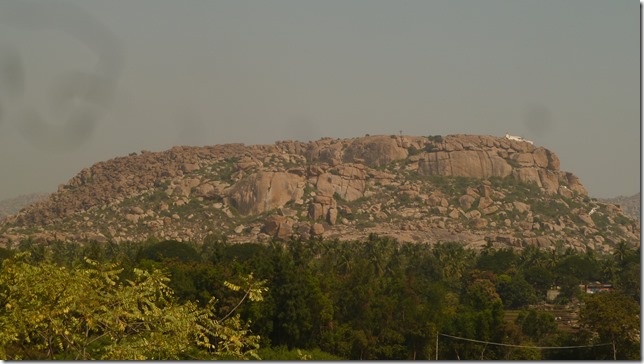 …is the very birthplace of Hanuman! You can see the temple up there, and barely make out the stairs snaking their way up the hill. From the village, it seems impossibly far away, but turns out to be only a couple hours' walking each way to the bottom of the stairs. The temple is pretty nondescript – but with a setting like this one, fanciness is not in the least required.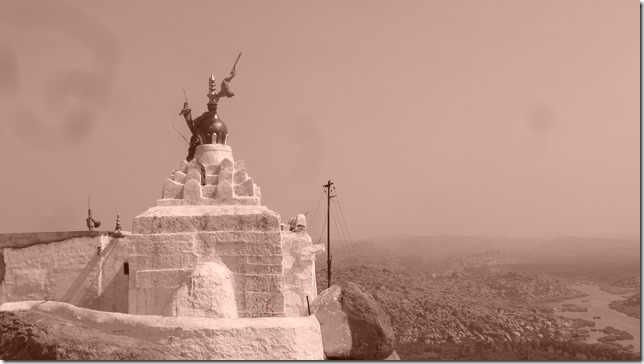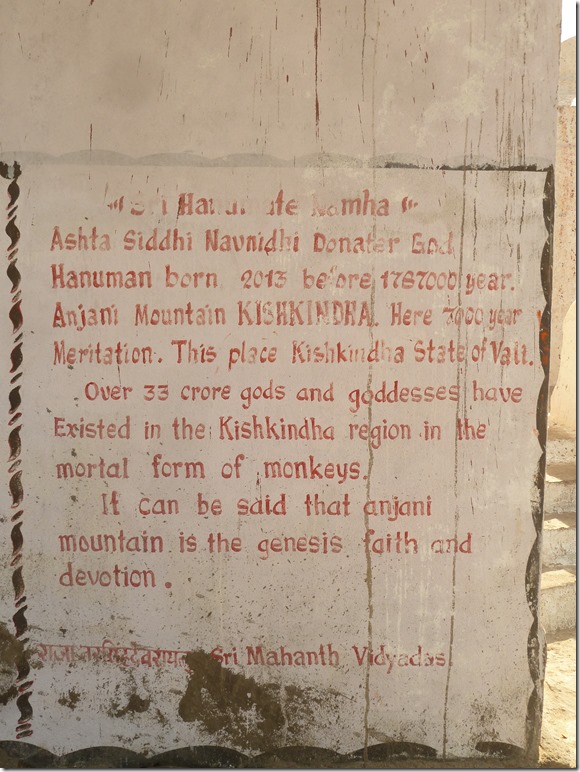 •
And as though all that weren't enough, there're also a beautiful river (mostly free of litter, too!)…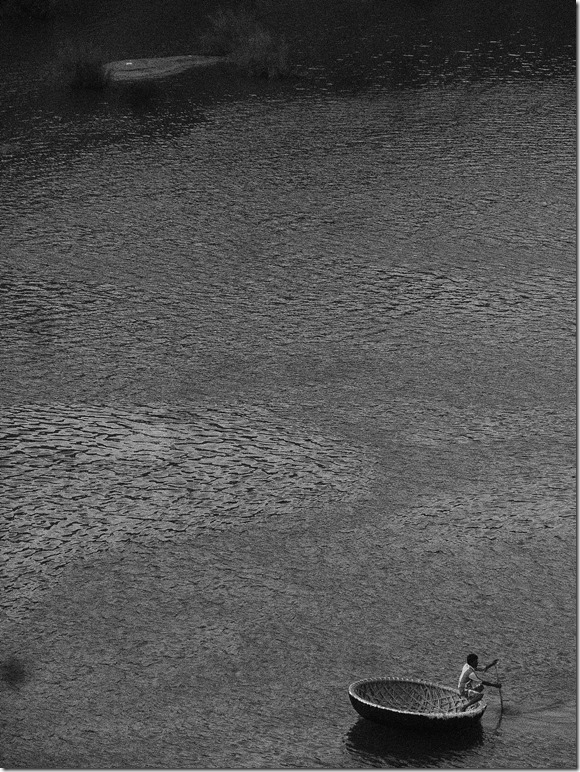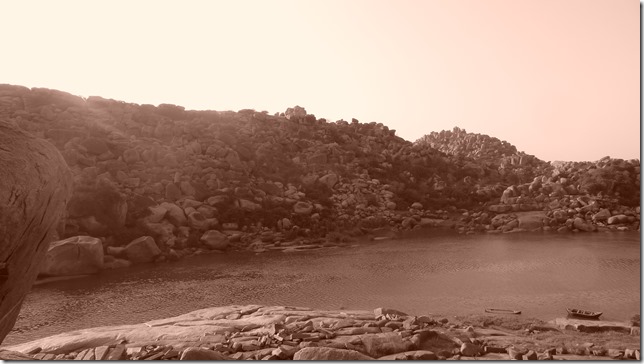 •
…lots of Banana and Coconut trees and other eye-catching foliages…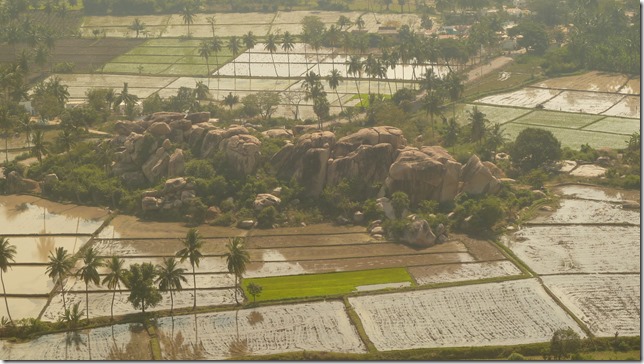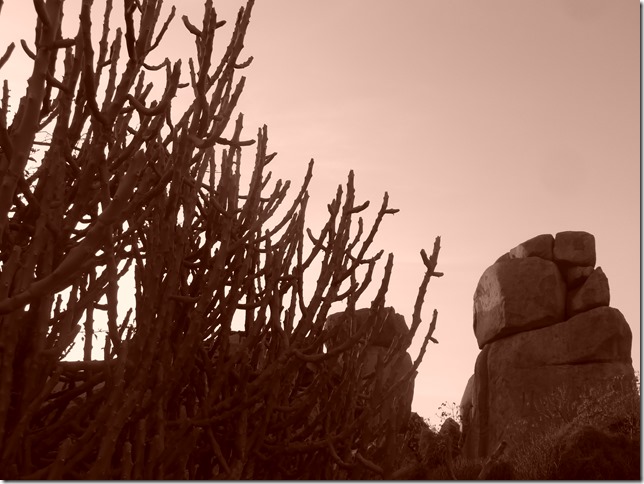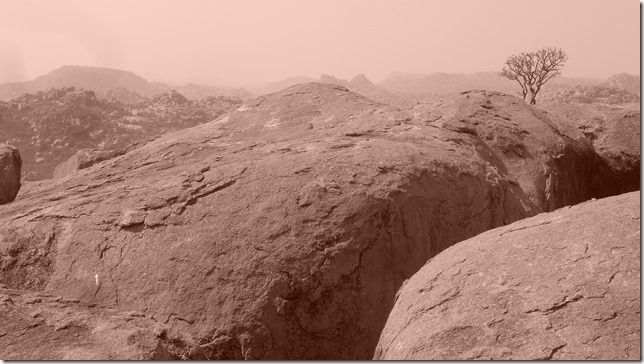 •
…a village setting more reminiscent Nepal or Laos than of hustle-bustle India…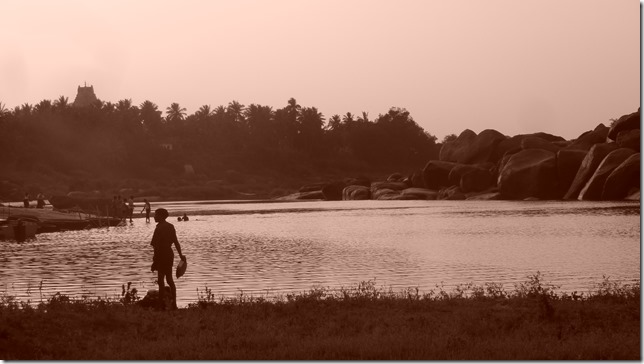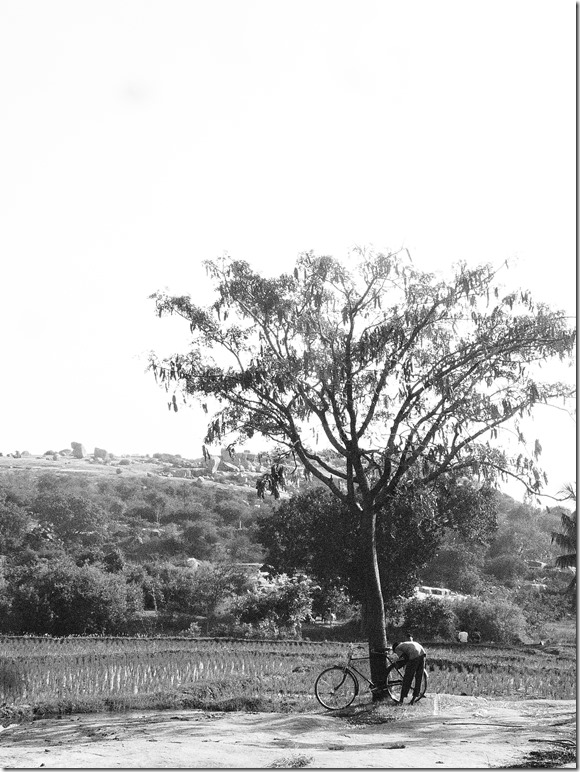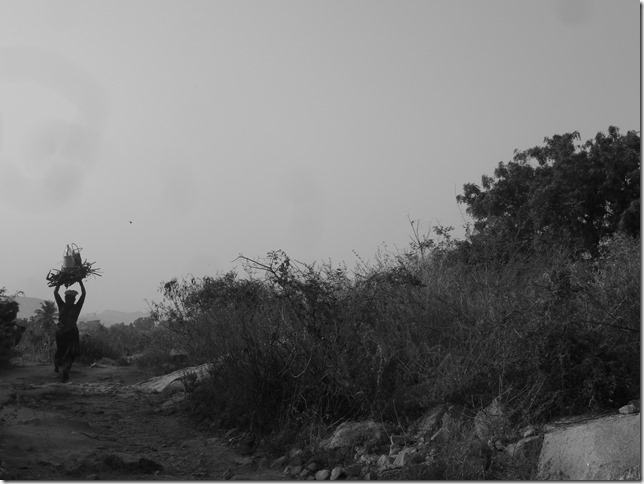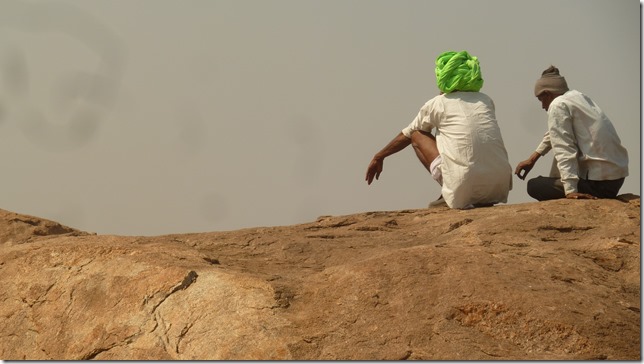 •
…cool-ass gurus…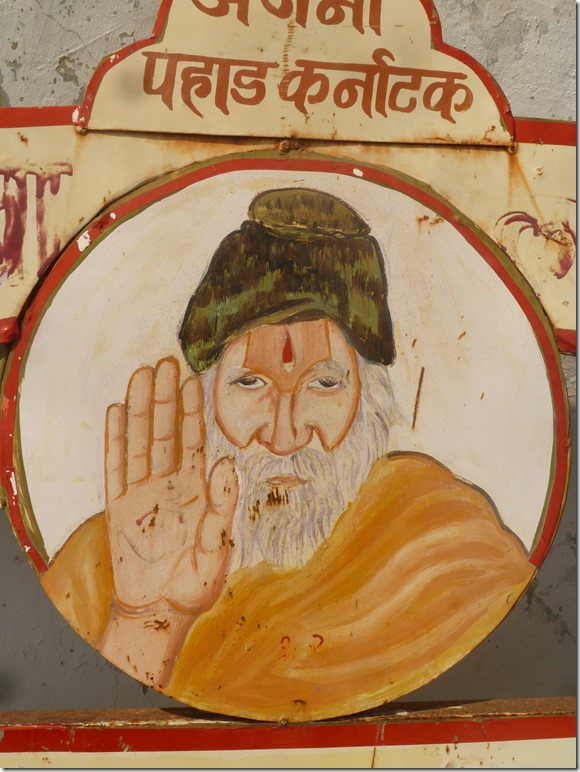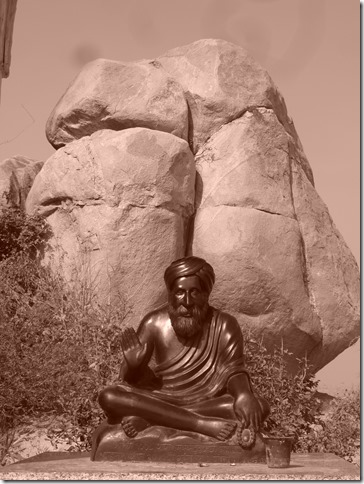 •
…outrageous sunsets…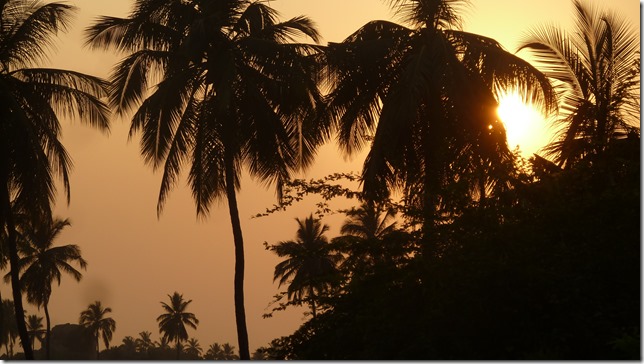 •
…and birds, buffs, cows, dragonflies, and hell-raising monkeys aplenty…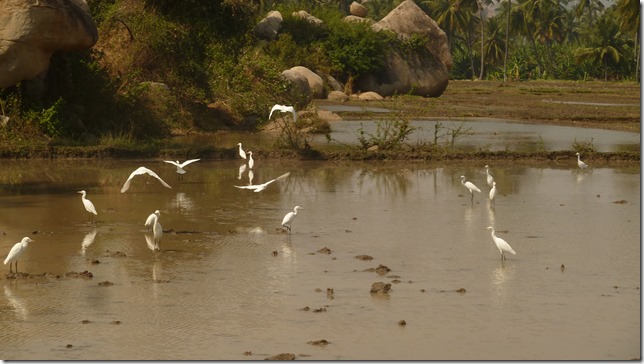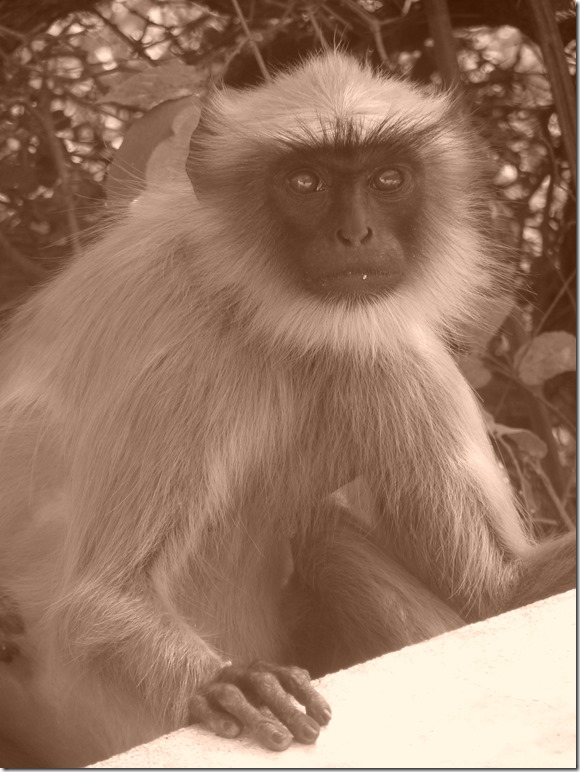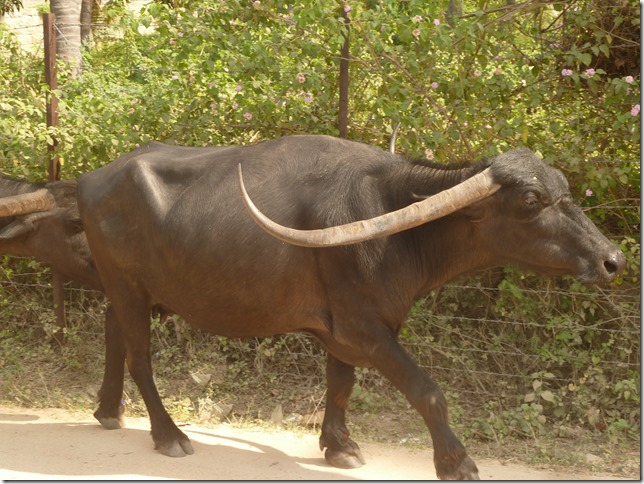 •
And also (urf)…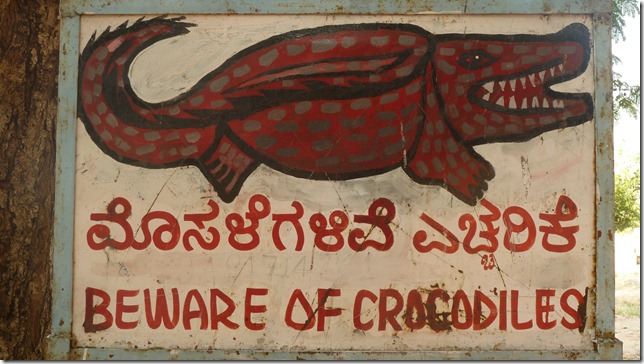 I was pretty okay with having overheard a guide telling his group that, "At present, we do not have any crocodiles here."
•
My visit to Hampi was almost an afterthought – a stopover, recommended by the guidebooks, between Mumbai and Hyderabad (the latter location to which I had to get for to board an unsanely cheap flight to KL I'd booked some weeks before). Prior to my arrival, whenever I mentioned to somebody – foreigners and locals alike – that Hampi would be my destination following Mumbai, their faces brightened like as Christmas morning, and they waxed ecstatic over the great time they'd had there, having not wanted ever to leave.
I done found out that they weren't exaggerating. Few experiences in this life can match escaping into solitude in Hampi's natural surrounds (surprisingly easy to do there, considering all the hippies and Indian tourists in town) during Magic Hour and soaking it all in. When they talk about "High On Life", boy…
Hampi, like India itself: Fucking boggling of  the mind – and all other organs besides. Have no other words to summarise my dreamed-up fever of a six weeks' tour there, except to say that I can't even wait to someday go back.