I must make an effort to seek out some highly regarded Indian travelogues. Because from what I can tell, India cannot be described, it can only be experienced. Even the almighty Shantaram, whose story couldn't possibly be more compelling, and whose prose makes me shudder with awestruck glee, doesn't even really get close to capturing the essence of India.
And for the stranger plopped down to be and think and feel in this very strange and wonderful land, even the experience itself is unspeakably surreal. Almost every day in India elicits a Jack-Buckian I-don't-believe-what-I-just-saw moment which leaves the traveler gasping — for breath, words, meaning, everything. Just make sure that when you come here you don't misuse the monuments, okay?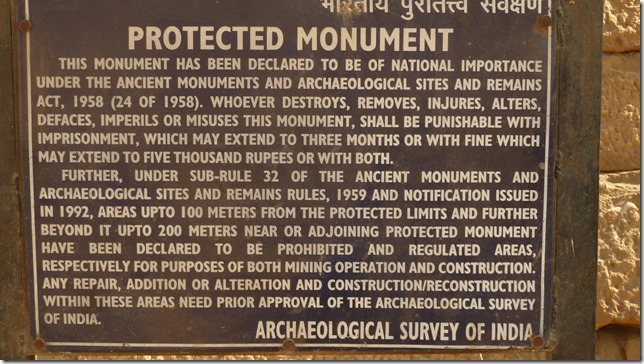 India is lousy with forts, and Jaisalmer's, which sits like a mirage at the edge of the desert…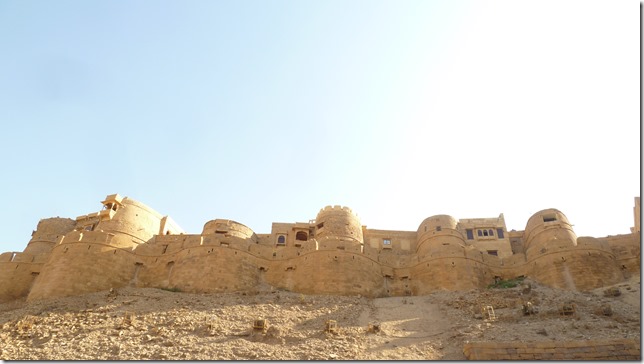 …is famous for being the World's oldest working fort. That is, there are residences inside, along with hotels, restaurants, trinket shoppes, and cetera. Unfortunately, the fucking motorcycles and tuk-tuks are in there too, so it rather kills the mood. Still, who wouldn't want to run around in there all the day long playing Desert Sentinel? I, for one, certainly wouldn't not-want to!
As impressive as the fort, though, is the intricate carving and beautiful architecture of the city's Havelis – family dwellings built from stone. Both inside the fort, and out in the old part of town, amidst the winding, narrow alleys, one could scarcely believe how much time and care it must have taken to finish one of these suckers off. Some of them are so impressive, the families actually charge admission to go in and have a look.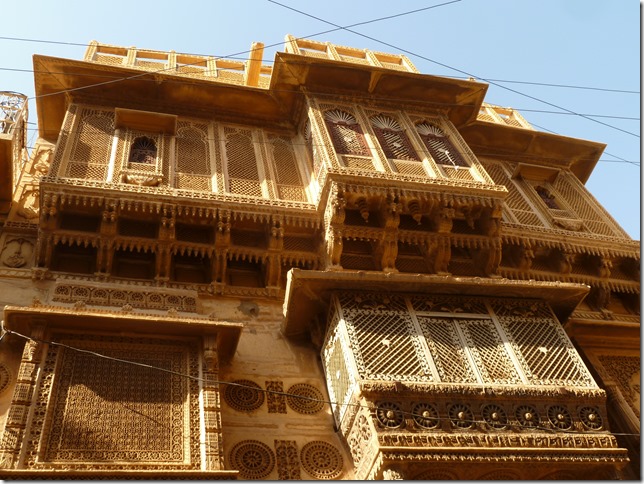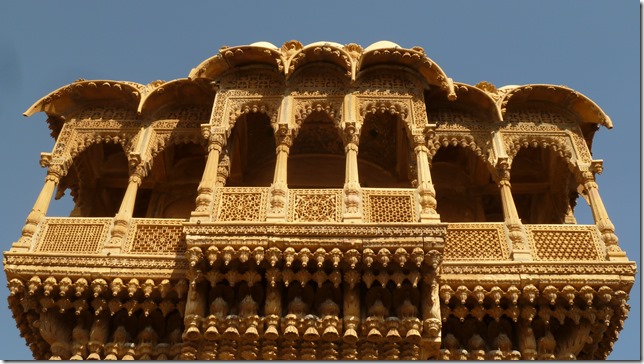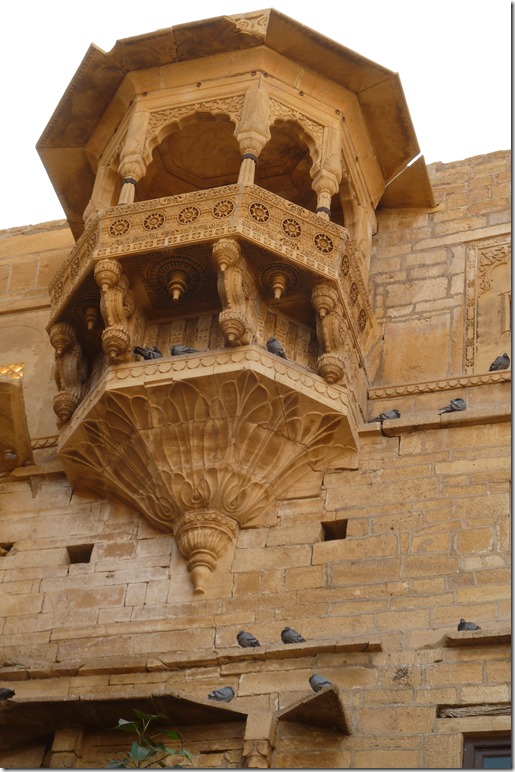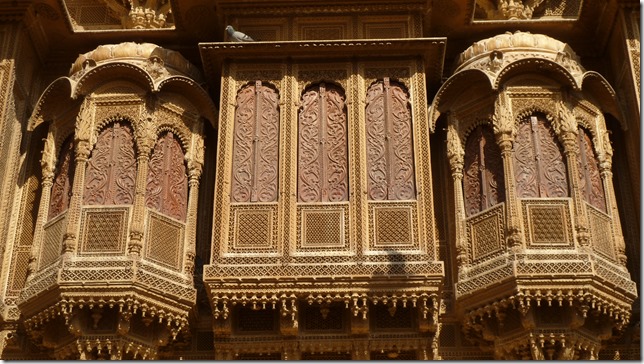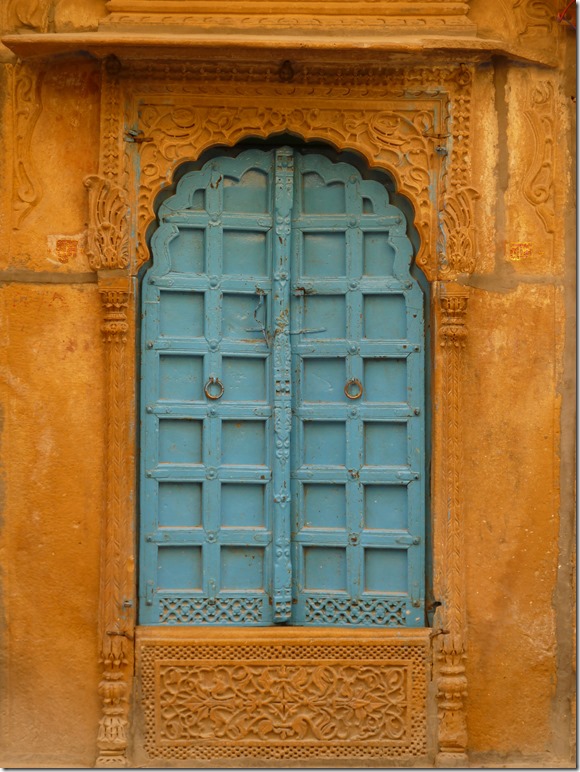 In addition to the shockingly beautiful havelis, one may find, whilst winding through the back-alleys, such-like as these kids, playing a hopscotch-like game. At first, they were very excited to explain to me the game's intricacies; but once I pulled out the camera, they seemed more interested in the interview itself.
·
Wandering through the bazaars and alleys and fort, one feels vaguely like Indiana Jones in Cairo, while walking about in the vast scrubland surrounding the town, one can imagine oneself as Lawrence in Arabia. Engaging in the latter endeavour is a great way to escape the motorcycles and tuk-tuks — and even, though there are plenty of footprints in the sand, the crowds of people. A nation of 1.2 billion people, yet it's still possible to find large swathes of unoccupied space.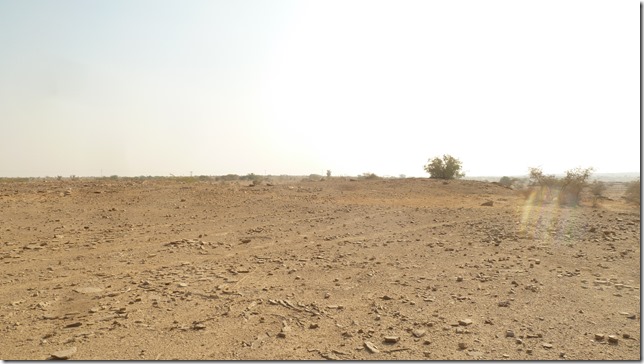 Unlike in Punjab, where everybody wants you to take pictures of them with your camera, here in Jaisalmer everybody wants you to stand for photos with them, using their own cameras. Sometimes, they don't even ask permission – they just go and pose next to you, with their friends snapping away! The same is true in Jodhpur – except that hereabouts they want you to take photos of them as well (getting you both coming and going, in other words).
There's a small little heritage museum in town running a twice-nightly puppet show which (could have been more because of the proximity to the holidays) is very well attended – by young and old alike. I could do without all the squeaking, but certainly these are some good fun puppet skills here – and the music is as unimpeachable as.
·
My favourite sign in Jaisalmer. I was standing admiring it, and a guy next to me, seated on a bicycle, asked, completely straight, "You need an egg?" He weren't joking, but I near to busted a gut over that one, I can tell you.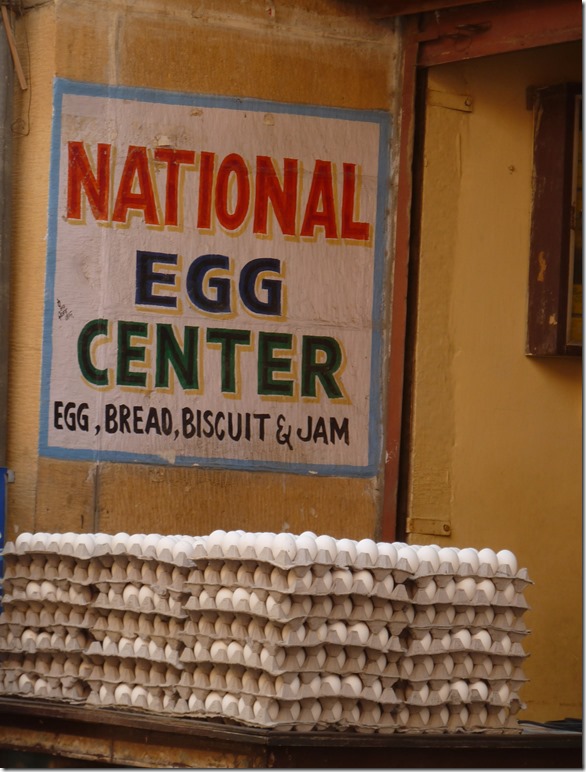 Had to have a (good-natured) chuckle at this sign as well. In fact, though – owing, no doubt, to the British influence – the English-language signs in India generally exhibit impeccably fine grammar.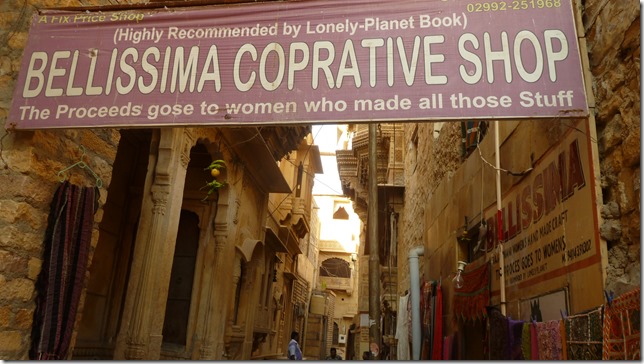 Though the reputation of the former is in lower esteem, I, personally, find Punjabis more fascinatingly attired than Jaisalmerians – but the latter know how to rock their clothings too right as well. Plus, watching the womenfolk schlepping packages of all shapes and sizes around town up-top of their heads is a treat in any language. For the fancy-dress championship, though, we'll have to travel to Jodhpur.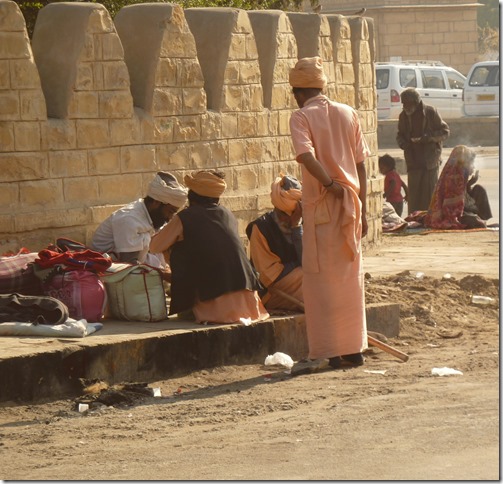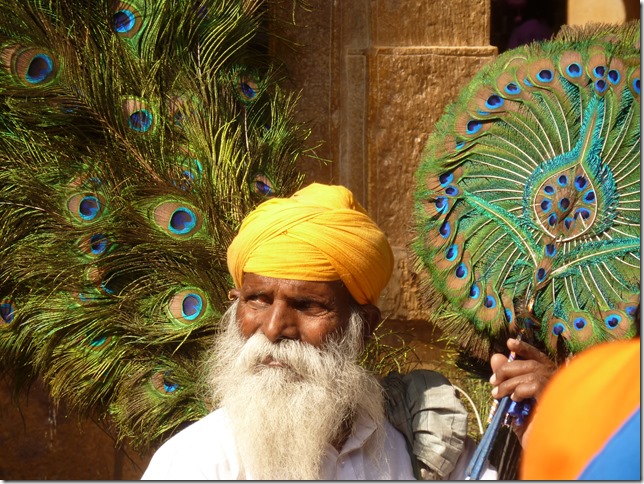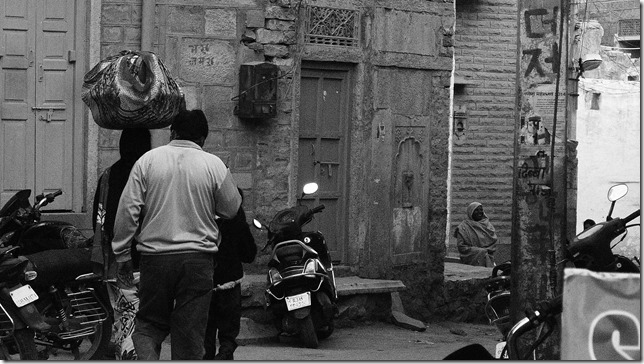 Not only this, but Jaisalmer's very sunny and warm-bordering-on-hot days were a great and special treat after Amritsar's and Delhi's cold foggy days and bone-rattlin'-frigid nights. Alas, the wind kicked up right on New Year's Eve, sending me, shivering, under the covers well before midnight.
The first bus trip of the new year, and the coldest one ever, brought me to Jodhpur, the Blue City – so-called because the Brahmins here all paint their abodes up in a lovely shade. It's quite a sight looking down from above, even despite all the smog.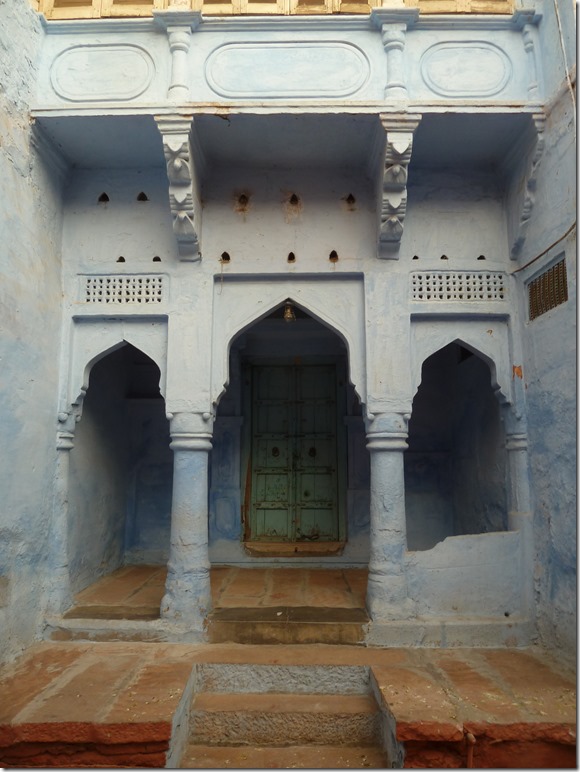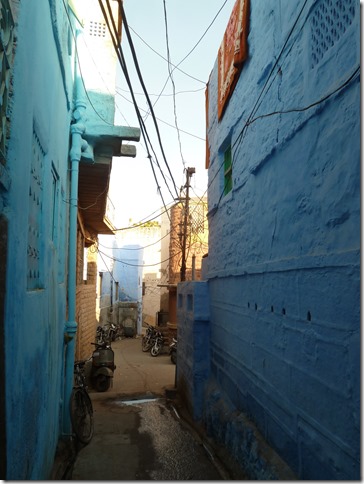 Also possible to view from above: The local cricket ground. Can't really tell with the zoom engaged here, but from this perch, it's akin to being in the upper reaches of a stadium's third deck. These kids may be more interested in goofing off than in actually playing out a proper match — but they're quite entertaining nonetheless!
 ·
But the most dazzling sight of them all is Mehrangarh, the massive, Gilliamesque fortress here which makes Jaisalmer's behemoth look like greasy kids' stuff.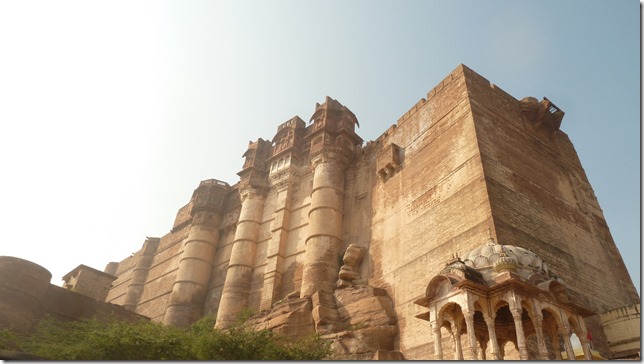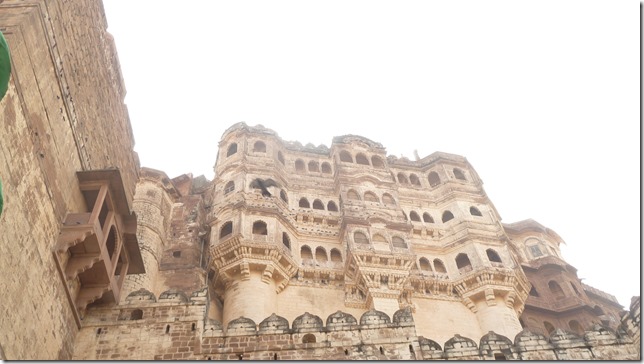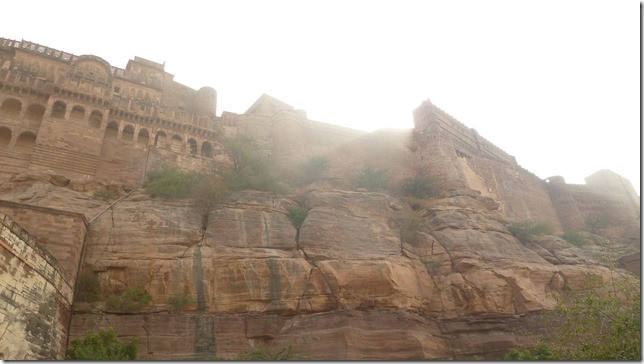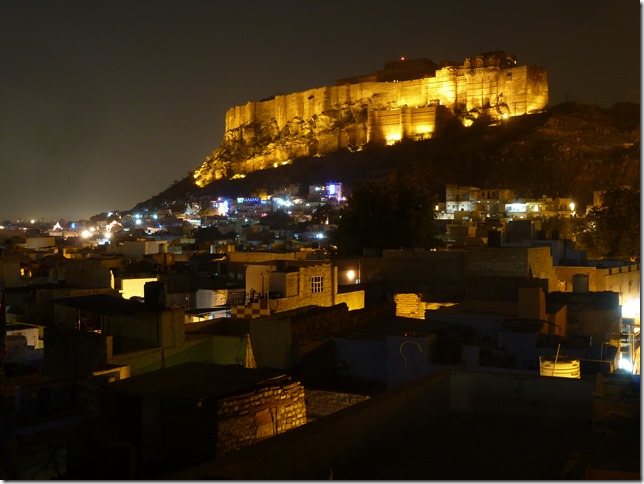 ·
Around the grounds of the fort are some cool old murals…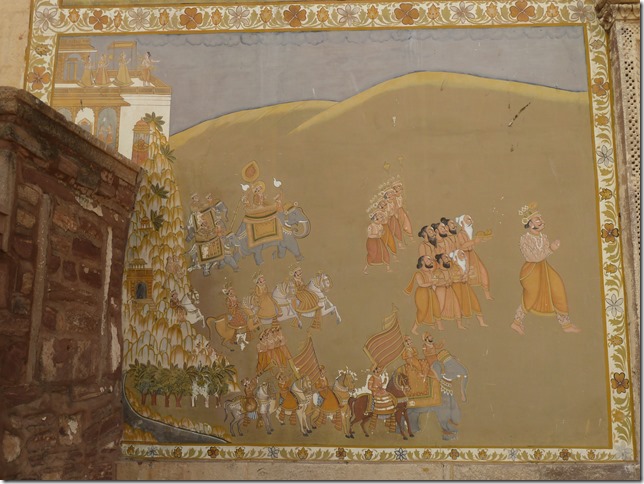 …as well as many buskers, lilting out incredible and moving melodies.
·
And the tour of the palace, which doubles as a museum, houses a good many more of the inestimably gorgeous Indian Miniatures…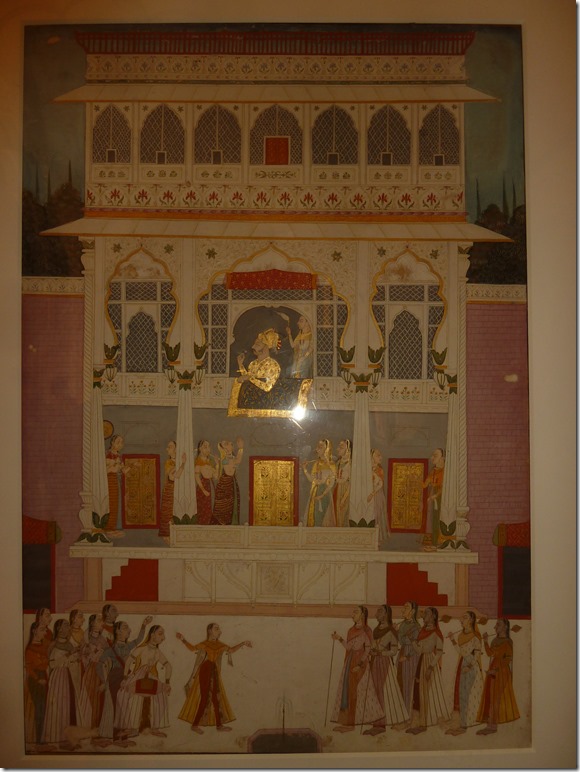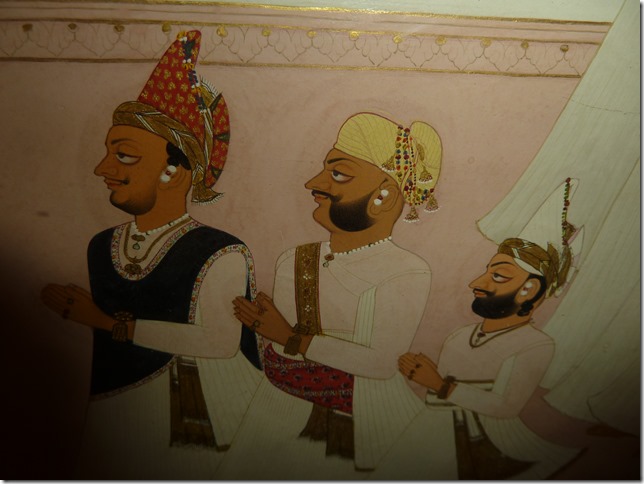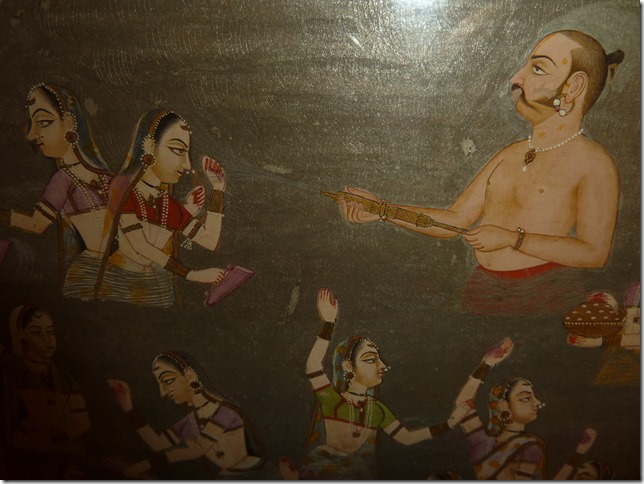 …not to mention this hilarious pair of be-turbaned staffers vacuuming the royal Elephant-ridin' chair right smack in the middle of the museum's opening hours.
·
The highlight of the day, though, arrives in mid-afternoon, when these one dudes take to the top of the castle keep and toss succulent meats into the eagles' waiting mouths.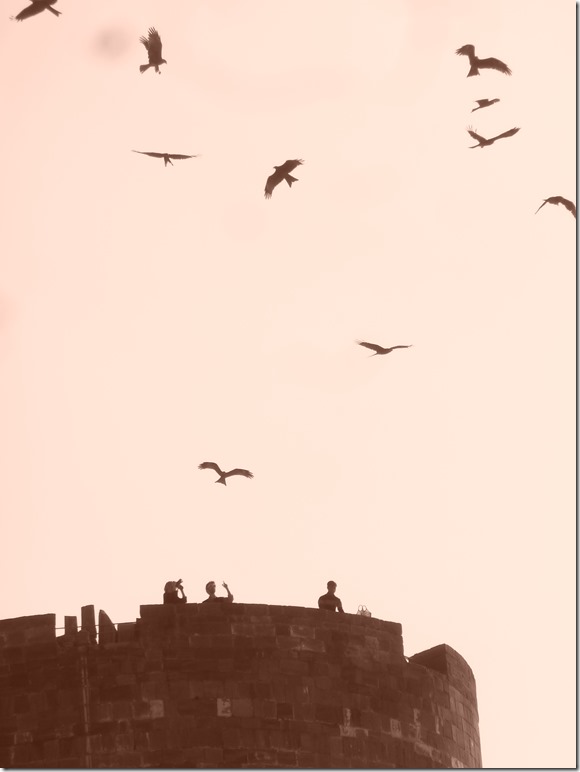 Observing the scene lying on one's back as the eagles swirl and circle over the massive, towering edifice while the sun makes its way toward the horizon and the musicians play out their hauntingly beautiful trad arrangements…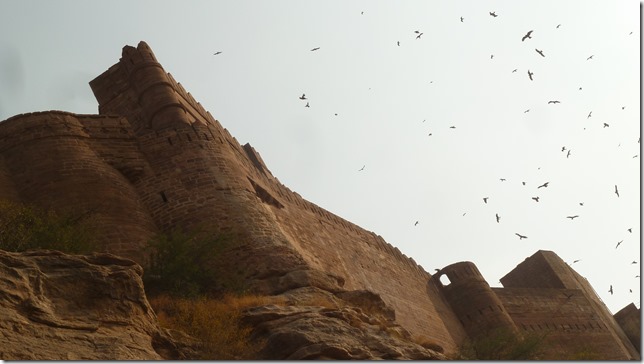 …one feels not only disconnected from one's body, but from space-time itself – this must be, one supposes, how life is like in the aetheric plane. But no: It's just India, working its magic yet one more time.
·
For my money, Mehrengar is even a more impressive and mind-dazzling sight than the Taj Mahal. Agree or disagree, place it well near the top of your Indian itinerary's must-see list, 'cause you ain't ever going to experience the World in quite the same way again after having cast eyes upon it.
Some people in town think the Raja's house is as impressive as the Taj. From a distance, it certainly looks like it could be – or could at least be awesome enough for the Wizard Of Oz to live in.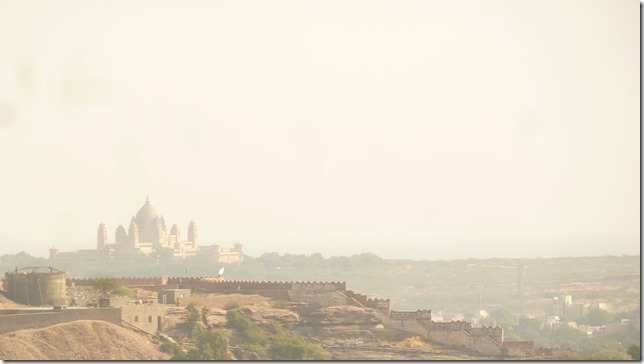 Up close, though, while nice, it's not really anything all that special.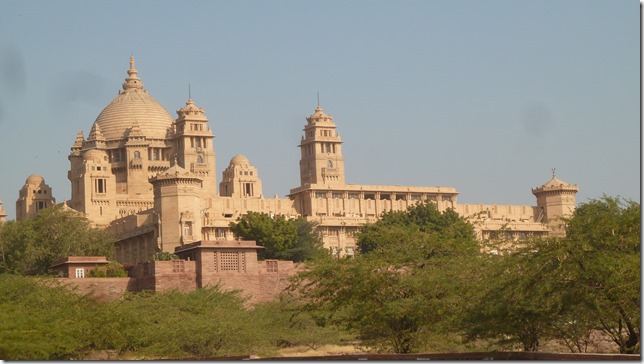 The math wizzards among you-all may, by the way, take some interest in this little koan, spotted on the admission ticket granting access to view the palace.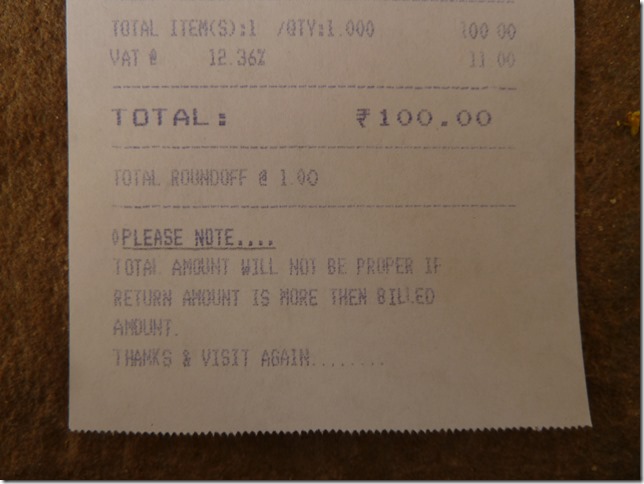 The other big architectural draw here is Jaswant Thada, a cenotaph for Jodhpurian royals. It's pretty nice. I like the way my feet look on the marble floor.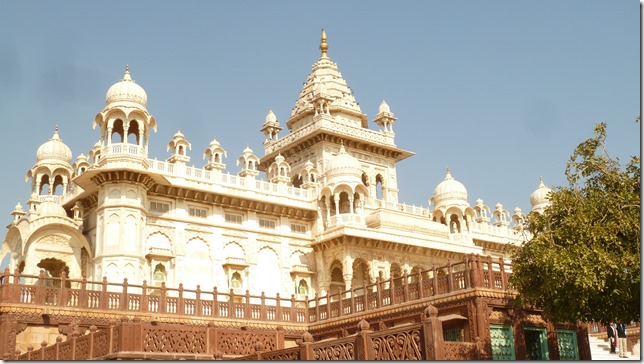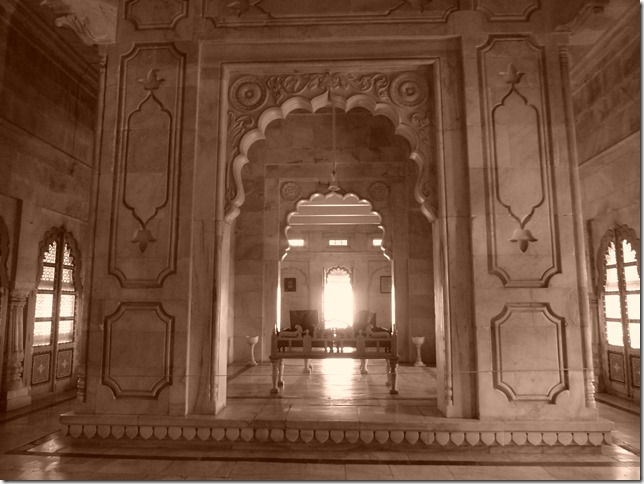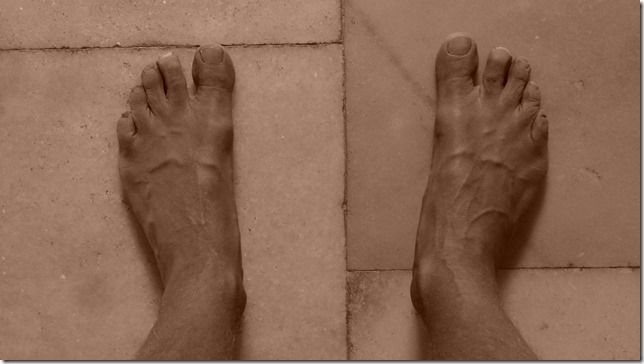 Just as they were at the fort, the buskers here are to die for. I mean, how fucking drop-dead are these guys' playings?
·
They look great, too, of course. As do the Jodhpurians in general. This-here posting is already become too laden with photos, however, so will have to have a wait and despatch evidence under separate cover.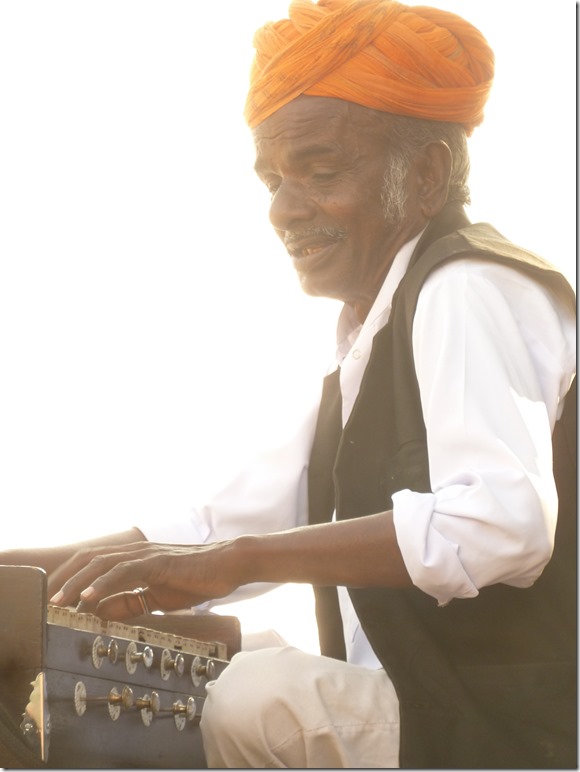 For now, let's have a few from a local temple I came across whilst out for a wander. We get Krishna coming perilously close to pulling a Ronnie James Dio, and a coupla mural paintings of gurus depicted in surprisingly mundane domestic scenarios (never seen a temple with anything quite like these murals before now).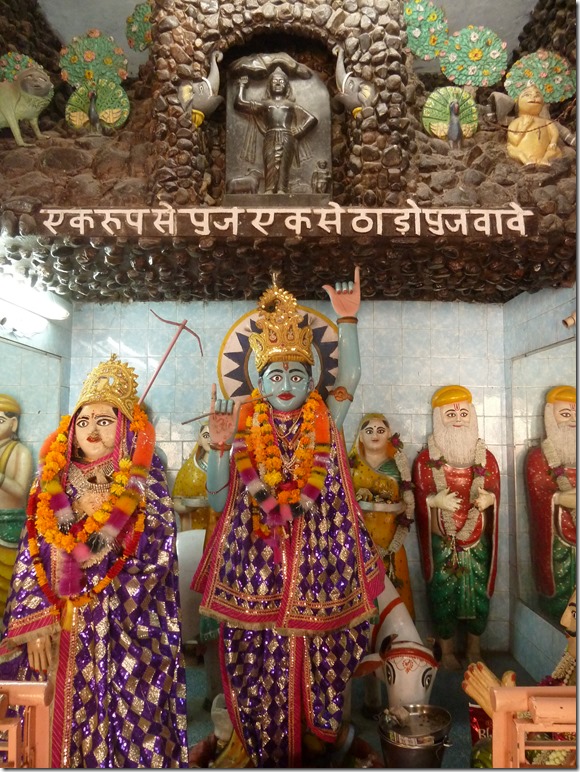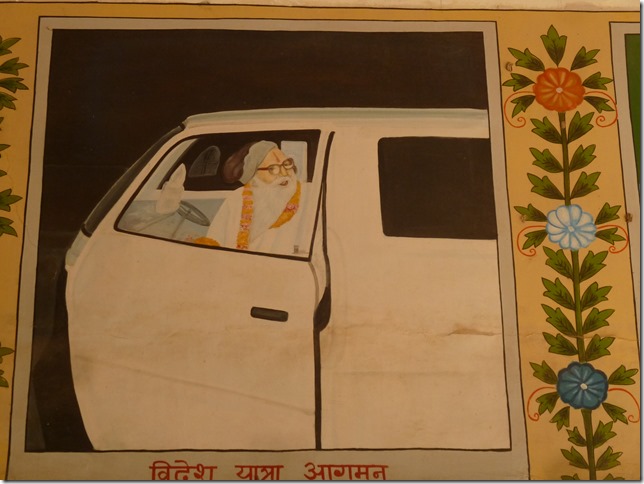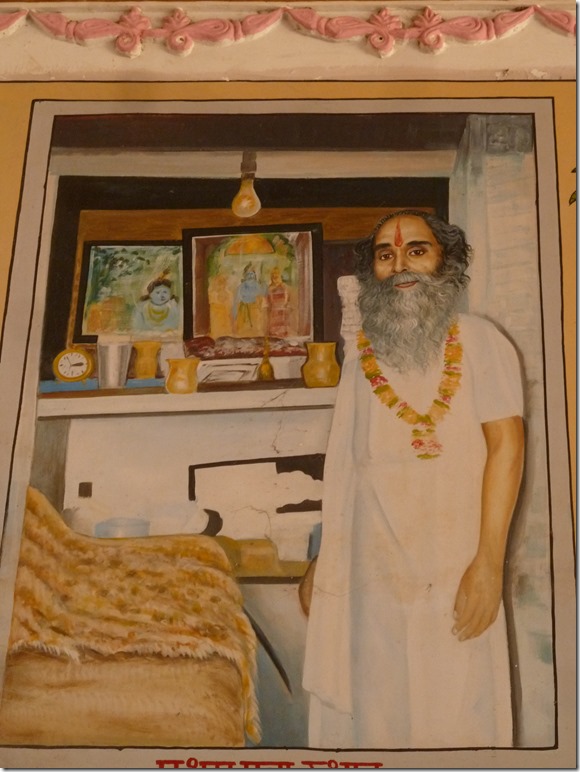 ·
Also never seen anything quite like this guy before…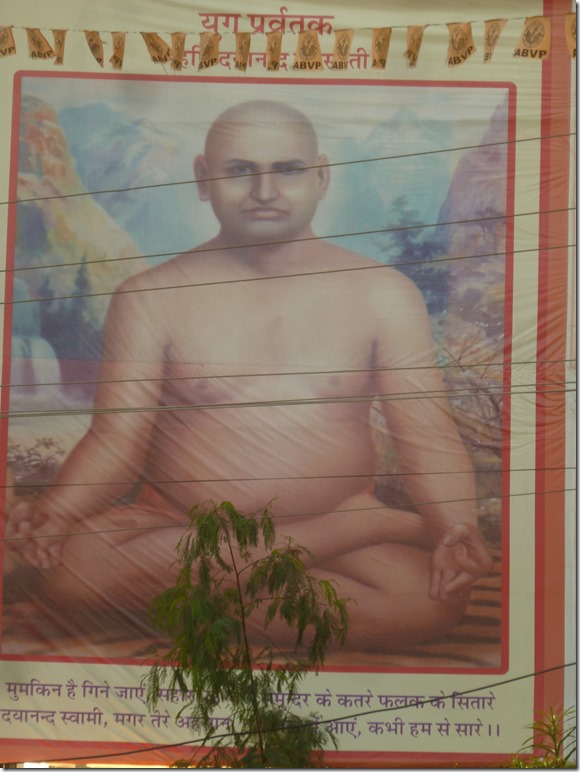 ·
I did pay a visit to a cool and fairly new desert flora/fauna remediation and preservation park near the fort. It offers some nice little loop trails, and some great bird-watching.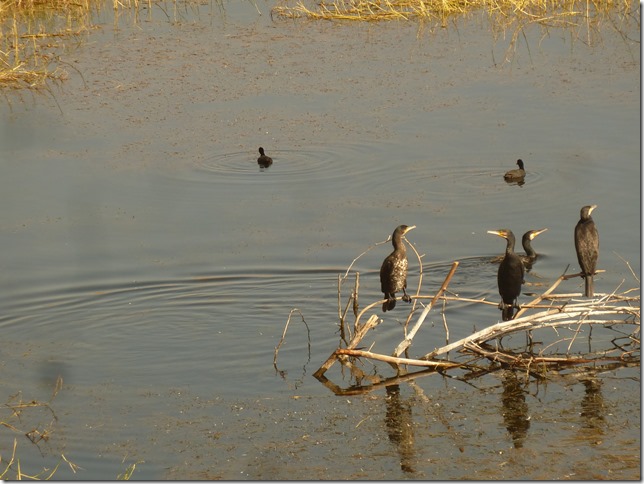 Speaking of whom, very near the park is an area from which to gain a different, equally spine-tingling angle of the nightly eaglepalooza.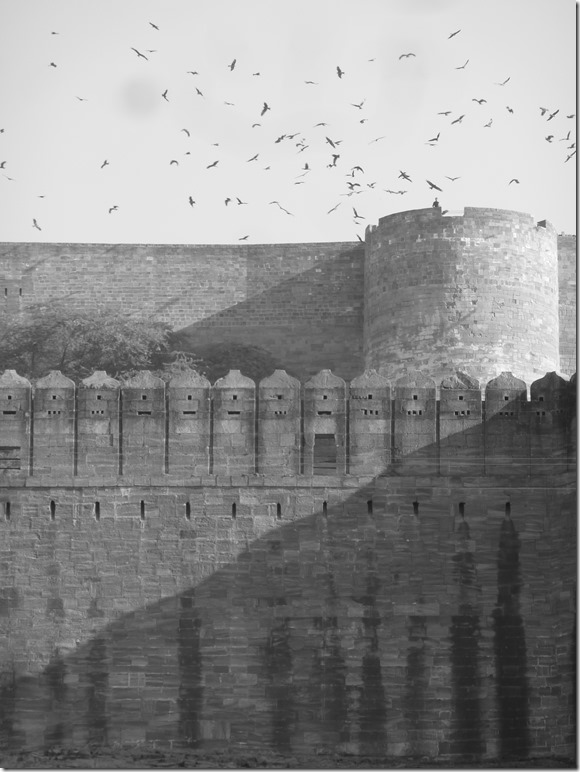 ·
Can't get enough of those mofos. Also, nobody could ever get enough of monkeys, ain't it?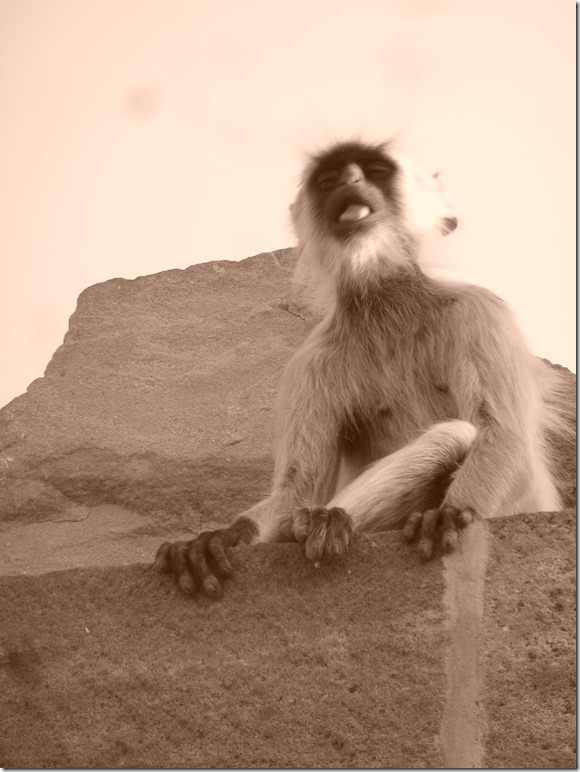 These ones were out for some supper as well, munching away on some Coconuts (I think it was).
·
The pollution – air, water, noise, ground – is a major issue here. And the motorcycles and tuk-tuks pose a greater menace to society here — hurtling more recklessly through the narrow and bustling alleys of the Old City than one could believe even possible — than anywhere else I've ever set foot (including George Town).
But, damn, Jodhpur done kick-ed my dimpled ass with great swiftness – and I haven't even mentioned the incredible musics audible in public here, both of the religious and the secular variety. There are so many mosques here in the Old Town that their prayer-calls' vibrations make it feel as though the city is going, at any moment, to lift off and commence levitating. Meanwhile, as I type these very words, there's an awesome Bhangra mix being bumped out of somebody's speakers near to the guest house. De rigueur in this burg — but, hopefully, it never shall end.