And why in the fuck ever leaving this place, this miracle sprung from the Thai Jungles, this Bangkok – the most journey-to-the-stars/rock-and-roll-guitars city in which I've ever lain my bones of a weary old tropical eve? A question I've asked myself many times before now; but it seems more poignant than ever after this latest stint. You'd think they could no longer do, but somehow Bangkok and De Talak continue to up the ante time and yet time again. Which leaves precious little time for blogging; but here is an attempt at some of. Just know that it's been a much more mind-blowing fun week than I could ever hope to transmit.
Firstly, awesome shredding street-musician; he throws down every day right near to the hostel:
•
So, Saturday morning, I had wanted to go visit a gallery which has among its holdings some works by National Artist Thawan Duchanee. He's the crazy mofo responsible for the Black Temple in Chiang Rai, which I visited two years ago, and which has been haunting me every since. He passed away early this month, which news I learnt by chance whilst casually mentioning the Black Temple to Ed, the owner of the hostel in which I stayed whilst visiting Hat Yai.
Found the gallery all right, but it was closed tight as a drum, even though smack in the middle of the opening hours posted right on the door. Oh, well, at least it was in an area with some other galleries. Even seen me some more Durianical art, I did.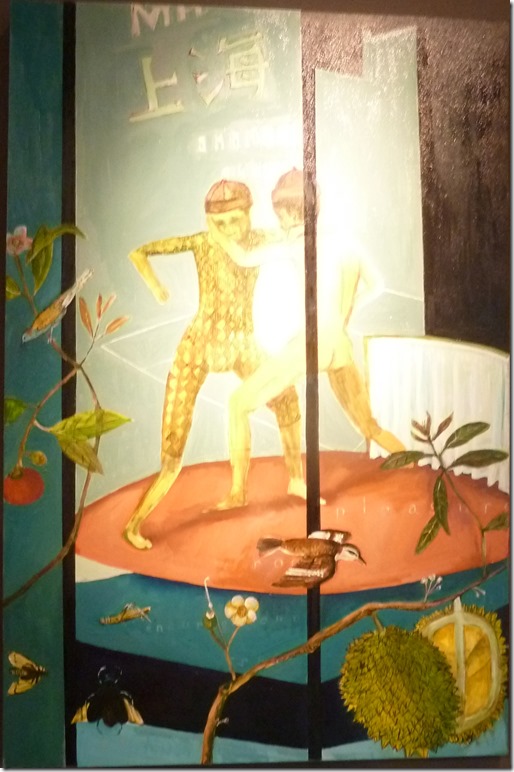 The galleries were down near the river, not far from Chinatown, so I thought to go see how long it would take me to get hopelessly lost in there. Same as always, it took about ten seconds' time. Ended up wandering through a maze of narrow alleys all filled up with street-food vendors. I think it may have been Talat Noi, not sure. Am sure, however, that it was a crazy scene in there. Here's a fun little ceremony going on – the gongs in this number, you'll notice, are particularly off the hook.
·
Just a few metres away, back out in the market area, an assembly line of masters working their hindquarters like nobody's business to produce quantities of Dessert Log™ for the Good People standing on line for what seemed a goddam block or more down the alley, patiently waiting, each, for their turn.
·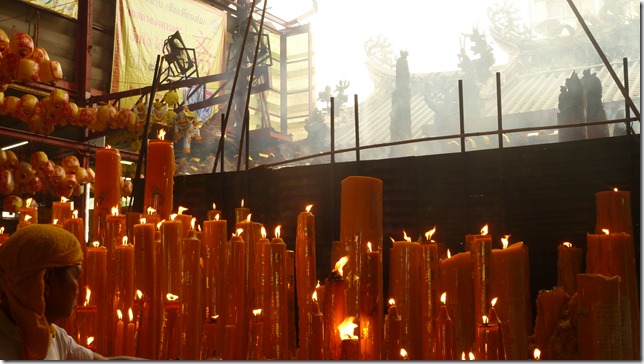 Then just a few metres from there, another temple – this one burning so many joss sticks and huge candles that there was a staff of a half-dozen strapping gentlemen required just to change them out, and tossing the used up ones onto a bonfire burning right over next to the river.
·
Wasn't all chaos, however: Witness here a small shrine near the bonfire, shunned by the crowds of worshippers over in the main temple.
·
The most beautiful sight of all, though, was this snowfall of ash.
·
Outside the temple was a small house, presumably historical, turned into a museum. Dioramas and furniture, and some great old photos…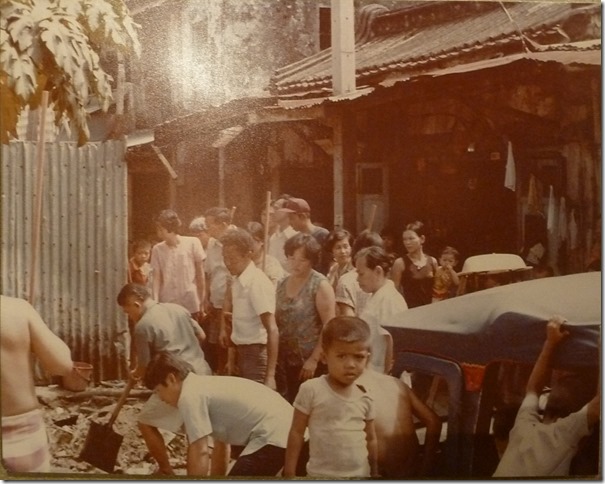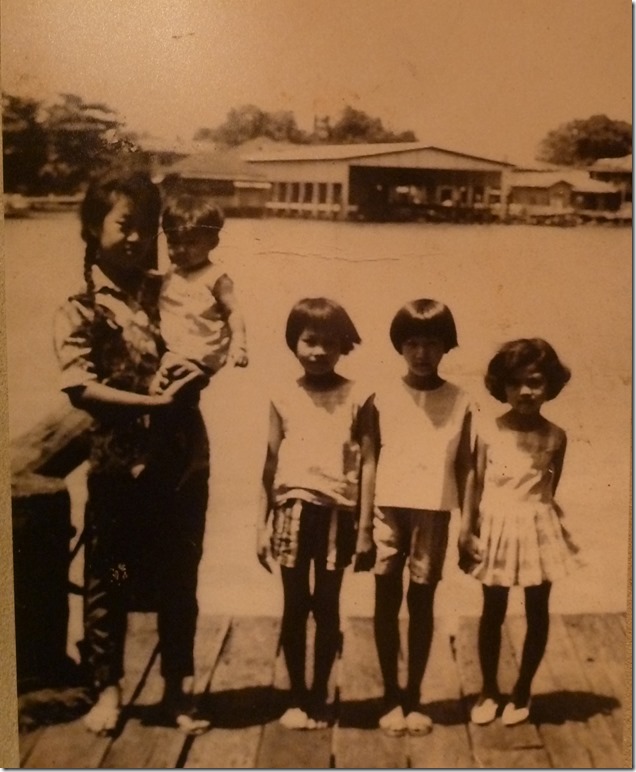 …as well as the trippiest music you might ever wanna hear, blasting out of a small cassette boombox.
·
It might've been from this-here.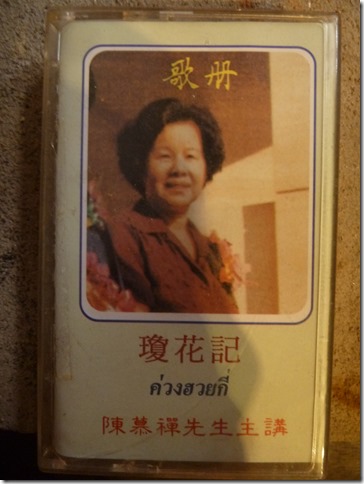 Don't know whether all this insane activity happens every day, or every Saturday and Sunday, or is somehow related to the ongoing Vegetarian Festival, or what. An annual ten-day Buddhist cleansing initiative, Bangkok's Veg Fest is centred in Chinatown. I decided to go up to Yaoworat and see what it was all about. Turned out to be neither more nor less interesting than I'd expected, with vegetarian food stalls lining both sides of the street for many a city block. In fact, I did break down and order up some Cane juice which, I gotta say, was quite delicious.
While up there, I spotted a large sign/banner, just here…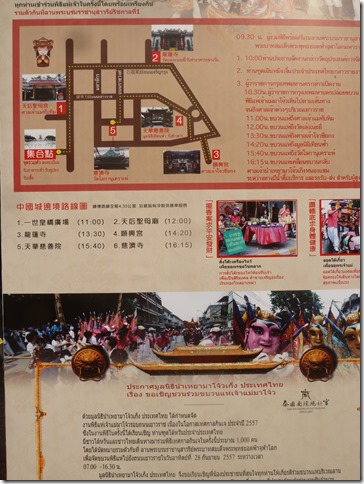 …which seemed to be advertising a parade scheduled to take place the next morning. So, come Sunday, I and a Chinesian dormmate name of "Dylan" hopped a bus back up to Chinatown, and began asking, "Which way to the god damned parade?"
It was much like the blind leading the blind, however, as none of the Thais to whom we showed the picture had the faintest foggiest idea what it was meant to be about. Finally, we found a coupla dudes fairly proficient in the English. Very eager to help us out, they studied the picture for a good many minutes; kept asking me to show them how to zoom the photo in and out. At long last, they pronounced, "There is no parade to-day."
"But but but," I protested, "what's this schedule of events for, then?" They set to scrutinising the photo for another good many minutes, at the end conceding, "The parade will begin at 2:20 PM." We certainly didn't wanna wait that long. But looking at the route, I was of the opinion that it – or at least something — might be starting at or near the statue of King Thaksin down by the Pak Khlong Talad (that's the city's biggest, baddest, most bustling flower market) at 10:00 in the AM. It was a good forty minutes' hoof away, but, what the hell, we didn't have anything better to do.
We arrived just in time for the festivities to begin…
·
And then, not only there was a parade, but it turned out to be, you know, the best parade ever in the history of the goddam universe. Or at least the best ever in the universe that I've ever seen. It wound its way jubilantly, triumphantly through the streets – which weren't even closed to traffic, adding some additional zest to the proceedings — stopping at some temples along the way to perform various partyings. If you've only enough time to watch one clip from the present correspondence, make it this one here:
·
The parade wasn't even all that big or shockingly well-attended or anything like that, but it had everything. It had the lions…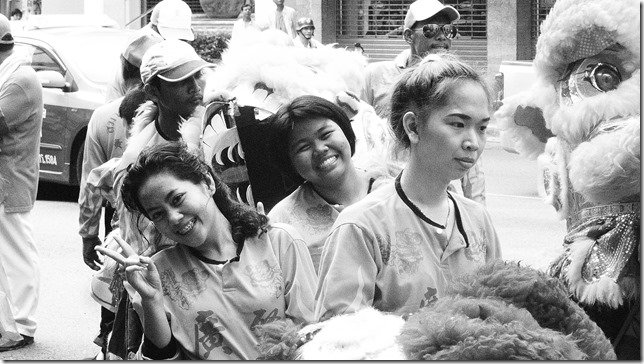 …it had the dragon…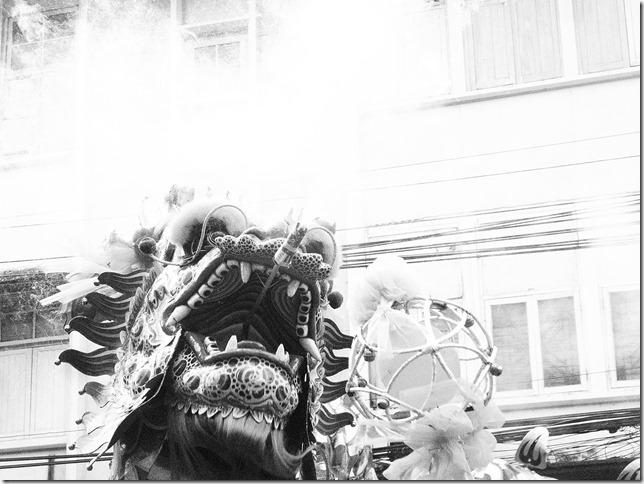 …it had the goofballs (for what it's worth, I showed this video to a Chinese hostel-mate, and she finds it to be utter hogshit, complaining that such a sophomoric display would never take place in China itself)…
·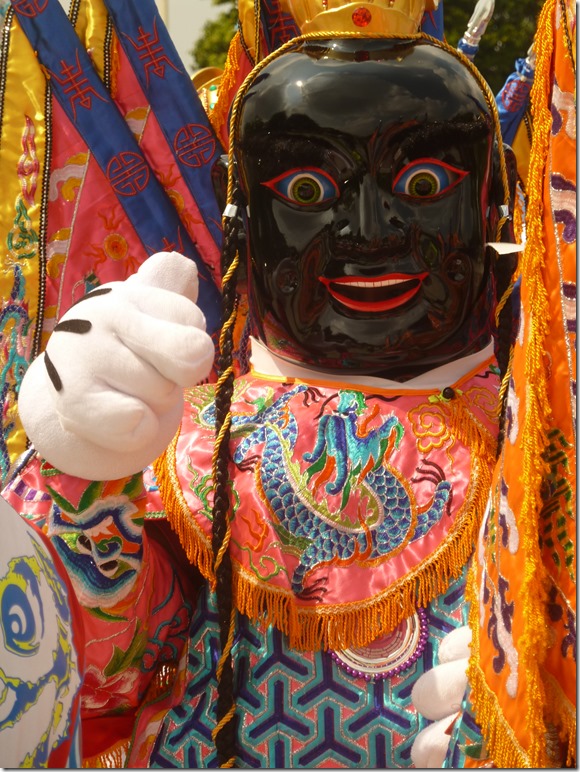 …it had the giants…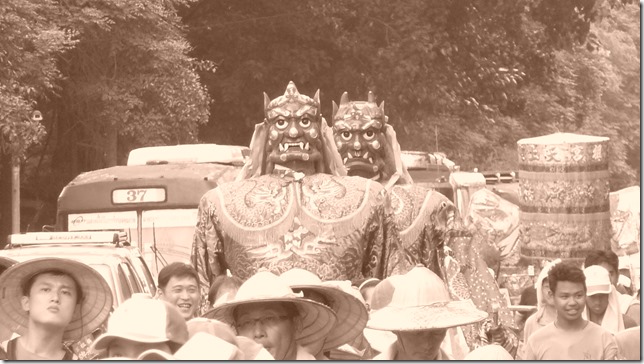 …it had the deejays…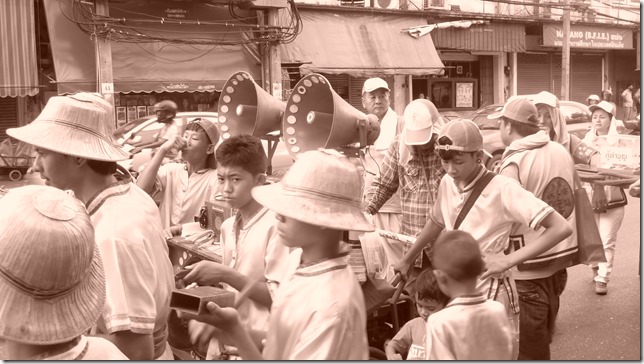 …it had the firecracker-wranglers…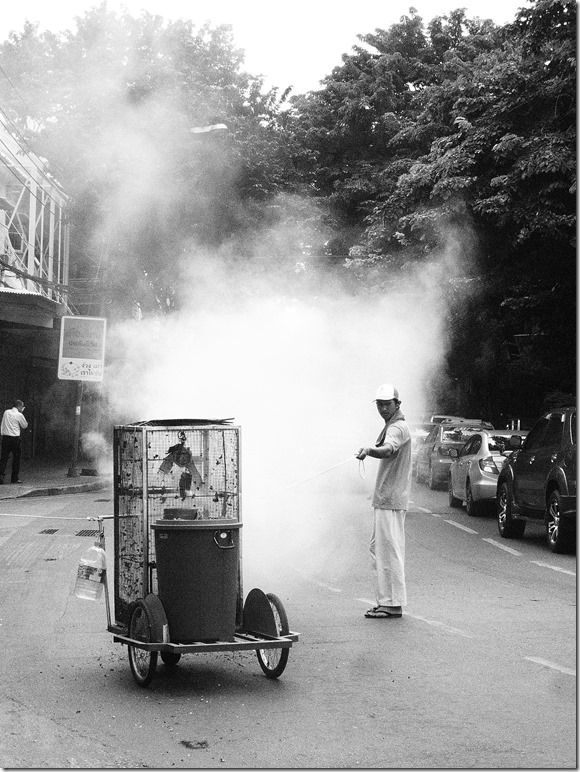 …it had the trumpeteers…
Fucking everything, man. Every fucking thing. Best of all, though, the Drill Team:
·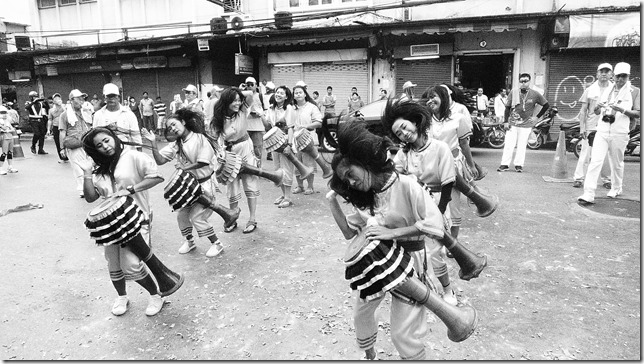 How irresistible is that?? Dylan and I were so enthralled at the sight of the girls' collective Groove Thang that we had each to break down and get our picture took with them.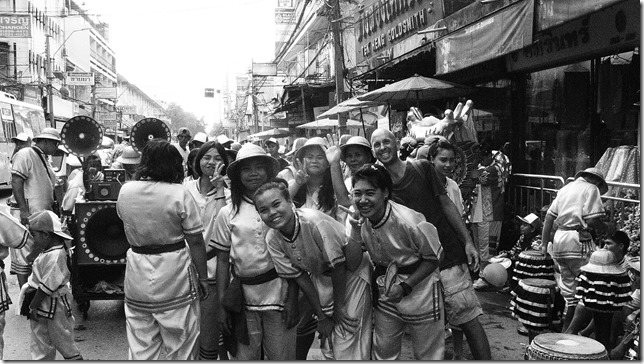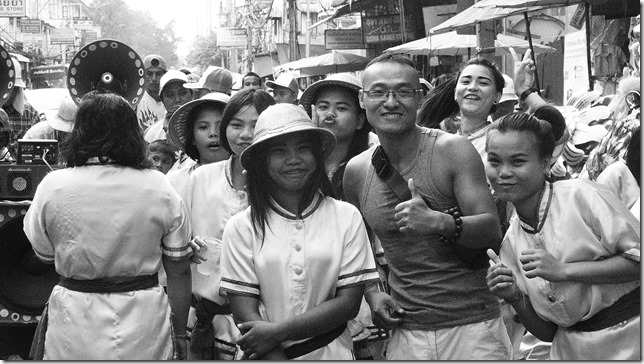 What any of this has to do with vegetarian food, I do not pretend to know. I do know this, however: Chinatown Bangkok — it's good for what ails ya!
We ended up splitting before the parade had finished, which I'll always kinda sorta regret. But there's a free Muay Thai card every Sunday afternoon up near Chatuchak Park, and already the hour was getting late. We had to run back to the hostel first, so Dylan could swap out the battery in his camera, and I grab a quick bite to eat. Just before we were to depart the hostel, though, it started raining like a twenty-tonne truck.
Looked for all the world that our plans were scuttled; but once the rain finally tailed off, we thought to throw caution to the wind and pony up the big bucks (36 Baht, or just over a dollar) to take the subway up there, and maybe catch the last half-hour or so. But then when we arrived, it was raining again, like a thirty-tonne truck this time. Not wanting to walk the fifteen minutes in the downpour, we broke all known budget-travel rules and flagged down a tuk-tuk, shelling out another 50 Baht each.
Tuk-tuk dropped us off, and a man pointed the way to…a frigging covered area with benches and a colour teevee. The fuck is this? This is what we were so white-hot anxious to get up here for?  Well, at least it was free, and at least the gathered crowd were on pins and needles.
·
On top of all the boxing-related gambling activities, there were also two sisters selling lottery tickets – "jackpot" as the elder of the two repeatedly explained — out of little wooden briefcases. Dylan took rather a liking to the younger, and a guy tried to get them married off right there during the Muay Thai. But instead, we spotted some French dudes coming 'round the building, and asked them were they coming from the live Muay Thai? Yes, they were, and showed us the route to the entrance, back behind the building. Zing!
The place was stuffed to the rafters, and the atmosphere was totally electric.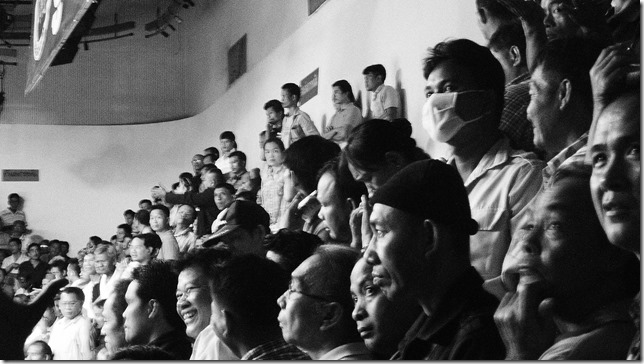 We only got to see the end of the main event.
·
After that, the joint emptied out considerably, but the band played on…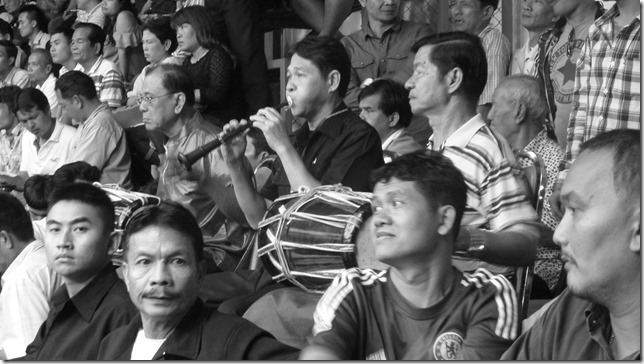 …and it was still plenty full all up in there for the two juniors matches.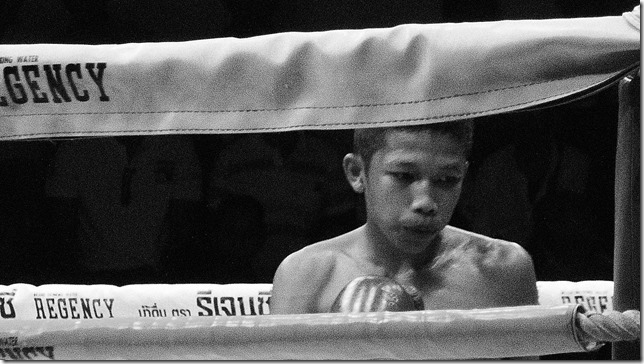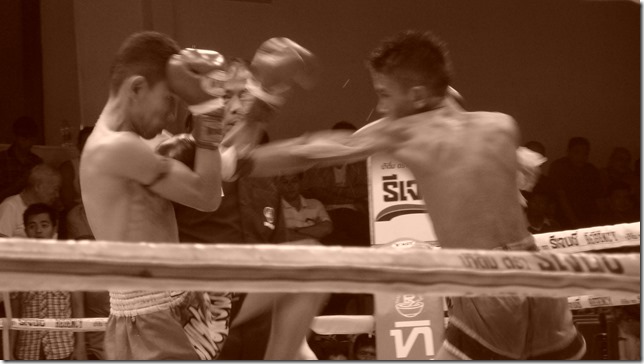 Indeed, the remaining crowd were intensely interested in the goings-on: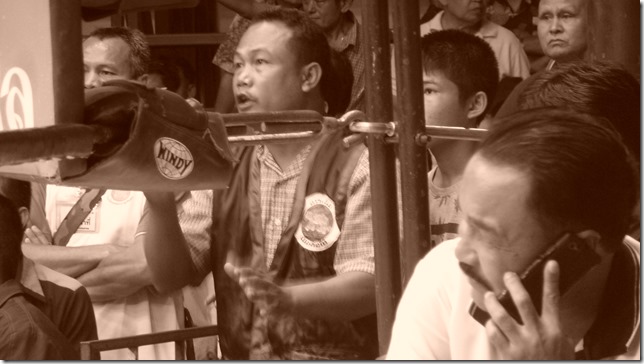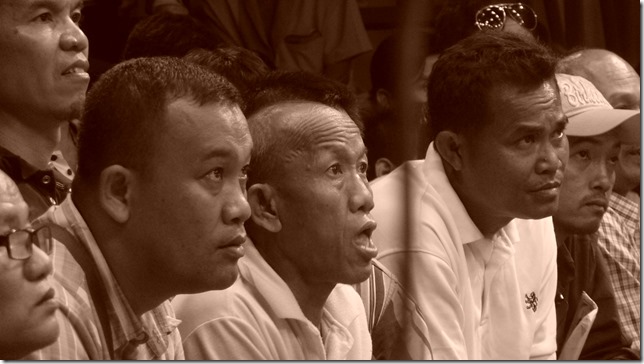 The kids put on a good show. Too good, in fact. I became completely addicted to Muay Thai…just in time for the rug to be pulled out. The card was finished. Everybody was filing out of the building. I'd already be out the country by the time next Sunday rolled around. A fine predicament I'd got myself into!
·
Dylan and I had somehow become separated — we never seen each other again until back at the hostel — so, noting that there was still a bit of daylight left to play out, and not wanting the day to end, I decided to walk back over to Chatuchak and check out the Weekend Market. There, I discovered my new favourite Coconut vendor of all time, and even purchased me a new fruit-carryin' bag.
•
Next day, passed by a Hindu temple and had a look inside. A knockout three-piece led by a violin rather than a sitar was in the middle of kicking out its jams. So great; but, alas, the sons of bitches patrolling the temple wouldn't allow me to employ photography. So, here's a not-great-quality recording, made with my MP3, of a very-great-quality performance.
•
I wanted to visit the Museum of Contemporary Art, as it's got a decent collection of pieces from the aforementioned Thawan Duchanee. The country is still in mourning at his passing, so admission to the museum is free for a while.
To be honest, I wasn't so impressed. The works were certainly outre and macabre enough…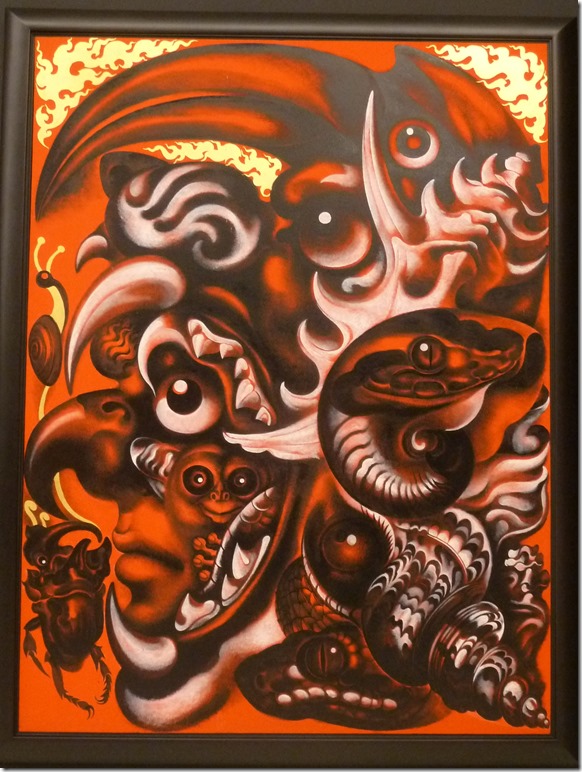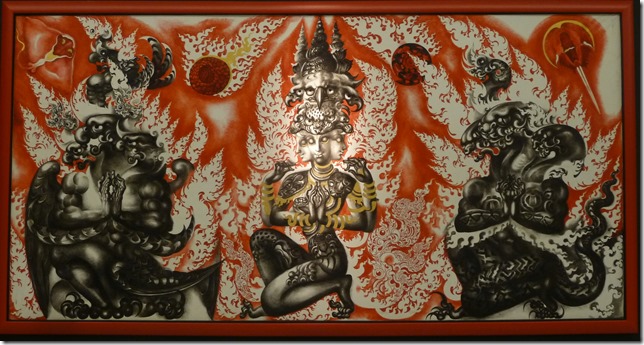 …but somehow didn't quite satisfy. Actually preferred his more traditional efforts: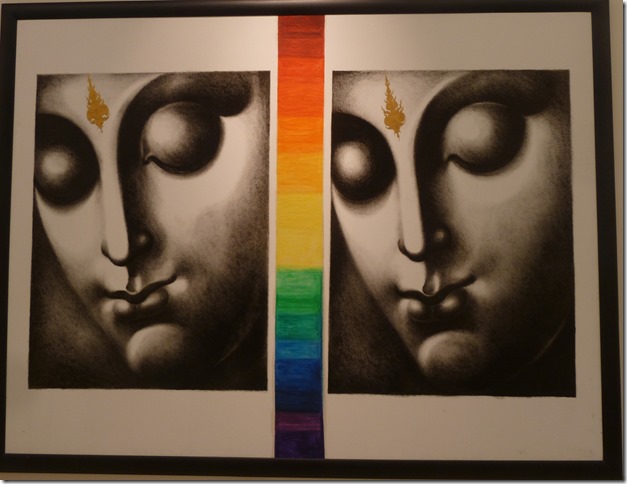 Some cool paintings from other artists as well, but, overall, the museum doesn't quite live up to its advance billing. My advice: Skip the MOCA, and decamp instead to Chiang Rai, home of the Black and White temples.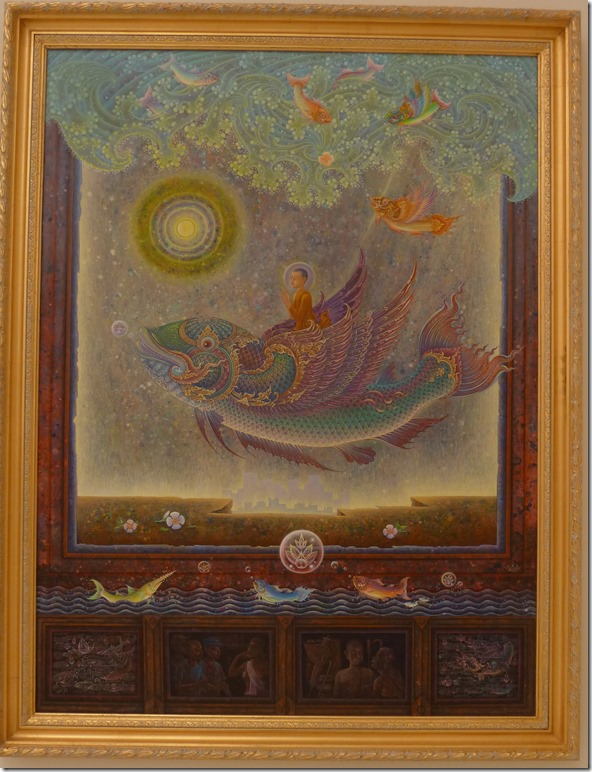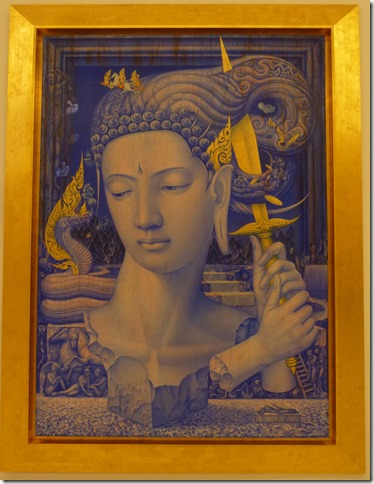 It was worth the trip, though, and there was a great big thunderstorm to take in after at the outdoor café area. Once the rain slacked off a bit, I ended up walking all the way to the nearest subway station (should've been an hour-point-five, but ended up being about two hours after I made a wrong turn) rather than taking the bus, as traffic was even more gridlocked than per Bangkok usual. It was kind of like being at the beach, as the standing water was so deep that passing cars washed it up in waves right on over the edge of the sidewalk.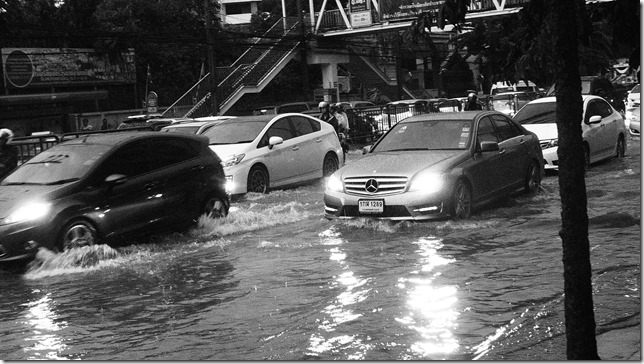 •
There is just never a dull moment in Bangkok. This is especially true, as I've argued so many times before, at De Talak. Don't know what I could write about De Talak that I've not written one thousand times already. It's simply the most sublime, most ridiculous, most fulfilling, most entertaining, most wonderful social experiment you could even imagine. If one were to call in to Bangkok and only spend all the whole time hanging out at De Talak, it might end up being the very highlight of their entire vacation.
And now, after having just got trained all of the city's fruit vendors to never issue me with a plastic bag — nor even offer of same — I must take my leave. While I'm incredibly excited to return to Nepal, nothing in life makes me so sad as leaving De Talak.
Here are just a few more shots to remember Bangkok by – a street-sweeper with cool headgear, some tuk-tuk drivers playing bottle-cap checkers, and some clouds rolling in just a bit too late to be considered during magic-hour lighting. Ah, Thailand, Thailand, Thailand…how do you do that thing you do?
Bury my dimpled ass in Bangkok; I'll be the happiest motherfucker you ever saw.