There's not much there there in Hat Yai. Its star rose only quite recently – with the advent of the railroad, it blossomed into the transportation/commercial hub of southern Thailand, and currently does huge business serving Malaysian and Singaporean sex tourists. It's Thailand's third-largest city, but if you're looking for ancient temples and cultural traditions, you're out of luck. Even the hostel — the only cheap lodging in town — is brand new, having opened a mere three months ago.
The morning and evening fresh markets are humongous, however – stretching for blocks and blocks and blocks in every direction save up – rivaling, probably surpassing, in size those in Bangkok, Chiang Mai, and Chanthaburi.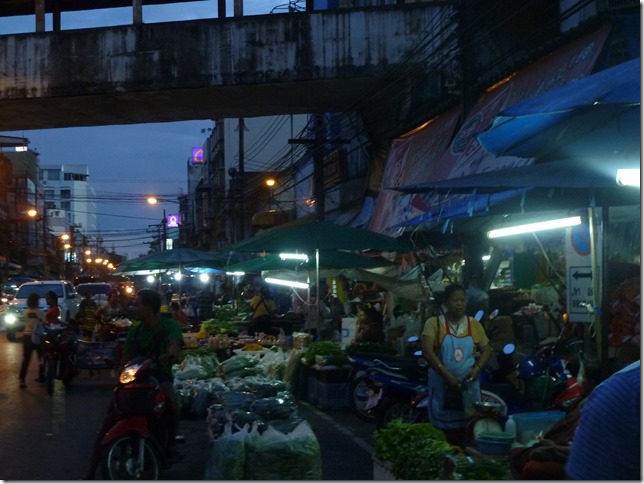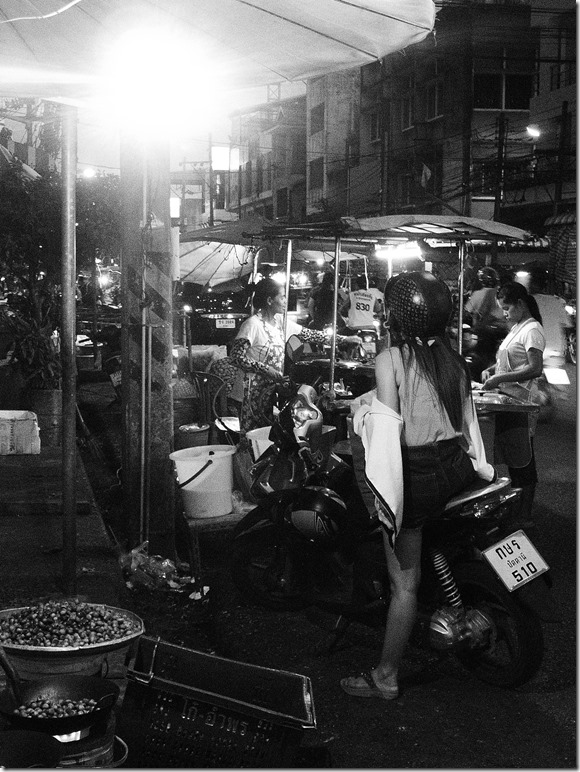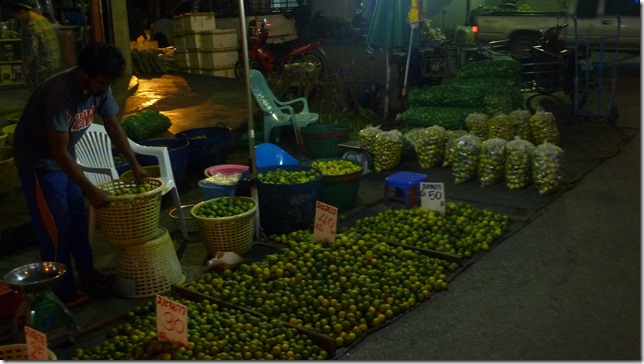 I did briefly revive the helmet project in Hat Yai. There, it being rainy season and all, it's more about the diversity of the helmets and the ponchos rather than the helmets and the faces. Ultimately, just not as much fun, so I've let it go. Did come up with at least a few interesting shots, however…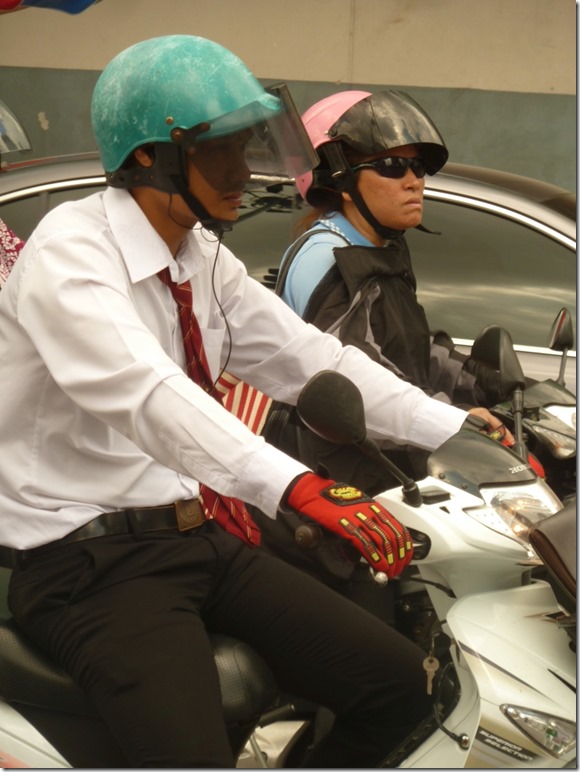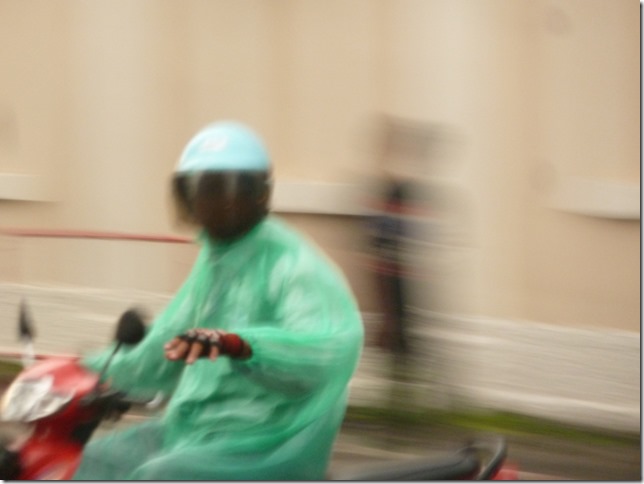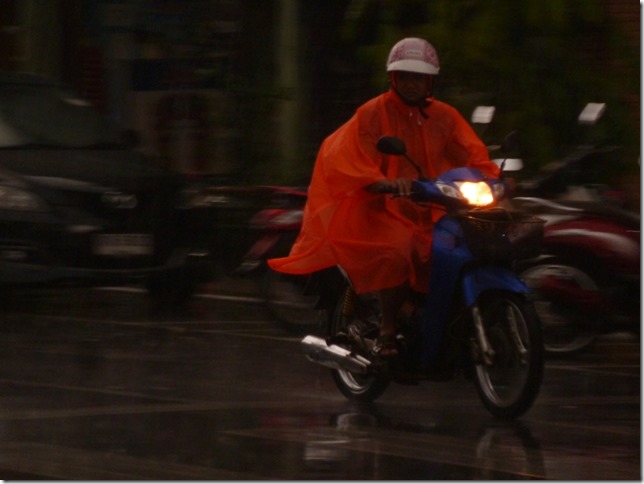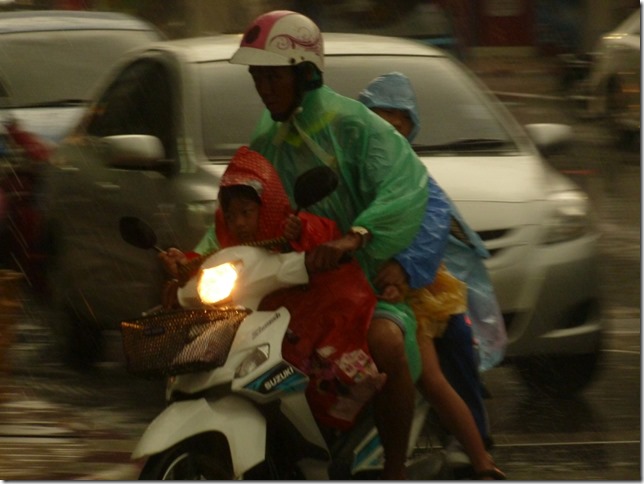 Apart from trolling the markets, one may also, if willing to put it on the heel and toe for a time, find some touristy sites around and about. For one: there's the World's third-largest Reclining Buddha.
Walked to the temple at which a hostel staffer assured me it resided, to find that it had gone missing. A roly-poly monk (looked not unlike Potbelly Buddha, now that I think about it) told me that this was the wrong temple, and that I had to hire a driver to deliver me to the big reclining. He was a nice guy; said he wanted to take me to his home, a large place at which I could stay and eat free of charge. Don't know whether he wanted to ravish me, or convert me, or simply thought me a homeless, wandering wretch.
I respectfully declined his offer of hospitality, researched the true location of the big guy, and set out on foot. After about an hour's walking, there it was: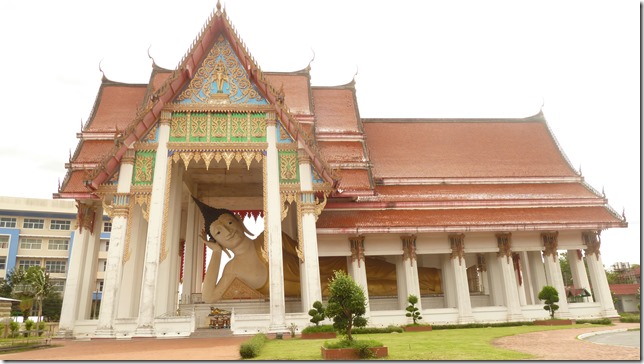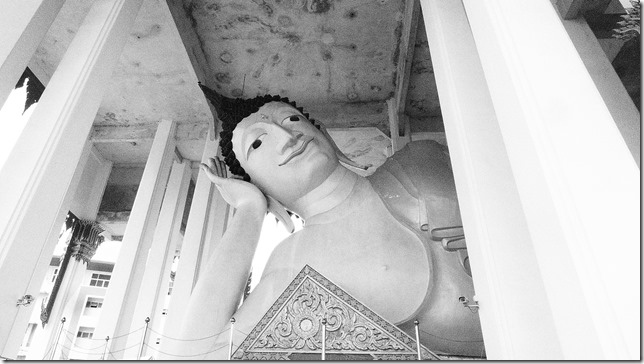 Colour me underwhelmed. It was worth the trip, though, as a market located adjacent the temple had a vendor selling obscenely delicious Coconuts for only fifteen Baht apiece. And so began my torrid relationship with the Hat Yai and Songkhla Coconut waters. Cannot…stop…drinking them.
About an hour's walk from downtown, in the opposite direction, is the Municipal Park. Too far away to be at all convenient, it's nevertheless quite beautiful. More like a nature park than a municipal park, it features a peaceful lake…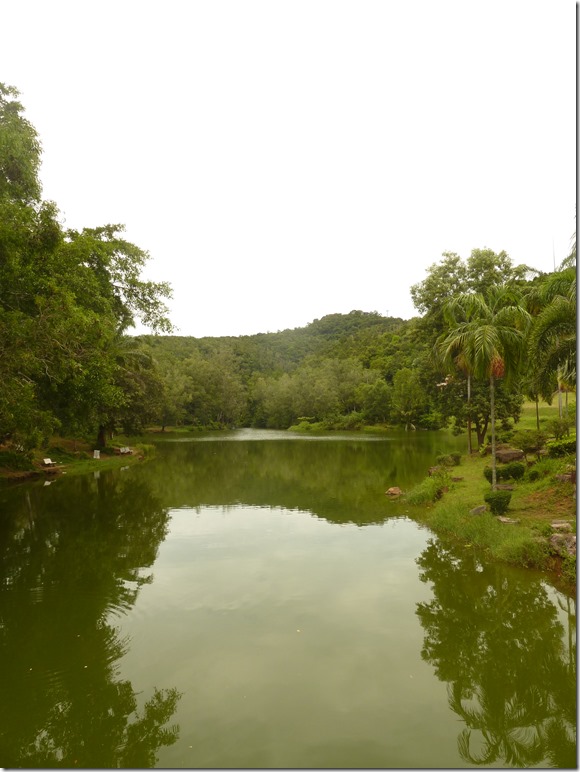 …and some nice hiking, including to two (count 'em) mountaintop temples — one Buddhist and one Hindu – connected, for those too lazy to walk, by gondola.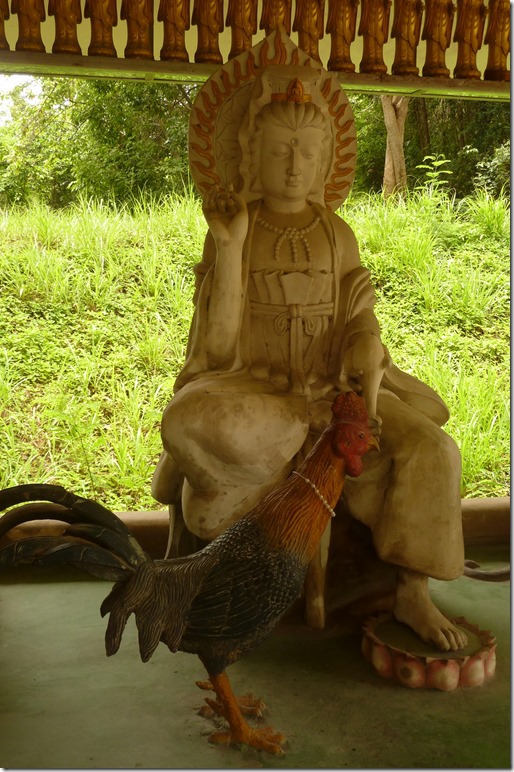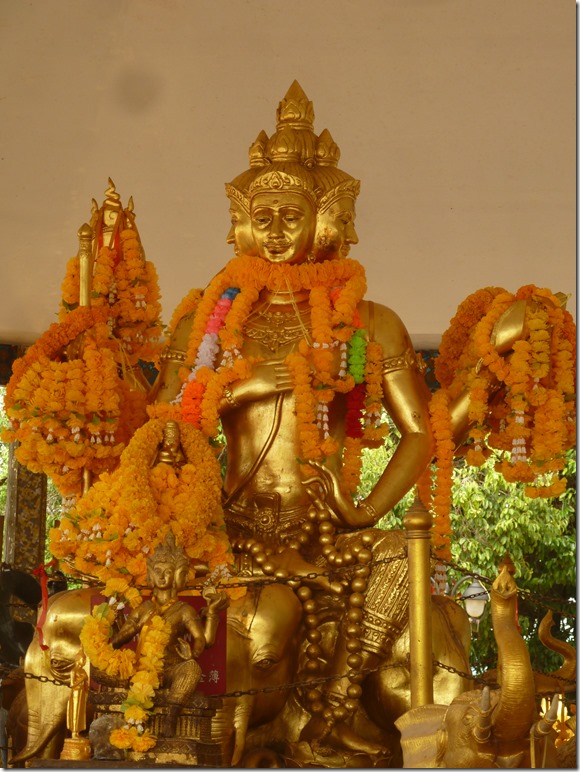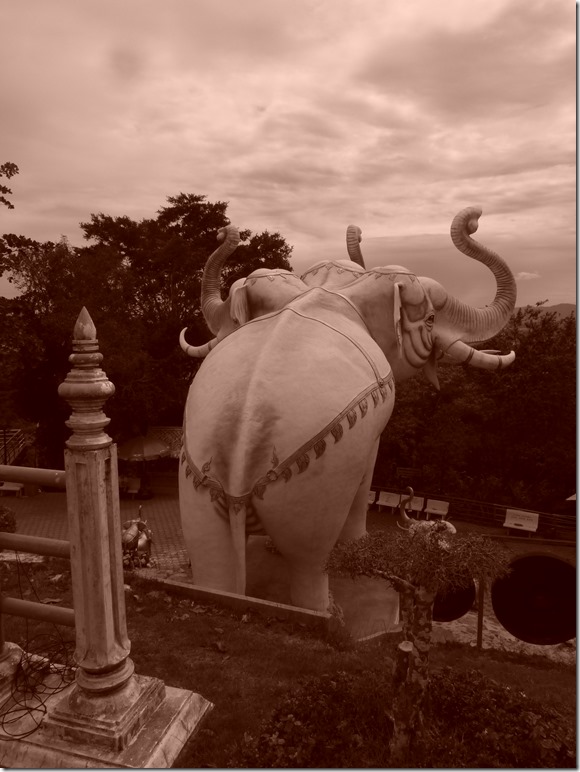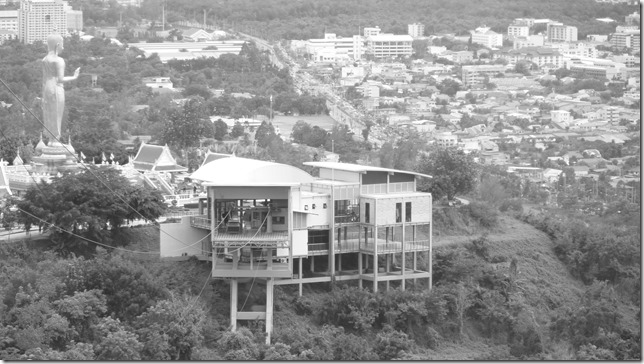 The locals  in both Hat Yai and here in Songkhla are exceptionally friendly and helpful – even by Thai standards. Hmm, well, the moto-taxi drivers over on Ramvithi are always bumming Bananas from me; so, I dunno, maybe they've spread the word to be super-nice to the barefoot farang. Whatever the reason, in addition to the portly monk noted earlier, there were…
After hiking for an hour or so to where I thought the floating market should be, I hopped across the thoroughfare to where a small street market was doing business to see if the vendors could point me in the right direction. None of them spoke English, however, so they went and tracked down somebody who could – eventually procuring not one but two extremely nice ladies who explained to me that I was in the right place, but that it was a night market, beginning at 3:00 in the PM. (Ed, the owner of the hostel, had told me that it was a morning market. He's a great guy, but I did notice that he sometimes has his facts mixed up.)

While I was ambling along barefoot over across the railroad tracks in a non-touristic part of town, a lady showed up on a motorcycle explaining that she'd seen me walking and was worried about me — and offering me a bottle of water and a pair of flip-flops she'd thrown into the bike's carrying basket! I assured her that I needed neither, but, holy god damn, how fucking cool is that?

Two ladies – a mother and daughter, I guessed – saw me walking across the bridge from Koh Yor island to the mainland, assumed that my dimpled ass was lost and/or dazed and/or confused, and said that they wanted to help me. I wasn't 100% sure where to catch a sawngthaew, so they caught me up to speed in that regard. Not a big deal, perhaps, but I found them to have been almost impossibly kind-hearted.

To-day, yet another lady, noticing me walking along a busy road, stopped and picked me up in her truck to drop me at the nearest sawngthaew stop. But then when we arrived to same, she decided to run me all the way into town – probably fifteen or twenty miles out of her way. "Free of charge," she promised me on more than one occasion; and, indeed, refused to accept my offer of monetary compensation.
And those are just some of the more striking occurrences – smaller examples abound as well. The only thing is, the schoolchildren don't seem quite as friendly as in other parts of Thailand. Maybe they're not as confident with their English, or something? Thailand ain't perfect by any stretch; but you'd be very hard-pressed to find a more friendly, genuine, delightful people — 'specially here in the south of.
That said, Hat Yai, despite its charms, could only really occupy one's attentions for a day or three. The true gem of this area is Songkhla, which has, for nigh upon a week now, been holding me fast just like a goddanged magnet would do. Could easily stay here for a very long time, if one were of a mind to.
Stay tuned, and I'll goddamn prove that to you. First, a final/fun pic from Hat Yai…