Have relocated to Songkhla, about an hour's sawngthaew ride north of Hat Yai. While I miss the social scene at the hostel down there, who could pass up staying fifteen minutes' walk to such a beautiful beach for only $8 per night? Also, there's plenty of cheap fruit here, and much more historical/cultural identity than in Hat Yai.
Will in near future turn our attention to the latter. But to-day, how if we take a trip down memory lane? Got all my footage from the last few weeks of George Town Festival uploaded; so let's let her rip, shall we?
•
First up, the Festival's penultimate weekend brought the two-night Asian Premiere of Royston Abel's The Kitchen, the dramatic multi-sensory followup to his production of the Manganiyar Seduction, which played GTF two years ago (here find my report from, and footage  of, the event) – and which I still think is the best concert I've ever seen. Though The Kitchen is not in the same league as its predecessor, I nevertheless wished and hoped and prayed that I could see it again every night from here on in. (And just a heads-up, people: I am able to report that there is no FUCKING god; my prayers were NOT answered, even though I FULLY deserved for them to have been.)
I got busted for filming with about five minutes remaining in the second show. Dude was very disappointed in me, asked me why in tarnation I'd done such a thing? Hey, charge people a bunch of money to get in to something, then tell them they can't take photos, even though they're using neither flash, nor beep, nor shutter-click…of course they're going to break your damnable rules. So he deleted all my footage, and I had to download a data-recovery program to get it back again. But here we are, good to go. If this production ever gets within a few days' drive of you, stop whatever you're doing and light out in its direction.
•
•
Next footages, from the penultimate day of the festival, are from the Armenian Heritage Concerts held over at the very swank Eastern & Oriental Hotel (which was originally opened by Armenian immigrants). There were two shows on the same day, with about an hour between. Both were free, with registration required — and both were booked out by the time I got around to realising that registration was required. So, I showed up, got on the waiting list…and ended up being seated in the front row. Zing! The show was so jaw-dropping great that I immediately signed up for the second show's waiting list – which turned out to be even better than the first had been. You won't believe the sounds this girl gets out of her violin.
•
•
•
The final day featured a bunch of street performances at the intersection of Armenian and Cannon streets – the heart of the city during its Colonial days – and a bunch more a block or so away at the basketball court.
From the former, an impressive bit of silliness followed by a teen covers band (so many really great vocalists in George Town — including among the youth!).
•
•
•
From the latter, the dance piece Trolleys was one of the festival's more highly anticipated performances. To look at the pics, you'd say this had to have had Chris Elliott's imprimatur plastered all over it…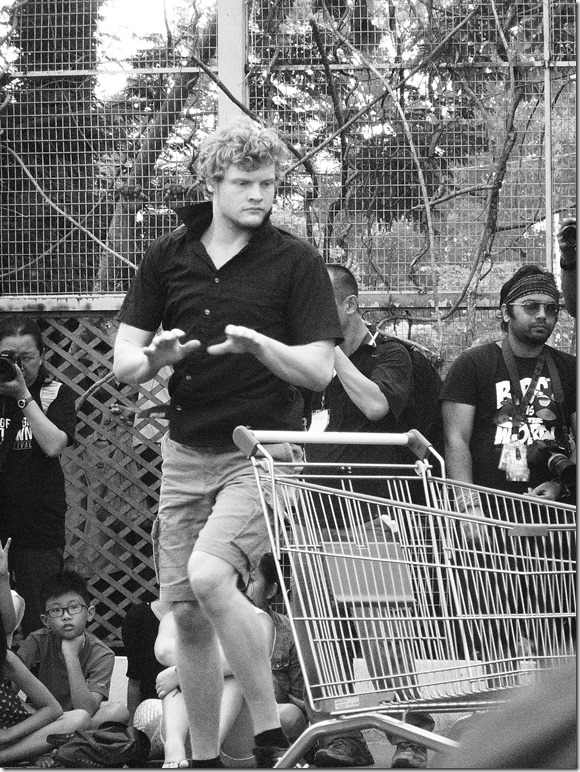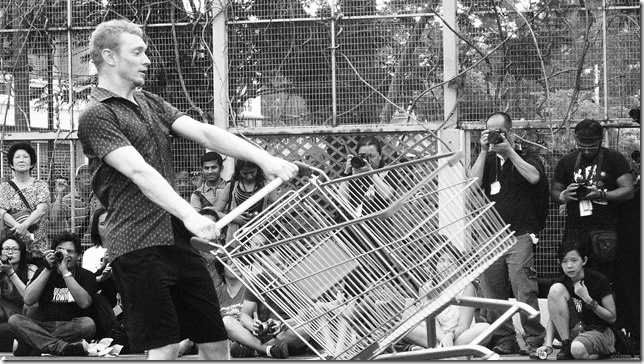 …but add some music and set it to motion, and…voila!
•
The three night-time performances at the basketball court were just spectacular. First, this traditional theatrical. It was performed in Malay, so I couldn't tell you anything about the plot (except that the audience seemed to be loving it), but the costumes and the musicianship here…if you try to tell me it can get any better, I'll try to tell you to go to that bad place with the demons and the pitchforks and the plastic underpants (and whatnot). (Although I would agree that my camera's mic didn't do as well as it might have. Sometimes it seems to perform so fantastically great, and other times not. Don't know why.)
•
The next performance, Kuda Kepang, was, for me, one of the very highest lights of a festival filled with highlights. A Javanese ritual horse dance which was, in the day, used to gain converts to Islam. We were told during the introduction that it's supposed to last for six or seven hours – but that even though this performance would only be about ninety minutes, it was still 100% authentic. Ah, no arguments from the peanut gallery.
If you watch no other clips from this despatch, make sure check out the third of these Kuda Kepang vids, for what you'll see at about the 1:45 mark is the coolest thing you'll see all month – I promise.
•
•
•
The final performance, Viva Circus, couldn't, after that, but be a bit of an anticlimax. Still, it was pretty damned great in its own right – and the absolutely gorgeous fire dance to end the show was the perfect finale to an astounding month.
•
•
•
•
All of my photos from the GTF performances can be learnt at the Flickr page, and I've uploaded MP3s of my recordings of the following shows:
•
And that's it! Now I will finally shut up my goddam mouth about how fucking much I love Penang. Well…at least until my next visit.