[dc]W[/dc]hat would happen if Cloud Cult – the band responsible for two of this young decade's to-date five best albums (one blogger's opinion, to be taken or left as the reader sees fit); and whose live shows have been steadily improving year upon year to the point that they now rival the almighty Wilco's for their dramatic and delirious admixture of head-bang-inducing caterwaul and could-hear-a-pin-drop quietude (while packing an even greater emotional wallop than do that latters') – what would happen if this band were invited to come to Seattle and perform three (count 'em!) shows in three days, including its first-ever all-acoustic sets; the latter two shows to be performed inside the recently-renovated Lodge (a location which would reveal itself to be one of the city's best-kept secrets and a concert-promoter's dream, even despite its seventy-two person capacity and remote location) at the only campground inside the city limits?†
While one supposes that what would happen is that homeboy would begin speaking in tongues; it would after all only be fair to put to the test this most reasonable of hypotheses. And so, Friday evening. The second in KEXP's and Seattle Center's annual series of concerts at the Mural Amphitheatre.
Chastity Belt, whose praises are recently being loudly sung by all and sundry, kicked it off. The band didn't, alas, live up to its euphoric notices. The newly re-jigged Deep Sea Diver, however, nearly stole the show with its loud-and-tasty rock-roll roar, powerfully charismatic drumming, and all-around good humour.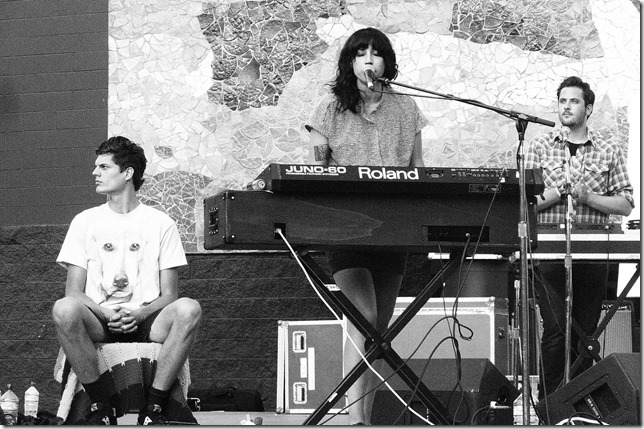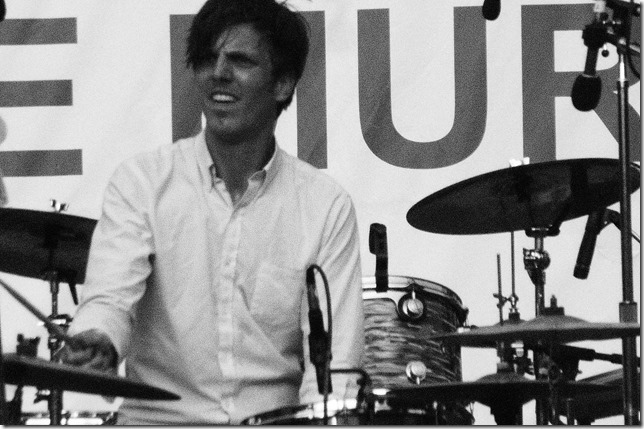 Perhaps if only simply to prove that not even this weekend could be perfect, Cloud Cult's set was, compared to the band's theater- and club-venue shows, fairly underwhelming. Granted, those are enormous shoes to fill. But clocking in at only about two-thirds the length of a typical set, as it did; and lacking the dramatic potential of a darkened, stage-lit room with a supremely amped-up sound system; the Amphitheatre's set was decidedly hamstrung.
Which is not to say that the band didn't come ready to play its dimpled ass off, nor that it wasn't any fun seeing it nestled underneath the Space Needle, nor that there weren't spine-tingling moments aplenty…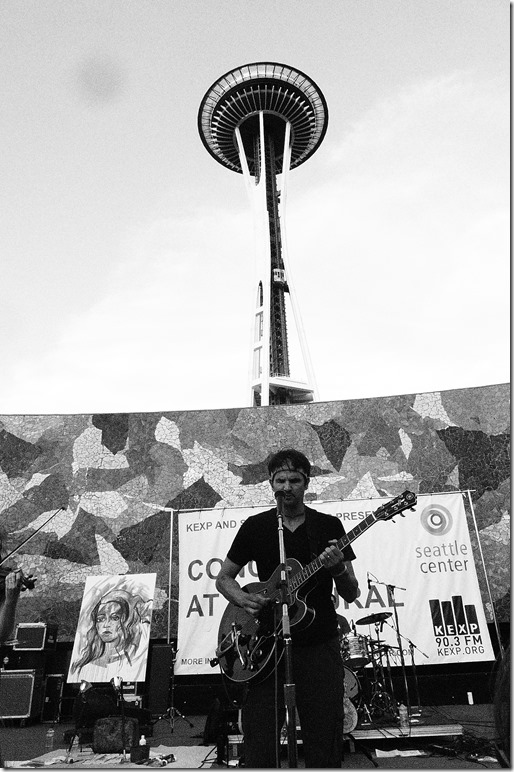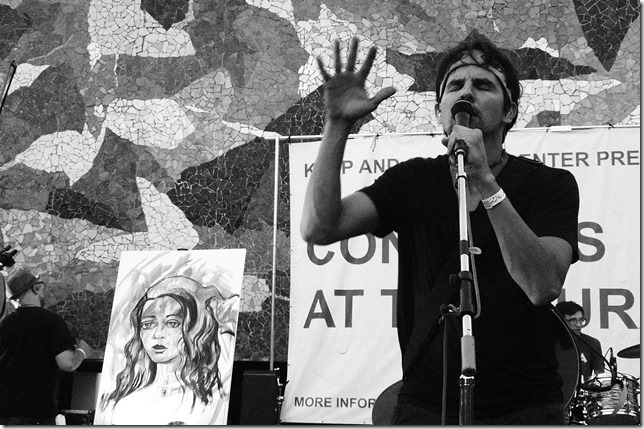 …Because, surely, it did, it was, and there were. A couple of cases in point, erstwhile setlist faves "Blessings" and "Everybody Here Is A Cloud".
[dc]F[/dc]ollowing Friday night's surprise, well, cloudburst, Saturday dawned warm and dry, and the much-anticipated Arts In Nature Festival was finally in session.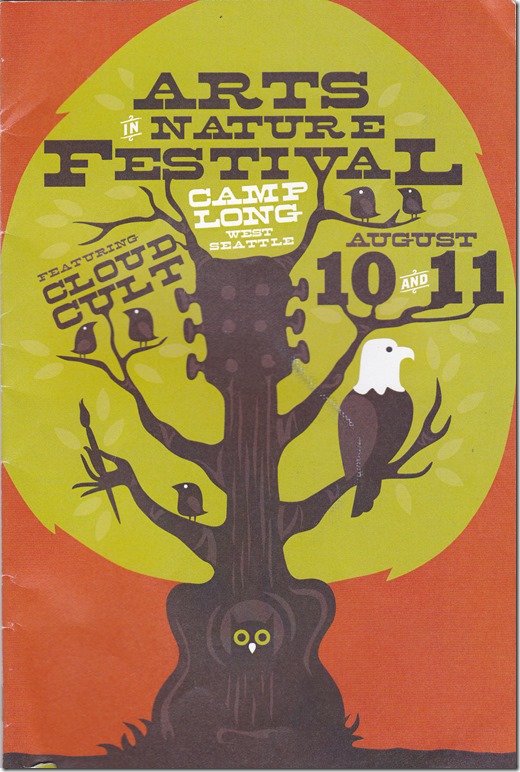 Given the Festival's rustic setting, it's probably appropriate that arriving to West Seattle via public transit is rather an expedition. But, damn, for a neighbourhood that, mapside, appears in such tantalisingly close proximity, it takes an ass long time to get to. Which is another way of saying Chris Ballew's Festival-opening Caspar Babypants set was just a little too early for some peeps to consider it the primest of times.
Saturday's other offerings 'round and about the Campground were fairly on the slight side; although the Rain City String Quartet, and Jazz/Swing combo Swingamathing turned in quite nice sets inside the Lodge's wonderfully airy gathering space. Also, some Hippie ChicksTM did a, like, Forest Nymph routine which brought the house down. I dunno…not my cup of tea.
All the while, Cloud Cult had been slaving it away in the downstairs Activity Room, hammering out their chosen songs' new arrangements. Now, as they hauled in their gear, got set up, and began practicing still some more; the line outside began growing, along with the anticipation. With still an hour to go before showtime, there were more people in line that the room could hold, so an additional loudspeaker was set up outside, and those left out encouraged to gather 'round and watch through the windows.
The evening sunlight streaming through as the band began to play not only added a Summer-in-Seattle touch, but it also imparted to the outdoor onlookers something of a surreal, ghostly appearance.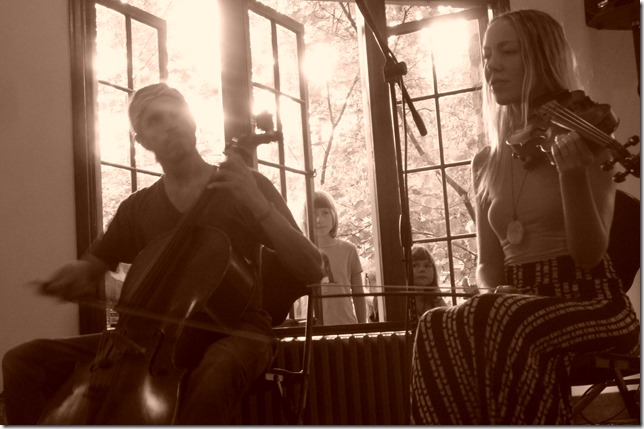 Considering the band's history, this was maybe not so surprising. In 2002, bandleader Craig Minowa and his wife Connie (herself one of the band's two live-performance painters) lost, from an unknown cause, their two-year-old son in his sleep. From this deep well of grief and despair Minowa has pulled one of the more memorable and purposeful songwriting canons in recent memory.
In this context, his lyrics are both absolutely heartbreaking…
And when the angels come
They'll cut you down the middle
To see if you're still there
To see if you're still there

And underneath your ribs
They'll find a heart-shaped locket,
An old photograph
Of you in Daddy's arms
…and utterly redemptive…
And then they'll sew you closed
And give you back to the water
From where we're all born
From where we're all born

And you'll feed the ghosts
And you'll feed the living
You will be a stranger
And you'll be a friend
…while his songs' exhortations to, given the transience of the lives we possess, fully live each moment are to say the least captivating, searing, and inspirational.
And if that makes it sound a little too much like being in Church, well, the parishioners were here to have fun, after all. And while that they most certainly were doing, the band may have been having even more.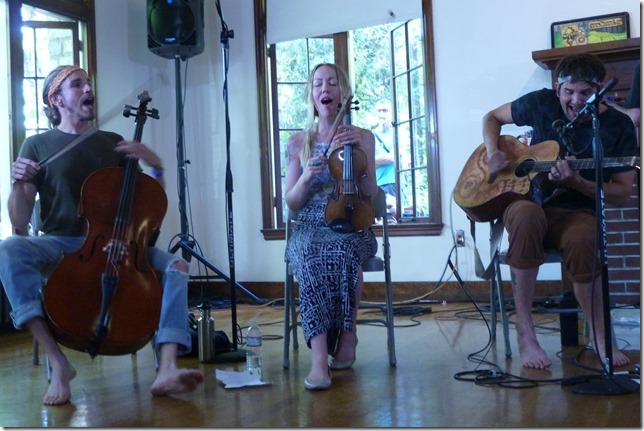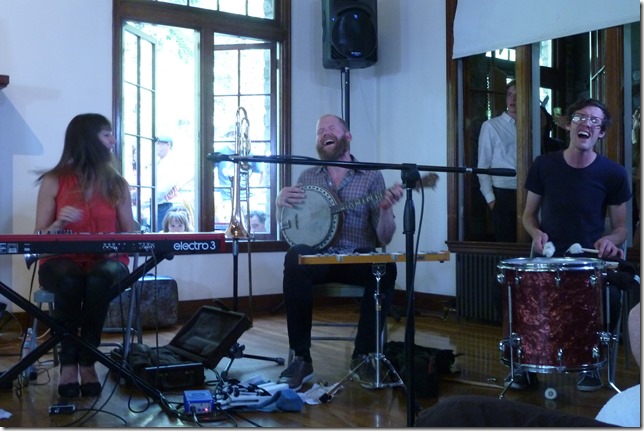 The arrangements were (predictably) magisterial, the room's acoustics were (surprisingly) terrific, and the setlist was impeccably curated. In other words, we had liftoff.
The evening's entertainments wrapped up with some nice, down-home fire-eating.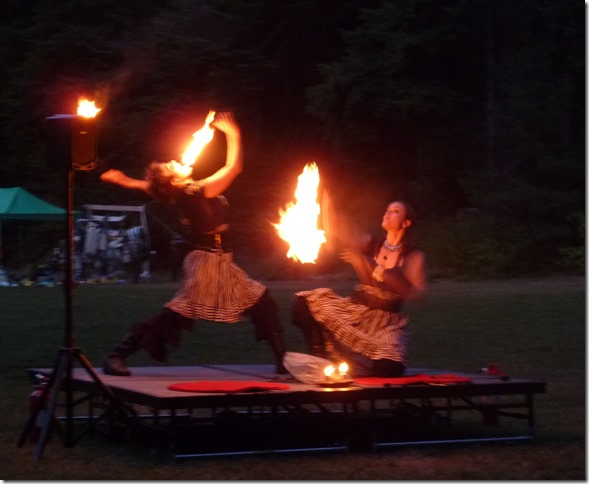 Little Boy In The Audience: Daddy, why did she do that?
His Father: I don't know…I do not know why she did that.
Me: [Laughing.]
[dc]S[/dc]unday's lineup was more fully fleshed than had been Saturday's; Ranger & The Re-Arrangers and Monarch Duo getting the ball rolling by opening up some whup-ass over two lights-out sets of Gypsy Jazz goodness.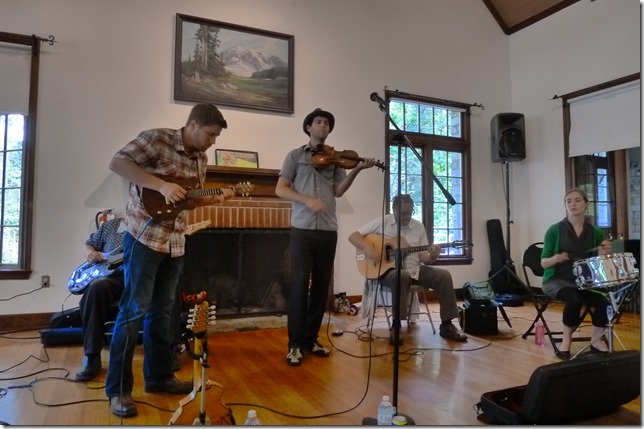 Time, now, for one more blessed dose of the Cloud Cult Experience. If Saturday night's show hadn't been a one-of-a-kind performance, it may have been half of a two-of-a-kind. The Dress Rehearsal half, it turns out, as KEXP filmed Sunday's set — which was identical to Saturday's, right down to the anticipatory buildup, and the too-late-arrivers claiming their spots outside the windows.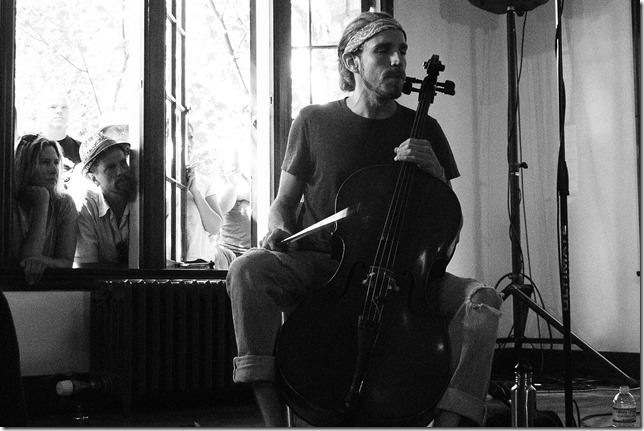 Though the early-afternoon light didn't bring the aura that the previous evening's had done, the energy in the room was somehow even greater (and the band's performance possibly a little tiny bit better). Transcendental, baby.
As we all knew it would do, soon too soon, reality knocked us upside our puny li'l heads and sent us tumbling down onto our dimpled asses. Though the event far exceeded its lofty expectations, it couldn't turn back time. The latter, it ran out; and the show, it did, very sadly, come to its end.
After taking a triumphant bow…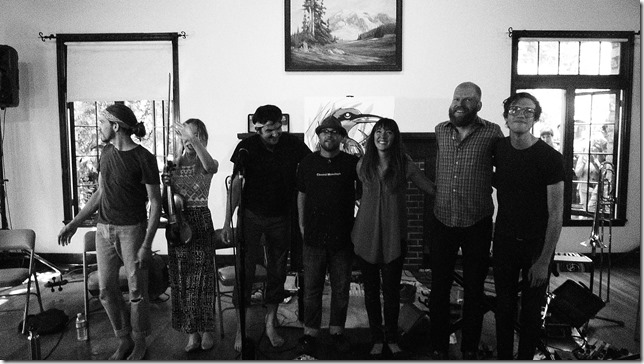 …the band did something it hadn't done Saturday evening; to wit…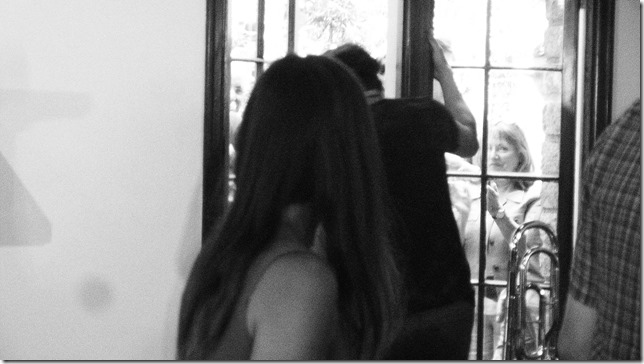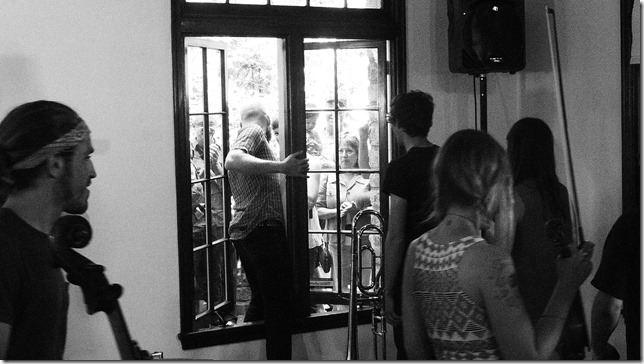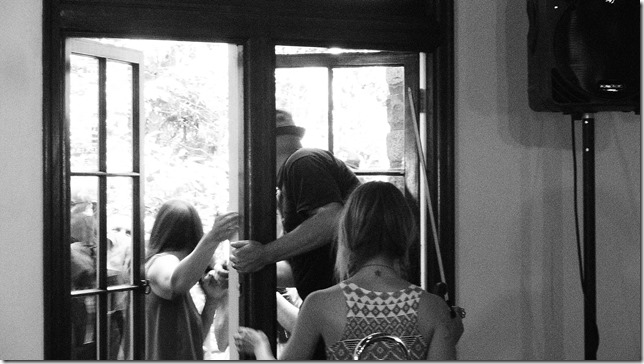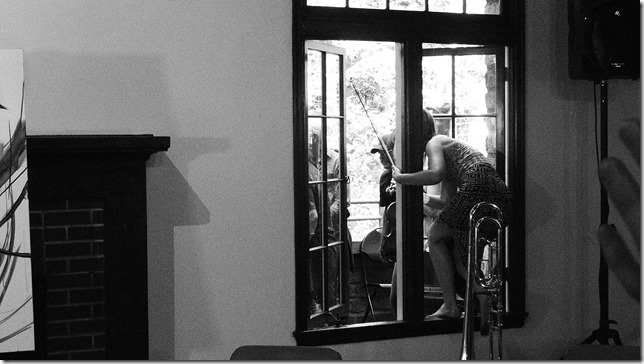 Vanished like Keyser Soze, leaving only a completed painting to remember 'em by…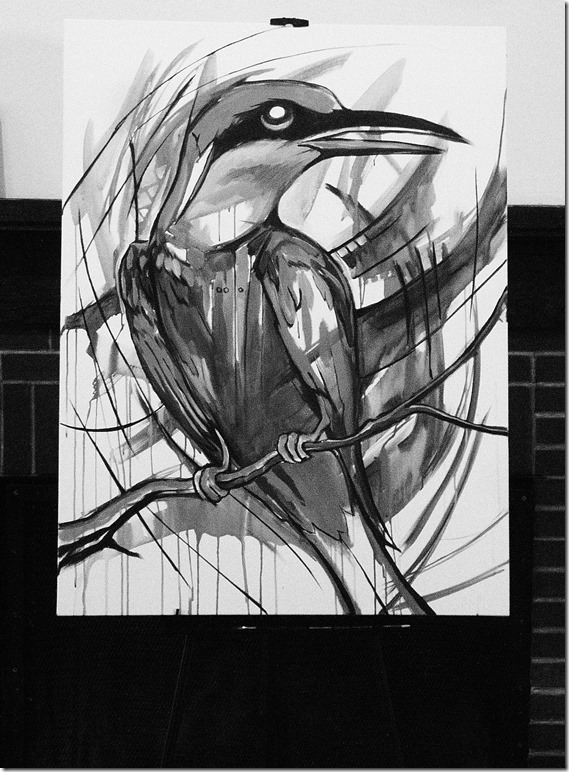 A completed painting, and scores of now-torn fans: elated at having been privileged to take part in this unique experience…but now cruelly left without a coming Cloud Cult show to which to look forward.
In re the former, by the way, the band elected to break from its usual protocol of selling to the highest bidder immediately post-show; and instead conduct an online auction, the winning bid to be donated to Festival-hosts the Nature Consortium and to KEXP's Building Fund.
Sad as it was, Cloud Cult's departure did not spell the end of the Festival. There was still the matter, down in The Meadow, of a Big Sprawling Group O' Hippies, calling theyselves the "Illuminatio Project", putting on a performance piece (apparently the second in a trilogy) about…
Well, near as could be by yours-truly sussed, it was about: Worker Drones dutifully doing their 24/7 Taylorite thang…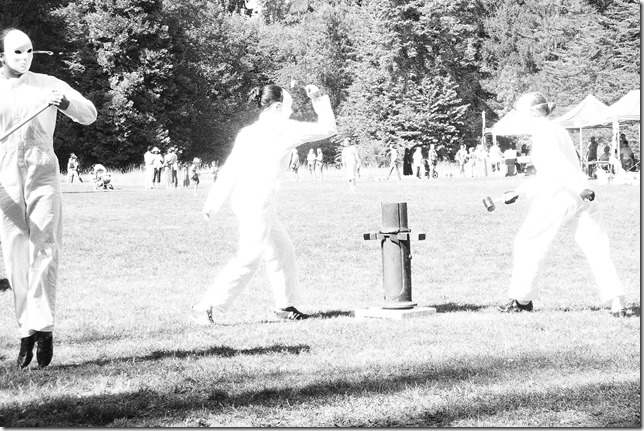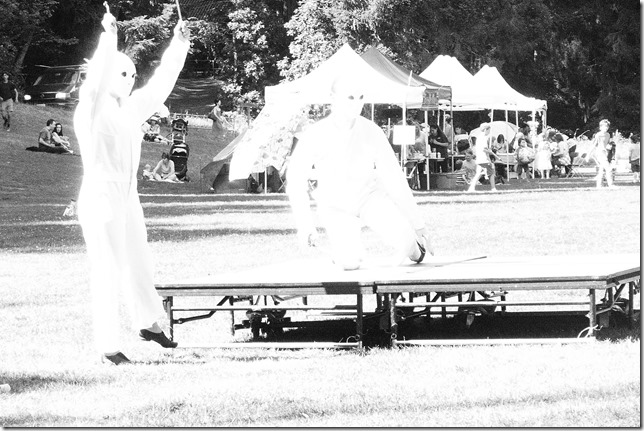 …until one sheep strays a little too far from the flock and encounters a raving madman from out Society's furthest fringes…
…whom for her lays bare the horrifically soulless ismism of carrying water for The Man. Having seen the light…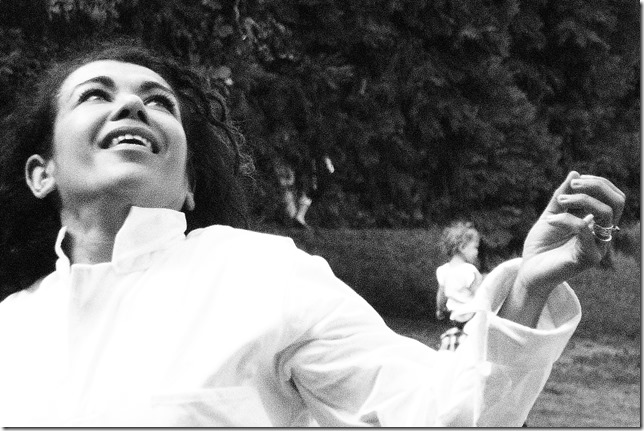 …she endeavours to unmask State, Corporation, and Everything.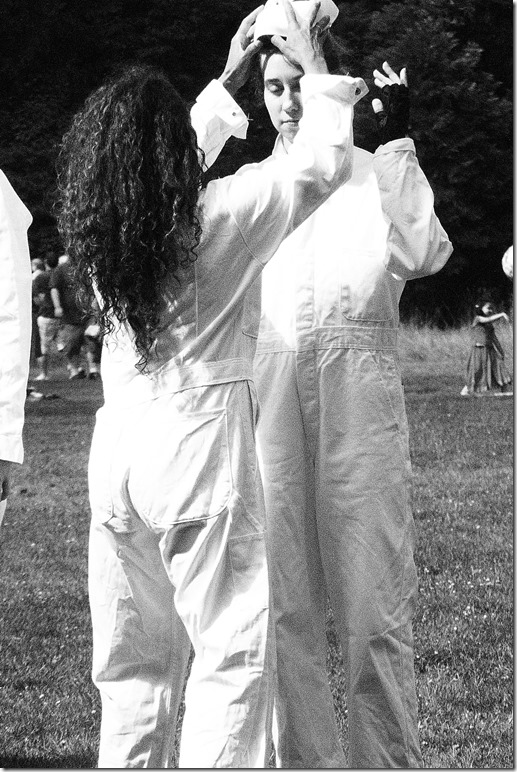 But then Darth Reaperette shows up, bitch-slaps her to the ground…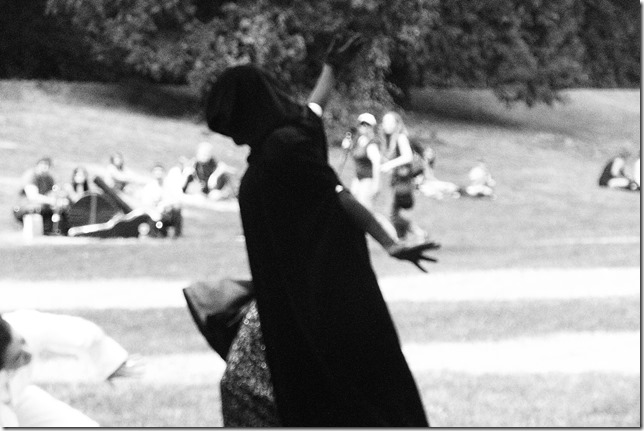 …restores order, and makes the trains again run on time.  The End.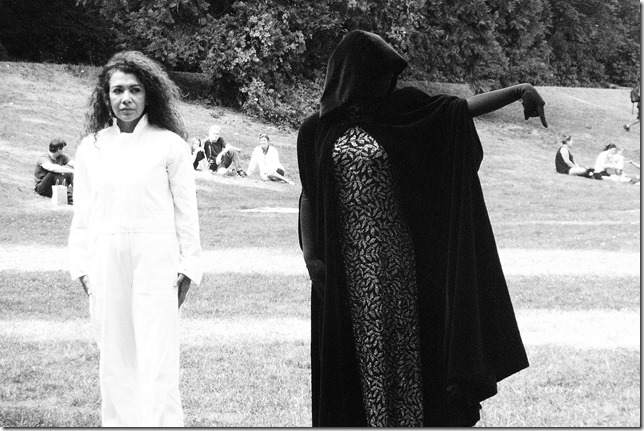 It's 2112, basically – although the costumes aren't quite as cool.
Next, the Nu Klezmer Army lit up The Pond real good one.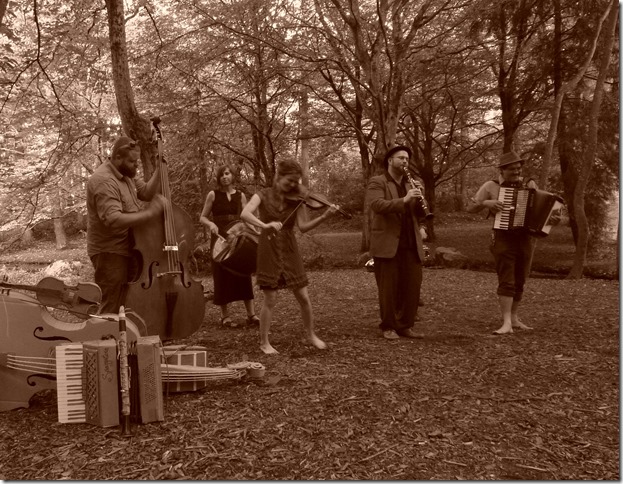 One may not've considered this venue's woodland setting to be the best of fits for the raucous energy brought by that crazy Klezmer beat. But the band managed to be at once restrained and irrepressible; and with some truly excellent fiddle-playing, to boot.  (A theme for the weekend, in point of fact: Rain City, Ranger, Nu Klez Army, the soon-to-be-mentioned Ama trio, Swingamathing, and of course Cloud Cult itself all feature some seriously knockout Fiddle Action.)
Back up to The Lodge, the recently-foreshadowed Ama trio delivered an oft-spectacular gulpful of Indigeno-Gypsy Central- and South-American Folk (or what) serving as a perfect conclusion to a magnificent event. Awesome Vocals, Violinism, Dancing, Percussion, Accordion… Need anything else? Really? You need a fucking Harp Wizzard to come shred your dimpled asses up for you? Done, bitches. Harp Shreddist in the god damn house, y'all.
And that was that. Super-huge thanks to Cloud Cult, the performers and volunteers, and especially to the Nature Consortium and Executive Director Nancy Whitlock for their wondrous hospitality. "Blessings", indeed.
My photos from the weekend can be learnt here, while my photos from the Mural can be learnt here. That was a lot of fun!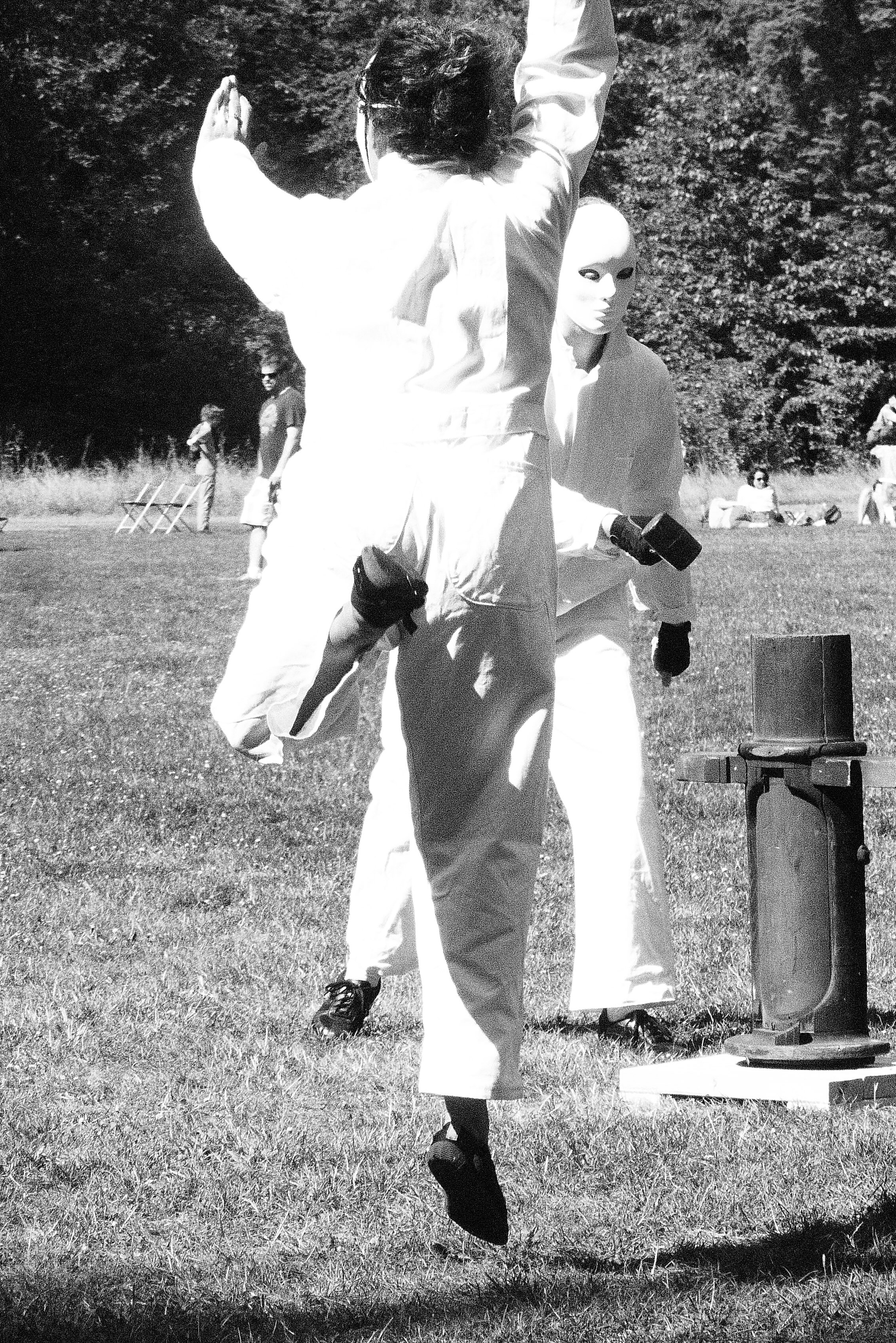 •
† Also, what would happen if some stupid asshole were to begin a blog post with a more-pretentious-than-thou one-hundred-forty-six-word sentence? Hopefully we'll never find out…