Wonder which is more outrageous: that it's already again time for Folklife, or that I will this year be absent during The Only Weekend That Matters?
Back in Chiang Mai now, Thursday night; after having survived yet another marathon third-class train journey. This one, from Tuesday night 'til Wednesday noontime, was in point of fact much less grievous than I'd been fearing, as the train was surprisingly (to me) un-crowded. This meant that, while the benches were duly uncomfortable, there was at least plenty of room to stretch out – and even, it so happened, get some sleep.
Which is more that I could say for last night, Wednesday. I'd schlepped it from the train back to the guest house which I'd loved so much from my previous visit here. You remember? The one at which I'd dormed with the crazy Russian (not to be confused with the crazy Russian dormmie from my first visit to Vientiane); as well as the American who'd eaten dog kebab in Vietnam, the drug-fueled/Radiohead-listening Jamaican orator, the Indonesian college students who were more up recent Seattle happenings than myself, and so on.
Well, so, I figured: "Slow season, no need to make a reservation, right?" So instead showed up cold, plop, onto their doorstep…only to learn that: slow season, dorm under renovation. Ouch. As the singles were outside my budget range, I hoofed back up north to hit up this other guest house about which I'd read good things.
True enough, the young couple running the joint are very nice. When I arrived to check in, the gentleman was busy painting a picture; and when I came back from the Market, he was listening to Weezer. His partner, meantime, is a lover of Durian. In point of fact, her family home, in Chumphon province, has Durian trees there! Could you imagine, growing up in a house with Durian trees in the back yard? (Or even the front yard, if that's where they're located?)
But at night-time, it all came to a head. The two worst annoyances to kill 'til dead any likelihood of my getting a good night's sleep were in full flight: ineffective mosquito-netting (though I'd duct-taped all the holes I could find) and loud-as motorcycles roaring long and loud into the night. (Did I ever tell you how fucking much I despise motorcycles and all for which they stand?) I could tell that earplugs would be no match for this racket, so I didn't even bother. By the way, if I were to select a third-worst annoyance, it'd be an aged mattress. Zing! Guest house managed to score the hat trick.
This morning, I'd checked out and was leaving to find another place – and did then notice a truck coming down the road releasing some manner of toxic-soup mosquito-killer cloud into the neighbourhood. Lovely. I'm getting the feeling that it may be a city-wide menace for this time of year.
This place I'm at for tonight will definitely be quieter; keeping my fingers crossed about the mosquitoes (actually, it's the no-see-'ems who're the more problematic, though somehow they're generally just lumped into the "mosquito" rubric). It's a bit on the pricier side for Chiang Mai ('cause the less-expensive options had by the time I'd arrived already been nabbed, slow season be damned) — though still less expensive than most of the rest of Thailand; and about on par with Laos and Cambodia.
But, anyways, there's a three-night maximum stay here, so however one would choose to slice it, I'll soon be moving on. This is apparently the reason why the rates are so cheap in Chiang Mai: many of the guest houses expect to make it up by one's booking an expensive trekking excursion, with the guest house taking a piece of the action. And if one doesn't do, one is sent packing after a short time's duration.
Hostel-mates include a very nice…oh, is there an adjectival form for Scottishwomen and Irishwomen? Would they, considered together, be called "Celts"? Okay, yes, looks as though that works — although the group isn't exclusive to Scots and Irish, so there may be a more finely hewn term which currently escapes my grasp? They attend "Uni" together in Scotland, and are here for a rather brief holiday.
Having previously visited Chiang Mai, I was able to give them a few pointers about cool shit to see. Being sporting women themselves, they were super-keen to hear of the pick-up evening takraw matches down in the park.
But it was when I learnt that they've not yet visited Bangkok that I jumped at the opportunity to recommend to them to lodge at De Talak. Ha! Maybe my vocation should be Worldwide Ambassador to De Talak hostel. I could be seated at the UN and everything!
Well, would you know it? Paid a visit to the Market down along the southern moat. Not as bustling as it'd been when I'd been here in January. But even so, I wasn't there thirty seconds before this spectacular photo-op presented itself. Gotta love Chiang Mai!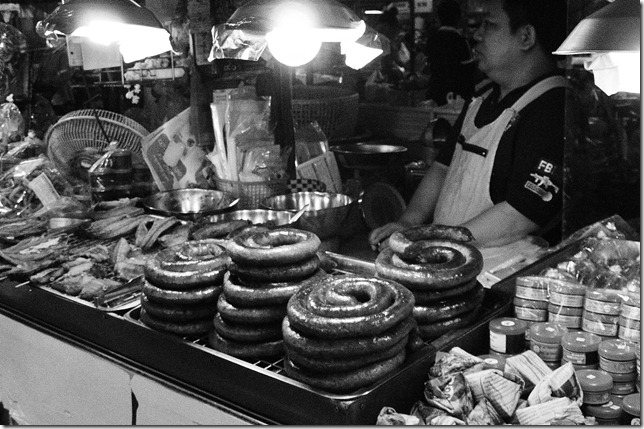 Later, however, got my bell rung about ten-thousand-fold. Visited this one Market over on Moon Mueang Rd. in order to get some cucumbers and bananas to eat while doing laundry. The vendor from whom I'd purchased the bananas? They also sell: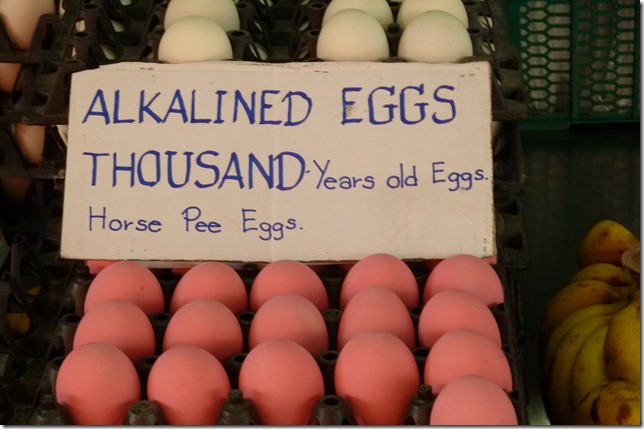 Okay, first off, I think it's fairly safe to dispense with the niceties; and to here and now declare this the Greatest Sign That Has Ever Been (Or Ever Will Be) Displayed Anywhere.
But having so done, one can't but admit that the sign raises many more questions than it answers. Are they, like, marinated in horse piss? Is it brushed on? Sprayed on? Injected into? Is it the horse piss which alkalinises the eggs; or is that a whole other shebang? And if it is a whole other shebang, then what is the horse piss for? And, what means "THOUSANDS-Years old Eggs"? The chickens' lineage can be traced directly from a thousand-year-long purebred line? Or…?
Thailand, man. You just never fucking know.
I mean, I still say that this…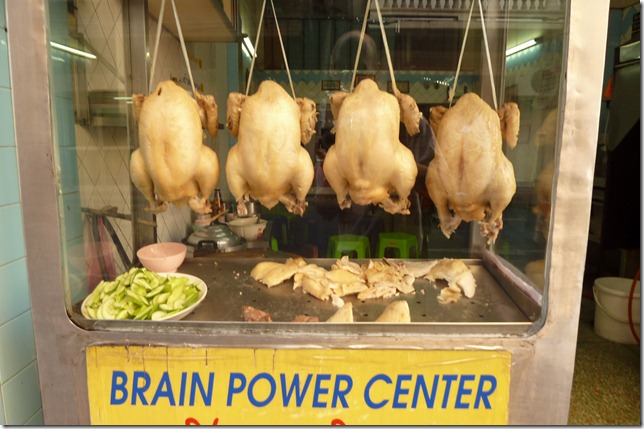 …is the finest cultural artefact ever has humanity produced. But it's not so much the sign itself that gives it its whammy; but rather, the sign in context.
After finishing the laundry, it was time to secure some Durian. Stall on Moon Mueang had some good looking Mon Thongs, but were priced fifteen Baht more to the kilo than are the Durian at the big market I wrote about before, over by the U.S. Embassy.
Thought I could, by calling to their attention the disparity, jew 'em down a little bit. But they held fast (it was the lady of the couple doing the hard bargaining, while the gentleman was simply occupied in carving up the purchased fruits); and I made good on my threat to make the mile-or-so walk up to the Market.
Also on Moon Mueang was a Durian Truck overloaded with Kan Yaos – at 180 Baht to the Kilo! Didn't even attempt to with them-all bargain.
So at the Market, this one dude was with his motorcycle/sidecar delivery scene gumming up the causeway pretty good. Which event afforded me the opportunity to photograph this amazingly cool lady.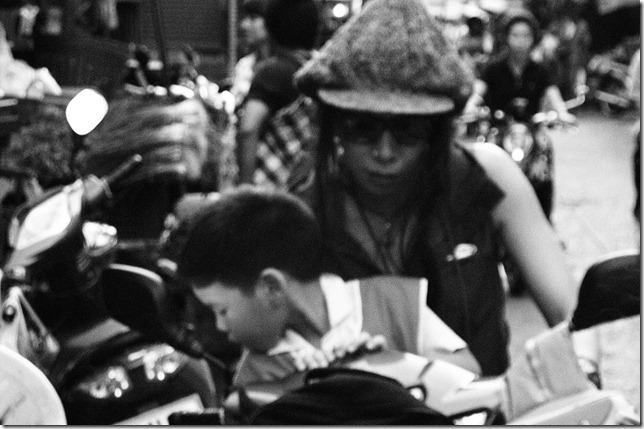 When I first seen that this photo'd come out blurry, I went and took another.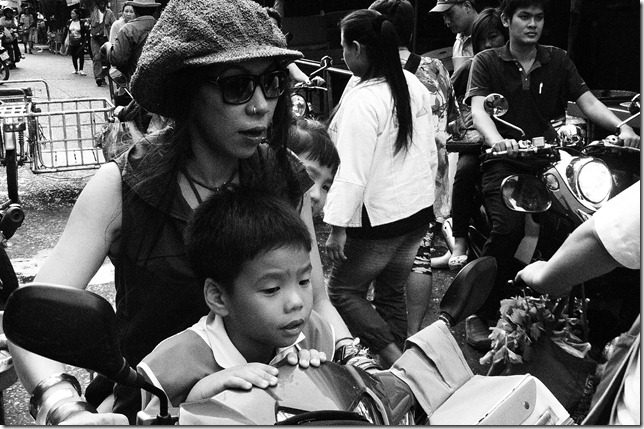 But now, looking at them both on a larger screen, I think I even prefer the former.
Um, but, anyway, none of the foregoing has fuck-all to do with why I've called you here to-day (all twenty-two of you who read this blog, that is). Which is, of course, Folklife! The most awesomest four days of the year (in this blogger's little old opinion); and I shan't be in attendance to experience them/it. Shall I melt? Vaporise? Simply cease to exist? Guess I'll soon enough know the answer.
In the meanwhile, I invite any and all within shouting distance of the Fest to in my stead Folklife it up for all your lives' worths! Shit, if one wanted to really pretend you were me (I shudder at the thought), one is welcomed to grab my recording gear from in amongst my shit (stored under the stairs), and have at it.
The recorder was the last item jettisoned from my pack in my mad zeal to reduce-reduce-reduce its (the pack's) load. I knew when I done it that I'd soon regret it, and regret it I have, the many times over. But, life goes on (and all that crap).
The rules, for those attending while pretending to be me:
All four days, all twelve hours each day. Such a unique opportunity as Folklife presents should not be left under-experienced.

Music and only Music. A few Dance performances would be acceptable; preferably with live rather than taped musical accompaniment. Well, though it's not pesonally my bag, if'n you wanna do some music Workshops, have it.

But, mainly: no goofing off over by the fountain (or what). No standing on line to get food – just bring your own; otherwise, you'll miss way too much music. No pretending to listen to music by just throwing down a big beach towel way the back of the Mural Amphitheatre or Fountain Lawn, and sitting talking and eating corn chips all the whole time. (I mean to say, I'm not judging those to whom this is the preferred avenue for attainment of Folklife Kicks. But if one wishes to truly experience the Festival as if one were in fact me, then…)
Now then, if you're feeling game for the challenge, but also rather daunted by the schedule's wondrous enormity, I hereby offer my from-half-the-globe-away analysis of this year's lineup. Hope it helps!
Friday Afternoon
Welcome to the red-headed stepchild of Folklife programming. Only about a third of the venues are open during this time, and the selections can seem a tad underwhelming. Usually, it's only the Fisher Green Stage doing anything interesting now; but even that's often kind of a thin reed.
Luckily, brand new stage, the Indie Roots Stage, opened last year, catching me totally flat-footed in surprise and delight by kicking out the jams all afternoon- (and indeed all weekend-) long. This stage, even in its infancy, is suddenly a major player in the battle for Folklife venue supremacy.
From the Friday Afternoon lineup at Indie Roots, I've previously seen Blackbird RAUM and Jeremy Burk. The latter is excellent, the former pretty good. Don't know from the other acts; but were I you, I would expect most everything at this stage to be above-average – more probably well above average.
At the Fountain Lawn, Nae Regrets at 3:35 and Northwest Taiko at 4:30 will each rock your world. The former are, like, heavy-metal bagpipes – totally awesome!
You'll want to kick the festival off at the Fisher Green with Conjugal Visitors at 11:00 in the AM. High-energy acoustic anarcho-folk/punk; it'll get you properly in the mood for a great and special weekend. Also at Fisher Green, The Priest And The Publicans, at 4:30 in the PM, are aces; while at 3:40, Mouce Manouche look most interesting indeed. (Uh-oh! We've already encountered our first scheduling conflict. There will be so many more…)
Friday Night
Friday eve is all about the Fountain Lawn's Balkan Brass show; one of the Festival's ultimate highlights. Orkestar Zirkonium, playing in the headlining slot, will be fun and rocking, but may well feel anti-climactic following the holy cacophony of the Bucharest Drinking Team — 'specially if the latter perform their spectacular full-costume ode to Rasputin.
You might want to skip out of the show's finale, and instead crack-a-lack over to the Northwest Court to arrive in plenty of time (and hopefully secure a decent seat) for Molly's Revenge with Rebecca Lomnicky. Molly's may or may not be some kind of a something (haven't seen 'em), but Rebecca Lomnicky is all that and lots, lots more. A shockingly-talented teenage (possibly she's graduated into her early-twenties by now) wunderkind, her astonishingly great fiddle skillz will floor you like none other. The catch is that she's guesting here (her own set is later in the Fest), and it might be for only a few songs.
Saturday Afternoon
Okay! Friday is kind of a more laid-back, getting-reacquainted day. But Saturday is full-on Folklife stick-and-move, baby! So many seemingly impossible choices for any given time-slot – but also, it's nigh impossible to misstep.
I can personally vouch for Hot Club Sandwich (12:35, Centre House Theatre), Radost Folk Ensemble and Dunava (Croatia Show, 11:00, International Dance Stage), Shelby Earl (1:00, Indie Roots Stage), Waterbound (2:20, Northwest Court Stage), and House Of Tarab (6:20, Center House Theatre). But, again, even if one wanted to try to listen to a bunch of crap, I don't think it could be done. Folklife is just too unstoppable.
Saturday Night
One could get the ball rolling with aforementioned House Of Tarab; or, if one hadn't on Friday night received one's fill of Balkan Brass, Orkestar Slivovica (6:10, Indie Roots) — though I've not seen them — would probably scratch the itch quite nicely.
At 7:00, the Folk Rebellion show at the Vera promises excellence. The Bad Things, set to headline the show, are a festival institution. Having seen them five or six times (not even including several non-Fest sets around town), I can say with some confidence that they're gonna knock you down flat. If you're lucky, they'll have by now replaced departed chanteuse "Miss Funi" – though I last year asked bandleader "Jimmy The Pickpocket" if there were plans to do so, and he said it was still up in the air.
Sunday Afternoon
Last year's Bulgarian show was just mind-blowingly good. This year's (3:00, Bagley Wright Theatre) will no doubt be the same.
Otherwhere, the following have from me personally earned a Folklife Seal O' Approval: The Wiretappers (3:55, Acoustic Stage), Professor Gall (4:30, Acoustic Stage), The Horde And The Harem (4:00, Sky Church), Chervona (4:20, Fountain Lawn), Titanium Sporkestra (6:00, Indie Roots), Aurora Burd (2:25, Northwest Court), Blackthorn (5:30, Northwest Court), Anzanga Marimba Ensemble (3:50, Mural Amphitheatre), and, of course, Rebecca Lomnicky (looks like 1:15-ish, Northwest Court).
Wow, lot of scheduling conflicts here. If it were me, I'd probably bite my knuckle and miss the Bulgarian show – and then probably change my mind back and forth about twenty times until right the last possible moment. Am shocked to see Chervona given such a bullshit timeslot – they're usually headlining some kind of balls-out gypsy-music showcase on Saturday night. If the weather's good, the punks and hippies down at Fountain Lawn will be going crazy for them all the same – as well they ought.
Sunday Night
Though I've not seen any of the acts scheduled, I can more less guarantee that the All Ages Alternative Show (7:00, Sky Church) will absolutely pummel your ass into oblivion. Not to be missed – though don't forget to bring your earplugs.
Monday Afternoon
The Big Jewish Show (11:00, Bagley Wright) can frankly be hit or miss. Some years it's great; some years just so-so. This year it partially conflicts with the Latin Folkoric show (1:00, Fisher Green), whose opener, Trio Lucero Del Norte receive from me a very enthusiastic recommendation. I think I would peg them as the #2 most impressive act one is likely to witness, after Rebecca Lomnicky. I would even go so far as to say not to miss them rain or shine. They're that fucking amazing.
Uh, the "presentation of our nation's colors in commemoration of Memorial Day" (11:00, Mural Amphitheatre)? Never before seen this in the schedule. Definitely not recommended. Well…unless you're gonna go show your dimpled bareass to "our nation's colors"; in which case: highly recommended!
Oh, speaking of rain or shine: don't let a crazy little thing like the former derail your Folklife zealotry. Last year the weather did so much sucking, I had to make more on-the-fly adjustments than one could shake a stick at to my proposed itinerary – and in so doing, got to see many phenomenal acts I'd never otherwise have done. That bullcrap meteorological skein turned out to be quite the blessing-in-disguise. During inclement weather, the indoor venue is your very best friend!
Monday Night
Oh, that's an easy one. The Salsa Dance show (6:00, Center House Court) can — if one is interested not in shaking one's booty, but in watching the bands – be somewhat awkward, taking place as it does inside the cavernous Center House, and with the big huge dance floor dominating the audience domain. But it's worth the pain in the ass. It'll be the best of times, and the worst: the best possible way to end the Festival, and the worst feeling in the world that the Festival has run its course.
But, I mean, hey, what the shit do I know? Just 'cause I'm a crazy fucked-up music obsessive doesn't make my opinions any better than yours. Folklife is such a beautiful and wonderful treasure. One need not, by a longshot, to follow my suggestions to maximise the good fun times. Just dive in and enjoy the water; it's oh-so fine. Maybe next year, you'll be telling me which cat's-meow bands I absolutely must make sure to go and see…