Bad news: Chanthaburi World Durian Festival 2012 is at its end. Good news: I can now feel free to moderate my Durian consumption; and hopefully lose this frickin' gut I got on me! Uh, by the way, Buddha's big round belly? Eating Durian; being a Fat/Lazy Fuck. No other explanation.
Back in Bangkok now, Monday afternoon. The Japanese used-clothesters have returned from Chiang Mai and want to "play bowling". I had (to my mind casually) asked them, before, whether they put any English in their rolls? Simple question's been haunting them ever since, 'cause they thought that anybody who would ask such a question must be some kind of a ringer.
To-day I reassured them that, no, not only is my roll straight as a arrow; but I haven't even bowled in twenty years (or what). But now I'm wondering why they were so worried about it? Will there be stakes? We'll see!
As far as the last days in Chanthaburi went: it breaks down like this.
Saturday morning, I was to it to pay for a coupla more nights at the hotel, and noticed this pricelist. Another use of the term "washing powder". Love it! What is/are Kongtip vs. LM/LM cigarettes? Got me!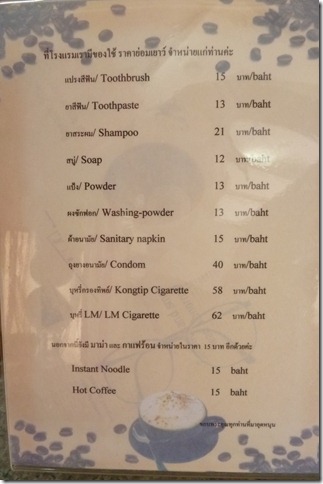 I wanted to go visit this exhibition whose posters I'd seen around town. At the DERM Gallery, if you're keeping track of these things. In typical Thailand fashion, the locals I asked for directions were only-too-willing to help out…and also typically Thailand, their directions were opposed to the tune of one hundred eighty degrees.
Luckily, they all agreed upon the road on which the gallery is sited; so it was just a matter of walking its length in both directions. Turns out, I'd already seen this exhibition during a previous walk down there along the river road, had made a mental note to come check it out, then forgotten about it. Turns out they were one and the same; though I didn't see any signs to the effect of "DERM Gallery".
Visited a temple while heading in the wrong direction. Not too fond of the temples in Chanthaburi, to be honest. They're mostly these gaudy/cartoon-y Chinese constructions. This one, I thought it funny that the sign tells in English what the sign is regarding, but everything else is in Thai.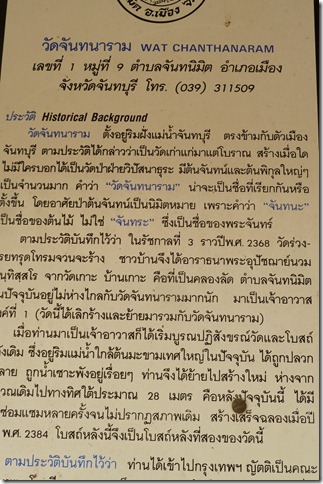 I guess we can figure that the temple was either built or begun in 2368 (N.B., in the Buddhist calendar, it's currently 2555).
The art show was quite good. Scenes from Chanthaburi, mostly centering on the river area. Here're a few of my faves. Photos of photos: lame as; but at least photos of photos were permitted here, so, strike while the iron's hot and all.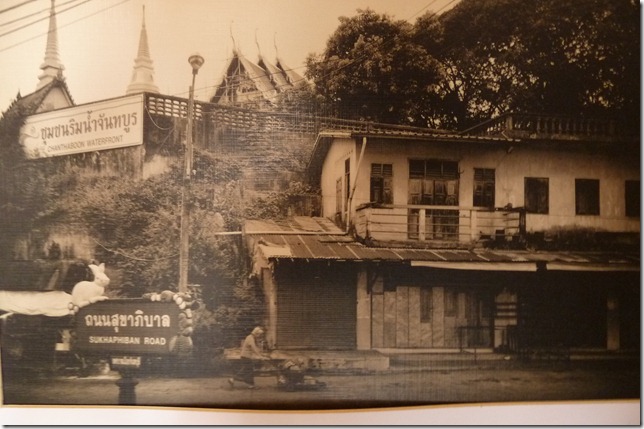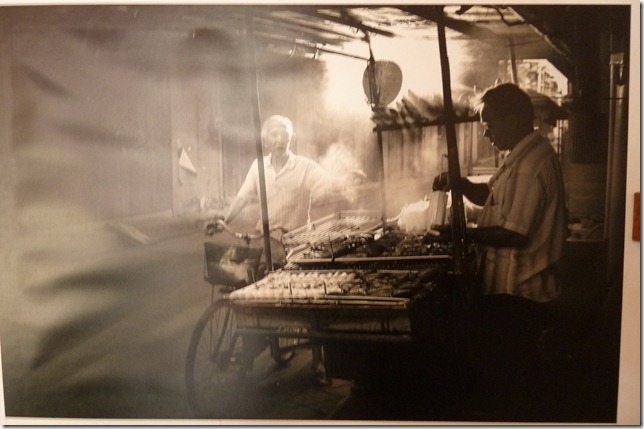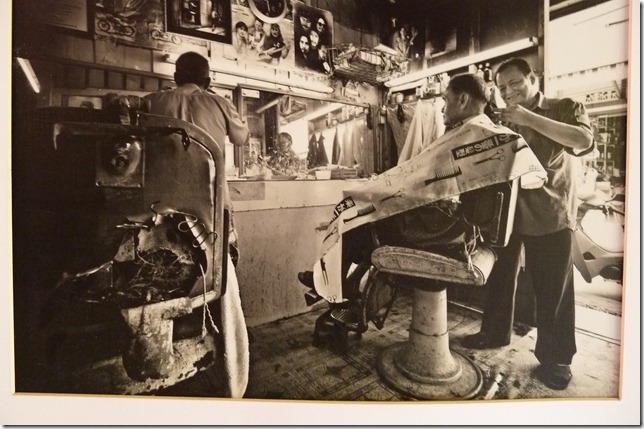 Also took a stroll down "Gems Street", in session Fridays, Saturdays, and Sundays. Not really floating my boat, I'm afraid.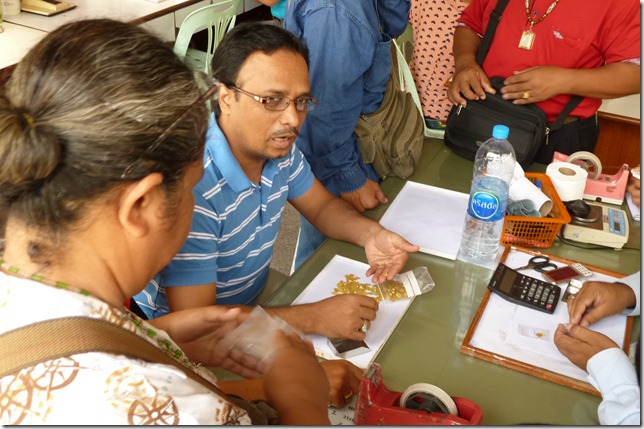 In some more scenes from the wonderful Namphu Market, we see the freakiest/coolest vendor in Chanthaburi (probably can't tell, but she's always got her face all dolled up with white makeup)…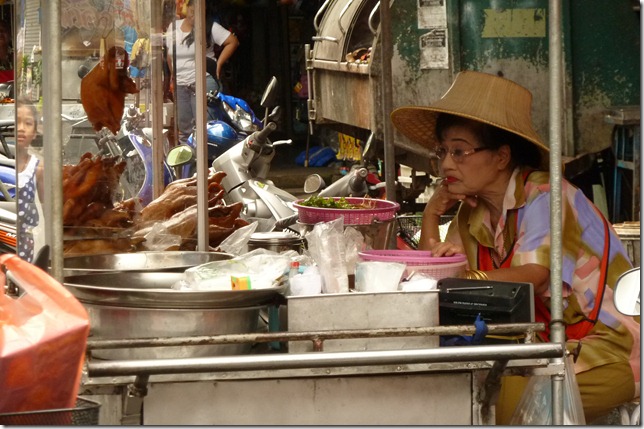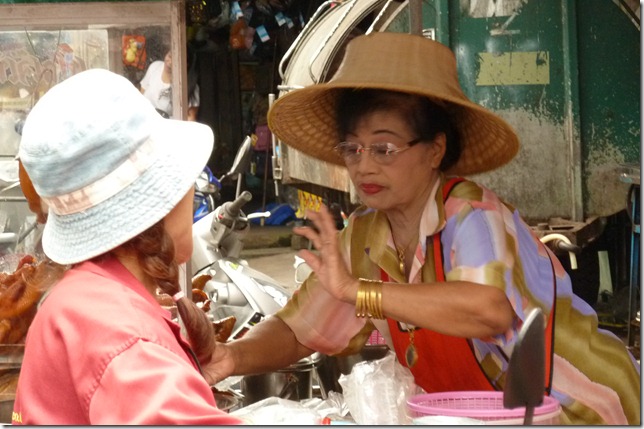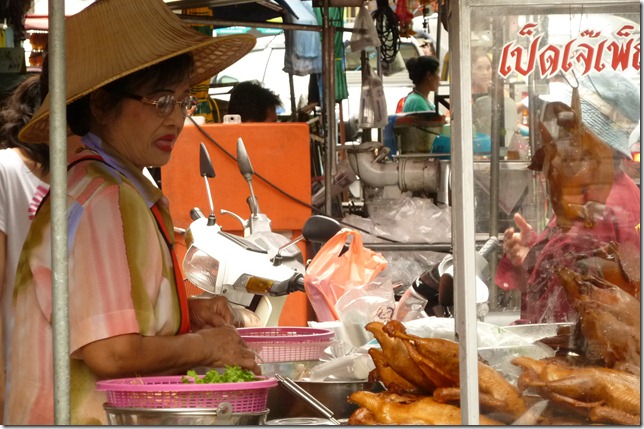 …some beautiful storm-clouds rolling in…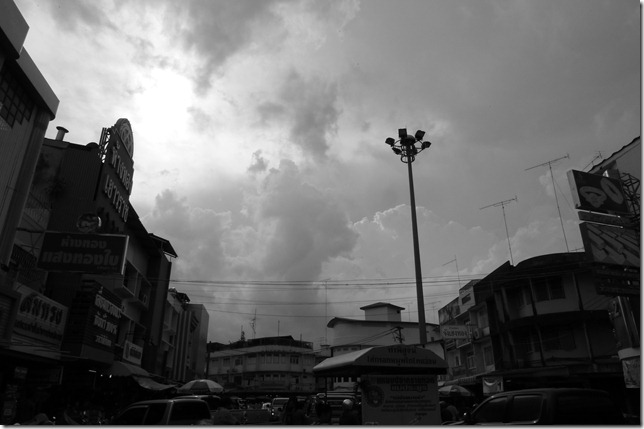 …lady slicing up a jakfruit…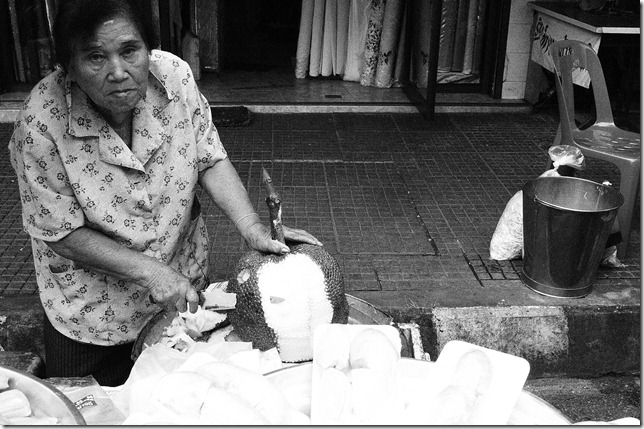 …lady on a bicycle (one of the very few bicyclists in town)…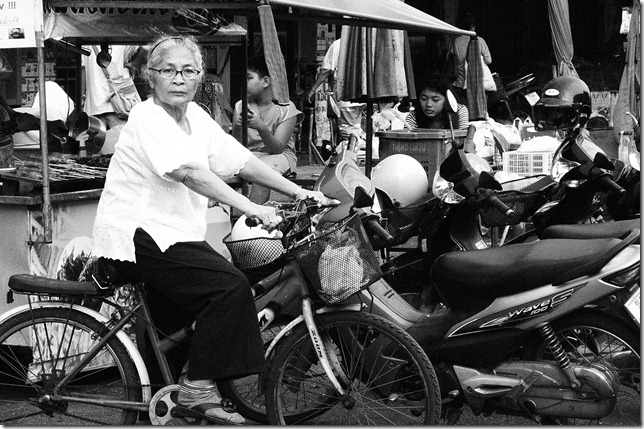 …a trio of ladies vending kebab ("Thai BBQ!" they kept trying to entice me)…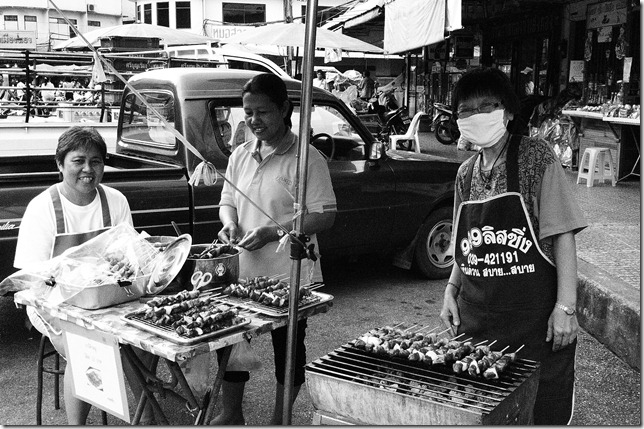 …and a hamming-it-up moto-taxi driver.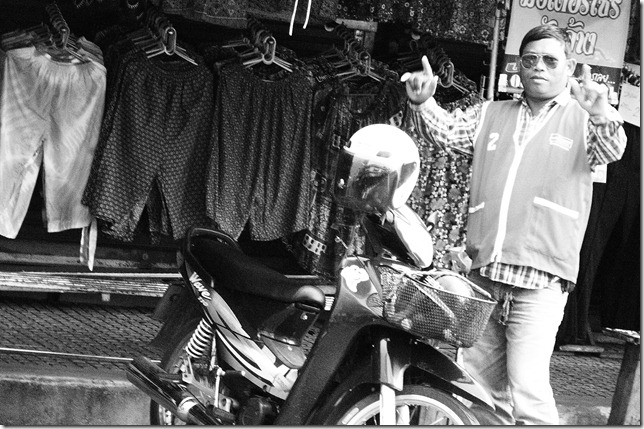 Also at the market…well, one is continually reading about the dire situation of global fish populations. In this light, it's sobering and depressing, but also pretty amazing to see the quantities offered up for sale at just two small stalls in one Market in one small-ish town in one small-ish country in the World.
In happier news, Sunday at the park was some kind of kayak regatta. If you think these announcers are crazed during (what I'm guessing to be) the participants' introductions…
…just wait 'til you hear the call of an actual race (and note that they're even more excitable during the closely contested heats).
At the Festival, a portrayal to live by!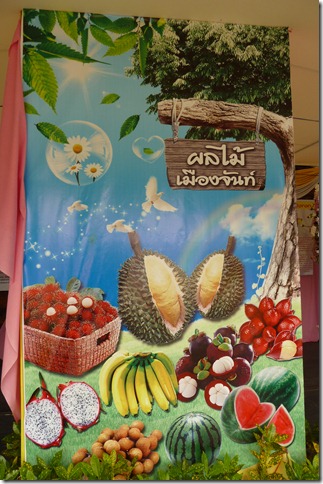 Though, not everybody found it quite so inspirational as all that.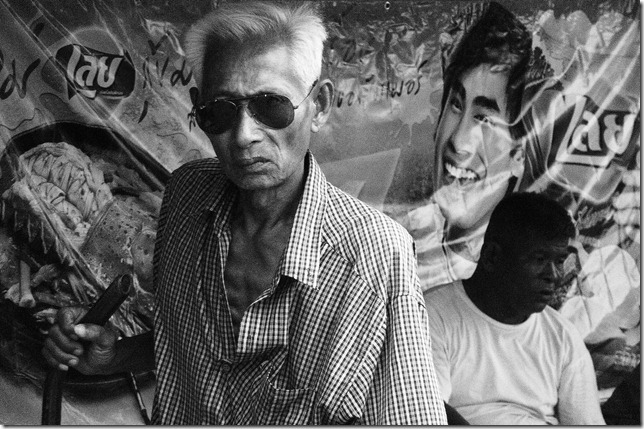 Here's the Rambutan/Mangosteen-eating contest. Beforehand, I'd been sitting down by the river, watching the races, and was invited to join in. Rambutans? Fuck that shit! I politely declined – but it was a fun occasion to witness.
Well, shit. Can't get the file uploaded. Must be corrupted or something. If anybody wants to come and visit, I'll let you watch it in person.
Sunday evening, made a brief visit to a wonderful temple I'd been wanting to visit all week. The gates'd been closed all week long, and finally now they were open. I think for some or other event soon to begin, as the Ordination Hall was all set up with chairs in theater-style and the novices were sweeping off the walking-paths. So I felt sort of like I oughtn't really be there during this time, and made the visit of much shorter duration than I'd've liked.
But, damn, this was a really great space! All set in amongst lots of beautiful trees, and with some incredibly ornate and strikingly unusual-looking structures all about the grounds. For example!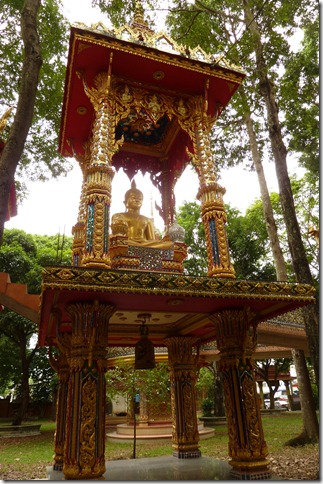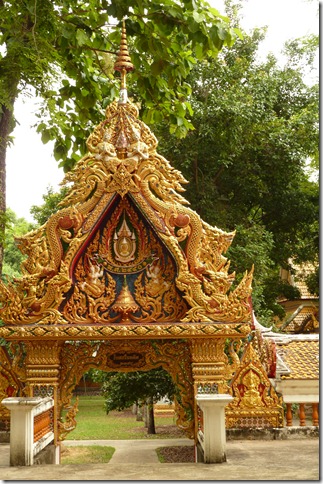 To-day, Monday, after de-boarding the bus at Bangkok's Ekkamai terminal, I figured I could just cross the street and catch the same city bus by which I'd arrived to the terminal for my outbound trip to Chanthaburi.
At the stop, a group of yellow-shirted ladies arrived and motioned for me to sit down and wait, rather than standing. I was all right standing. They asked me (or so I guessed) where I was headed. When I told them Khlong Toei, they grew consternated; as though they were of the belief that there shouldn't be any Khlong-Toei-bound carriages arriving soon…nor ever.
I used my digits to indicate to them my intention to catch the same #149 by which I'd arrived. (It wasn't on the list of routes serving this stop – but it's not at all unusual, I've found, for routes to be wrongly omitted from the stops' lists.) Another, blue-shirted, lady agreed with them that I was up shit creek if I thought I was going to get to Khlong Toei from there.
But after she hopped her own bus, a young gentleman, speaking fine English with a vaguely Creole-sounding accent, but to-that-point only silently observing, joined the fray. He told me to get to Khlong Toei, I should cross the street and catch the #149 – but that it'd be a long time waiting.
While I was trying to confirm that this would mean that it was a circular, rather than a to-and-fro', route, a rather heated exchange erupted (in Thai, natch), involving the fine young gentleman and the ringleader of the yellow-shirted ladies. After some time, he again advised catching the #149 on the other side of the street.
"But it takes a long time?" I asked.
"Yeah. Just go sit in the shade and wait for it."
But before I could do, another heated exchanged between the two, after which the fine young gentleman asked, "Can you take a taxi? It shouldn't be more than sixty Baht."
I said that, come to that, I could just take the Skytrain – but that I preferred to take the bus. One final heated exchange ensued, before I was finally sent off to the other side of the street to wait. And factually, it wasn't a very long wait at all. Okay, maybe somewhat so by Bangkok standards; but for those used to waiting for the bus in Sea-Town, it was a comparative walk in the park. But shit-howdy how I'd sure love to know just what line of thinking was exchanged between the fine young gentleman and the yellow-shirted lady.
Turned out it wasn't really a circular route; but rather that Ekkamai was the end of the line. Instead of laying over at the terminal, however (like is done at Sai Tai Mai), they just loop around to the main route via the next road over – hence the catching of the bus on the same side of the street to which one'd exited.
Anyhow, a super-fun bus ride. Good rule of thumb for Bangkok city buses: any time you've entered a bus with wooden planks for the flooring, you're in for a super-fun ride. Don't usually feature music, however; and never music this righteous, nor with a driver this awesome.
Tuesday morning update, check it out.
We went last night to "play bowling". There were six hostel guests, and one hostel staffer; the latter acting as de facto guide/host for the evening. All told: three Japanesians, one American, one Thai, one German, one Dutchman. Four bucks a game, not so bad. We split it into two teams, determining to take the average score to figure the winning side; the loser agreeing to pay for the next game.
Right out the gate, I opened up with a very nice 0-1; and after two frames my tally stood at a so-impressive four pins down b/w sixteen left standing. I don't think I even notched my first spare until the fifth or sixth frame. But once I finally found the perfect ball; I began to pick up steam. Indeed, my 159 in our second game proved to be the highest score of the fourteen person-games for the evening's event (i.e., seven rollers multiplied by two games per the each). Funnily enough, that was more less my average score back when. Guess some things never change.
Most craziest thing that happened was probably when I was standing front of the ball-return, looking up at the scores, and a god damned bowling ball fell out and landed on my foot! What the shit is it with all my foot injuries here? I walked it off, and thought it had after a few minutes healed just right; but now this morning it's bothering me. I think it should be fine by tomorrow. But, shit. Man.
Anyhow, here's to it.
Yoshi, one of the two Japanese instigators of the Bowling In Bangkok, in an early, pre-flash-use, shot.
Daisuke, his used-clothes partner-in-crime, in a newly-activated-flash-use scenario.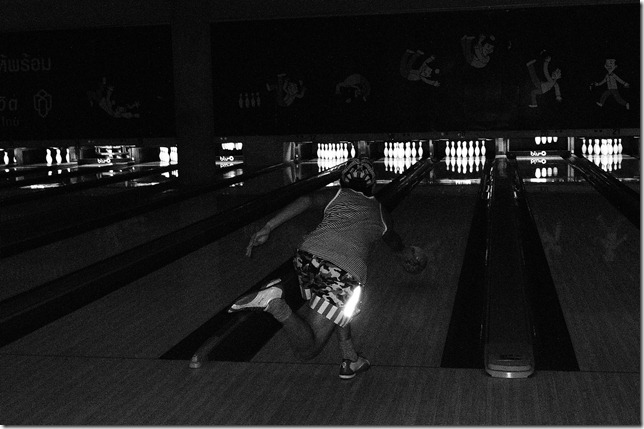 Couldn't count the number of times he went over the line – lucky thing good ol' Walter Sobchak wasn't there to fuck him up two times!
A crazy-weird "ghost" image; also pre-flash.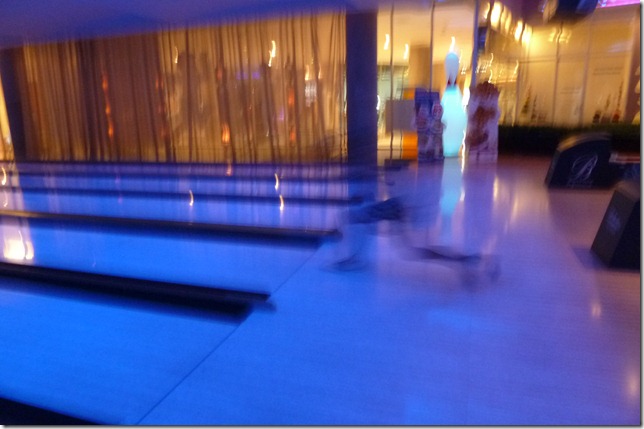 The third Japanesian, new to the hostel. Looks more, here, as though he'd just lost control of his basketball dribble! He's a good man, and a good bowler.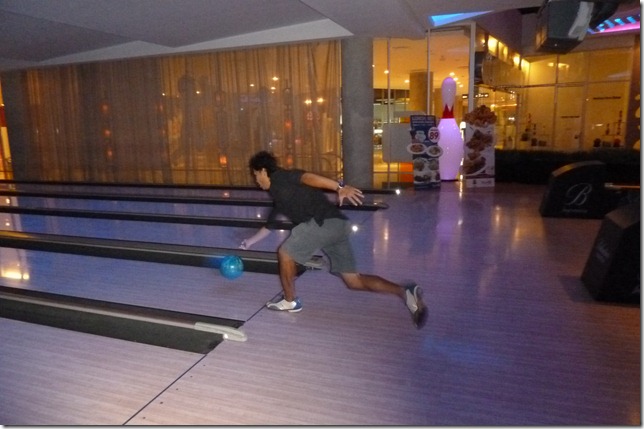 The post-tourney group-photo gather-'round.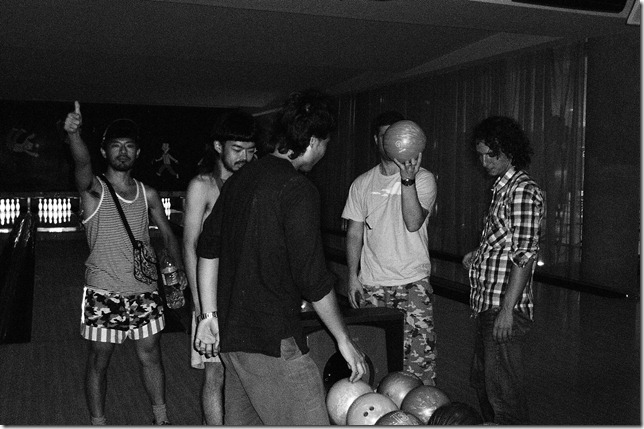 We split the two games; although our team had far the highest two-game average (this little fillip counted for nothing or less than). After, we went for eats to Khlong Toei (cooked-food division). The German noted that he'd tried under-ripe Durian, on some Thais' advice; and thought it okay, but would like to try some soft.
I promptly went and got some; soiling my slim-down-vow in one fell swoop. Well, I figured there's always tomorrow, right? Also, when I'd returned to the hostel, they'd presented me with a couple of packs of freeze-dried Durian. I've heard about this before now. I think it's available in the States, but I could never find any at the Asian Markets. Pretty delish, as it happens; not as sweet as I'd been expecting.
I think the German found the Durian basically tolerable. The Dutchman seemed quite impressed (his first-ever sampling); the Japanesians, you'll recall, had a few weeks back said it was okay but that they'd no need to ever try it again. Well, they done tried it again, and now they're whistling a different tune; saying it's rather begun to grow on them.
They've just split the hostel, and in fact split up; one heading to Singapore, the other to Hong Kong.
Only a few familiar faces now remain.
The Koreans have returned from Chiang Mai – the one whom I'd earlier reported to be fast becoming addicted to Durian kept e-mailing me during the Festival asking for updates, and wishing he could've been there. I went searching and found a couple slated for Penang in July; he says he hopes to be able to cross my path then. Durian Power speak the word!
The Aussie who'd organised the art project has returned from Cambodia, where he'd spent some weeks building a yurt! I am in receipt of notice that he needs to "fuck off to MBK" (one of the mega-shopping-centres) for something or other.
The Japanesienne and her Italian boyfriend are still looking for an apartment.
And Carolyn, rather than repairing to Hua Hin, has flewn all the way back to the States!
Really interesting new arrivals include a Frenchman who lived nine years in Japan, and speaks apparently impeccable Japanese. He was up 'til very late hours of the night holding forth with the three Japanesians. Don't know about what they were speaking, but he had them laughing their asses off all night long. I'm talking, like, every fifteen or twenty seconds the Japanesians would bust out cracking up. It was pretty nuts.
Dude's also a martial arts instructor; came here specifically to learn/teach Muay Thai Boxing; but owing to a motorcycle accident, is now laid up, no boxing, until his wounds have healed. They're pretty nasty looking, I do declare.
Canadian music-festival enthusiast sporting many tattoos, and cursing nearly as much as my own self. He put in a rush-order for a Vietnam Visa (having to pay double the cost, or something like) 'cause his friend wanted to meet him in Hanoi; only to find out that his friend's rented a motorcycle to ride to Saigon; so now he (the Canadian) doesn't know when he'll be able to see him (the friend) to give him (the friend) a hockey jersey he (the Canadian) had purchased for him and's been lugging around for a month's time.
After setting forth with all the gory details, he (the Canadian) concluded with the opinion that he (the friend) is a "fucking dickhead" – to my never-ending delight.
He (the Canadian) had lost his camera, then found it. Latest I heard from him, he was asking another guest, "You haven't seen a pair of sandals anywhere?"
There's also a German girl who's as fascinated as myself with the Bangkok city bus system. I've given her some pointers; as well as told her where to find mangoes as good as the ones I was just-then devouring.