[Written Sunday, March The 10th, Night]
If my reckoning is true, I've since late-January spent twenty-six days at the Mekong River – nine on the Thai side, seventeen on the Lao. (Plus seven more on major tributaries). A river not only of great beauty, but also of great charisma. The communities peopling its banks, on either side, have mirrored its charms.
But I've left its sphere, at least for now.
First, though, Friday night. Stopped by Ye Olde Festival, to find that they were still doing the god damn re-enactments! Don't know if it's the same plotline each night, or rather some kind of serialisation. Anyways, there were fireworks again this night – meaning each night, Monday through Friday, save Thursday. Why didn't Thursday rate? Better ask The Buddha, 'cause I do not know.
Back over to the Takraw court, where it was yet more endless warming up. The entry music – as the teams come onto the court to begin the endless warmings up — is pretty cool: starts out reminiscent of a primitive video-game soundtrack, then suddenly switches to, like, a Jon Lord jam-session for about thirty seconds' time, then back to the video game. Goofy.
Spent a final night out at the River – just perfectly wonderful, it is out there. Alas, the forecast storm didn't materialise, so my stay in Nong Khai didn't end with the same bang with which it'd begun. Oh, well.
But, wait: my plan was to arise at about 5:45 in the AM, hoof it to the bus stop, and grab the 7:00 bus towards Khorat. Only to be awoken at about 4:15 in the AM by the sound of raindrops falling on my roof. Decided to get up at 7:00 instead, and grab the 8:40 bus – reasoning that the storm would have passed by then.
But then woke at about 6:00, figured, "Ah, Hell with it," headed outside and hailed a Tuk-Tuk. Not very many out this early in the morning; and it was a stroke of luck this one was, as by the time we'd reached the station it was pouring down raining like no tomorrow. Purchased my ticket by 6:15 in the AM, and in attempting to confirm the 7:00 departure, learnt that the 7:00 bus had – not sure which – either already departed or been canceled.
So, it was the 8:40 bus, which ended up leaving at about 9:00. I think maybe they were waiting for the rain to let up, which it had done by then. The interim was pretty entertaining, I'll allow: not much thunder-lightning, but it was just coming down in buckets.
So we were off; and this was one interminable journey. Stopping at every little podunk dot on the map. Which is fine – but stopping there foreverlong wasn't so hot. Every time, we had to wait for the ladies selling their chicken skewers to climb aboard and hound us all into submission.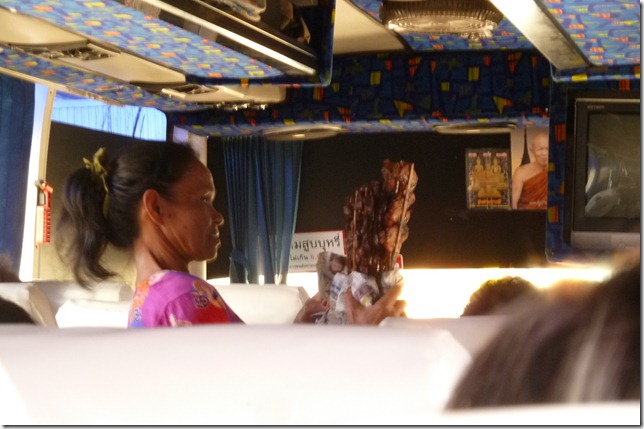 Then we had to wait for…god knows what. Just sitting waiting. Well, at  least at one of these stops, the best restroom sign ever known.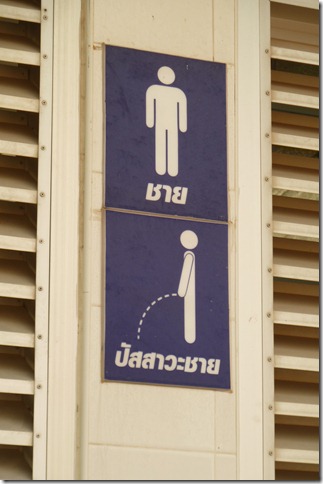 I was to exit at Talad Kae, about an hour outside of Khorat at the junction to Phimai. Finally, at about 3:15 in the PM, we did arrive. It was myself and two others getting off there; the conductor pointed out across the road that the bus to Phimai was just arriving. The driver honked to alert the other bus of our coming, and…the fuckers just peeled rubber out of there! Just left us standing there with our thumbs up our asses.
So, more waiting, for the next bus. Which did arrive, and we got on for the final ten minutes' drive to Phimai. The teevee was showing (I think) Captain America dubbed into Thai.
Finally in Phimai, scooted to the Guest House, checked in, and scooted back out to the Night Market to hunt up some eats before the sky opened up again – as it was with each passing moment appearing more likely to do.
The Night Market here in Phimai is really great: just like most towns' and cities' Morning markets, selling all fresh fruit and veggies and meats (and also plenty of cooked food) – no frickin' trinkets and t-shirts, like most Night Markets do.
Grub procured, I put it back on the heel-and-toe, returning to the Guest House with about, it so happened, fifteen minutes in advance of showtime. Which, the guest house has a wicked open-air second-floor courtyard with plenty of comfy patio furniture, and tables and shit.
Best seat in the house, I'll wager; and the storm was a doozy. Not as windy as had been the previous Saturday's, welcoming me to Nong Khai. But harder raining, I think, and even more lightning (although the thunder was not as loud – partially because it was drowned out by the sound of the rain!). Even saw a bolt, finally. This was some kinda dinnertime theatre!
As I was near to finishing off my third small watermelon, a roly-poly Englishman walked up and, after confirming that I'd really polished off all the emptied-out halves sitting next to me, warned that I'd be "shitting all night long".
"Nah," I countered. "Takes twenty-four hours to work its way through. Tomorrow night I'll be shitting all night long."
After a few seconds' working out the logistics in his head, he nodded, "Ah…okay," then began laughing to beat the band.
He's both a British and a Canadian passport, on account of his father was from Saskatchewan. He's never been to Canada, though he did live in L.A. for twelve years; including which, he was about a mile from the epicenter of the Northridge earthquake.
He's all into Planet X, and stuff.
This morning, Sunday, it was off to the Phimai Historical Park, site of the largest Khmer ruins in Thailand; and they actually pre-date Angkor Wat.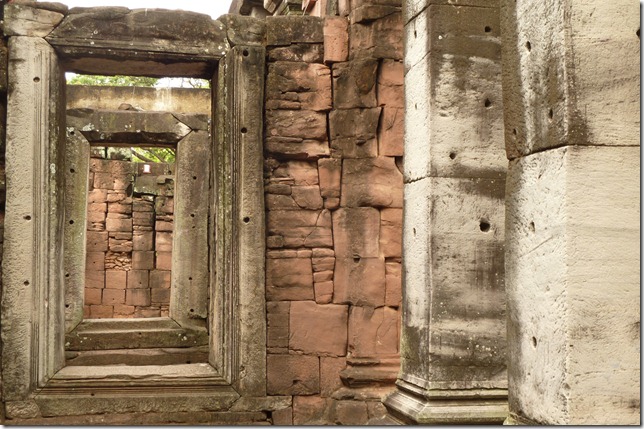 Pretty crazy being able to walk around inside of a thousand-year-old city. The birds seem to quite love it there.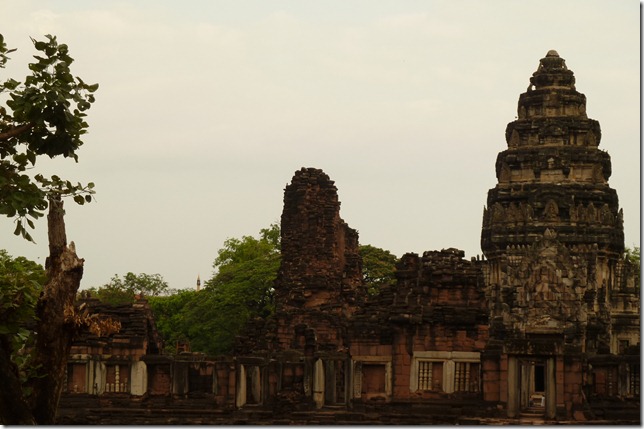 After the ruins, it was on to Sai Ngam Park, about a mile east of the city. It's a grove of Banyan trees so close together that they've become all intermeshed, making it like a scene out of the Brothers Grimm (or what).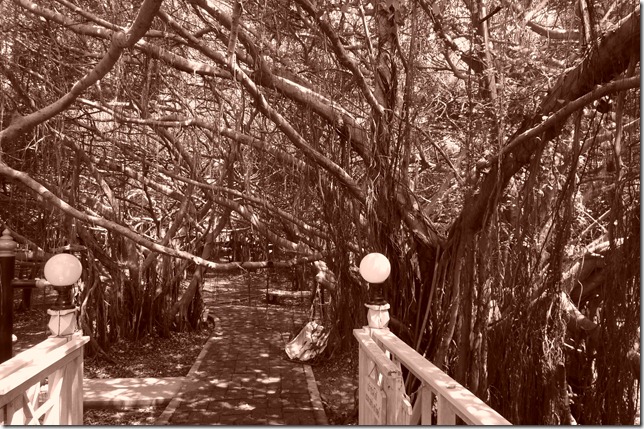 .
It has become kind of commercialised, however; lots of vendor stalls and so forth. There's even a shrine inside, all decorated up.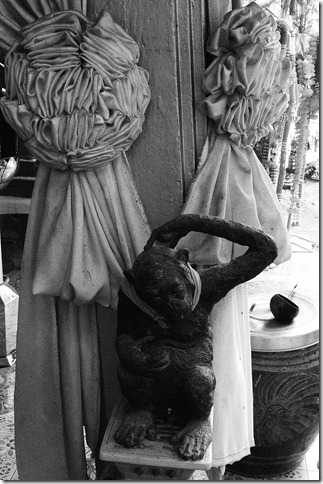 Some people there praising Lord Buddha were looking at me like as if I was a freak for being barefoot in the woods; but I'm thinking, "Where else but the woods?! You're the ones what put up a shrine in a place that was already too holy for words!" Not to mention desecrating the trees themselves.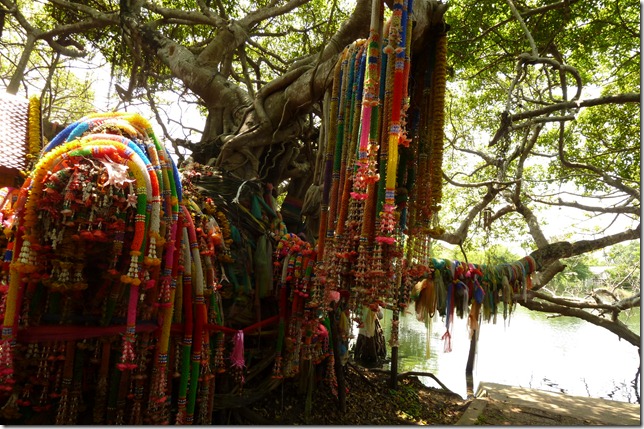 But, whatever.
Apparently, it's actually all one tree. Nuts!
On the way to Sai Ngam, I'd seen this guy motoring down the road; for some reason it totally reminded me of the Beverly Hillbillies' truck. And I kept seeing him, throughout the day, in different parts of the city. It was weird!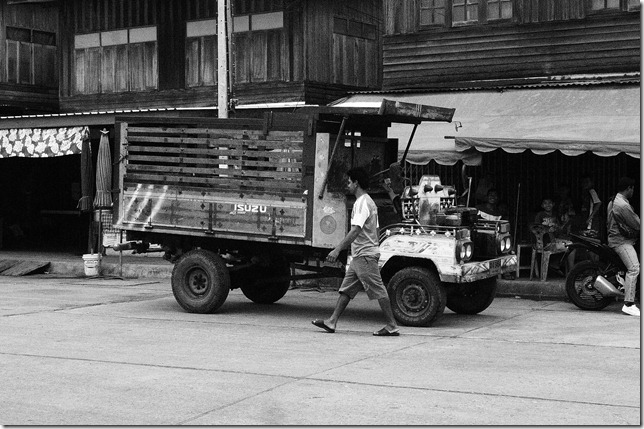 On the way back into town, passed again by these ladies who'd helped me out giving me directions to the tree. They were all smiles as I returned. Away from the river, but yet still remarkably friendly people in this town.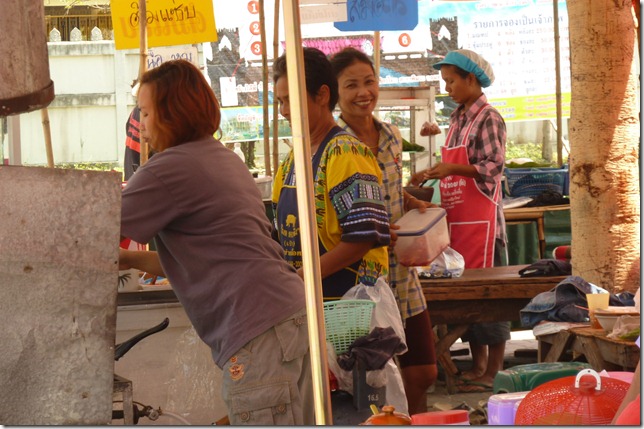 Passed by the layout for this small winding soi near the town center. They're loving their pork!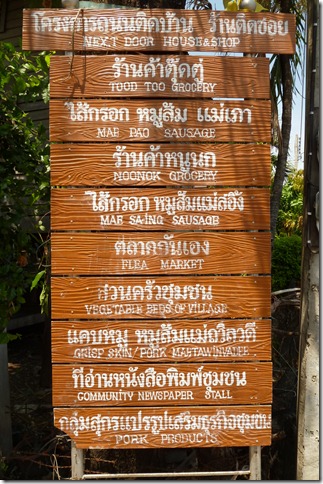 After some lunch, walked it over to the National Museum. I had chosen wisely in saving this one 'til afternoon, as it was blazing hot by now, and as such good to get inside.
Frickin' another National Museum what won't allow photography. I even saw a coupla Thais get busted trying to do. They were pretty shocked, but took it in good stride. The Museum is stupendously impressive, housing an enormous number of bronze, limestone, and sandstone statues, figures, lintels, and cetera dating to the tenth century. The sandstone pieces in particular I found to be exceedingly beautiful.
There's a second, outdoor exhibition. Didn't appear to be a prohibition against photography here; so you're in luck (excepting that the pieces housed indoors were much, much nicer than those house out of).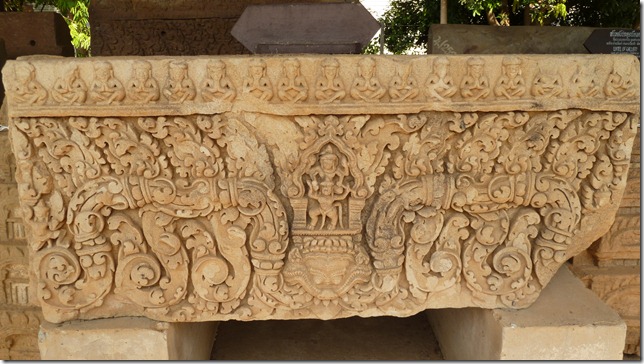 After checking out this second exhibit, I was sitting on a bench enjoying the shade for a while. The museum security guard, name of "Noigh" (not sure about the spelling) rode up on his bicycle and chatted a while. He implored me to tell everybody I knew to come to Thailand and experience the magical place. So there it is: you've got your marching orders.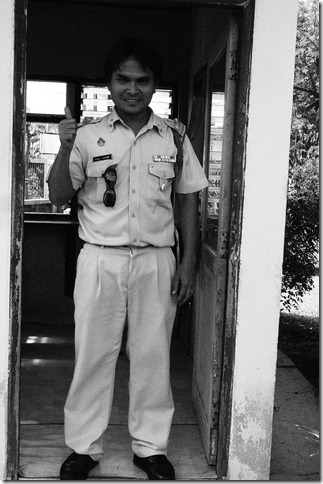 Not many temples in town; but they're quite nice. One with skinny Naga…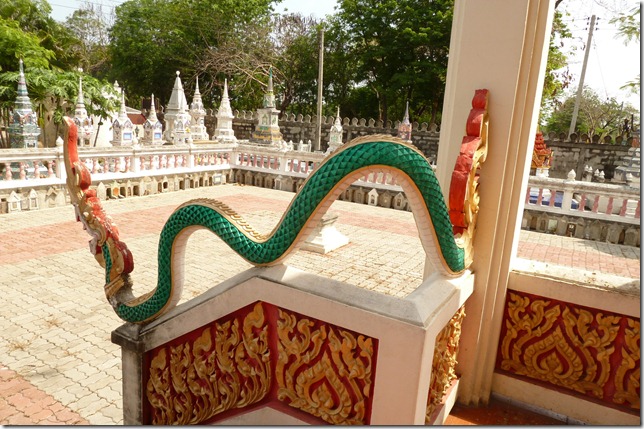 ..and a righteous shrine (note the preponderance of poultry).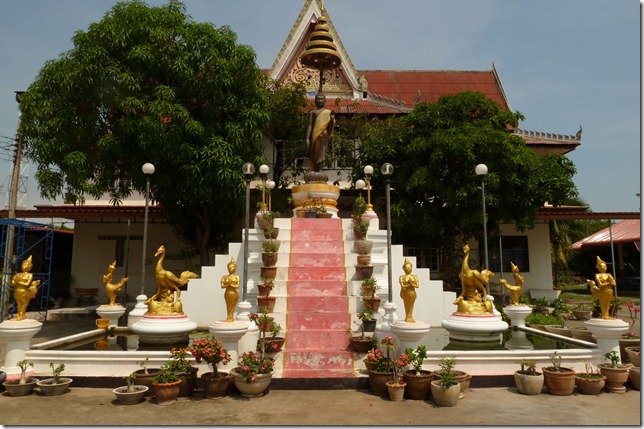 One with a gigantic White Buddha under construction.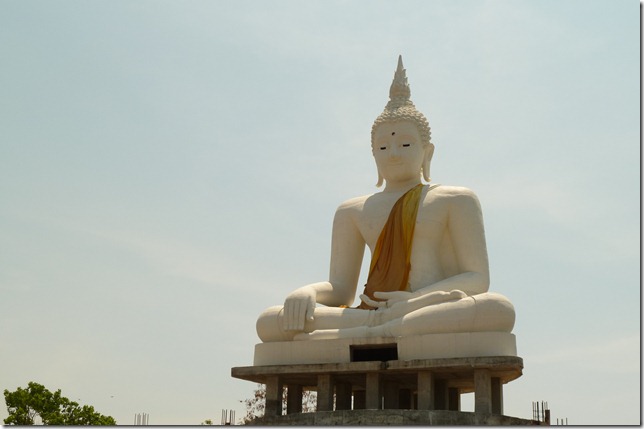 One with a shockingly beautiful main hall.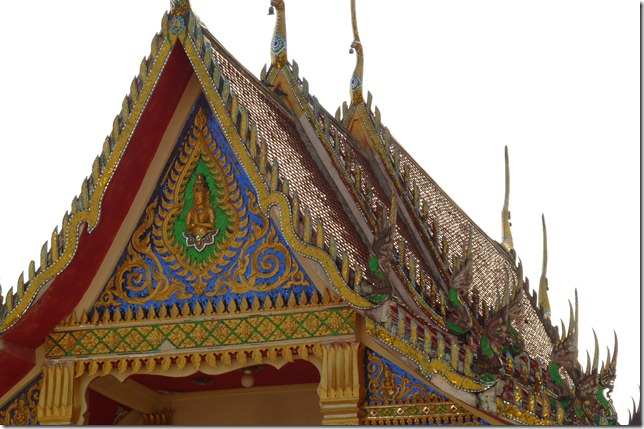 And they've all got these Furnace Houses, with the big smokestack rising up. Have never seen this anywhere else. Huhn, they must get pretty hellacious winters here…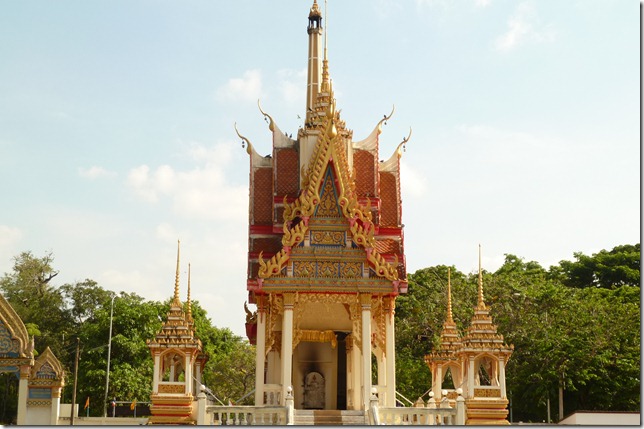 And that's it! My whirlwind tour of Phimai. Tomorrow, Buddha willing and the creek don't rise (although I guess that would mean more bitchin' thunderstorm action…), should have arrived to Bangkok in time for some Lumphini aerobics!
Tuesday Night Update: Back in Bangkok 'til Friday, on which day, the notorious journey from Bangkok to Siem Reap. Staying at a brand new hostel just three minutes' walking time from Khlong Toei Market!
Alas, the wild cast of characters staying here (not least which the proprietor) has been so entertaining, it's left no time, for now, to write about the days' events…