[Written Wednesday, March The 7th, Night]
Tuesday was Night number two of  the big festival. Went truckin' on down to check it out, hoping at the least to get in on some hot Takraw action.
The first order of business was to peruse the voluminous vendor stalls. Why? Dunno, really. Chicken-cross-road thing, I guess. Well, good thing I did! First of all, heard some more Creedence blasting out.
Huhn, I guess that just as Bangkok is a hotbed of Scorpionsism, so is Nong Khai a hotbed of Creedenceism. Gotta admit, I can't fault neither one of them for their isms! (Although I must also admit, the Folk musicians deployed on stages and road-side throughout the grounds were uniformly horrible. Hate to say it, but that's how I heard it.)
Second of all, street-chefs at work never fail to reel me in.
When passing by first one stall playing Monster Truck vids on the teevee show (and selling a bottomless supply of DVDs of same) and then another stall selling, like, Harley Davidson gear, I did have a flashback to that weird retro Americana market back in Chiang Mai. But those two stalls turned out to be pretty much the size of it.
It was only when I saw this human person…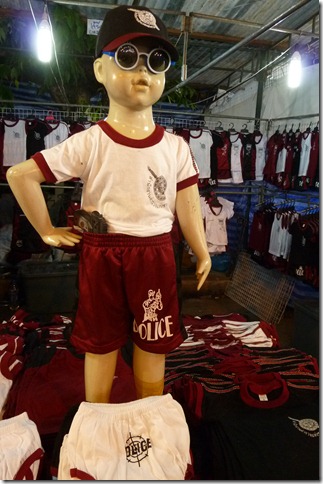 …that I knew my vendor-stall Walkabout had been worth it. Little did I know, whoops, what was next in store.
This guy…get ready to lose your shit. 'cause this guy – uhm, if one were to've proposed to me, "Son, you'll pay $1,500 for the round-trip to Nong Khai, Thailand during the Festival; upon arriving which, you'll exit the aeroplane, go to the vendors' stalls to see this sumbitch at work for a couple of minutes, thence returning directly back to the US of A."
If that'd been proposed to me, my response, lightning-quick in the coming, would surely have been, "Yes, have some." Fuckin' pudding, man: this guy is the king.
Back the City Hall, was yet another stupid glorification of militarism. But at least the music was good.
Arriving to the Takraw court, the bleachers were certainly nice and full. Thankfully, moreover, there weren't any teams warming up. Instead, they were all lined up, across the court, while some dudes up on the stage droned on endlessly in a language I didn't understand. Opening ceremonies, I guess.
Friendly teenager dude sitting next to me offered me some popped corn, but I regrettably needs to refuse.
Finally came the moment for which I'd been pining! The speechifying ended…the official's high-chair was rolled into place…some balls were handed down out of the bleachers…the White team took to the court…the Yellow team took to the court…and…and…and…both teams began endlessly to warm up.
God damn it all. After their endless warmings of up, the two teams left the court while a little anthem (not the Thai National Anthem, though everybody did stand) was played, after which everybody clapped so politely.
Then the teams returned to the court, and began a round of calisthenics, before yet more warming up. And then, when my hope for actual game-play was at its lowest ebb of despair, the games… they did begin!
Take a letter, boys, from the players in the park in Chiang Mai. Their warm-up consisted of the mock-serious intonation, "Welcome…to Thailand," and it, straight away, was Game On. Cracks me up to this day, too. I assume this little preamble was a reference to the traditional welcome for Takraw matches broadcast on the teevee show. Or, maybe they were just goofing around for goofing around's sake?
But I go around repeating "Welcome…to Thailand" even more often that I go around singing the old Luang Prabang classic: "I've got hoes (I've got hoes) / In different area codes (Area codes)".
The quality of play in Nong Khai is goddam shit. Could never even get a rally going. The kids are younger (and fatter too), so I suppose in a few years' time, they'll be as good as the Chiang Mai masters. But for now, quite un-entertainment, if you want my own opinion.
During the game broke out another impressive-though-brief fireworks display from the nearby re-enactment stage.
Later, heard music emanating again, and followed the sound. It turned out to be the World's loudest Karoake singing – only, it wasn't everyday folk like you and me doing the singing, but rather just the same three guys in matching shirts. Blah.
Now then, Wednesday dawned Maka Bucha day, a national Thai holiday. Ha! Wonder what all the "Lucky Buddha Day" scammers in Bangkok do when it really is a Buddhariffic holiday?
Nothing much going down during the daytime. I did visit a Chinese Temple in town. Pretty cool. Odd, though, in that it seemed to be in some ways rather cartoon-ish…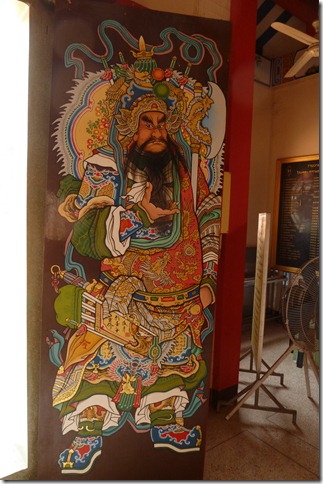 …but also very beautiful.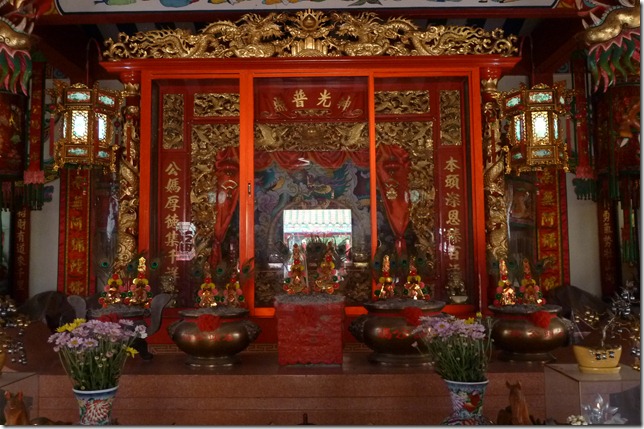 The Naga had chicken legs protruding. Goofy; but I can't help give it a thumbs-up.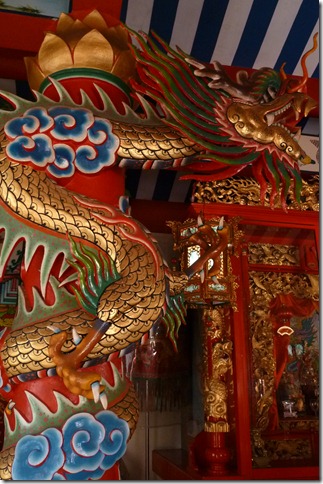 Spent much of the afternoon escaping the heat at the Guest House garden, conversing with a quite talkative and interesting Swissman. He's been in the region about four and one-half years; mostly in Thailand, but also in Laos, Malaysia, and Indonesia. He's planning to head into Cambodia in the next month or so, and probably back home in about a year.
He showed me in his passport where he'd received a dreaded red warning stamp, stating that as he'd got so damned many Thai Tourist Visas in there, that an issuing officer "may" in future refuse to give him any more.
He's spent a lot of time in Nong Khai; for one because it's such an enjoyable lifestyle here; but also 'cause of the proximity to Vientiane, a good place from which to obtain a Tourist Visa (especially for Swiss nationals, whom, lucky skunks, get to enter into Laos free of charge).
Now he's kinda freaking out, afraid to make a Visa run, but also loathe to make border-runs for the fifteen-day Visa-free entry, as his passport'd soon be all filled up. He's thinking maybe to head to Bangkok and see if the Swiss Embassy will issue him a new passport.
Anyhow, his brother had recently sent him photos of their home village, at which the river has iced over, and people are ice-skating on it. Apparently such a thing has never happened in his lifetime.
For Maka Bucha evening, the always handy Mut Mee website is on the scene.
This is one of the most important Buddhist holidays, which is marked by "Wian Tian" or the walking 'round the temple three times with a lighted candle. On the first round one thinks of the Lord Buddha, the second one thinks of his teachings and on the third one thinks of the monks who devote their lives to the practice of Buddhism.
I had read somewhere else that the ceremony is very beautiful. And indeed it is – though not for the reason I had guessed. I figured it would be spectacular-beautiful; hundreds of people, like, lining up, waiting for the Monk's signal to begin ambulating en masse, candles held high. Instead, it was more like trick-or-treat, with people showing up throughout the dusk hour in waves of five, ten, twenty, whatever; and doing their things.
The "lighted candle" held by each is actually incense, to go along with a small bouquet of flowers. At the end of their labours, many of the participants placed their incense in a nearby planter box, and set it aflame.
It's just really cool that it's such a simple little ceremony, and yet it's looked forward to for the entire year. Not wholly unlike Christmas Morning of course, though that seems somehow more gauche than this particular undertaking. That said, for the younger folk it seemed to be more of a festive occasion, while for the older a more contemplative. The music coming over the loudspeakers added quite nicely to the ambience.
As advertised, the moon was on this night indeed full.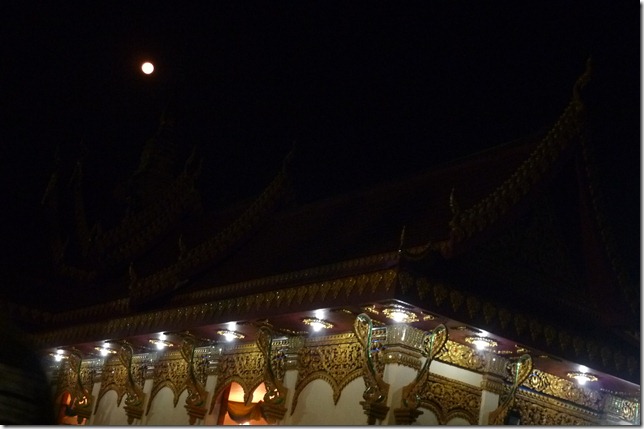 Chose not to attend the Festival, instead returning to the Guest House via the more less deserted, but always thrillingly beautiful Mekong River Walk. From where, yet another huge-and-brief fireworks display filled up the sky. Boom, crack, bam!