Well, my ass most definitely did not appreciate the ride from Vang Vieng to Vientiane. The road alternates in roughly quarter-mile sections of paved and dirt/rock the entire four-hour trip. Bump, bump, in other words.
How the road from a country's capital city to one of its major tourist destinations can be in such a state of disrepair, I do not know. Welcome to Laos! Maybe the figure the twenty-somethings bound for Vang Vieng will be so excited to get blotto-assed drunk, that they'll not care. And that those returning from Vang Vieng will be so blotto-assed drunk that they'll not notice.
Dang, I'm not envying the driver of that route, assuming he makes the round-trip five times per week. Always think during the rides how cool the bus driver or boat captain is, and that I must shake his hand after. Usually I forget to do; but this time, there was no way I could forget. That dude's a trooper – such a happy guy, too.
Most every traveller one meets describes Vientiane with the same three words: "Vientiane is shit." One or two people say it's okay. I wouldn't call it "shit", having been here for half a day. But…well, the first thing one will notice is that somebody up and took the beautiful, beautiful Laotian mountains away. Boo!
Because of that, and because there seem to be more motor-cars than motor-cycles, and because many of the street vendors sell their fruit wrapped in styrofoam and plastic, and because the air pollutant of choice is carbon-dioxide rather than smoke, and because there are evening aerobics in the park – well, it feels a lot more like Thailand than it does Laos.
Which is okay: one may recall that I was reluctant to leave Thailand. But now, having been in Laos for nigh upon one month's time, it's more than a bit sad to be leaving it.
We're back on the Mekong here. But, from the river walk, one can barely see the river.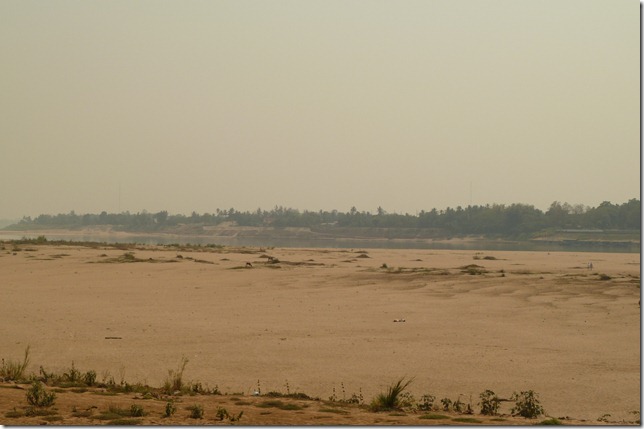 Although, the river walk doubles as the flood-wall; so all of that wide expanse will in a few months' time be underwater!
I do quite like the hostel at which I've landed. One of the best at which I've stayed. Four-bed dorm for $5; and the beds are quite comfy (also more like Thailand than Laos). Unlike Luang Prabang and Vang Vieng, however, the curfew is apparently actually enforced here.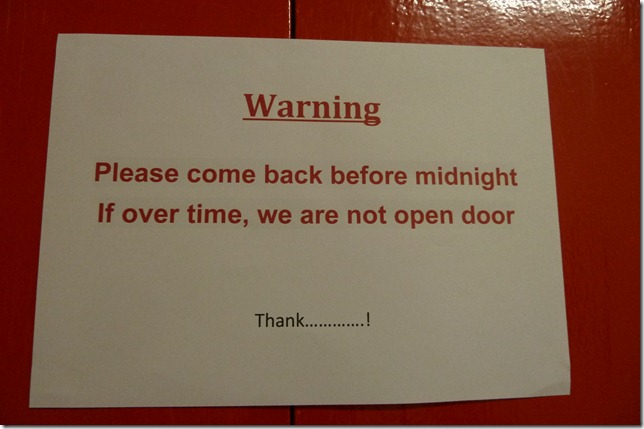 One of my dormmates is an Aussie who's ridden his bicycle all the way from Bali to here. He had planned to ride on in to China, but has now decided to ride only up to the Chinese frontier. I've thought a few times before now that cycling through would be a fun way to tour the region, and began to ask all sorts of (possibly annoyingly simpleton) questions. He made it sound pretty do-able, even for a total novice of a cycler.
Another Aussie, name of "Brock", had his wallet pinched in Vang Vieng. Was able to get some cash via wire; but is now stuck in Vientiane for three weeks while he gets a new bank card issued, and then sent to him here. Much better to've been stuck in Luang Prabang, I should think!
Got called a "farang" to-day, for the first time since arriving in Asia. I was walking along, and heard, "Falang!" (as the Laos pronounce it) in my left ear. Didn't register for a few seconds, however. When it did, I looked back, and the dude had a big smile on his face. So I smiled back, waved, and went on my way.
I then fell in love with this guy.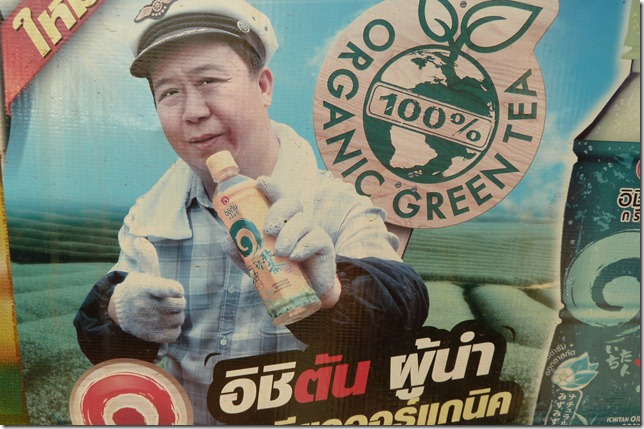 So, anyhow, I was walking along a row of fruit stalls, and it just so happened that as I was approaching one of them, about eight or ten mangoes became unmoored from their pile, and plopped onto the ground in front of me. There were plenty of witnesses to see that it had happened before my arrival, and that I had not been at fault. So, I didn't feel as though I'd raised anybody's ire.
Bent over to pick up the mangoes and return them to their pile, for which the stall-keeper thanked me. As I bent over to pick up a second batch, I heard a lady call, "Hey you!" Looked up, and she pointed at my feet, and the pavements. "Hot feet," she noted, and offered me a Satsuma. I declined the offer, but not without doing my best to express my appreciation.
And the pavements are damned hot here – again, reminiscent of Thailand. But I was managing that okay. Nah, the real problem is that I'm a stupid fawking idiot.
See, I'd gone into this market to see if I could find some safety pins to mod my hat with. Which, I did find some straight away. I guess it looks pretty goofy, but I prefer to have the neck cover away from my ears, so I'm gonna rock this look for a while and see how it goes.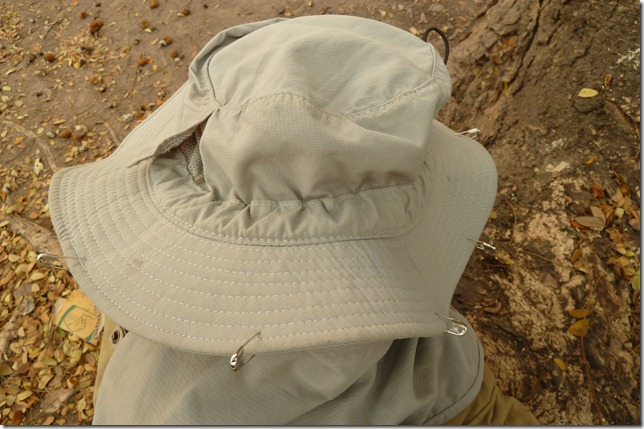 So, okay, after I'd got the pins, I was walking along and came to a point where the aisle was blocked by a two-by-four-on-sawhorses barricade. Saw a local go over it, so figured it was okay to do the same. Stepped over with my right leg, and then the left, and…being the absent-minded stupid fawking idiot that I am, I banged my left little toe onto the two-by-four, exactly in the spot I'd hit it last week. Couldn't have nailed it more perfectly if I'd drawn a bullseye onto it.
It'd been feeling great to-day, too. I'd noticed on the bus that it was still a bit swollen; but I seemed to have been given the green light for unlimited walking. Now…right back to square one, I fear. Means another two or three days of doing not much at all.
Idiot!