[Written Monday, February The 27th, Afternoon]
Great day for hiking, as it stayed overcast throughout. The sun has been mind-meltingly hot lately, even though it's still nominally the cool season. Definitely a nice change-of-pace. Almost too nice, though, as it appeared on a few occasions, that it would even start raining, and me out traipsing the back forty.
Yeah, the trails are largely zigging and then zagging through rice fields, sometimes meandering off into a patch of jungle, or down by the river. Perfect place to get out and wander. Was surprised, in fact, to not have seen anybody else out there (save for a few locals down at the river, and a few more out harvesting bananas).
It's almost eerie how easily escaped is the noise of the town – just five minutes' walking, and it's wholly replaced by the birds a-singing and the grasshoppers a-jumping. Yes, the scenery was good, too.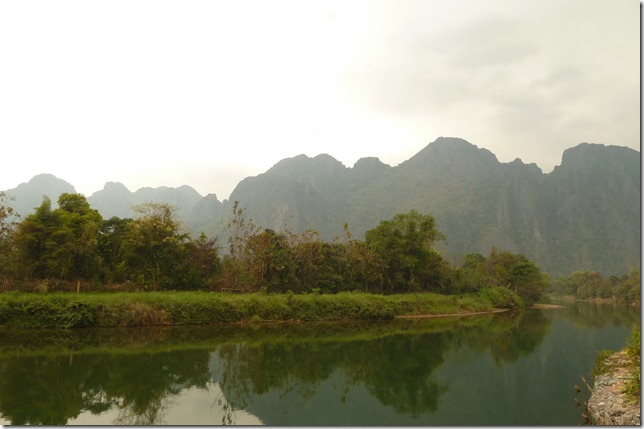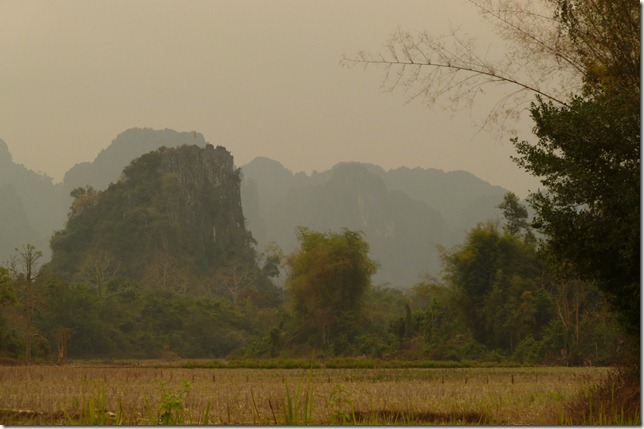 I think I may've done a little more walking that the toe's healing had warranted. Felt great when I started out, but not so great by the time I'd returned. Hopefully, a nice night of sleeping will have it feeling great again by the morrow. Would like to hit the swimming hole if it's sunny.
On Saysong Island – the little island what's party all night and sleeping all day – there's a small herd of buffalo. I like them.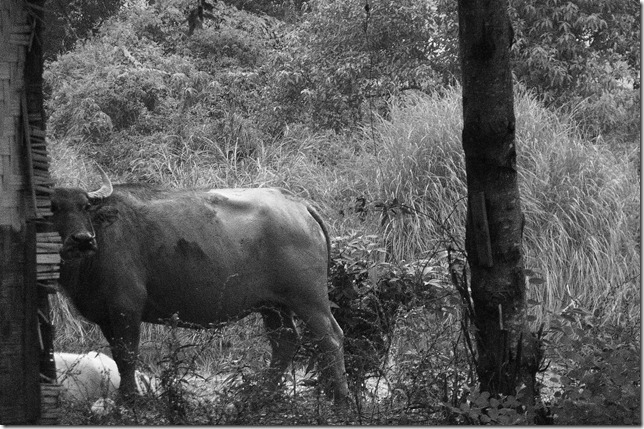 Back in town, a Laotian hepcat.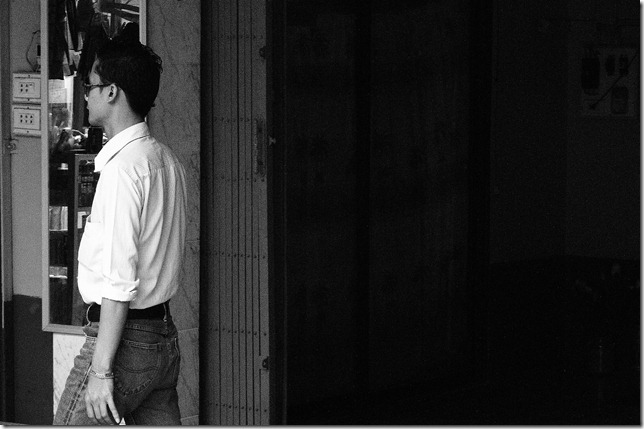 As much as I cannot stand its caterwaul, I can't help but confess that I find this construction line to be outright mesmerising.
They've balloon flights in the mornings and evenings. They're kind of all the rage. At $70 for a one-hour trip, too rich for my blood. Anyhow, I think I'd rather do it in the rainy season, when the visibility'd be better.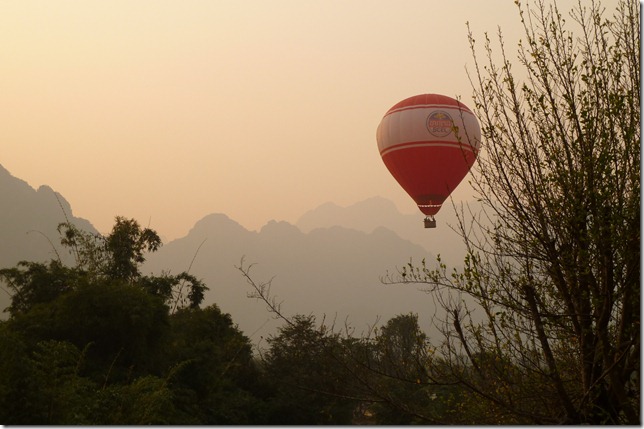 I asked Arne, the hostel's owner, about the rainy season. Says it's really nice here, only rains for a while in the afternoon, cleans everything up, river gets a-raging. Mosquitoes not too bad, he says. Yeah, may have to return here once the rains begin.
Arne always seems to be playing American Classic Rock when he's hanging out; so I gave him a copy of the awesome new (-ish) remaster of The Stones' Some Girls. Think I'm on his good side now. Hey, I wasn't trying to brown-nose – just wanting to share the groove.
Later it came out that he's a big Zeppelin fan, and I made some casual remark about being impressed with Robert Plant's solo career – except which, the guy'd never heard of the concept of "Robert Plant Solo Career"; and so I had to end up giving him a bunch more music. All good!
Then I told he and a Frenchman and a Swissman about my day waiting on Patti Smith, and serving her coffee, and blah blah. Boy, were they impressed! Way more so than I'd have in a million years guessed.
It's a real conundrum with these Europeans. They're funnier than Hell, so entertaining, great stories. And they love to curse. Okay, perhaps not as much as I love to. But they curse with European accents, which acts as a multiplier effect and all.
Bottom line being they're so fun to hang out with. Except…every single last fucking one of them is a chain-smoking demon. Once in a while one of them makes a big show about being conscientious about it – in practice, this means moving about five feet away. But most of them're just completely oblivious.
So, yeah, it's a real conundrum with these Europeans.
[Written Tuesday, February The 28th, Evening]
Purchased my ticket for Vientiane for tomorrow, and was pleased to learn that we'll be leaping this year; meaning I've got one more day in Laos than I'd been thinking I'd have. Was tempted to stay in Vang Vieng an extra day, but decided may as well spend it in Vientiane.
One may extend one's visa here, for two bones per day. I've still, of course, not set foot in Southern Laos; so this possibility, too, is tempting. But I do want to get to Angkor before it gets too hot to even move about. And I do want to spend more time in Northern Laos. So, I'll planning on in future making a return visit.
Did a teeny bit of hiking to-day, but my toe wasn't really feeling it, so instead I opted for an unoccupied hammock located inside a little shelter; just down by the river. Walking along down by the river, bumped into Martin from the dorm in Luang Prabang. We each expressed surprise that the other was here.
He too is off to Vientiane tomorrow, followed by a long ride to Bangkok, and a flight into Burma – which will be his second visit.
I finally finished up the book I'd been reading. Good timing, 'cause there's a book exchange here at the hostel. In return, I picked out Christ Recrucified, by Nikos Kazantzakis. So if anybody wants to play book-club with me, that's what I'm on about. …Although it took me two months to read the first one, so will probably be way behind y'all.
I mean, who could make time to read on a bus in Laos with all the beautiful mountains to look at, and all the wacky entertaining crap going on inside the buses? Not me!
Speaking of beautiful mountains, they're rather bewitching here. Always re-revealing themselves to you from each different location, and with each different angle. Okay, well, that's not very profound, is it? Everything's different when viewed from a different angle. But…somehow the mountains here more multifaceted than one would normally expect.
Yes, I know: they just look like any old beautiful mountains with a stream in the foreground. But they ain't, man. They're some kind of wicked.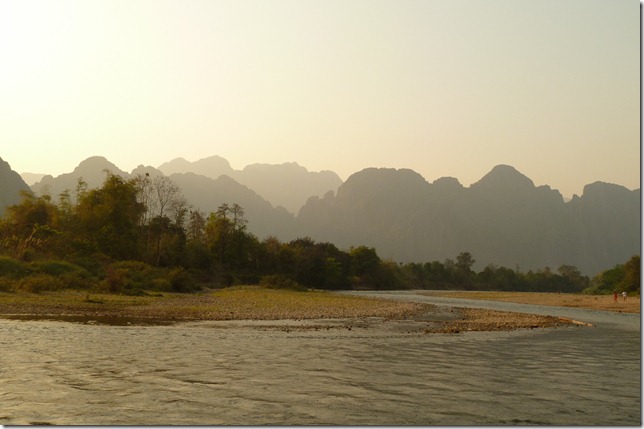 One of the highlights of my day was when a fairly decent sized herd of cows was brought in by a nice young lad wielding a stick. I experienced this down on the farm as well: you got a stick in your hand, and cows will just not fuck with you at all.
Oh, I don't mean to say that the whole deal with the cows not fucking with stick-wielding lads was the reason it was a highlight. Rather, the cows were grouped in families; and it's always fun to watch babies (there were some baby chickens around and about as well). And also that many of the cows were quite beautiful. (And some quite inquisitive vis a vis yours truly.)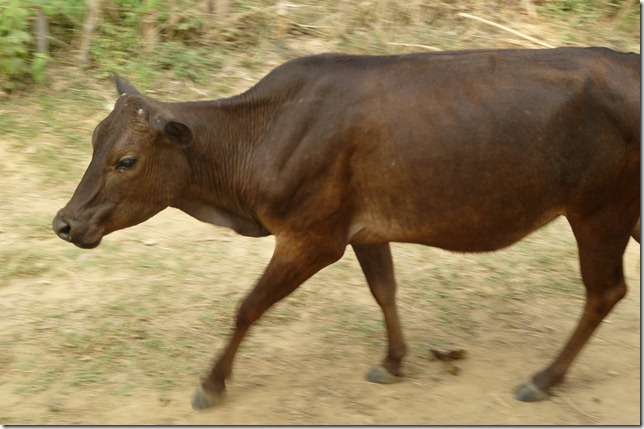 Realised that I'd misread a handwritten sign before. Big Beerlaos are not seven times as pricey here as in Luang Prabang, but instead are priced exactly the same. What's more, most establishments offer free "buckets" to entice customers in the door, and/or one free for each two purchased, and whatever else. So alcohol is actually quite inexpensive here.
Not necessarily a good thing for the clientele, however. I've had a few people before now express to me in person this sign's sentiment.