[Written Friday, February The 10th, Night]
This city is…some kind of a something.
Had intended, to-day, to do some relaxation; stereo on and cooking bacon (AKA the dangling of one's feet in the Mekong whilst catching up on some reading), yeah yeah. Can you guess what I ended up doing instead?
Yes…that one was too easy: Temples! I've got it bad, my Droogs. It's interesting about Luang Prabang. There aren't nearly so many temples per block as in Chiang Mai, they're not nearly as well maintained (though many are currently undergoing restoration), many of the temples are closed even while the grounds are open, many of them charge admission. But somehow, the temples here are possibly more awesomer even that their Chiang Mai cousins.
I'll again point in the direction of my Luang Prabang Temples Flickr set for all the serious damage. Here are the most fascinating goings-on at one particular temple, which actually was closed, but which had some great mural action on the outside walls. Including panels that seem to suggest that the Buddha was hatched out of a egg. Possibly egg of chicken…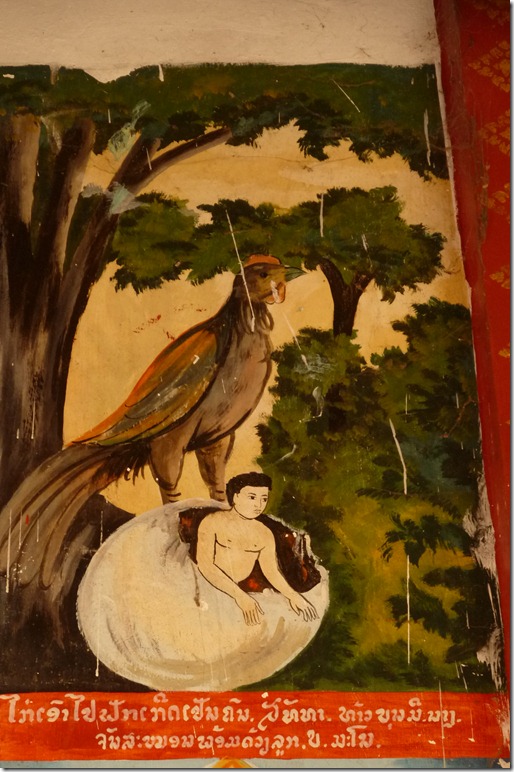 …possibly egg of turtle, naga, or buffalo…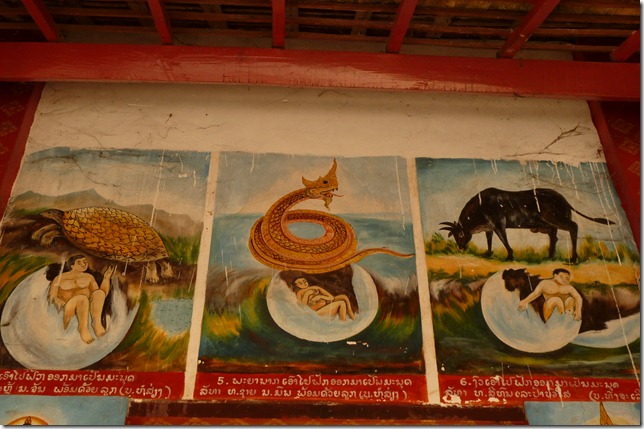 …or possibly egg of some sort of griffin.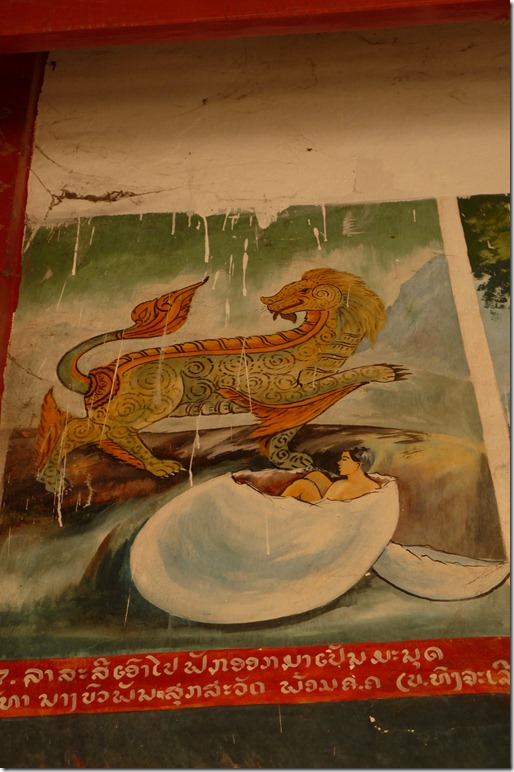 Me, I vote for the chicken! Natch!
But around the corner from this whimsy is where it gets shockingly grisly. Don't know exactly what's going on in these scenes…but that it ain't good is all too clear.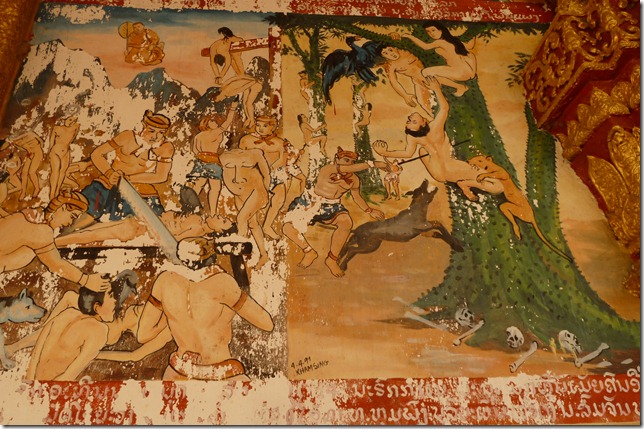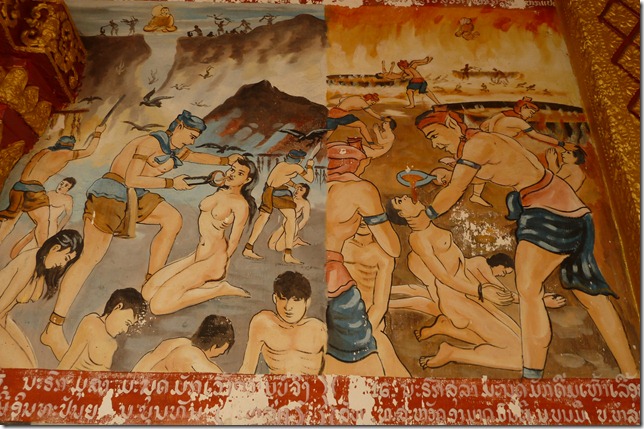 At a different temple, the first Standing Buddha I've seen. (Well factually, I'd thought that such was against the protocol.)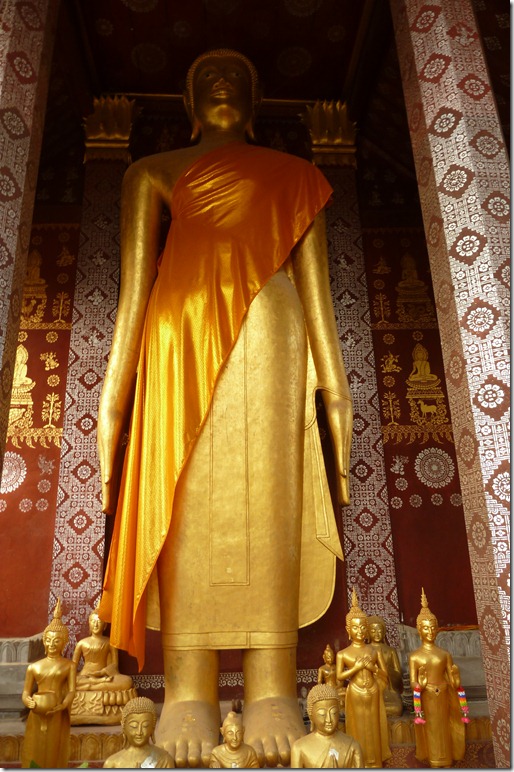 In addition to visiting temples, also checked out quite a few galleries. Yep, wicked-good artists may be added to the ever-growing list of this town's charms.
Got into a conversation with a local name of "Pheng".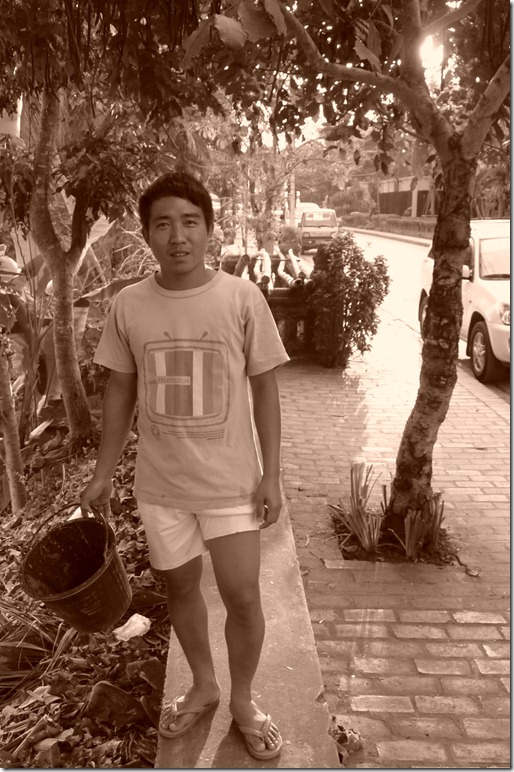 When he met me, he was headed down to water the garden – hence the pail. The banks of both rivers are lined, far as the eye could see, with veggie gardens. I think it's probably like a P-Patch kinda deal, where whosoever helps to take care of an area gets to reap the bounty.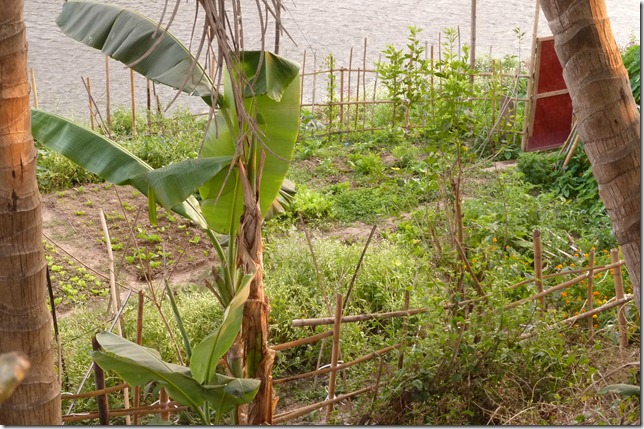 Pheng is twenty-two, arrived two years ago from Nam Bak. In addition to studying English, he also works in a nearby restaurant. He's an intensity to him suggesting a world-weariness; and he chooses his words with some deliberation. I liked him quite a lot.
His father was killed eleven years ago, I think from some sort of head injury, but not quite sure. Very interesting and genuine fellow. But soon the mosquitoes came calling for pints and pints of blood, so I had to let him go. He requested my e-mail address, which was happily given; so perhaps I shall hear from him again.
Walking down the street, I done passed his restaurant.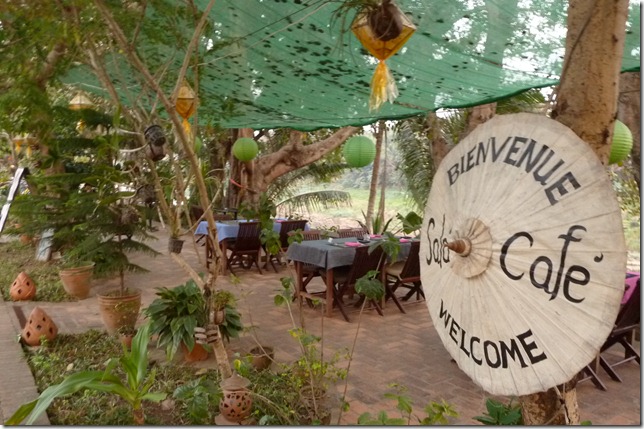 I'm planning to head to the Plain Of Jars, east of here, after leaving Luang Prabang. Found a little bit of back-story along a street.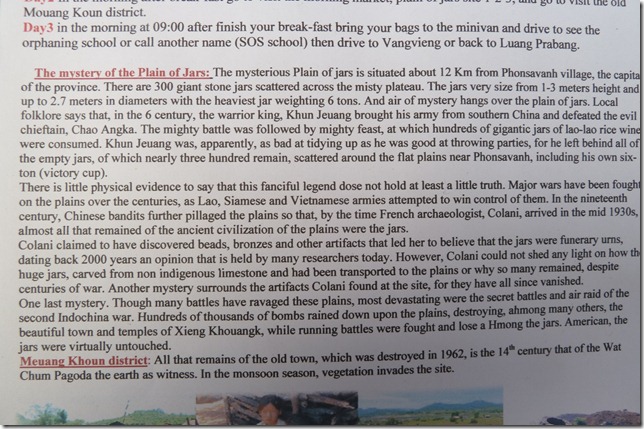 Love the bit about "the evil chieftain, Chao Angka". As long as we're into informative signage, here's a general Luang Prabang Q&A, posted outside the Lao Lao Beer Garden.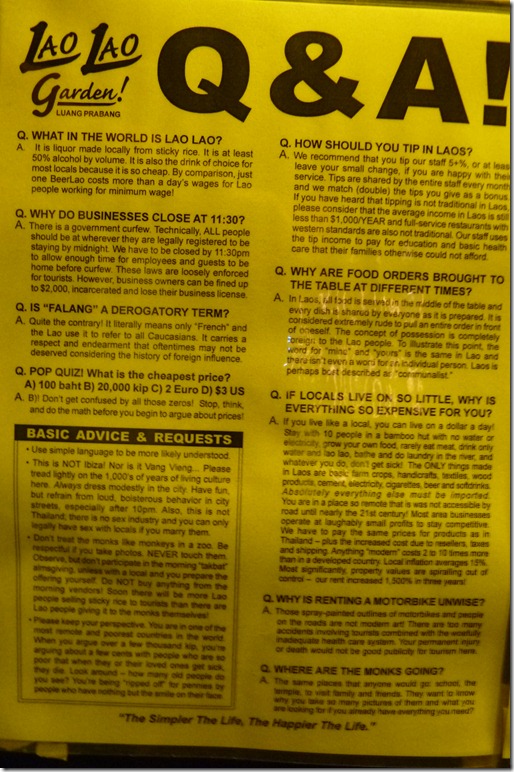 "Bike! Bike! Rent a bike; it's the perfect way to explore the city." So says everyone. They're out they minds. Walking is the only way to go; and my pace is measured in blocks per hour.
Other sights from another fantastic day walking about the Old Quarter included this set-up, reminiscent of Bangkok's "Brain Power Center".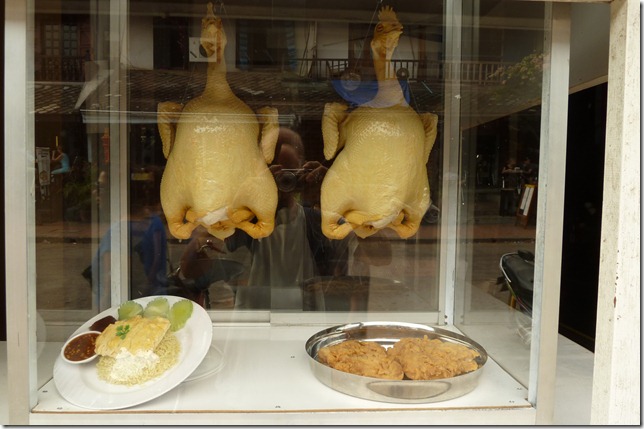 These kids are totally righteous, I think you'll agree.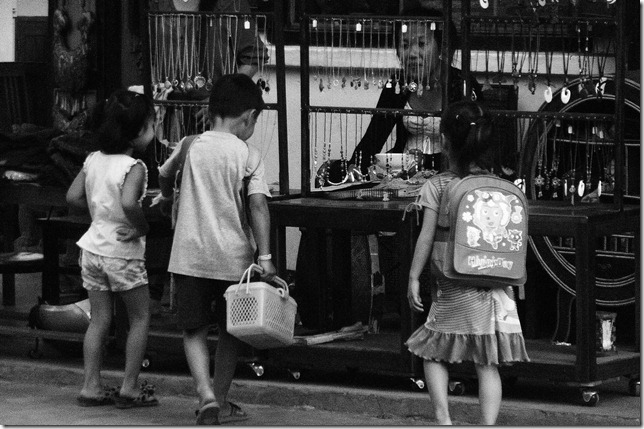 Passed some other kids in the schoolyard, just as they were moving the goalposts into place for some down-home barefoot soccer.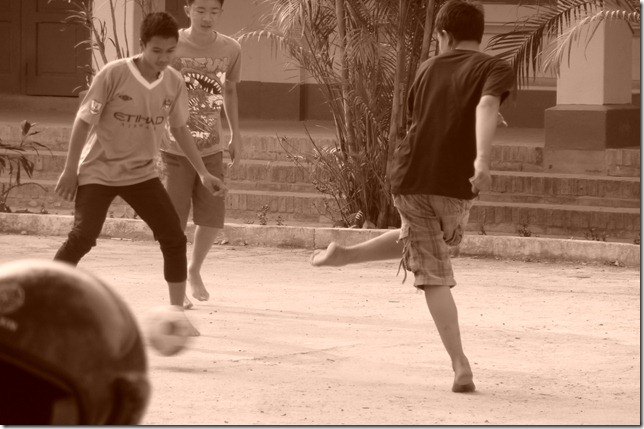 Santa Claus made an unexpected riverside appearance. (The walk down the Nam Khan river at dusk is pretty special, as all the riverside restaurants, galleries, bookstores, cinemas, and whatnot are all lit up to kill – and in the perfect natural setting.)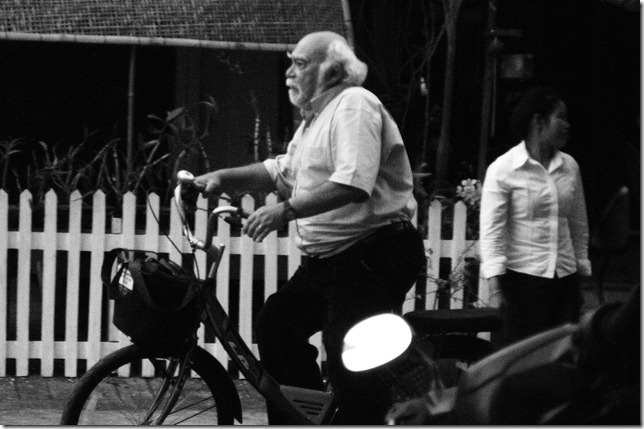 Still on the Xmas tip, been seeing this hairdo around town; I call it the "Heat Miser".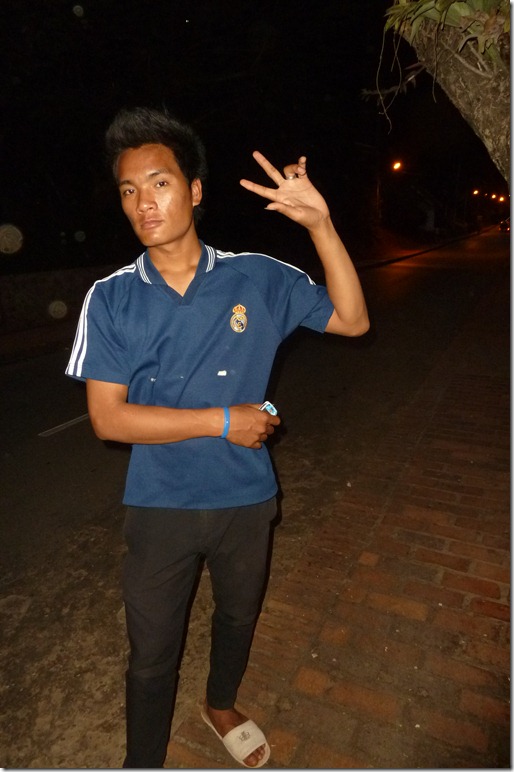 The bit of blurriness seems only to make better this outrageously great wheelie-pop.
And…to say again: I just love, love, love, love, love my camera. This is maybe my favourite photograph that I've ever taken, but ever: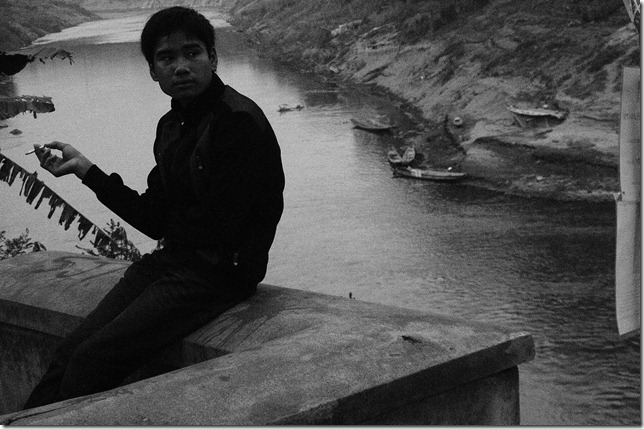 This city…
[Written Saturday, February The 11th, Evening]
A day of relaxation, by dint of circumstance: woke up and began poring over the map to see what to do on this fine morning; but then gradually began to fall under the weather. Low-grade fever, slightly upset stomach, a general bu-larhgh.
I don't think it's anything I et, as yesterday I dined only on one quite-tasty Watermelon, and two kilos' worth of quite-tasty mandarins. If I were to guess the cause, I might name out an over-abundance of sunshine this past week; or I might select the country's poor air-quality finally catching up with me. As I say, by my reckoning, Luang Prabang's is about on par with L.A.'s. A stay in the latter will certainly give me a scratchy throat – maybe LPB's air is a little worse, or maybe I never really got a chance to flush out my system from Luang Namtha's and Udomxai's disastrous breathing experiences.
So, I retired to bed for a bout of fasting/resting/hydrating. Hopefully the morrow will have me once again prowling the streets and alley-ways of this insanely wonderful city.
On the bright side, 'twas not an entirely an unproductive day; as I did manage to upload more than four hundred photos to the Flickr account; and I did score a nice little 4-0 sweep in the day's hockey wagers. This last was keyed by the Sabres having netted an equalising goal with fewer that thirty seconds remaining on the clock – which event almost completely making up for Ottawa having yesterday surrendered, with ten seconds' time remaining, a to-them meaningless goal, eighty-sixing a big, fat puckline chicken which was that close to hatching.
Best of all, I think I've solved a riddle which's been wracking my innards for now near-to a week's time. Viz.: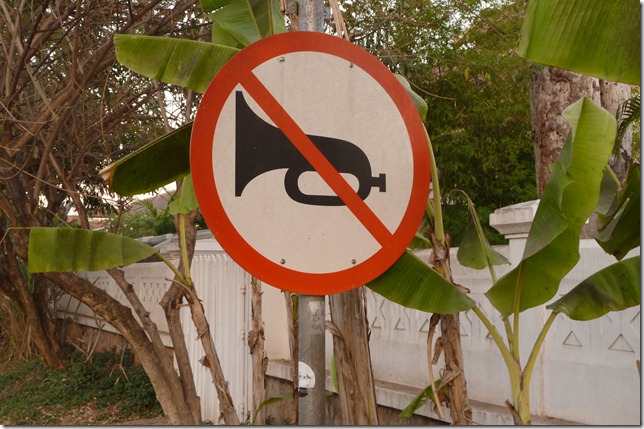 Know that on the bus from Udomxai to Nong Khiaw, I did make witness to three or four of its opposite (i.e., an all-blue background with a white bugle pasted in, and without the red slash). What could it possibly mean?
Something to do with one's radio. Something literally to do with bugling or marching bands? With ungulates? What???
I think I've got it! (If you desire to puzzle it out for you own self, do not read on…)
That Is To Say: Spoiler-Alert
No blowing-of the horns on city blocks (or at least this particular city block) – perhaps because of a nearby schoolyard? Meanwhile, do sound the call when driving 'round and 'round narrow, windy mountain roads – so as to alert oncoming traffic (including there's a lot of foot-traffic on the mountain roads) of your approach.
I guess all y'alls figured out immediament what took my little pea-brain for near-on to a week's time. But I'm pretty happy with myself.