Well, you'll never, ever, ever, ever, ever get bored in Bangkok, Thailand.
While I personally prefer the laid-back hometown vibe of Hilo (not to mention the magisterial views), Bangkok certainly ought to be experienced.
A zillion cars jam the motorways. Added to which, a good half-zillion motorcycles, and a jam-packed subway and skytrain. There are crosswalks, too; but certain demise awaits any chump foolish enough proceed as though the motorist has ceded the right-of-way.
A zillion street-vendors sell a zillion different fried food items. A zillion more sell a zillion each of watches, sunglasses, DVDs, t-shirts, and glow-in-the-dark flying whirligigs. A zillion pimps sell a zillion different services. And a zillion farang are here to lap it all up. It's a madhouse, I tells ya. Must be seen to be believed.
And then there're the fresh markets. To-day I visited the one at Khlong Toei. Think Pike Place Market times about twelve million. Endless rows of endless vendors selling endless supplies of fish, meat, live chickens (yikes!), spices, and, of course, fruits and vegetables. Betcha more than a few persons have got lost in its circuitous  maze and not seen hide nor hair of the outside world for days.
Now, here're some workout watermelons.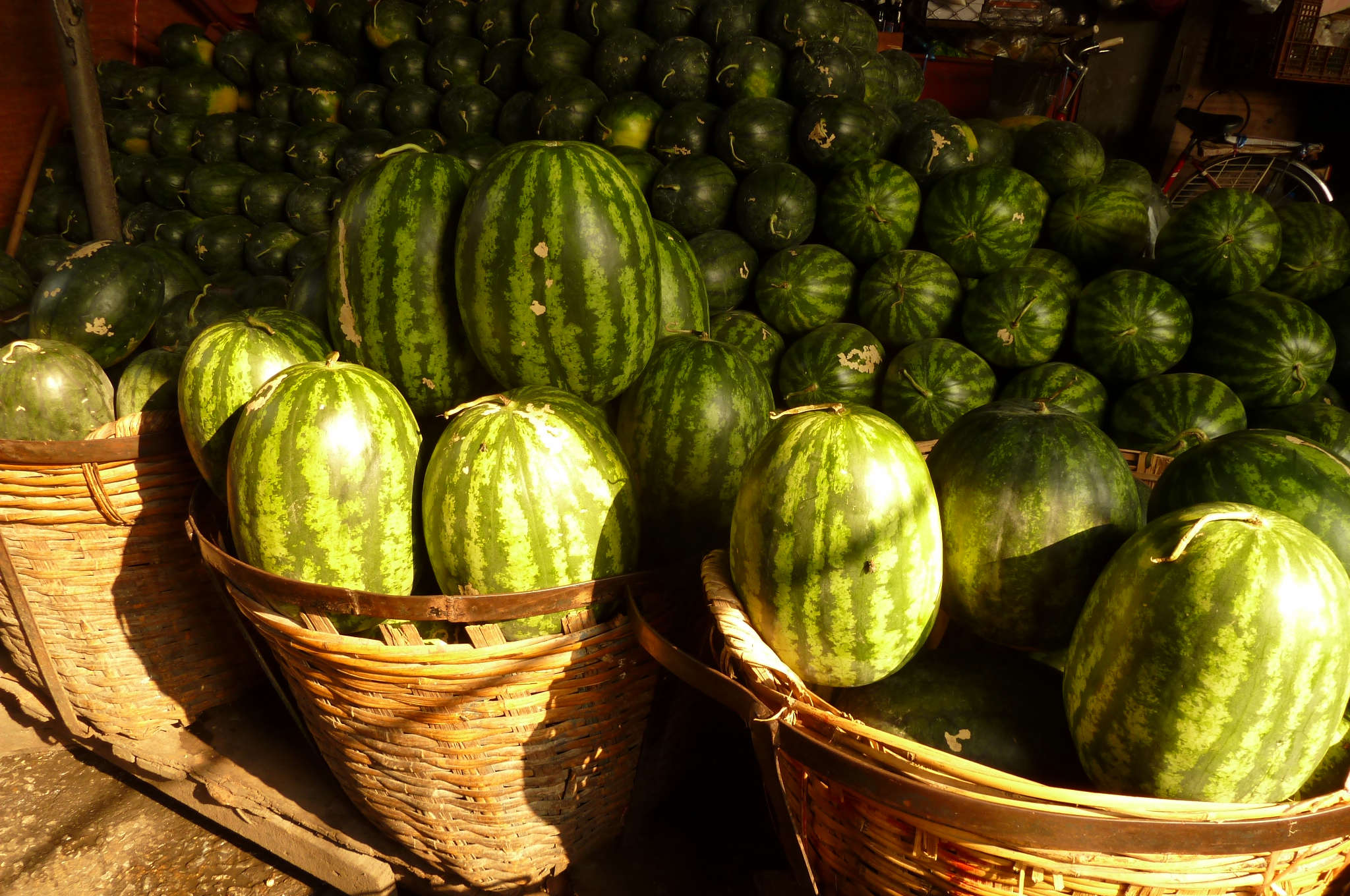 I purchased one a bit smaller than these for about $4; so guessing these monstrosities would be on the order of $6! I took mine to Lumphini Park to sit and eat and mind my own business.
The Park — situated (both geographically and metaphysically) between the always-on, amped-to-eleven, barely-controlled chaos of the Silom/Patpong markets and the city-that-never-stops Disneyworld of shopping at Siam Square (the megalithic hotels and shopping plaza lining Bamrung Muang Road are apparently the beginnings of the Great Wall Of Thailand) —  is an oasis of calm.
The city left behind, one may feel free to relax and watch the old ladies doing their yoga, the old ladies sweeping the walking paths, or the iguanas swimming down the river. So there I was minding my own business, when all of the suddenly this situation developed.
First, the pigeons came calling, as pigeons will do, to sup upon the seeds I was spitting onto the grass. But then, some ravens came in, and kept calling in more and more. There they sat and squawked, a good forty of them, surrounding me in three different trees. I was about 10,000% sure I'd never get of there without getting shat on.
But, miraculously, they held off. In return, I offered up the watermelon remains, which offering they gladly accepted.
And then later on, dammit all, another situation developed. I was walking through Central World on my way to check out Central Chidlom's reportedly impressive produce aisle, and a nice looking three-piece dressed in traditional garb and playing traditional instruments, fired up right there in the middle of the mall.
Never being one to pass up a free concert, I waltzed in and sat at a vacant spot in one of the comfy sofas in the front  row. Had just gotten down to the business of trying to determine whether the hors d'oeuvres were real or fake, when the very nice lady next to me informed me that the front row was reserved for VIPs, but that I was welcome to stay and watch, seated on one of the comfy ottomen making up the other rows.
No sooner had I relocated, that the band finished its first number, and most of my formerly co-front-row dwellers were called up onstage by the emcees. They ended up telling many tales of (I'm guessing) some entertaining achievements and/or  praiseworthy deeds. I myself didn't understand a word of their tales, but they were all dressed smartly; and after the tales had finished their tellings, the VIPs gathered together to bang the big drum.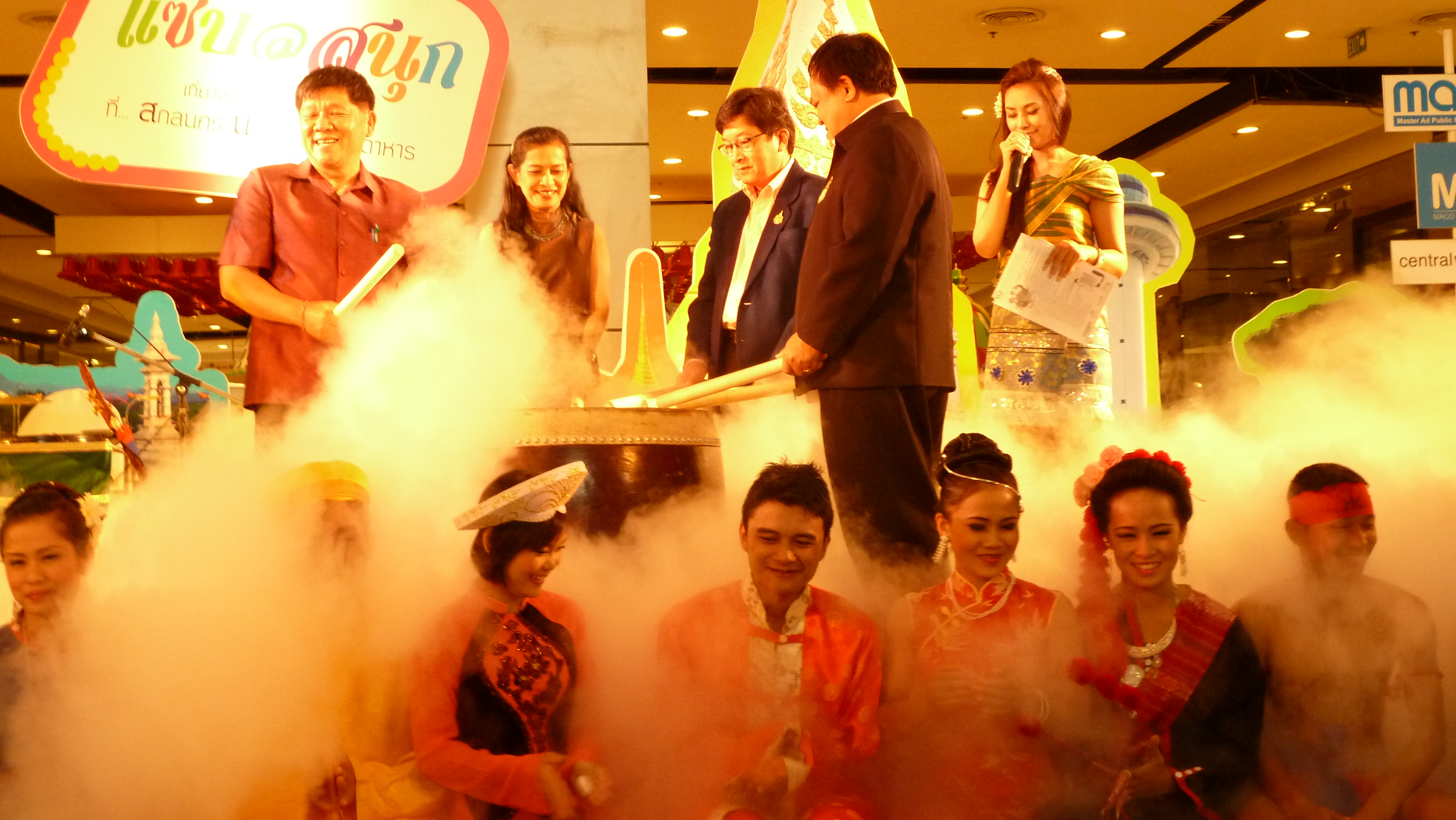 Finally the band returned, with dancers in tow, and ripped out a few rousing numbers. During which, I learnt that the "hors d'oeuvres" were not only real, but were actually Thai candies. The lady who'd outed me offered me a dish of them, and I was already too embarrassed to turn her down (and didn't think she'd have believed any sob story about only eating raw fruits and veggies), so tried the smallest, most innocuous-looking piece. Some kind of peanut/coconut deal, I guess.
 'twas not the day's only faux-pas, as it turns out. I was reprimanded, by one of the very nice employees of the hostel at which I'm staying, for having gone outside without having first shod my feet.
I'd known that this might be an issue, but wasn't quite sure, so decided to give it the old college try. No dice, I guess.
Though I note that the old man in the park with whom I chatted for a while (if I understood him correclty, he's got daughters living in Washington, Idaho, San Francisco, Wyoming, Montana, and Utah) didn't seem to mind.
But if I don't wanna get my ass deported, looks like my Barefoot In Bangkok days have already run their course. (Boo hoo!)