---
April 13, 2004
"Hearts And Minds" Update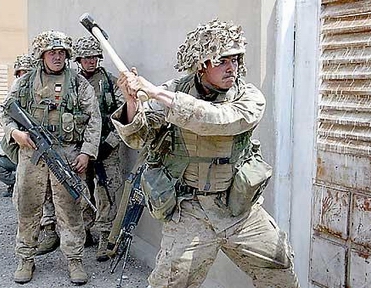 • "...the enemy must be defeated in combat before the work of developing the country can go on, U.S. military officers and analysts say. It means killing civilians, as in yesterday's U.S. attack on a mosque compound in Fallujah, is regrettable but necessary 'collateral damage,' they say.
"'"Hearts and minds" is not applicable during a military campaign; that's a long-term solution,' said Army Lt. Col. Ray Millen."
• "Falloojeh has been cut off from the rest of Iraq for the last three days. It's terrible. They've been bombing it constantly and there are dozens dead. Yesterday they said that the only functioning hospital in the city was hit by the Americans and there's no where to take the wounded except a meager clinic that can hold up to 10 patients at a time. There are over a hundred wounded and dying and there's nowhere to bury the dead because the Americans control the area surrounding the only graveyard in Falloojeh; the bodies are beginning to decompose in the April heat. The troops won't let anyone out of Falloojeh and they won't let anyone into it either- the people are going to go hungry in a matter of days because most of the fresh produce is brought from outside of the city. We've been trying to call a friend who lives there for three days and we can't contact him."
• "Thousands of Iraqi sympathizers, both Sunni and Shiite Muslim, forced their way through US military roadblocks in a bid to bring aid from the capital to the besieged Sunni rebel bastion of Fallujah.
"Troops in armored vehicles attempted to stop the convoy of cars and pedestrians from reaching the western town where US marines have met ferocious resistance in a two-day-old offensive against the insurgents.
"But the US contingents were overwhelmed as residents of villages west of the capital came to the convoy's assistance, hurling insults and stones at the beleaguered troops."
• "There are situations where you want to apply overwhelming firepower with tanks and artillery, A-10 [strike fighters] overhead, and situations where you want to be more surgical, kicking the door down."
• "Civilians who fled the fighting described the streets of Falluja as being littered with bodies, including women and children, and Iraqi politicians have accused U.S. forces of meting out collective punishment on the city's residents."
• "U.S. commanders in Baghdad said yesterday they will reach out to former senior members of Saddam Hussein's disbanded army to try to stiffen Iraqi security forces."
• "Police in Baghdad's Yarmouk police station took off their Iraqi police uniforms yesterday saying that they would not submit to orders to wage a 'counter-terrorism war' against opponents of U.S. rule.
"'How can I arrest an Iraqi whose brother has been killed or whose house has been bulldozed by the occupier?' asked one policeman, who wished not to be named."
• "'This is the civilized world fighting against evil,' White House communications director Dan Bartlett said on NBC's Today show Friday."
• "I have been a fool for 47 years. I used to believe in European and American civilization."
• "A new surge of Iraqi resistance is sweeping up thousands of people, Shiite and Sunni, in a loose coalition united by overwhelming anti-Americanism."
• "'When the four Americans were murdered, almost all Iraqis were horrified, and understood that the reaction must be strong,' said Iraqi journalist Dhrgam Mohammed Ali, referring to the killing March 31 of four private security guards whose bodies were then mutilated, dragged through Fallujah and hung from a bridge. "'But now, we see women and children dying, trying to escape and not being allowed to, and many stop remembering the dead Americans. Instead, they wonder why four dead Americans are worth so much, while hundreds of dead Iraqis are worth so little.'"
• "'Given the virulent nature of the enemy, the prospect of some city father walking in and getting Joe Jihadi to give himself up is pretty slim,' said Lt. Col. Brennan Byrne, who commands the 5th Marine Battalion, using the Arabic word for Islamic warrior.
"'That's fine,' Byrne added, 'because they'll get whipped up, come out fighting again and get mowed down.'"
• "Another boy, Suhail Najim, 13, added: 'We may be scared of their weapons. But we're not scared of them.'"
• "Additionally, Fallujah residents say Marines are opening fire randomly on unarmed civilians and have attacked clearly marked ambulances, both violations of the Fourth Geneva Convention, to which the United States is a signatory. Aid workers angrily pointed out bullet holes in the driver's side windshield of one ambulance, saying its operator had been lightly wounded by US troops firing as the emergency vehicle passed."
• "It is a revolution now. The families of the people killed will avenge this. The Americans attacked unarmed people. This is George Bush's democracy, not international democracy. His democracy is from his sickness. All Iraqi people will refuse the occupation now."
Posted by Eddie Tews at April 13, 2004 01:03 PM
---